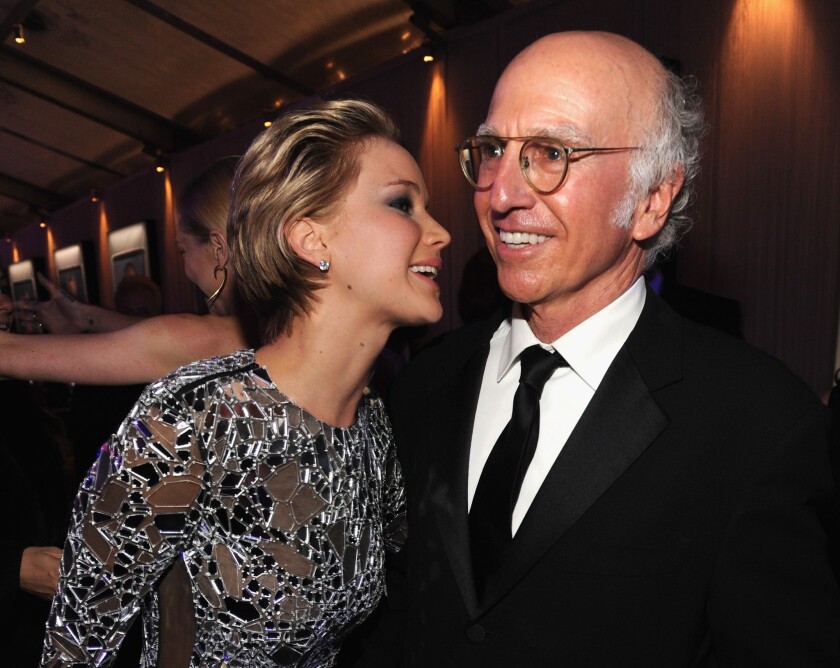 Ah, to be 40 years younger! Larry David has just put the kibosh on Jennifer Lawrence's crush on him.
The "Curb Your Enthusiasm" and "Seinfeld" mastermind has responded to the Oscar-winner's declaration of stirrings "below the belt," comments that were lifted from a Vanity Fair sidebar about qualities she looks for in a boyfriend. (That's from the same issue in which she basically called those who peeped at her nude photos sex offenders.)
"Do you like 'Curb Your Enthusiasm?'" the outspoken 24-year-old asked her interviewer. "Do you like Larry David? I'm in love with him, and I have been for a really long time. ... I worship Woody Allen, but I don't feel it below the belt the way I do for Larry David."
Tell us how you really feel, JLaw.
During an appearance at the New Yorker Festival on Saturday, the 67-year-old producer was presented with "The Hunger Games" star's profession of love.
"Smart kid," he said (via E! News). "It's a shame that I'm about 40 years older than she is."
Actually, it's 43 years, but who's counting?
When prompted about the "below the belt" portion of her remarks, the lovable grouser quipped: "Maybe she's referring to her knees."
"I don't think I could do it," David continued. "On one hand, it's very flattering and on another hand, it's kind of a shame — in terms of timing. I'd have fun watching the reality show of it, though."
Yeah, we'd love to see another incarnation of Lawrence's Jack Nicholson-fueled facial expressions if she were to costar alongside David.
Lawrence recently called it quits with her "X-Men: Days of Future Past" costar Nicholas Hoult, who was presumably the intended recipient of her since-stolen nude photos. In August, she was — and continues to be — linked to Coldplay frontman Chris Martin, Gwyneth Paltrow's ex.
As for David, the comedian was married to environmental activist Laurie Ellen David from 1993 to 2007.
Why have these two not collaborated already? Follow me on Twitter @NardineSaad.
---