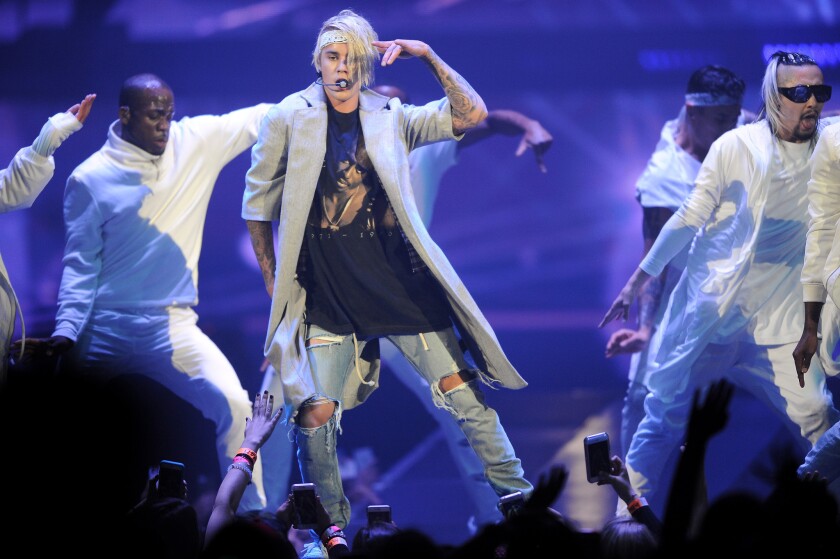 Hey Beliebers, Justin Bieber loves you but you're a bit too much for him to handle.
Bieber took to Instagram on Tuesday to explain that he was doing away with his fan meet and greets, which afforded him the opportunity to meet "such incredible people" but ultimately left him "filled with so much of other people's spiritual energy that I end up so drained and unhappy."
The Canadian singer went on to explain that he was trying to find balance between giving himself to his fans and preserving his own peace of mind so that he can "stay in the healthy mindset I'm in to give you the best show you have ever seen."
This change in policy comes in tandem with an announcement from Bkstg, the company responsible for the VIP packages, which confirmed the cancellation of future meet and greets because of a security incident and the struggles of changing concert venues.
TMZ alleges that the security incident took place Monday night at Bieber's concert in Los Angeles, when a fan from his security team's "watch list" got within 10 feet of the singer during a meet and greet.
The Justin Bieber "I'll Show You" M&G package has been changed into a VIP hangout, due to a security scare. pic.twitter.com/IU7ZydJump

— JustinBieberCrew.com (@JBCrewdotcom) March 22, 2016
Fans, who paid more than $2,000 to meet with the recording superstar during his "Purpose" world tour, have been offered refunds and the chance to participate in a VIP hangout, which allows individuals to take pictures of Bieber, but not with Bieber.
Beliebers as a collective are unconcerned by the change to tour policy, flooding Twitter with messages of support for the beleaguered artist, spurring the worldwide trending topic of #WeAreHereForYouJustin.
Bieber has played just eight dates of the 114-date world tour, scheduled to run through Nov. 29. He concludes the Los Angeles leg of the tour Wednesday night with a third performance at the Staples Center before moving on to Las Vegas on Friday.
Follow me @midwestspitfire
MORE:
Justin Bieber's concert at Staples Center had pageantry, sex appeal and a vaguely religious vibe
Phife Dawg, hip-hop innovator with A Tribe Called Quest, dies at 45
Kim, Kourtney and Khloe hit with Kardashian Beauty breach of contract lawsuit
Justin Bieber: What if Hailey Baldwin is the girl he marries? 'I just don't want to hurt her'
---