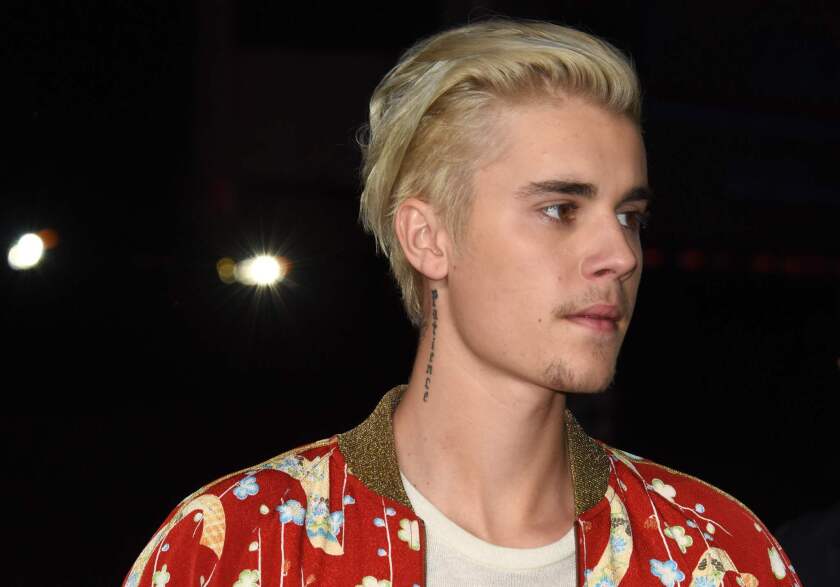 Justin Bieber could marry Hailey Baldwin one day, and for that reason he's not loving the idea of labeling her as his girlfriend before he embarks on a world tour for a year and a half.
The pop star opened up about his romance with the model in the March issue of GQ, where he spoke at length about his past blunders and relationships. Alas, his rumored flings with Kourtney Kardashian were not discussed -- but Baldwin, Selena Gomez and God were. His parents, his weaning off Adderall and even his former pet monkey OG Mally got some ink.
See the most-read stories in Entertainment this hour >>
Baldwin, 19, the daughter of actor Stephen Baldwin and niece of Alec Baldwin, has known Bieber since 2009 and the two have been linked since 2014. Over New Year's, they were photographed making out while vacationing in Anguilla -- a potential confirmation of their coupledom.
Although the "Sorry" singer, 21, admitted that Hailey is just a friend he kisses, he also recast her as "someone I really love." And for that reason, he doesn't want to settle down as he sets off for his tour and the attendant fanfare that's likely to come along with it. He doesn't want to damage their relationship -- or let his partner resent him.
Trust us, it makes sense and is a wise move in the land of Bieber.
"I don't want to put anyone in a position where they feel like I'm only theirs, only to be hurt in the end," he told GQ. "Right now in my life, I don't want to be held down by anything. I already have a lot that I have to commit to. A lot of responsibilities. I don't want to feel like the girl I love is an added responsibility."
His romance with a 23-year-old Disney Channel alumna comes to mind. More on that in a bit ...
"I know that in the past I've hurt people and said things that I didn't mean to make them happy in the moment. So now I'm just more so looking at the future, making sure I'm not damaging them," he continued. "What if Hailey ends up being the girl I'm gonna marry, right? If I rush into anything, if I damage her, then it's always gonna be damaged. It's really hard to fix wounds like that. It's so hard. … I just don't want to hurt her."
On Tuesday, Baldwin opened up to E! News about their relationship, downplaying its seriousness.
"We are not an exclusive couple," she said. "He's about to go on tour. Relationships at this age are already complicated, but I don't really like to talk about it because it's between me and him."
Talking about it is what Bieber and his ex Selena Gomez have done in the tabloids for years, and it didn't really stop in Bieber's latest profile. The Canadian Crooner described their breakup as "bad" and said that a lot of his contemplative album "Purpose" was inspired by their time together. But he said that now their relationship is good.
"We don't talk often, but we're cordial. If she needs something, I'm there for her. If I need something, she's there for me," he said.
Then the conversation turned to his spiritual relationship with God, who he said is the only one he can trust.
"I've had people that burned me so many times," he said. "If we invest everything we have in a human, we're gonna get broken."
"I feel like that's why I have a relationship with Him, because I need it. I suck by myself," he continued. "Like, when I'm by myself and I feel like I have nothing to lean on? Terrible. Terrible person. If I was doing this on my own, I would constantly be doing things that are, I mean, I still am doing things that are stupid, but … It just gives me some sort of hope and something to grasp onto, and a feeling of security, and a feeling of being wanted, and a feeling of being desired, and I feel like we can only get so much of that from a human."
Follow me on Twitter @NardineSaad.

ALSO:

Twitter responds to Kanye West's strict performance rules and that Taylor Swift reference
Meryl Streep says 'we're all Africans, really'? Technically, sure, but ...
Ryan Reynolds, sexiest dad alive, gushes about baby daughter James
---