Meryl Streep says 'we're all Africans, really'? Technically, sure, but ...
Meryl Streep probably would have been better off calling us all jelly donuts.
The "Out of Africa" actress, who heads up this year's Berlin Film Festival jury, fielded a trio of questions about diversity during a news conference Monday, and her comment that "We're all Africans, really" set off tone-deaf alarms all over the place.
You know, because #OscarsSoWhite.
UPDATE: Meryl Streep puts 'we're all Africans' in context: Not about Berlin jury's racial makeup
Streep was, according to the Associated Press, fielding a question from an Egyptian journalist who asked whether she — and by implication the rest of the panelists, all of whom are white — could understand films from the Middle East and Africa.
#OscarsSoWhite: Full coverage of the boycott and Hollywood's reaction
"I don't know very much, honestly, about the Middle East," said the first-time jury president, who is 66 and has three Oscars and 16 other Oscar nominations under her belt.
"And yet I've played a lot of different people from a lot of different cultures, and the thing that I notice is that we're all — there is a core of humanity that travels right through every culture. And after all, we're all from Africa, originally. You know, we're all Berliners, we're all Africans, really. I think we — look, we have a critic on our jury, we have a director on our jury, we have actors on our jury. We have a photographer, cinematographer. People will be looking at different things in these films."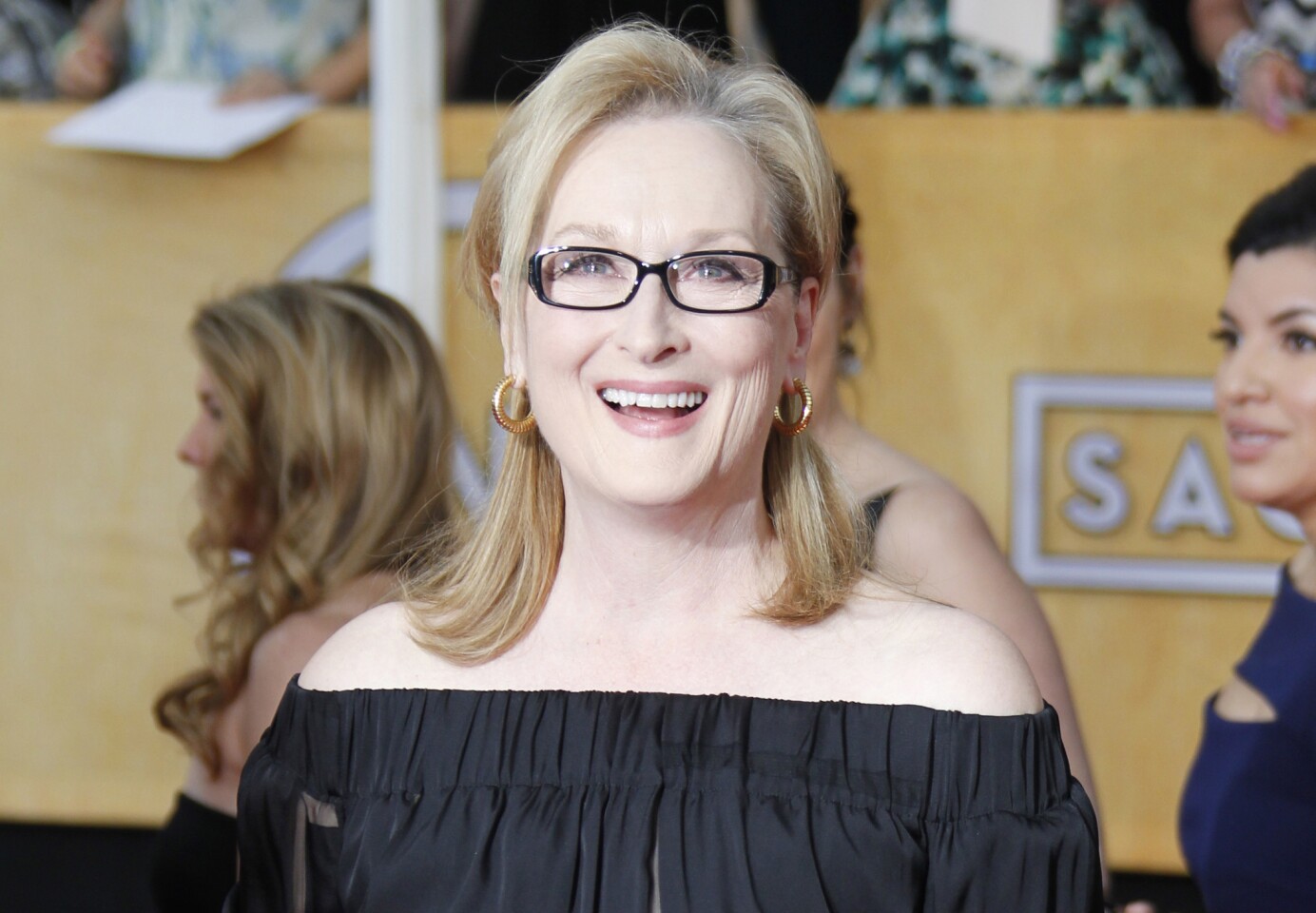 Meryl Streep, who made her film debut in the 1977 best picture nominee "Julia," has become virtually synonymous with the Academy Awards. But her nominated roles are just part of her long and storied film career, as the following photos show.
(Allen J. Schaben / Los Angeles Times)
"The Deer Hunter" was just Streep's second film, but she was nominated for a supporting actress Oscar for her work opposite Robert De Niro and Christopher Walken.
(Universal Pictures)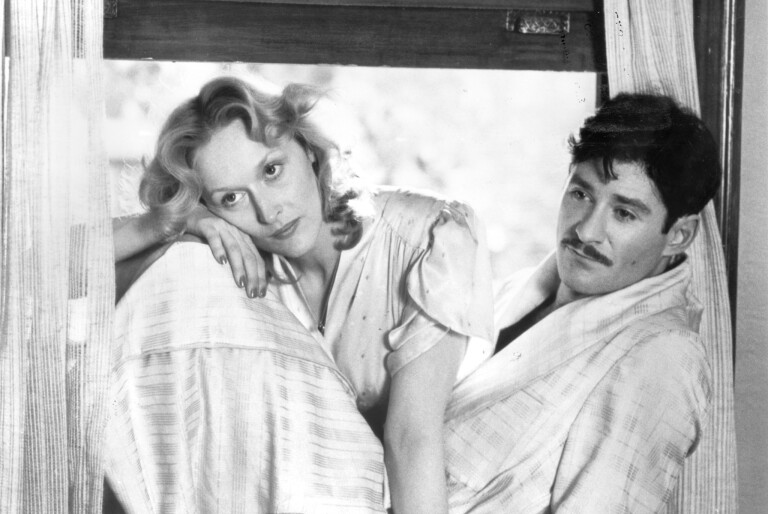 After winning a supporting actress Oscar for 1979's "Kramer vs. Kramer," Streep won her second Academy Award, this one for best actress, for 1982's "Sophie's Choice," co-starring Kevin Kline (pictured).
(Universal Pictures)
Streep earned another Academy Award nomination for her performance as real-life nuclear plant whistleblower Karen Silkwood, who was poisoned and tortured to keep her story silent. Cher, right, with Streep and Kurt Russell, also received an Oscar nomination.
(ABC Motion Pictures)
Playing opposite Robert Redford, Streep received another Oscar nomination for best actress for her performance in Sydney Pollack's historical doomed-love epic "Out of Africa."
(A Mirage Production)
Robert Zemeckis directed Streep and co-star Goldie Hawn, left, in the 1992 supernatural comedy "Death Becomes Her."
(Deana Newcomb / Universal Studios)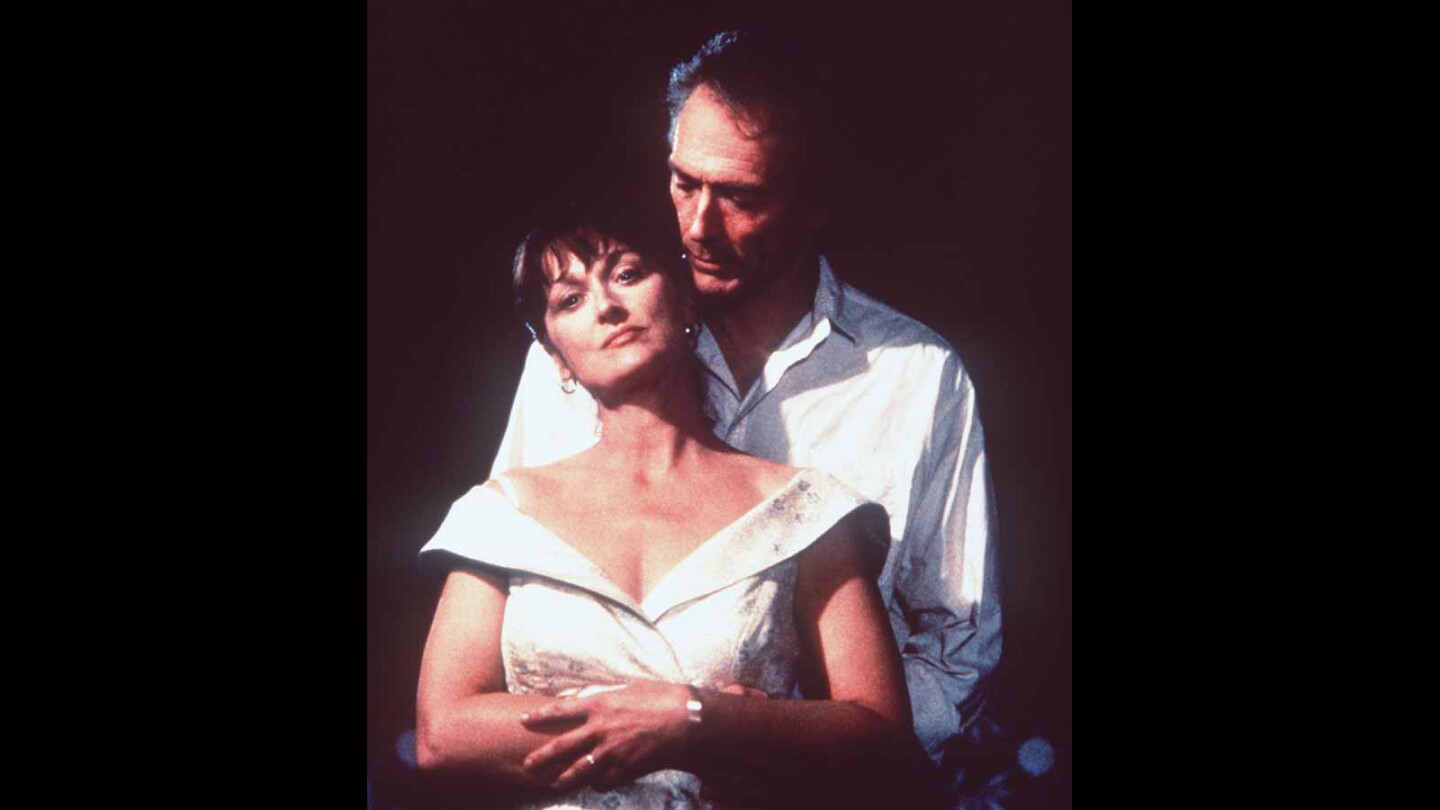 Streep tackled the role of 1960s Iowa farm wife Francesca Johnson in Clint Eastwood's film adaptation of the bestseller "Bridges of Madison County." Streep earned an Oscar nomination for lead actress.
(Ken Regan / Warner Bros.)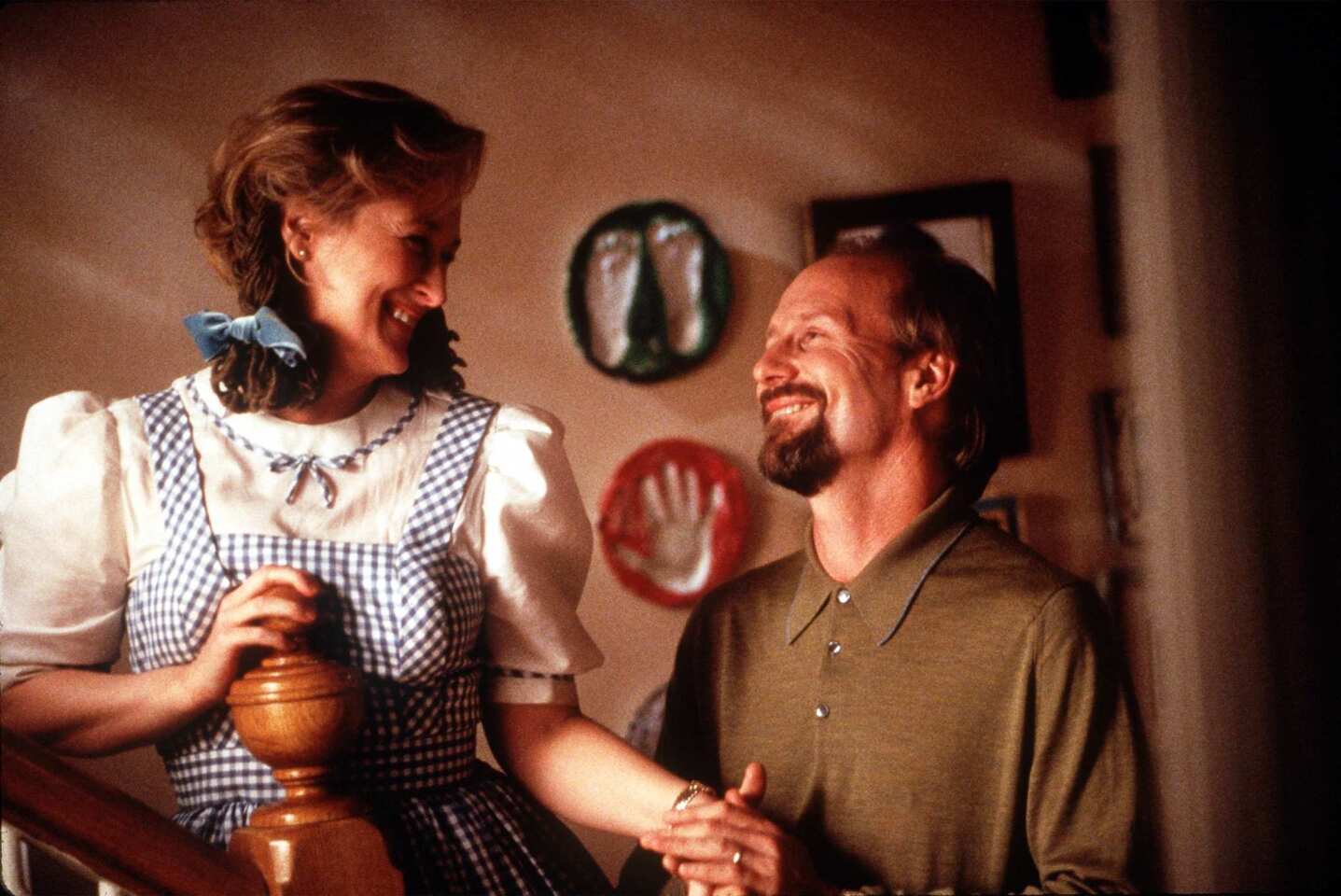 In 1998's "One True Thing," Streep picked up another Oscar nomination, playing a cancer-stricken housewife. William Hurt, pictured, played Streep's husband.
(Eli Reed / Universal City Studios)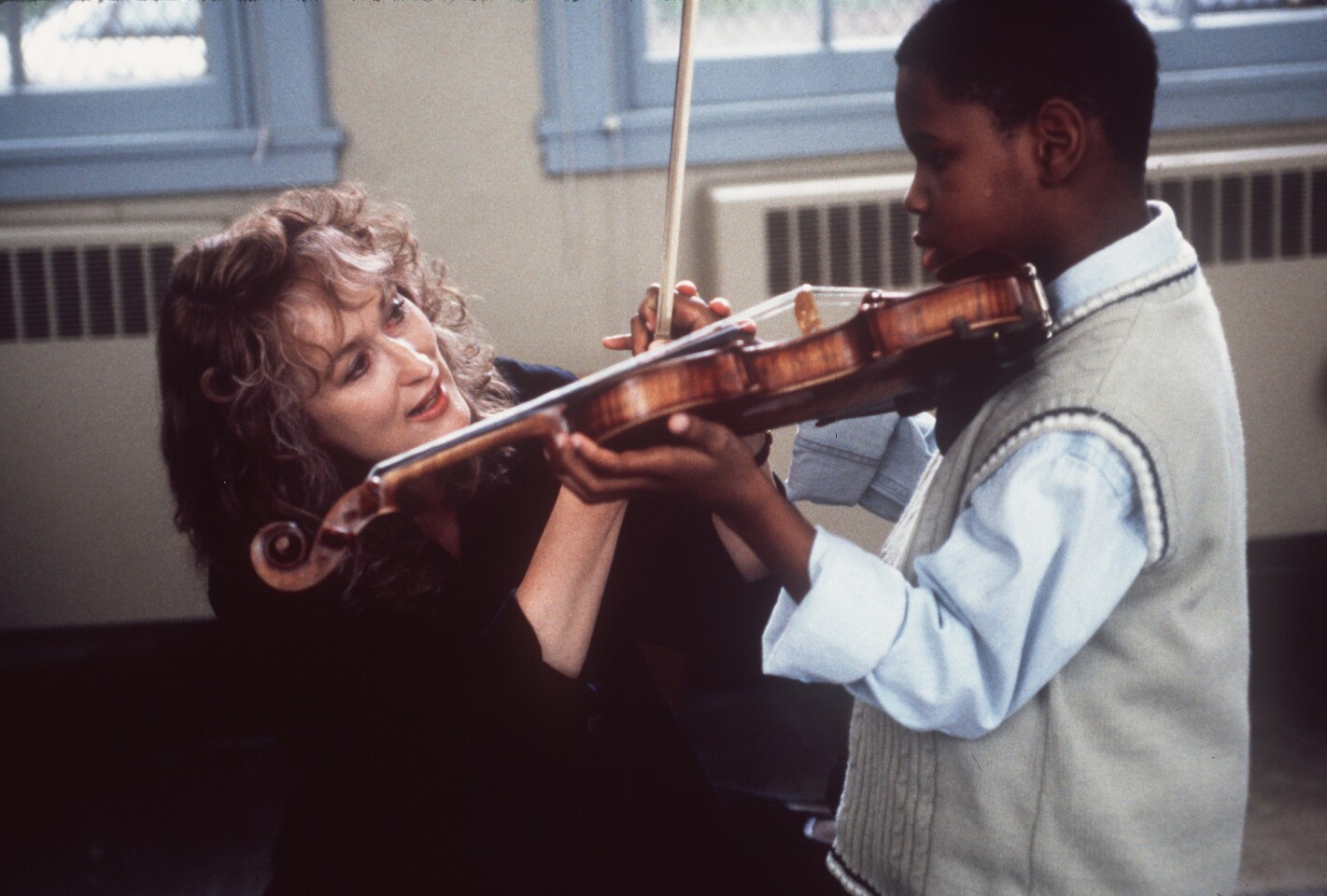 Streep earned another lead actress Academy Award nomination for 1999's "Music of the Heart," in which she played Harlem music teacher Roberta Guaspari.
(Kerry Hayes / Miramax Films)
Streep blurred reality and fiction when she played the role of real-life author Susan Orlean in Charlie Kaufman and Spike Jonze's meta-comedy "Adaptation." She picked up a supporting actress Oscar nomination for her performance.
(Columbia Pictures)
Streep played a therapist in the 2005 romantic comedy "Prime," starring Uma Thurman and Bryan Greenberg.
(Andrew Schwartz / Universal Studios)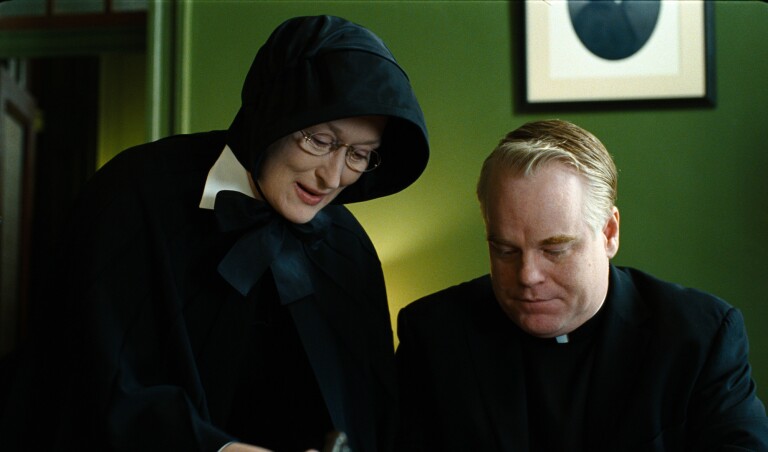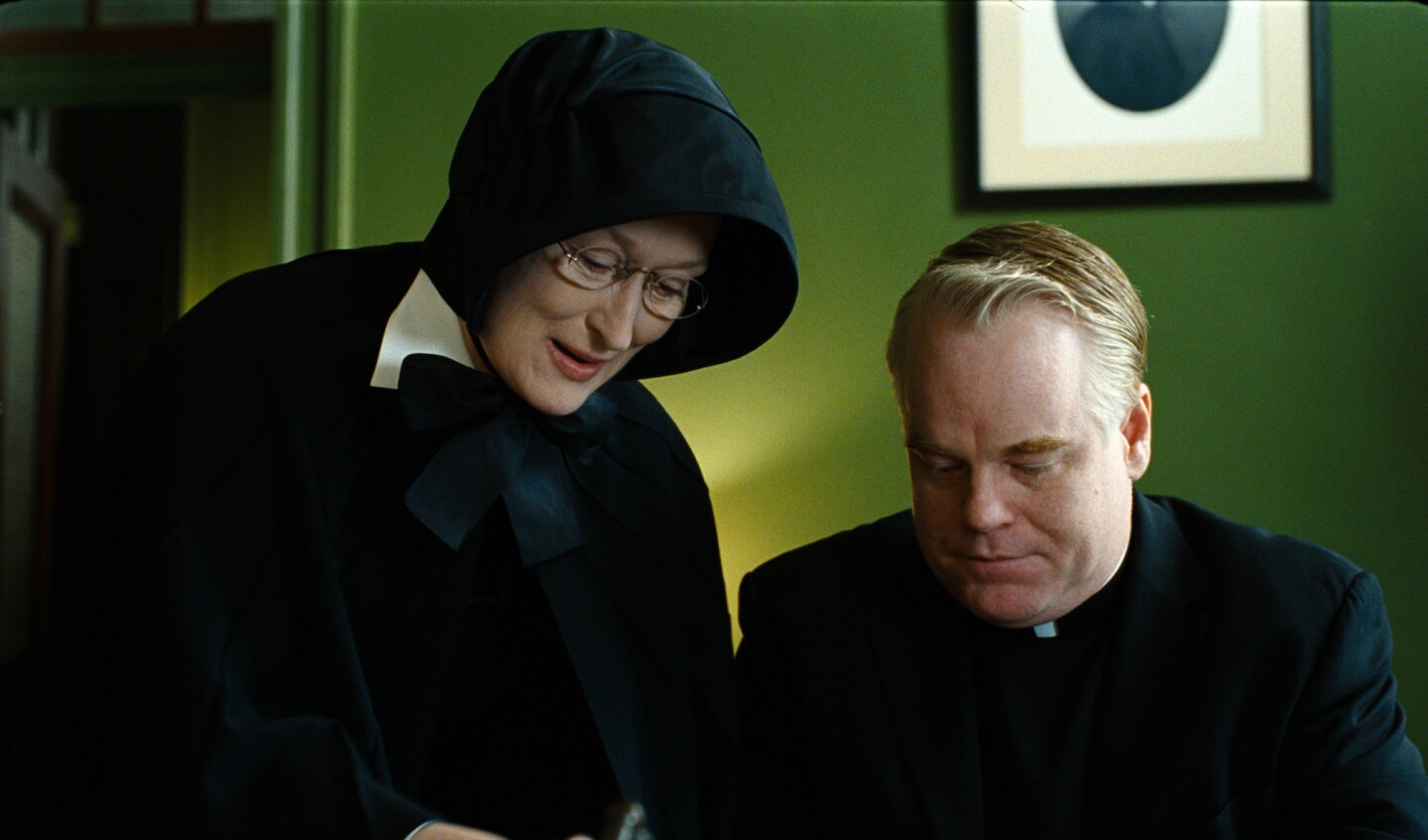 Streep played tough-as-nails Catholic nun Sister Aloysius in this adaptation of John Patrick Shanley's Tony-winning play "Doubt," opposite Philip Seymour Hoffman. She picked up a lead actress Oscar nomination in the process.
(Andrew Schwartz / Miramax Film Corp)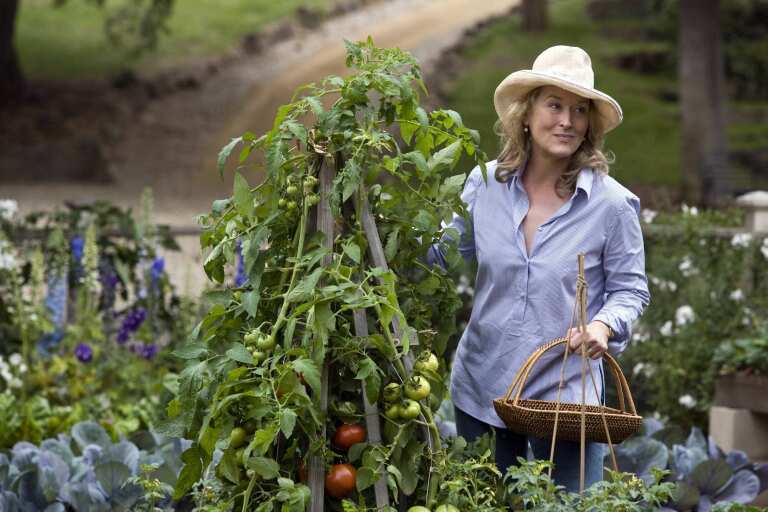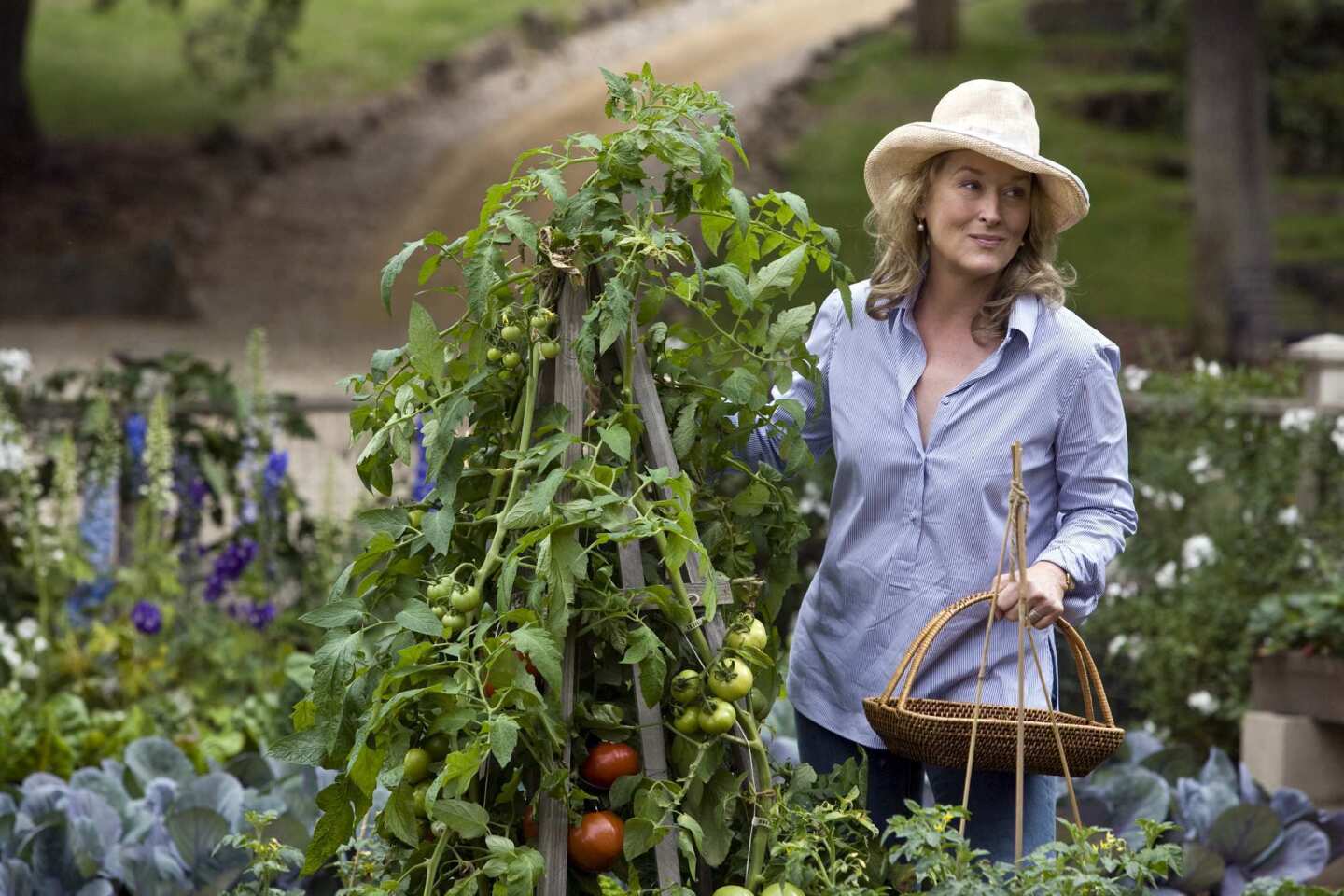 In 2009's "It's Complicated," Streep's character rekindles a romance with her ex-husband (Alec Baldwin), who has since remarried.
(Melinda Sue Gordo / Universal Studios)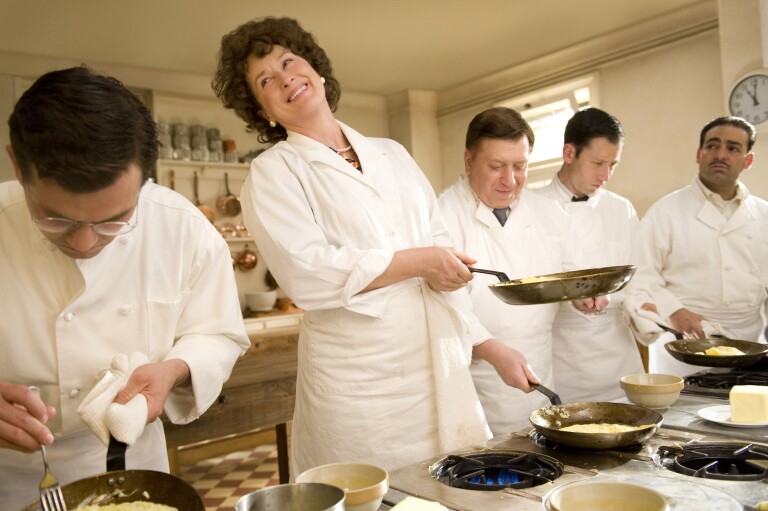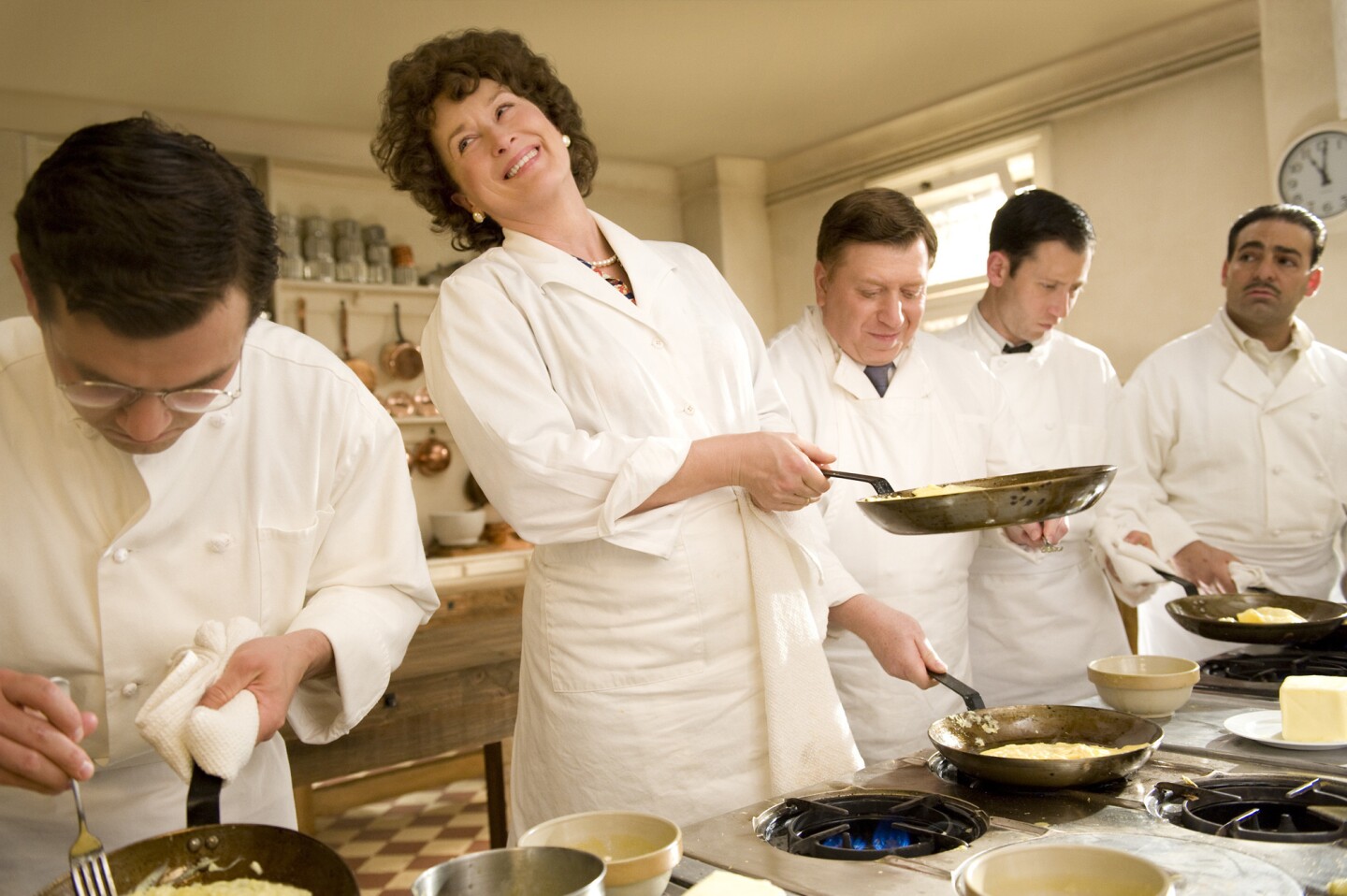 Streep earned yet another Oscar nomination for her performance as famed chef Julia Child in 2009's "Julie and Julia."
(Jonathan Wenk / Columbia Pictures)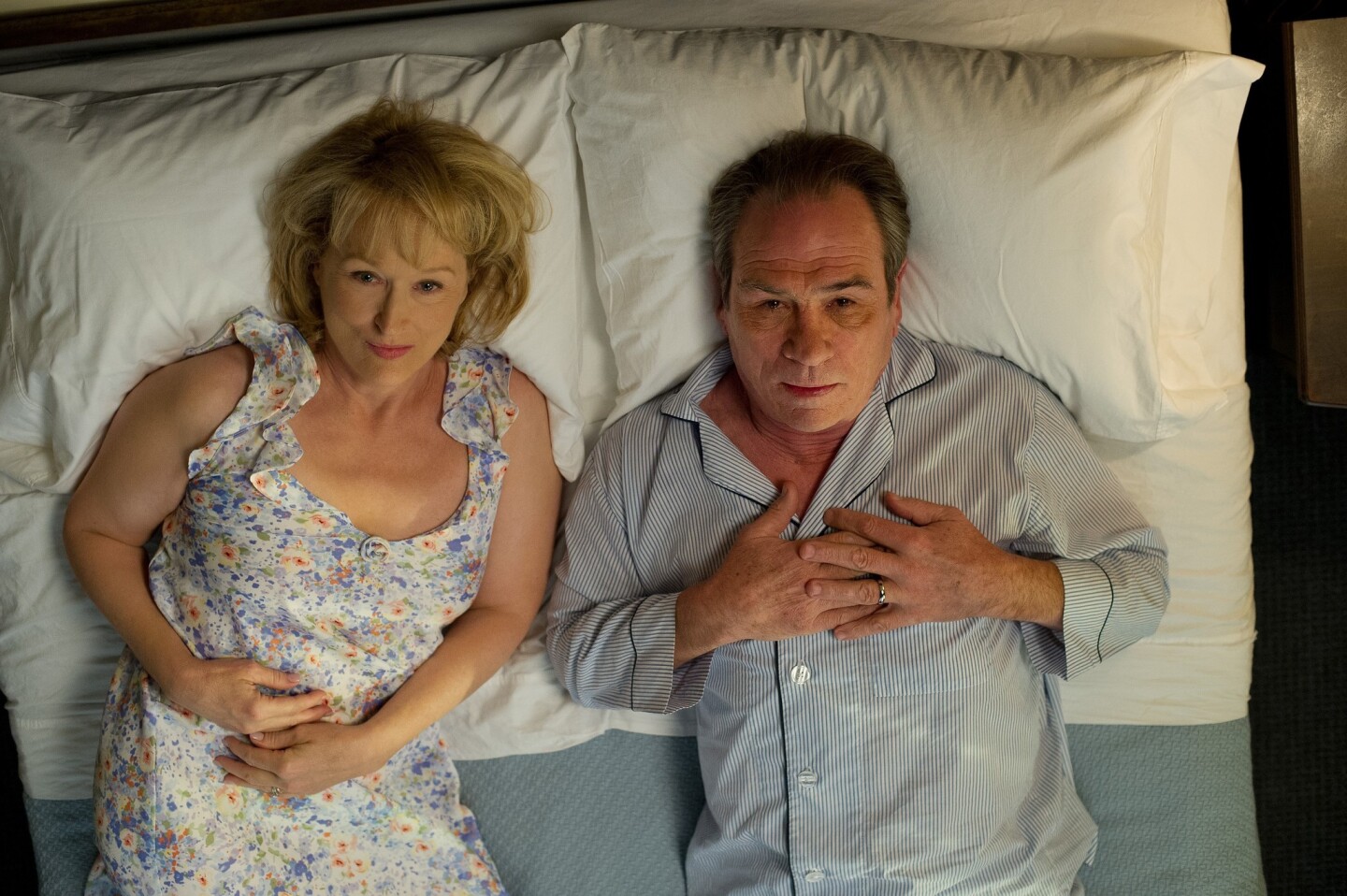 Streep and Tommy Lee Jones teamed to play a couple hoping to reignite their marriage in 2012's "Hope Springs."
(Barry Wetcher / Columbia Pictures)
In 2014, Meryl Streep and Jeff Bridges took supporting roles in the the dystopian drama "The Giver," based on the successful young adult novel.
(David Bloomer / The Weinstein Co.)
In 2014, Streep picked up a guitar as bandleader Ricki, alongside real-life rocker Rick Springfield in Jonathan Demme's "Ricki and the Flash."
(Bob Vergara / Sony Pictures)
Streep had a small but influential role as Emmeline Pankhurst, an outspoken voice during the suffragette movement, in Sarah Gavron's 2014 film "Suffragette."
(Steffan Hill / Focus Features)
Most recently, Streep was nominated for a SAG award and a Golden Globe for her role in "Florence Foster Jenkins."
(Nick Wall / AP)
Her words appeared to be intended to echo President John F. Kennedy's famous 1963 speech in what was then West Berlin, in which he declared as a show of solidarity during the Cold War, "Ich bin ein Berliner" — "I am a Berliner."
Presumably, she was also referring to scientific research declaring homo sapiens had originated in Africa.
However, as bioanthropologist Kristina Killgrove points over at Forbes, declaring oneself "African" based on a genetic technicality doesn't necessarily imbue a person with cultural understanding.
"The question of diversity gets to the heart of anthropology in the same way that the question of similarity gets to the heart of anthropology — the beauty of people is that we're the same and different all at once," Killgrove writes.
Meanwhile, back in Berlin, Streep continued the diversity-commentary paddle tennis by pointing out that women were in the majority on her seven-member panel.
"I'm very committed to equality and inclusion of people of all genders, races, ethnicities, religions," she said. "There should be inclusion, and this jury is evidence that at least women are included and in fact dominate this jury. And that's an unusual situation in bodies of people who make decisions. So I think the Berlinale is ahead of the game."
The seven-member jury also includes German actor Lars Eidinger, British film critic Nick James, French photographer Brigitte Lacombe, British actor Clive Owen, Italian actress Alba Rohrwacher and Polish director Malgorzata Szumowska.
Coincidentally, Thursday was also the U.N's inaugural International Day of Women in Science, aimed at getting more women into the science, technology, engineering and mathematics or STEM fields, where they are significantly underrepresented, their ranks getting thinner as the jobs get more senior.
And that whole JFK-said-he's-a-jelly-donut story? Urban myth.
Follow Christie D'Zurilla on Twitter @theCDZ and Google+. Follow the Ministry of Gossip on Twitter @LATcelebs.

ALSO:

Lamar Odom, the Kardashians and a bleach blond Kim turn up for Kanye West's Yeezy Season 3
Ryan Reynolds, sexiest dad alive, gushes about baby daughter James
Justin Bieber: What if Hailey Baldwin is the girl he marries? 'I just don't want to hurt her'
---
Your essential guide to the arts in L.A.
Get Carolina A. Miranda's weekly newsletter for what's happening, plus openings, critics' picks and more.
You may occasionally receive promotional content from the Los Angeles Times.