Lena Dunham's Emmys dress: Where cake and sweatpants meet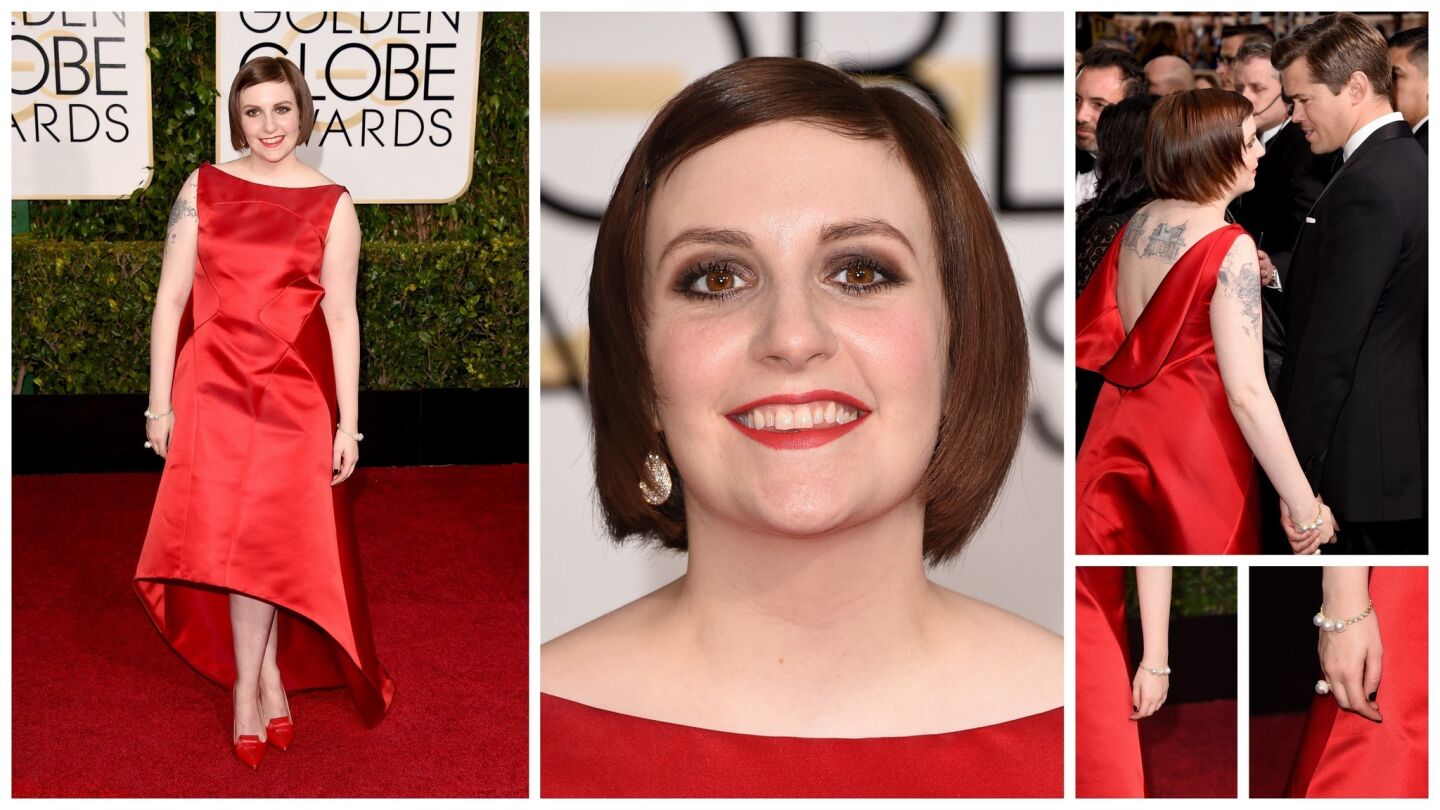 The "Girls" star wore this red Zac Posen dress to the 2015 Golden Globes.
(Jason Merritt / Getty Images)
Dunham wore a custom-made Creatures of the Wind gown at the season four premiere of "Girls" on Jan. 5, 2015, in New York City.
(Jamie McCarthy / Getty Images)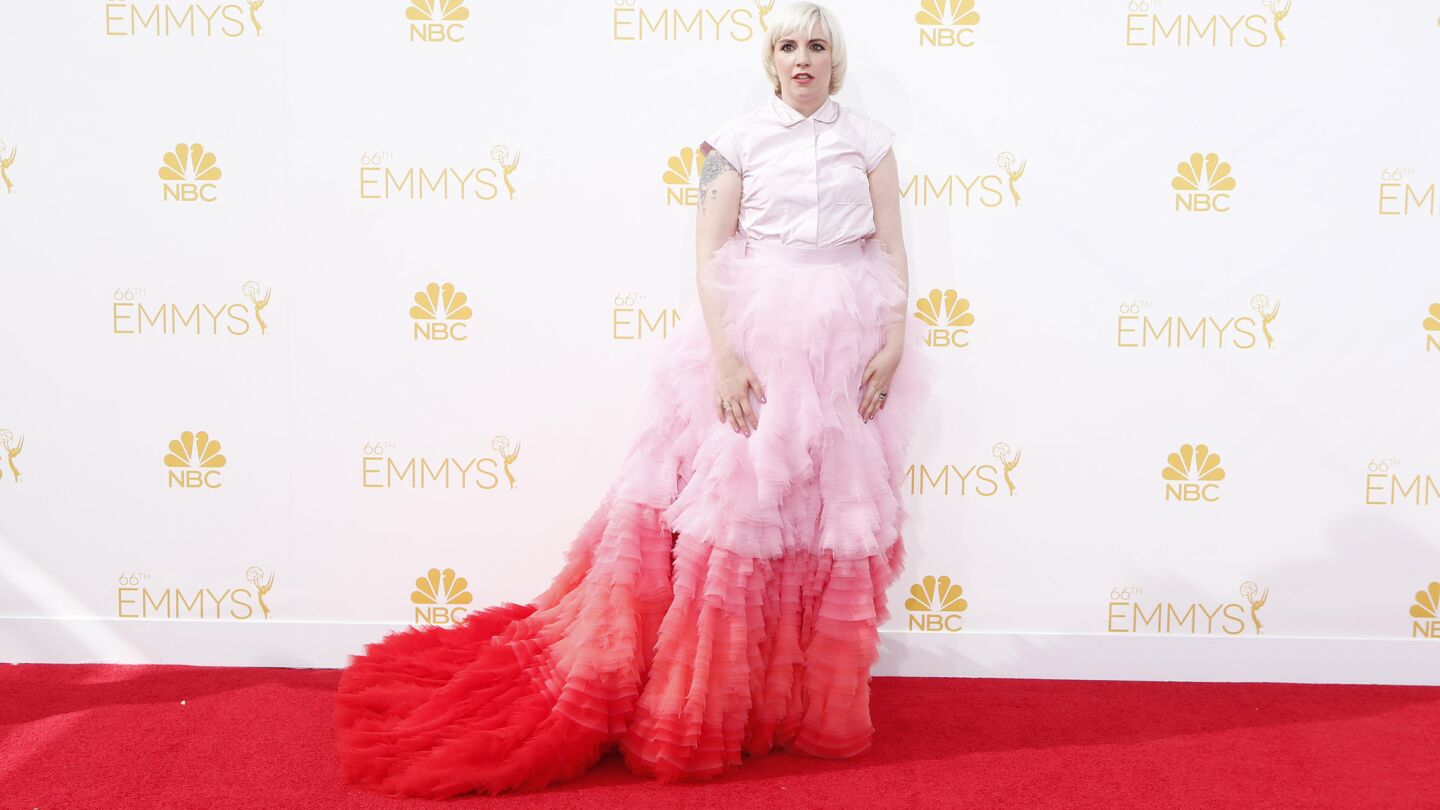 Dunham wore a pink Giambattista Valli ensemble to the 66th Primetime Emmy Awards and debuted newly blond hair.
(Wally Skalij / Los Angeles Times)
Creator, writer and star of HBO's "Girls," Dunham wore this yellow Zac Posen gown to the 2014 Golden Globe Awards.
(Wally Skalij / Los Angeles Times)
Dunham donned a sleeveless Rochas gown when she attended the U.K. season 3 premiere of "Girls" on Jan. 15, 2014.
(Anthony Harvey / Getty Images)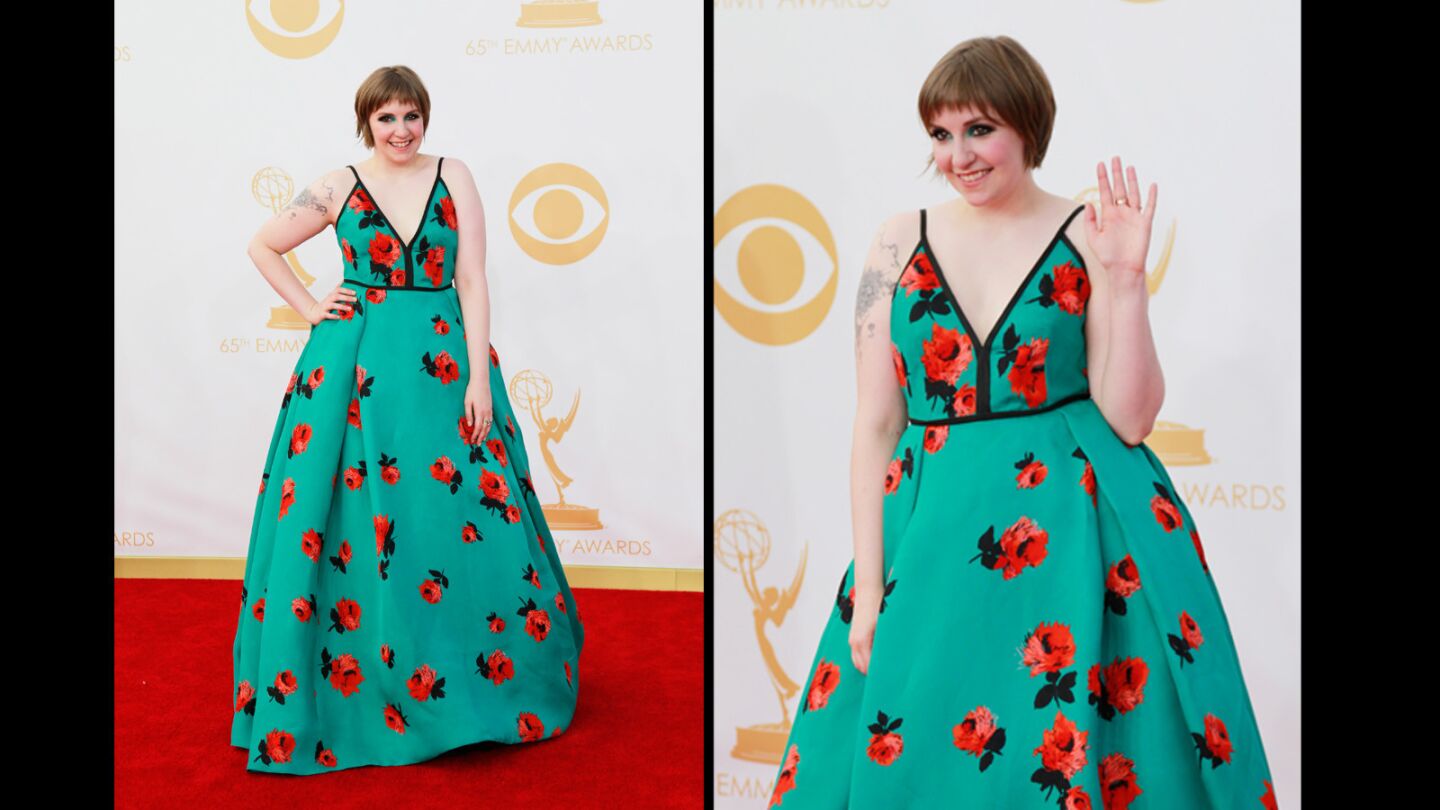 The "Girls" star wore this teal and floral gown by Prada to the Emmy Awards in 2013.
(Allen J. Schaben / Los Angeles Times)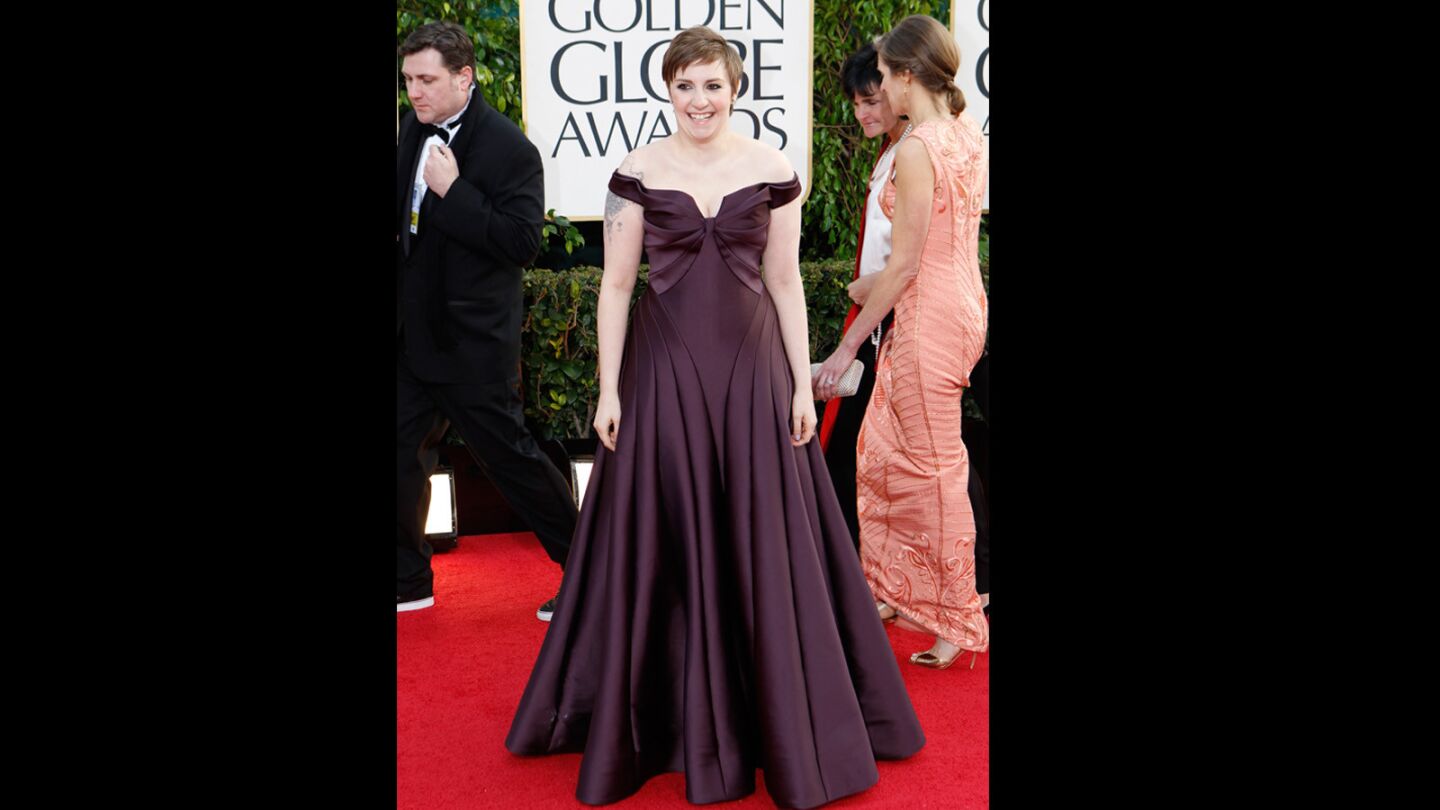 Dunham donned this burgundy Zac Posen gown for the Golden Globe Awards in 2013, when she won the lead actress award and "Girls" won the TV series category.
(Wally Skalij / Los Angeles Times)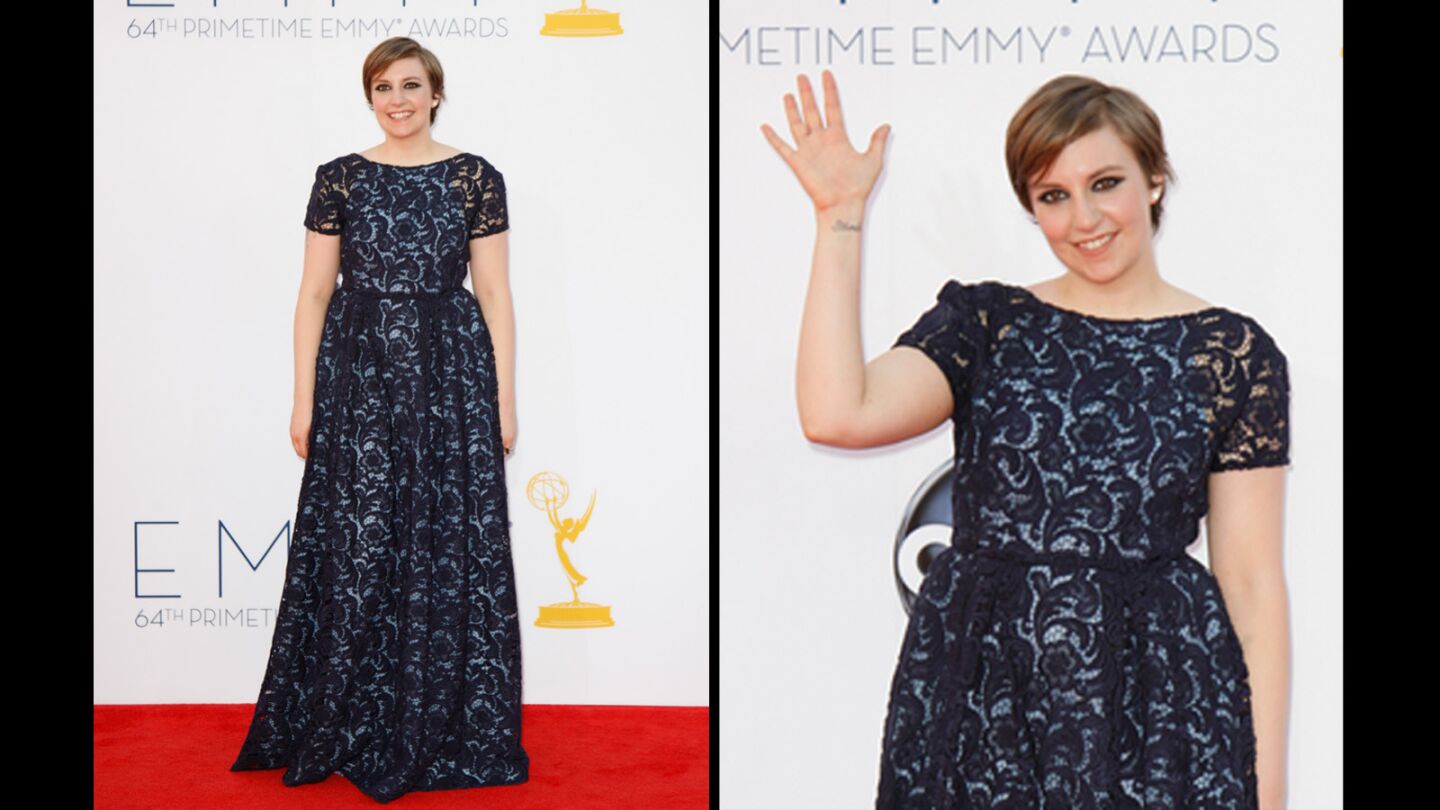 Dunham wore this navy lace Prada gown to her first Emmy Awards in 2012.
(Jay L. Clendenin / Los Angeles Times)
Oh. My. God. Lena Dunham. Look. At. Her. Dress.
She likes big fluff and she cannot lie?
Dunham's long, ruffled, pink ombre skirt and plain pink top on the Emmys red carpet Monday evening were about as subtle as Nicki Minaj's "Baby Got Back"-sampling, booty-shaking "Anaconda" performance at the MTV Video Music Awards on Sunday.
Both women presented images that were impossible to unsee. But it's not as if Dunham, who attended the show and the HBO after-party with musician boyfriend Jack Antonoff, hadn't issued a warning.
"All I'm gonna say about my Emmy dress is that it looks like cake and feels like sweatpants #loveandjoy," she said Aug. 13 on Twitter.
Hard to complain about clothing that delivers on both of those fronts. Still, Los Angeles Times fashion critic Booth Moore was not impressed, though she did applaud Dunham's feminine choice.
The "Girls" creator's Giambattista Valli ensemble Monday echoed Zoe Saldana's Givenchy Couture choice for the 2010 Oscars, with Dunham exaggerating and lightening up the look of the "Avatar" star's purple-ombre offering and swapping Saldana's sparkling strapless top for one that resembled boys' pajamas rendered in pink and given as a gift from Grandma.
Any criticism would likely roll off Dunham like water off a duck's back. After all, it's not the first time she's made a bold fashion choice. Vogue in January called her a "poster girl for women who are confident enough to wear clothes that imbue wit and eccentricity," adding that she's a "true original in every sense of the word and defies critics who question her love of a short hemline or a daring cut."
Then again, there's also the Hannah Horvath translation of Dunham Style, which can be witnessed in pretty much any episode of "Girls," the writer-actress' brainchild.
Think shorty-shorts romper. Think green bikini. Think see-through yellow mesh tank tops. Think -- nothing at all.
Those outfits in mind, it's probably pretty lucky Lena Dunham and not Hannah Horvath was on the carpet Monday night, no matter what she was or wasn't wearing.
One more thing: Oh. My. God. Lena Dunham. Look. At. Her. Hair.
But that new look is a whole 'nother story.
Follow Christie D'Zurilla on Twitter @theCDZ and Google+. Follow the Ministry of Gossip on Twitter @LATcelebs.
---
Get our L.A. Goes Out newsletter, with the week's best events, to help you explore and experience our city.
You may occasionally receive promotional content from the Los Angeles Times.