Sinead O'Connor's headline-grabbing history: disses, disappearances and mental illness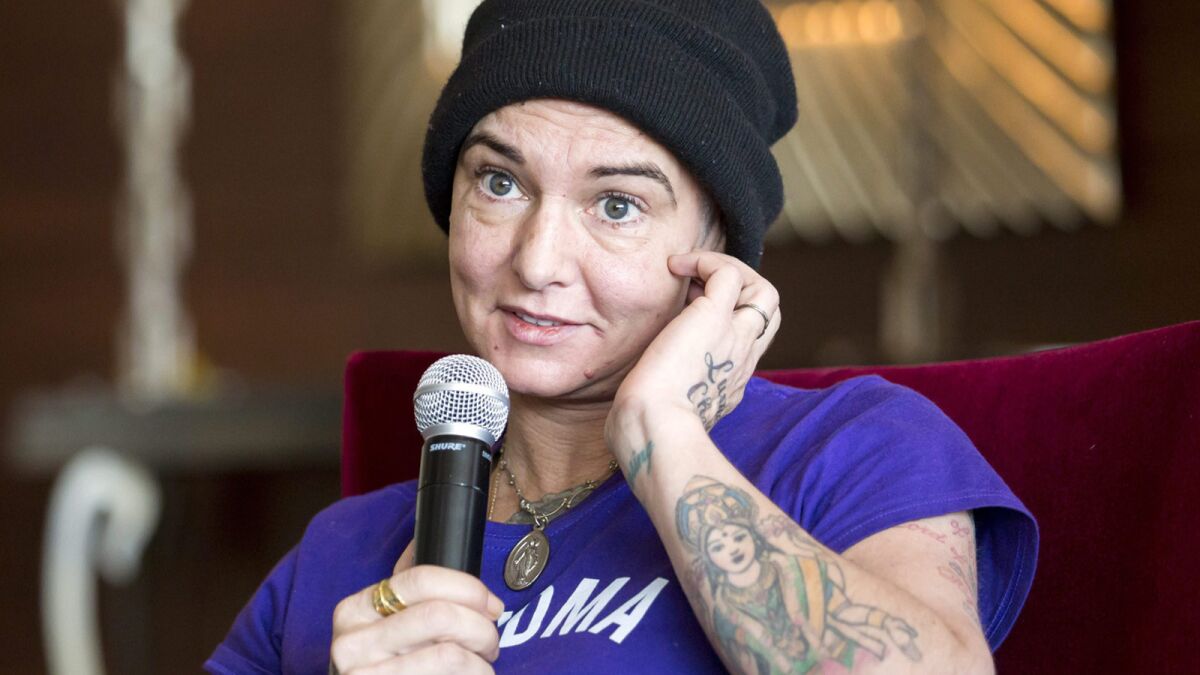 When Sinead O'Connor was reported missing in Illinois, it was the latest incident in years of drama surrounding the singer, who broke out in 1990 with the Prince-written hit "Nothing Compares 2 U" and who cemented her place in pop culture by tearing up a picture of Pope John Paul II in protest on "Saturday Night Live" in 1992.
In recent years, the Irish singer has perhaps become best known for airing her personal struggles publicly and making outlandish pronouncements about other celebrities on social media and elsewhere. O'Connor has said publicly that she suffers from post-traumatic stress disorder and was misdiagnosed as bipolar.
She was located Monday by police in Wilmette, Ill., after she hadn't been seen since going out for a bike ride at 6 a.m. the day before. Sources told Chicago's WGN that O'Connor was found at a hotel and had been hospitalized.
On Facebook on the morning of her reported disappearance, she'd alluded to family troubles, asking eldest son Jake Reynolds to take custody of his 12-year-old half-brother, Shane Lunny, her second-youngest. She also threatened legal action against Reynolds and Shane's father, Donal Lunny. It is unclear what prompted the post or what the lead up to it was, but custody battles have been a long-running issue for the mother of four, who has been estranged from her children off and on over the years.
A look at Sinead O'Connor's career.
(Fred Tanneau / AFP/Getty Images)
Sinead O'Connor performs at an outdoor plaza at 59th Street and Fifth Avenue in New York for a taping of CBS' "The Early Show" on June 12, 2000.
(Tina Fineberg / Associated Press)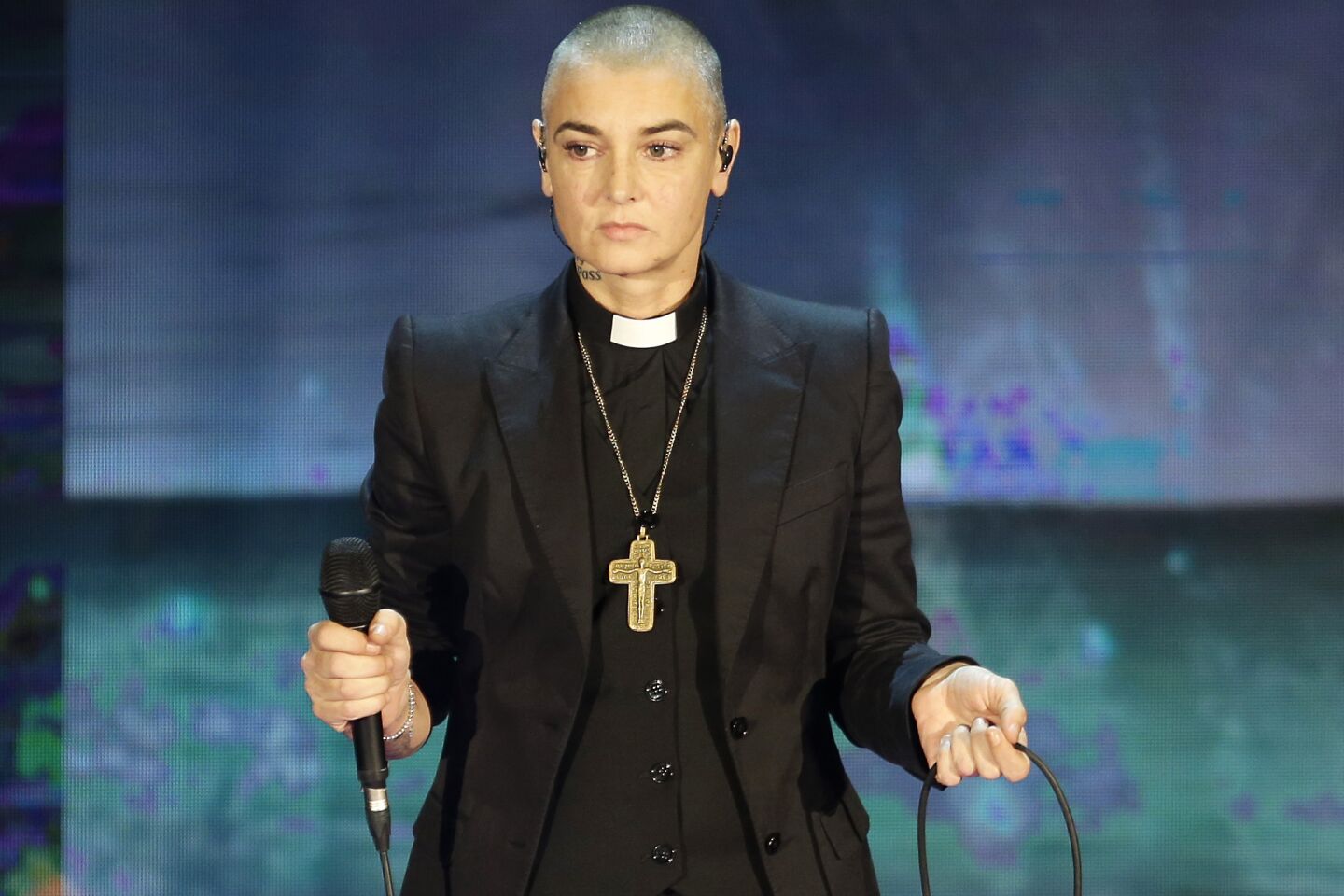 Sinead O'Connor performs on "Che Tempo che Fa" in Milan, Italy, on Oct. 5, 2014.
(Antonio Calanni / Associated Press)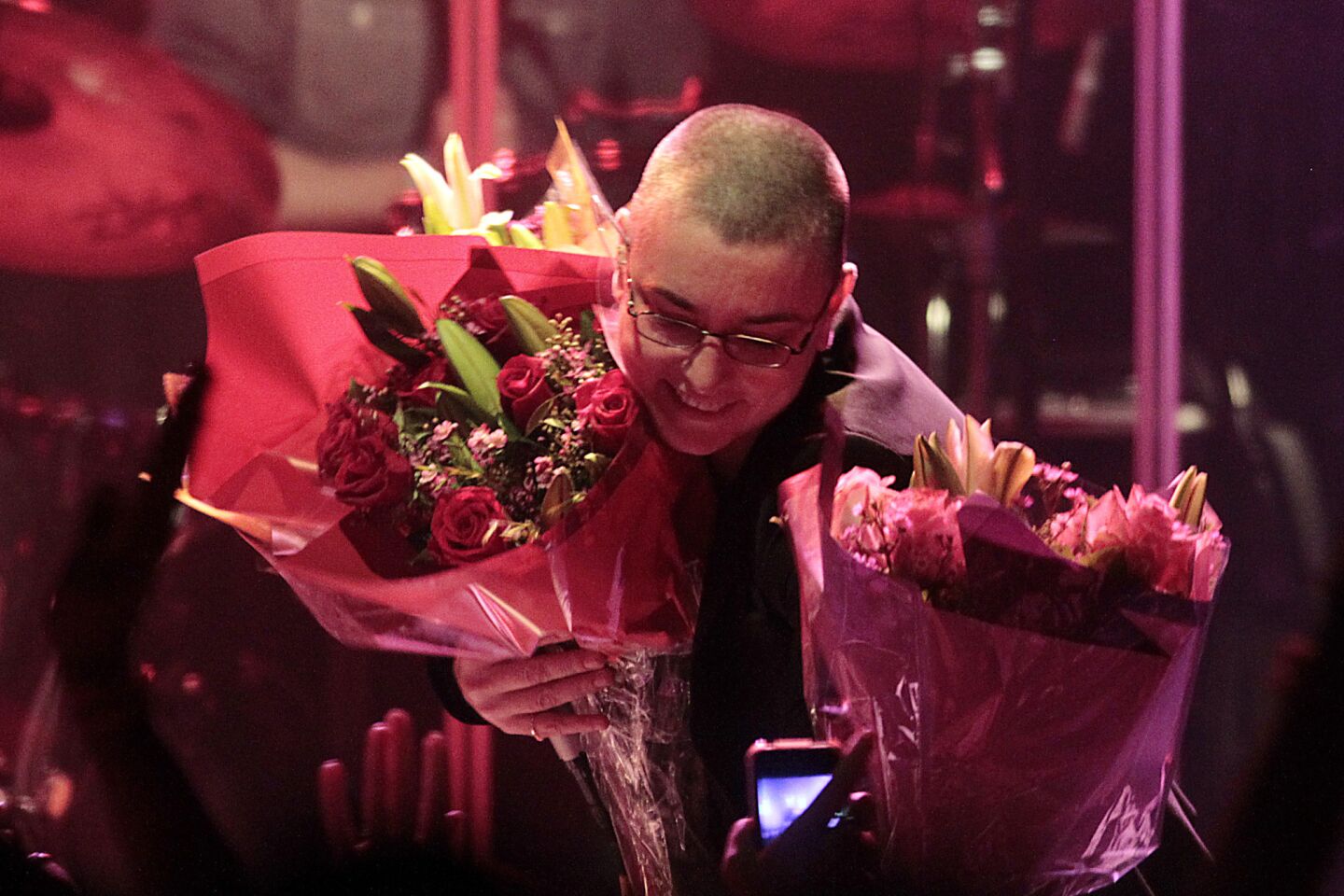 Sinead O'Connor receives flowers from the audience during a performance at the El Rey Theatre in Los Angeles on Feb. 20, 2012.
(Luis Sinco / Los Angeles Times)
Sinead O'Connor performs at the El Rey Theatre in Los Angeles on Feb. 20, 2012.
(Luis Sinco / Los Angeles Times)
Sinead O'Connor performs at the Linda McCartney tribute at London's Royal Albert Hall on April 10, 1999.
(Sean Dempsey / Associated Press)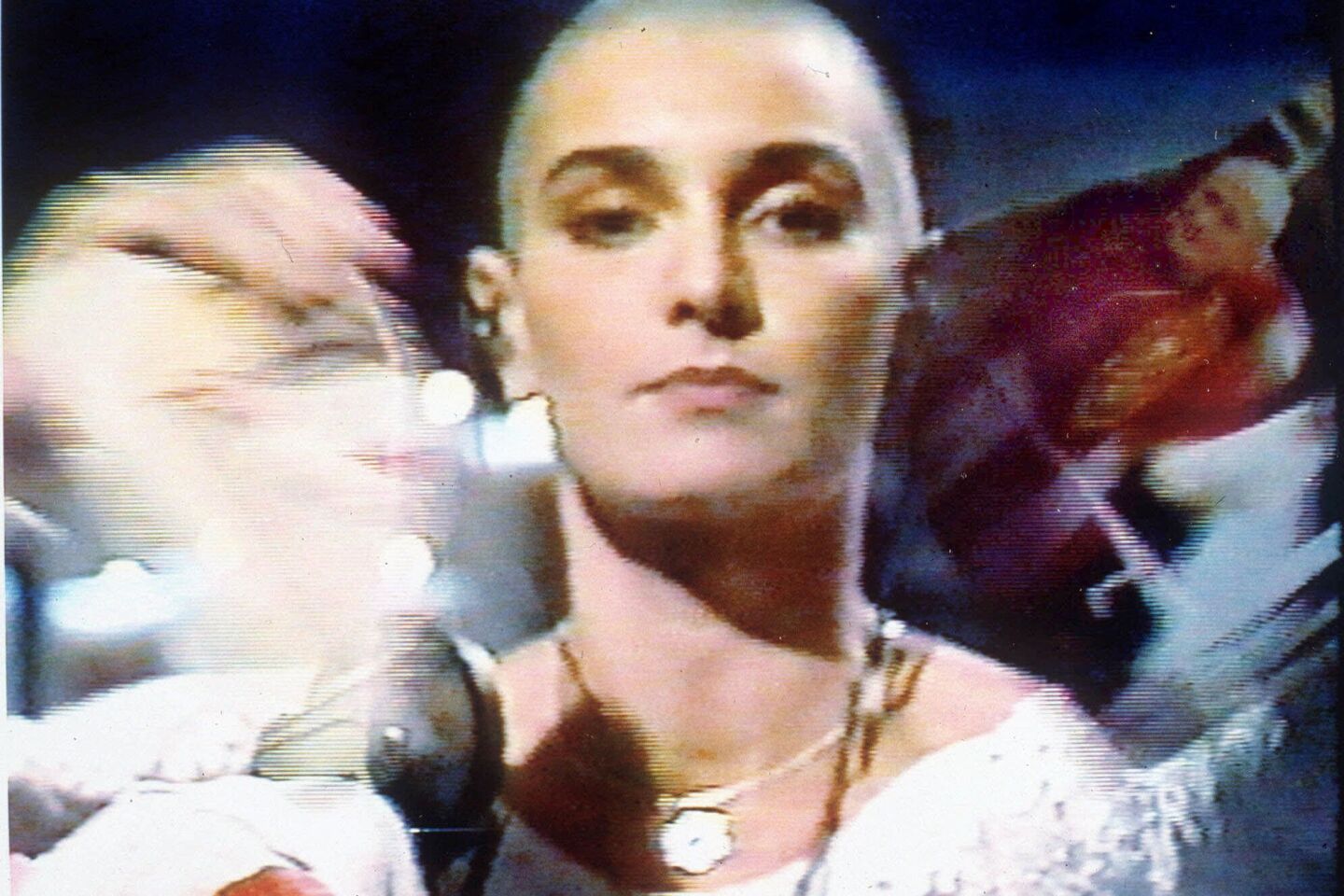 Sinead O'Connor's most memorable pop culture moment came in 1992 when she ripped up a picture of Pope John Paul II during a live appearance in New York on NBC's "Saturday Night Live" after performing a cover version of Bob Marley's "War."
(File photo / Associated Press)
Sinead O'Connor has released nine albums during her career, beginning with 1987's "The Lion and the Cobra" on Ensign / Chrysalis Records. The album sold 2,500,000 copies worldwide.
(Richard Drew / Associated Press)
Despite a six-year gap between albums, Sinead O'Connor continued to make music and tour sporadically. In 1998 O'Connor performed a stand-out set at Lilith Fair at the Rose Bowl in Pasadena.
(Lori Shepler / Los Angeles Times)
In 1999, Sinead O'Connor, who famously tore up a picture of Pope John Paul II on "Saturday Night Live," became an ordained priest of the Latin Tridentine Church, a conservative Christian sect not officially recognized by the Catholic Church.
(Jim Cooper / Associated Press)
Reynolds, 28, is O'Connor's son with her first husband, music producer John Reynolds. The singer has two other children, daughter Roisin Waters, 20, with journalist John Waters and son Yeshua Bonadio, 9, with Frank Bonadio. She's been married four times, first to Reynolds, then to journalist Nick Sommerlad, musician Steve Cooney and finally therapist Barry Herridge.
O'Connor had a three-year battle with John Waters over custody of their daughter that ended in March 1999 when she handed Roisin, then 3, over to her father four days after attempting suicide. The singer had reportedly taken 20 Valium pills.
A family fallout also preceded a November 2015 suicide attempt that she announced on Facebook. "I have taken an overdose," she wrote. "There is no other way to get respect. I am not at home, I'm at a hotel, somewhere in Ireland, under another name. If I wasn't posting this, my kids and family wouldn't even find out."
She eventually was found "safe and sound" in Dublin after authorities were alerted to her threat, police said at the time.
O'Connor was back in the news in recent weeks for inflammatory remarks after Prince's death.
The singer jumped into the fray early this month, labeling Prince a "long time hard drug user" and accusing Arsenio Hall (who has vigorously denied all of her allegations) of being his longtime supplier. That May 2 accusation earned her a $5-million libel lawsuit from the comedian -- a suit she said "amused" her. In another Facebook post on May 6, she implied that the Drug Enforcement Administration's involvement in the musician's death was sparked by her accusations.
Hall said in his lawsuit that he hasn't had contact with O'Connor for about 25 years.
She has said over the years that she and Prince "detested" each other since meeting briefly after she'd recorded his song. In a 2014 TV interview, she elaborated on that meeting, alleging that in the early 1990s she "had to escape out of his house at like 5 o'clock in the morning." She described a wild car and foot chase in the Hollywood Hills where she was trying to spit on him and he was trying to hit her. "He packed a punch bigger than mine," she said.
The Purple One had, according to O'Connor, "summoned her" to his house in the first place to tell her he didn't like her swearing during interviews. (The no-cussing thing actually was a thing with Prince.)
"So," she said, "I told him to ... off."
Prince and Arsenio Hall join a long list of public figures O'Connor has pulled into the headlines.
She slammed Kim Kardashian's July 2015 Rolling Stone cover, calling the reality star by a crude name and saying, "Music has officially died. Who knew it would be Rolling Stone that murdered it? ... Bob Dylan must be ... horrified."
And Miley Cyrus caught O'Connor's attention in October 2013, after that raunchy MTV Video Music Awards performance with Robin Thicke. "I've been in the business long enough to know that men are making more money than you are from you getting naked," O'Connor said in a lengthy open letter to the "Wrecking Ball" singer. "Its really not at all cool. And its sending dangerous signals to other young women. Please in future say no when you are asked to prostitute yourself. Your body is for you and your boyfriend. It isn't for every … spewing dirtbag on the net, or every greedy record company executive to buy his mistresses diamonds with."
Cyrus responded with a tweet that said "Before Amanda Bynes, there was …" and included tweets from O'Connor in which the latter was seeking an urgent referral to a psychiatrist.
In the wake of Robin Williams' 2014 suicide, O'Connor defended Bynes, the comic and Britney Spears against what she told Sky News was "abusive" media treatment simply because they suffered from mental illness.
O'Connor has said in interviews that she was misdiagnosed with bipolar disorder in 2011, also attempted suicide in 2012, and suffers from depression and PTSD.
"When you admit that you are anything that could be mistakenly, or otherwise, perceived as 'mentally ill,' you know that you are going to get treated like dirt, so you don't go tell anybody," she told Sky News, "and that's why people die."
Follow Christie D'Zurilla on Twitter @theCDZ.
ALSO:
Arsenio Hall sues Sinead O'Connor over claim he got drugs for Prince
Creed's Scott Stapp reveals bipolar diagnosis: 'I was out of my mind'
Amanda Bynes apologizes for saying she'd like to kill her parents
Get our L.A. Goes Out newsletter, with the week's best events, to help you explore and experience our city.
You may occasionally receive promotional content from the Los Angeles Times.