Taylor Swift meets her godchild Leo, BFF Jaime King's newest son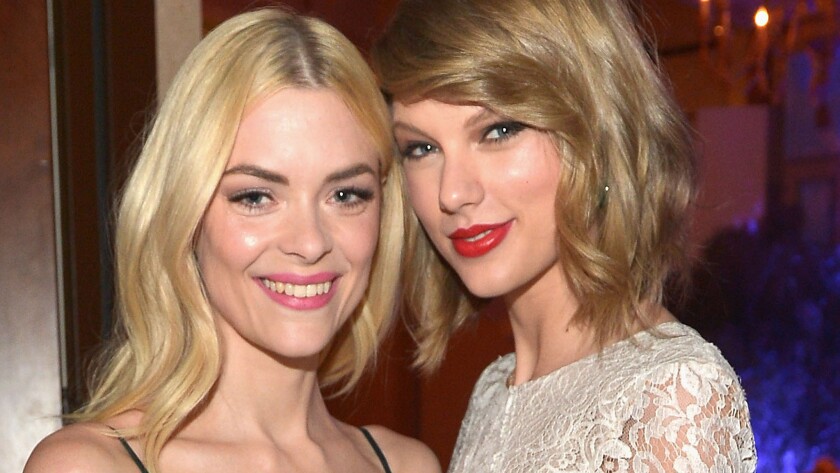 Taylor Swift is showing off her new godchild on social media -- because that's the millennial equivalent of shoving a wallet full of pictures in someone's face.
The "Style" singer became a godmother when pal Jaime King welcomed son Leo Thames Newman on July 16. The "Hart of Dixie" star and husband Kyle Newman announced Leo's arrival with a few social media posts of their own last week.
Swift, 25, publicized her first encounter with King's second born in a snapshot that showed her doting on the child as the new mom looked on: "Meeting my boy," Swift tweeted.
PHOTOS: The Hollywood baby boom
In another photo, the singer-songwriter leaned a bit lyrical, sharing a picture of Leo wrapping his tiny hand around her delicate finger that she captioned: "Your little hand's wrapped around my finger and it's so quiet in the world tonight..."
King, 36, and Newman, who are also parents to 21-month-old son James Knight, named pal Swift as their second born's godmother when King announced her pregnancy in February. The actress later said that they bestowed the honor on Swift because "she's incredibly thoughtful" and would raise their son "the way that we would raise our child."
"Her thoughtfulness, her kindness, her authenticity — the way that she's generous with her family, with her friends, with her fans — is so powerful to me," the former model told Elle.com. "She's so uninhibited in her giving — the presents she gives to her fans, she wraps every single one, she paints the stuff. It's all her. It's just beyond."
The girls reportedly clicked when they met at the Weinstein Co.'s Golden Globes party in January 2014. That June, the crossover darling threw King an elaborate baby shower with a squad of pals on the guest list.
Follow me on Twitter @NardineSaad.
---
Your essential guide to the arts in L.A.
Get Carolina A. Miranda's weekly newsletter for what's happening, plus openings, critics' picks and more.
You may occasionally receive promotional content from the Los Angeles Times.