Great Read: For Zoey Tur, a new life as transgender woman takes flight
At 700 feet above Los Angeles, Zoey Tur realized she'd never flown a chopper in heels. "One thing I quickly discovered as a female pilot," she said. "Ditch the heels!"
The airborne reporter and pilot bent down, pulled off her pumps and threw them in the back seat. "I mean, really? Seriously?" she said, hovering above the city, one pantyhose-clad foot on the anti-torque pedal, one manicured hand on the cyclic control.
As benign as the helicopter flight appeared, it was perhaps one of Tur's riskiest assignments in a television news career that's included flying through war zones, deadly storms and gunfire. The recent "Inside Edition" segment was one of her first as Zoey, not Robert, Tur — the first openly transgender reporter on a nationally syndicated news show.
The Emmy-winning 54-year-old is no stranger to breaking stories from the skies above Los Angeles. In the early hours of the 1992 riots, Tur was hovering over the intersection of Florence and Normandie and captured the beating of truck driver Reginald Denny. Two years later Tur was the first to spot O.J. Simpson fleeing in the now-infamous white Bronco.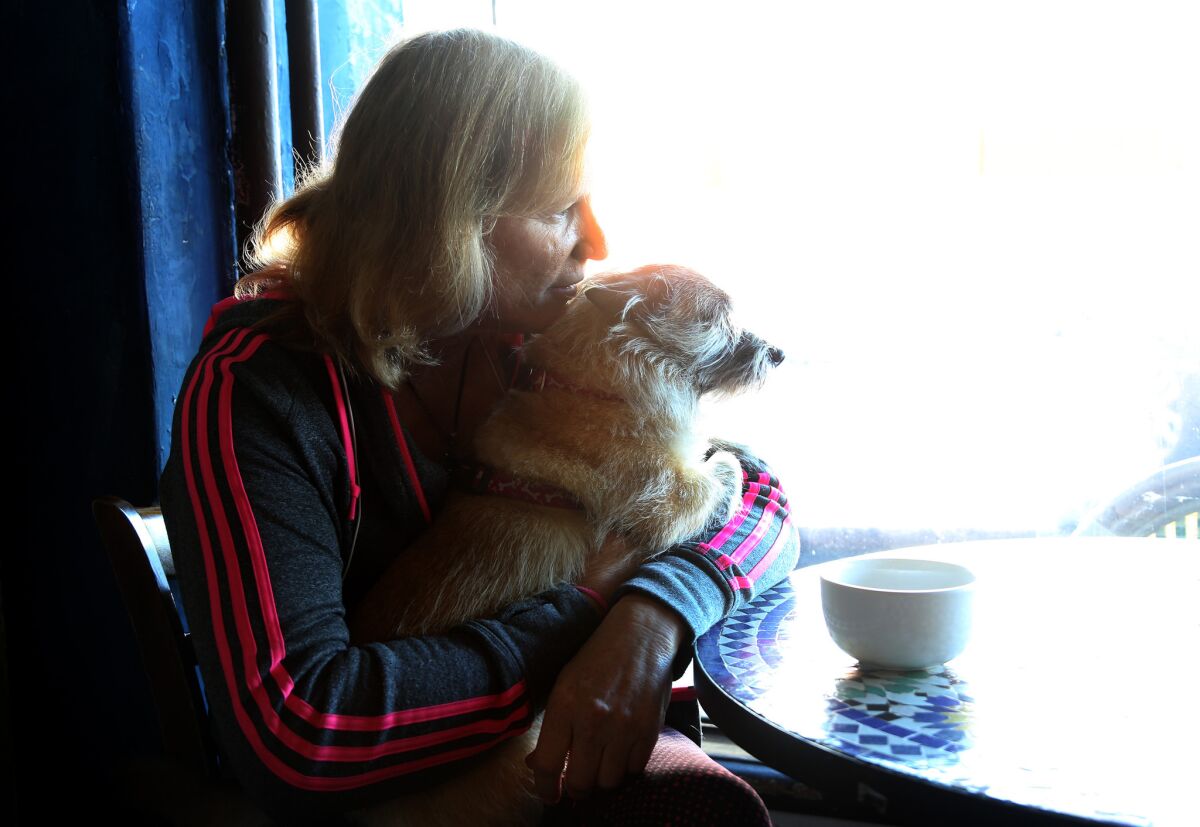 In three decades as "Chopper Bob," Tur airlifted dozens of people to safety during deadly weather and man-made calamities.
"It was about as macho as it gets," she said.
Now a strawberry blond with noticeably softer features, Tur is gradually making her way back into the news business after two years of hormone therapy and a sex reassignment surgery last June. Today, Tur is far less flashy than the swaggering and chiseled Chopper Bob.
"You expected me to be way over the top in person, didn't you?" she asked with a nudge. "C'mon, admit it. Bigger hair, brighter colors maybe?"
Tur's breakthrough role as a freelance correspondent for "Inside Edition" comes at a time when transgender personalities are making significant headway in mainstream media. It's no coincidence she was brought on board in February during sweeps season.
TV series such as "Orange Is the New Black," "Glee" and "Transparent" feature transgender story lines and characters that are humanizing rather than exploitative. Former Olympian Bruce Jenner was in talks to document his transition from male to female for a proposed reality TV series. Major news outlets now report regularly on the challenges faced by the transgender community, whether it's the high rate of suicide in the community or daily issues involving public changing areas in gyms.
As expected, Tur's high-profile position has drawn mixed reactions: She's heralded as a breakthrough by some, derided as an abomination by others. She's reported on her own learning curve as a woman, as well as on stories about America's changing ideas about gender, such as a recent interview with a transgender San Quentin State Prison correctional officer.
Likewise, she's both a pioneer and a lightning rod in the LGBT community. Her mere presence on prime time is a testament to the growing acceptance of a historically maligned demographic, yet Tur's contrarian viewpoints on various issues have raised hackles in the transgender community and among advocates who say she's off message.
She's challenged the very definition of "transgender" and argued that despite what the experts say, hormone therapy can cause one's sexual orientation to flip. (She says she's now attracted to men, after a lifetime of the opposite.) She also recently sided with female patrons at a Michigan gym who felt uncomfortable sharing the changing room with a transgender woman.
"When I was going through transition, I didn't push it on everyone," Tur said, referring to the gym controversy. "I didn't want to harm the transgender community or harm females in their private space. I was respectful. But now I've been told [by LGBT advocacy groups] to sit down, shut up and listen."
Dana Beyer, executive director of Gender Rights Maryland, feels Tur isn't qualified to be a spokeswoman for the community.
"Like many other trans people, she may have thought: 'Oh, I transitioned. Now I can pontificate about any question someone throws me.' My answer is 'No, you cannot.' She's pretending to be an expert but misinforming the public. It's dangerous."
Mark Angelo Cummings, founder and host of Transition Radio, disagrees. He's concerned that certain advocacy groups are too aggressive in trying to silence those who don't stick to one unified message.
"I've been advocating since 2003, and I don't like what I'm seeing now," said Cummings, who recently interviewed Tur on his show. "No one speaks for every trans person. They're the most complex group of individuals I've ever met. Put 10 transgender individuals in one room, and we'll all disagree. But let their voices be heard."
The slim, 5-foot-10 Tur, an L.A. native, blended in with the weekday beach crowd as she made her way down the boardwalk near her Santa Monica home. Her hair was pulled back in a no-fuss ponytail, her gait casual in a pair of sensible yet sparkly flats.
Tur says assimilation was her goal, but then her gender transition went public.
I pass maybe 70% of the time. When I don't and they look at me funny, I say, 'Choose one.'
— Zoey Tur
"Did I want to be laughed at?" Tur said. "Known as a man in a dress? A clown? No, but I had no choice. TMZ's Harvey Levin called me in 2013 and said, 'We're going to do this story [on your transition]. Will you cooperate?'"
Tur agreed to speak with Levin if he promised to treat her story with respect. "An hour and half later, I did a Skype interview [with Levin]," she said. "I looked drained. I felt like I was confessing to a crime after all those years on the run. Twenty-eight million people now knew."
Over dinner, Tur wanted to arm wrestle. She moved the water and wine glasses to the edge of the table and pushed back the sleeve of her track jacket. Her point: to show that it's unfair for transgender women athletes to compete against other women on sports teams (another opinion that's put Tur at odds with some in the trans community).
She gripped the hand of her female dining companion, the chipped light pink polish on her nails an indication that primping is just not her thing. As the wrestling began, she teased. "I'm bored." And boom. She defeated her opponent without even really trying.
"The gold standard for many transgender [people] is passing," she said later over dinner. "If you can pass, you have an easier life."
She took a sip of wine. "I pass maybe 70% of the time," she said. "When I don't and they look at me funny, I say, 'Choose one.'"
Tur grew up in 1960s Brentwood with a father who worked in the garment business and "a wonderful" mother who was a freelance journalist. Already experiencing mixed feelings about gender, Tur saw in her a natural role model.
Tur recalls being shy, meeting a woman at age 17 and marrying her in 1983. The aspiring reporter worked various freelance jobs, and in an attempt to get to news scenes faster, learned how to fly a helicopter.
Tur eventually bought a chopper and formed a news service with his wife, also a journalist. They helped refine the idea of journalism from the skies, breaking major L.A. stories throughout the '80s and '90s. But work eventually slowed down, and the couple split some years ago. Tur claims to have dated many women, including "Star Wars" actress Carrie Fisher.
"It was like every American boy's dream come true: I'm dating Princess Leia."
No longer chasing news stories on a regular basis, Tur had to face a growing inner turmoil. "As I got older, the gender dysphoria got pretty bad, to the point of severe depression and suicide," she said.
Tur finally started on hormone replacement therapy in 2013.
Tur has been asked why she waited so long to take the gender leap. She says she wanted to wait until her two children were grown. Regardless, the transition has caused a rift in her family.
Tur said her daughter, an NBC News correspondent, is not on speaking terms anymore. Relations with the ex-wife are "horrible." Her son, a medical school student, is supportive.
For the sex reassignment and facial feminizing surgeries, Tur spent three weeks in Thailand. Then she returned to the U.S. as Zoey. "I had to go through passport control, and that's what I was really worried about," said Tur, who was still identified as Robert on her passport. "I didn't look anything like I did before. I handed the [customs agent] my passport. He looked at me, then the passport. He said, 'What were we up to in Thailand?'
"'I had a sex change.' I just said it.
"He said, 'Oh, can you do all that in three weeks?'
"I said yes.
"And he said, 'Wow. Welcome home, miss.' I almost started crying."
Tur still has her old passport as proof of what she looked like as a middle-aged, balding white man in glasses. It's perhaps a reminder too of how far she's come. She said she hasn't figured out how to totally navigate the world as a woman, but she's getting there.
"I haven't gotten heels down yet," she said as she walked back toward home. "It's all baby steps, literally."
Twitter: @LorraineAli
---
Get our daily Entertainment newsletter
Get the day's top stories on Hollywood, film, television, music, arts, culture and more.
You may occasionally receive promotional content from the Los Angeles Times.