The game console era as we know it is almost over, and other upgrade lessons from the Electronic Entertainment Expo
The band raged on, playing vintage rhythm-and-blues hits inside what was designed to appear as a New Orleans street corner. From the balcony above, men and women tossed beads to the onlookers.
Now in its second decade, the Electronic Entertainment Expo, which concluded Thursday night at the Los Angeles Convention Center, endures as part industry trade show and part party, all designed to hype the latest in video games.
"Mafia III," from publisher 2K Games, was the game getting the grand New Orleans-style treatment. Elsewhere, Nintendo showcased its latest "The Legend of Zelda" in a giant fantastical forest and Samsung hosted rapper Lil Wayne and live skateboarders.
But for all the attention that was paid to games like "Zelda," the spectacle and buzz of E3 centered on new game consoles and the arrival of virtual reality. This year, hardware ruled.
See the most-read stories in Entertainment this hour »
Where and how we play is just as important right now as what we're going to be playing. And judging by the news coming out of E3, how we play and the consoles we'll be playing are changing fast.
The console generation gap
Microsoft at E3 unveiled two new consoles that it says will fit into the Xbox One family -- the slimmer, sleeker more powerful Xbox One S and the still-in-development Project Scorpio, a device that will be better equipped to handle virtual reality.
Sony didn't bring its PlayStation 4 update to E3, but it did preview its soon-to-be-released virtual reality headset, and has confirmed a console refresh is on the horizon.
Then there's Nintendo. The video game giant, perhaps home to more household names than any other game provider, will in 2017 release a new console currently dubbed the NX. Though a no-show at E3, its presence was felt, as Nintendo had only one game for attendees to play on the show floor: "The Legend of Zelda: Breath of the Wild." It will be the last major release for the Wii U and one of the first for the NX, a bridge between console generations.
And the time between generations is getting shorter. Not only was Nintendo's most recent console, the Wii U, a bust, the PlayStation 4 and Xbox One are just more than 2 years old. A console generation once could be counted on to last seven or eight years, sometimes more.
With new hardware already on the way, what's a consumer to do? Developers and executives tried to capture the mindset of fans watching along at home.
"Do I buy an Xbox One now? Do I wait and buy the new Xbox One later? Or do I not even get that one and get the Scorpio next year?" said Pete Hines, vice president of public relations and marketing for "Fallout 4" publisher Bethesda Softworks. "From an install base, I want as many people buying PS4's and Xbox Ones right now."
Or, as Nintendo of America President Reggie Fils-Aimé, said, "Do I buy in now, or do I wait for the new shiny thing that's coming?"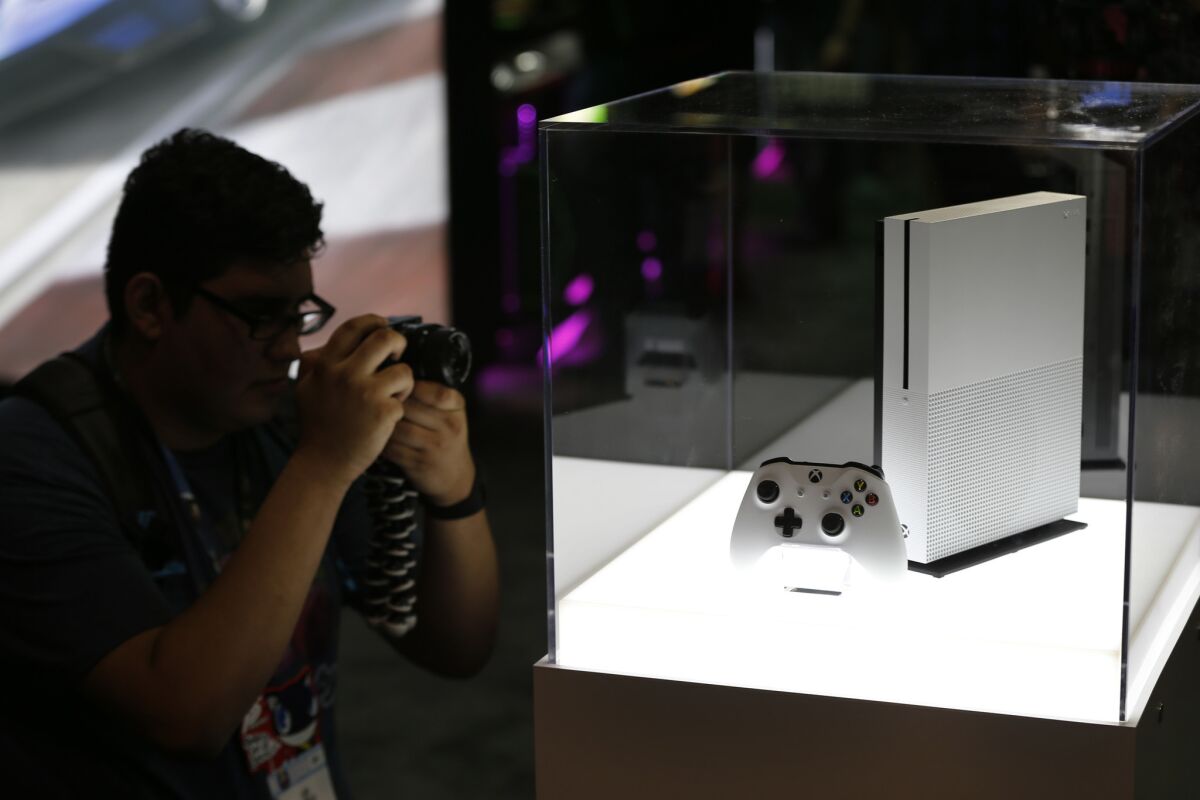 Consoles have thrived since the mid-1980s because they offer a relatively accessible entry into gaming. Though control schemes have gotten more complex, they still play well with television sets, offering a host of entertainment and streaming options, and don't require the near constant upkeep needed for top-of-the-line PC gaming.
But the console era as we know it may be coming to an end.
Why am I going to buy another thing to play games? Unless it's unique, unless it's differentiated, unless it's providing content I can't get anywhere else.
— Nintendo of America President Reggie Fils-AimĂŠ
"We want to move beyond the traditional console generations -- the traditional 10 years, throw it all out, start over again," said Microsoft's Mike Nichols, corporate vice president of Xbox marketing.
Fans, he said, shouldn't be daunted by new options – or the prospect of eventually moving toward a tablet or phone-like future of yearly upgrades. Instead, Nichols said, the technology enhancements won't punish those who have already invested in an Xbox One.
Unlike prior console jumps, all games and accessories will continue to work, and those who want new features can upgrade and receive, say, the ability to stream in 4K Ultra HD, or, down the road, the most optimized unit for virtual reality.
"We want to make sure that everybody knows that if you like your Xbox One, great, all new games and accessories will continue to work," Nichols said. "If you have an Xbox One, and you say, 'Boy, that 4K Blu-ray player on that Xbox One S sounds hot, I want that,' good news. The investments you've made in games and services come with you."
Launching a new console today is no sure bet, as Nintendo learned with its Wii U. The Wii U never had the power of the PlayStation 4 or the Xbox One, and has the distinction of being Nintendo's poorest-selling console, having moved just 12.8 million units (the Wii, by comparison, sold more than 101 million copies).
"These days the consumer has a high-powered device in their pocket," said Fils-Aimé. "They've got access to a range of content, a lot of it free to start. Why am I going to buy another thing to play games? Unless it's unique, unless it's differentiated, unless it's providing me content that I can't get anywhere else. That's what we need to provide in order to compel the consumer to invest their time and their money into our business."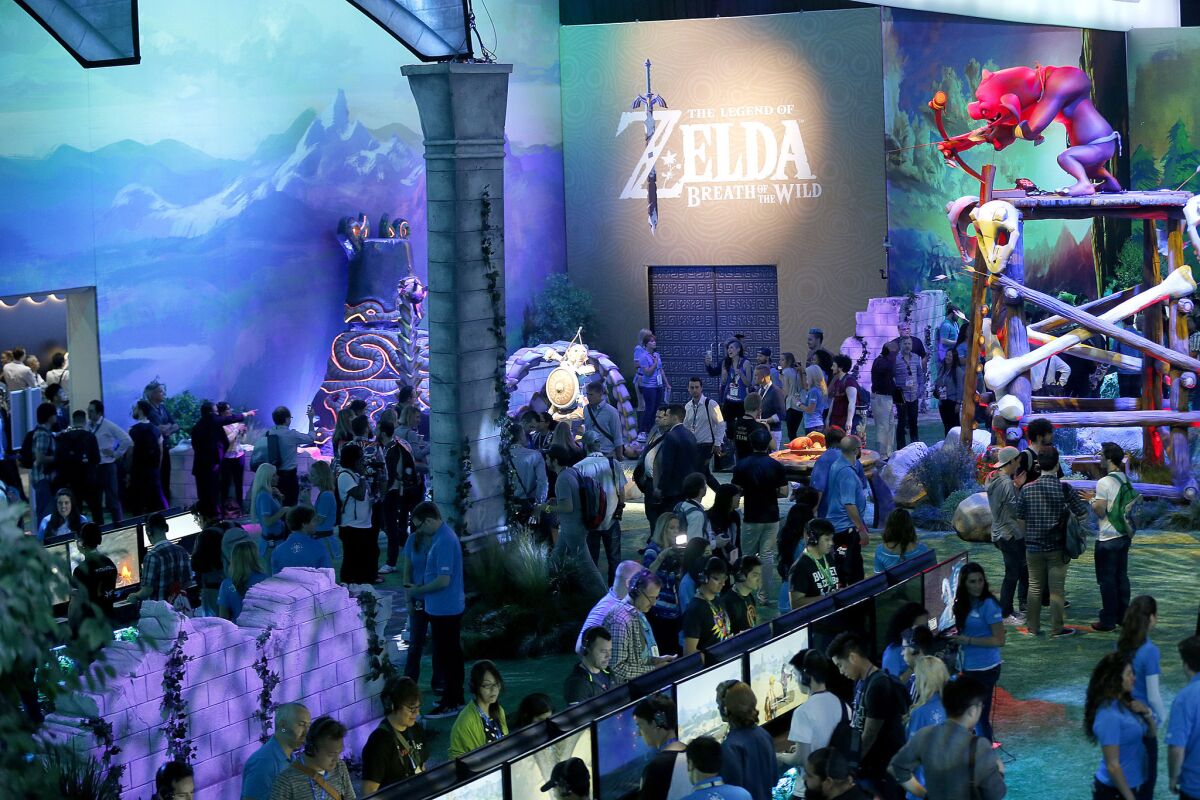 A VR revolution for all?
When it comes to the topics of unique, new and different, some are counting on virtual reality to be the next big gaming revolution. Though devices such as the Oculus Rift and HTC Vive have a high barrier to entry, requiring pricey home computer set-ups, Sony will in October release its PlayStation VR, which retails at a base level of $399 and is compatible with the PlayStation 4, of which more than 40 million units have been sold.
This year at E3 saw the unveiling of a number of well-known brands coming to VR. Ubisoft is publishing the cooperative "Star Trek Bridge Crew" to all major VR devices, and Warner Bros. is bringing "Batman Arkahm VR" to Sony's platform. Meanwhile, Bethesda revealed that its open-world, post-nuclear adventure "Fallout 4" would be coming to the HTC Vive.
Still, VR at E3 was more tempered this year than it has been at past expos. Those working in the space acknowledge that only between 2.5 million and 3.5 million VR headsets are expected to be sold during the first year. Perhaps that's why not all game makers are bullish on VR.
Strauss Zelnick, chief executive of Take-Two Interactive, whose studios include 2K and Rockstar Games, is taking a wait-and-see approach.
"It's still early to call whether it will turn out to be a robust entertainment business," he said. "There's absolutely no incentive to be first to market. There won't be an install base. We don't want to put ourselves in the position of making an enormous financial and time commitment unless and until there's a market."
Even those sold on VR know that the space comes with some great unknowns.
"The toughest challenge of VR is just getting somebody to put the headset on," said Brian Tate, a director on "Star Trek Bridge Crew." "In a game like this, once somebody has the headset on and they're on the bridge of a starship, they get it. They're living the fantasy. But how do we get as many people as possible to try it?"
With so much new hardware on the horizon, expect it to be a common question in gaming over the next year and a half.
ALSO
'The Legend of Zelda: Breath of the Wild' to end the Wii U era
Five things we learned from E3 2016
Get our L.A. Goes Out newsletter, with the week's best events, to help you explore and experience our city.
You may occasionally receive promotional content from the Los Angeles Times.