Comic-Con 2018: 'Charmed' reboot tackles representation, President Trump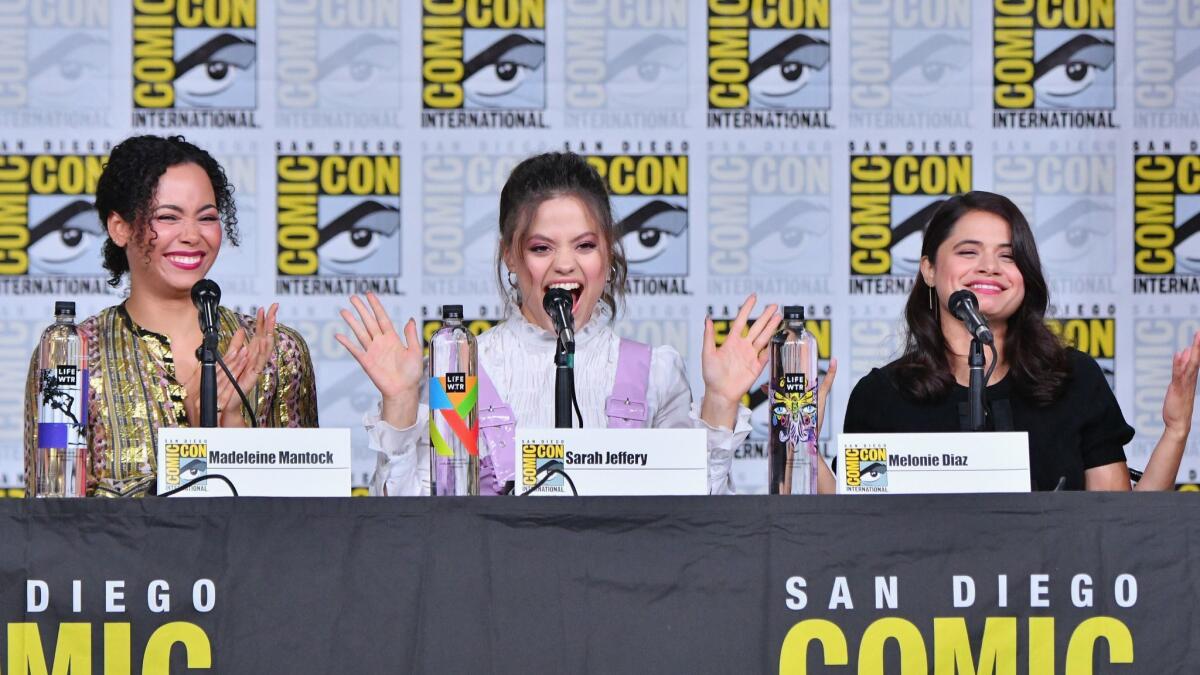 As "Charmed" fans prepare to ring in its 20th anniversary this fall, the former drama about a trio of witches who channel their different abilities into the power of three to vanquish evil is getting the reboot treatment.
In place of original stars Alyssa Milano, Holly Marie Combs and Shannen Doherty (and later also Rose McGowan) are Melonie Diaz, Sarah Jeffery and Madeleine Mantock. Thursday, the three were joined by costar Rupert Evans as well as executive producers Jennie Snyder Urman and Jessica O'Toole to screen the pilot episode for the first time.
Appearing in Ballroom 20, the panel definitely had an updated feel much like the reboot's pilot episode itself. In the opening installment, sisters Mel (Diaz), Maggie (Jeffrey) and Macy (Mantock) inherit powers — telepathy, telekinesis and the ability to stop time — similar to those in the original series (Milano's character was more able to see glimpses of the future than read minds). But with subtle jokes about Trump's ascension to the presidency foretold and Mel's Time's Up activism, this version of "Charmed" clearly embraces the modern era.
FULL COVERAGE: Comic-Con 2018 »
Before long, Urman faced the question of the day: Why was now the time for this reboot?
"It was about female empowerment and women kicking butt, and it seems like we need more of that today," she said.
Also in line with today's sensibilities was the idea of representation, which came up during the panel. A racially diverse cast and an LGBTQ relationship play front and center in the updated edition. Urman said her experience serving as showrunner on the CW's "Jane the Virgin" influenced her heavily while working on the new "Charmed."
"Coming off of the experience of doing 'Jane,' I learned so much about seeing yourself on screen and how important that is," said Urman.
And just like so many other elements of the rebooted series, expect the demons that the sisters must fight to get a 2018 refresh as well.
"A demon that possesses your Fitbit. Maybe drains your life force and you keep waking [up] until you die," said O'Toole. "Haven't figured it all out yet."
Follow me on Twitter: @Storiz
Get our L.A. Goes Out newsletter, with the week's best events, to help you explore and experience our city.
You may occasionally receive promotional content from the Los Angeles Times.