'Fortnite' built a mini theme park complete with scented characters at the Forum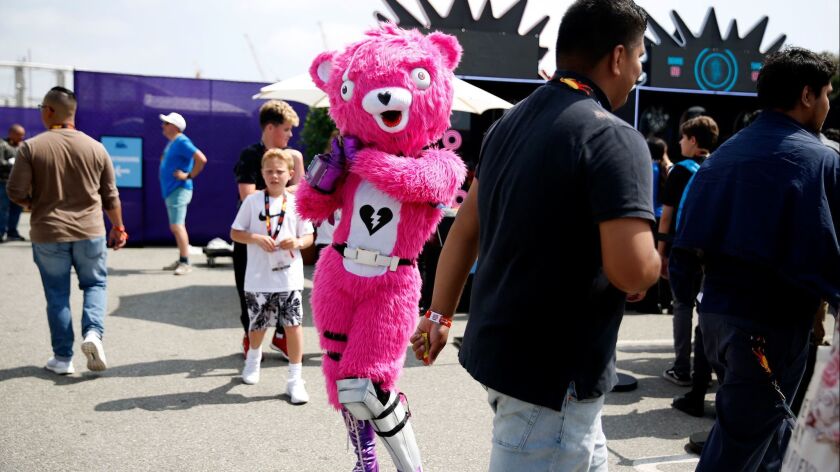 "Fortnite" is already the biggest game on the planet.
Available on just about every device, from our mobile phones to our consoles, the game is inescapable. More than 250 million are said to have given "Fortnite" a try, and it's estimated to have earned $2.4 billion in 2018.
So what's next, a theme park?
Maybe not yet, but a two-day fest at the Forum, the Fortnite Summer Block Party, brought a celebratory end to a week of events centered on the yearly Electronic Entertainment Expo (E3). And it did so with plenty of lessons learned from the themed entertainment space.
Here, even the sunscreen was branded to be in-universe — "Storm Shield," read the mini bottles of SPF 30 given to guests as they entered an outdoor festival area next to the Forum. Costumed characters posed for meet-and-greets (bonus: the banana-like Peely even smelled like the fruit), and fans could soar on a militaristic zip line or try to stay balanced on a rocket-shaped ride.
Many couldn't, but flashing some dance moves as they were jostled seemed just as important.
Inside the Forum, an elevated hexagonal stage dominated the arena floor, where on Saturday, teams consisting largely of well-known gaming personalities were paired with fans. The main event, with a $3-million charitable prize pool, was to be held Sunday evening, a "celebrity pro-am" that partnered pro gamers with athletes, actors and musicians. Hannibal Buress, Joel McHale, Marisha Ray and Brendon Urie were among those on the roster.
But the Summer Block Party was about significantly more than what happened on a screen. Pop-culture brands can easily fall in and out of favor — for evidence, look at this week's box office, where a "Men in Black" spinoff largely under-performed — and the tech-driven gaming world readily runs to the next hot thing. Early 2019, for instance, saw the "Fortnite"-influenced "Apex Legends" become an runaway success.
The Summer Block Party was Epic Games' attempt to turn a wildly popular digital world into a physical play space. With the help of iam8bit, which specializes in crafting themed events and also owns an Echo Park gallery-store with an emphasis on video game art and music, the Summer Block Party gave a "Fortnite" makeover to everything from mini-golf to quiz shows to Nerf battles.
And most everything on site was there to broaden or reflect the "Fortnite" story.
Mini-tables, for instance, were fashioned to look like the boxes of supplies — loot, in game parlance — that drop throughout battles. The game is filled with cartoon-like violence and can be hectic for the uninitiated, but Epic and iam8bit were arguing that "Fortnite," whose hit free-to-play battle royale mode first hit the market in late 2017, is part of a broader lifestyle that's here to stay (the North Carolina-based Epic declined interview requests).
"I think it's going to stick around," said Lili Diaz, 27, of Los Angeles. "A lot of people thought it was going to fall off after a year, but look at it now. It got bigger."
It's also continuing to change the game industry. While its most popular mode is free, "Fortnite" solidified a games-as-service model, where constant, limited-timed updates can tweak the game and add new challenges, even occasionally bringing in franchises such as Marvel's Avengers to the "Fortnite" universe.
Its money is made by selling digital cosmetics, be it new outfits or ridiculous dances. Mobile analytics firm Sensor Tower estimated that at the end of 2018, smartphone users were spending $1.6 million per day on "Fortnite."
And at the Forum, characters such as the burger-faced Beef Boss and Brite Bomber, a woman who looks to belong more in a Saturday morning cartoon than a game with virtual guns, took breaks from high-fiveing fans and signing autographs to show off said dance moves. While those not in-tune with "Fortnite" may think it's silly to spend real money on a five-second virtual dance, the game doubles as a hangout place for its fans and allows Epic to sell virtual personalities.
E3 2019: 10 games that made a lasting impression »
Alex Kawai, 44, of Fountain Valley, was there with his teenage son, Teague, who arrived dressed as Beef Boss. Teague, waiting for the zip line, was bummed that security wouldn't let him wear the burger mask inside the venue. "I'm kind of sad I didn't get to wear my full costume, but everything here is just awesome," said Teague, who gravitates toward the game's build-focused creative mode.
His father pleaded ignorance to all-things "Fortnite." "I couldn't figure out how to do it," said Alex, and it's unlikely the Summer Block Party showed him the way.
A few feet from where the Kawais were standing was a quiz show, with contestants standing behind llama-sculpted podiums. To a "Fortnite" newbie, the questions would sound like a foreign language. "The bounce pad was unvaulted and someone dropped it into the volcano causing all the lava to bounce out of it — fact or fiction," read the host.
This was an event that spoke directly to the game's dedicated players, doing so with just enough over-the-top carnival-like trappings to make the clueless feel welcome. As attendees completed events, including an obstacle course that had to be navigated inside a giant, inflatable ball, they would essentially "level up" by earning stamps. Every three or four stamps could be redeemed for real-world merchandise such as event-exclusive pins or a glow-in-the-dark "V-buck," the in-game currency that looks like a poker chip.
If not quite as elaborate as a "Fortnite" version of "Westworld," the Summer Block Party had designs on providing a similar escape. Peterjohn, who prefers to go only by his first name, flew down from Castle Rock, Wash., to surprise his grandson with a trip to the festival.
For Peterjohn and his family, "Fortnite" has been a bonding experience. "They call me 'Legendary Grandpa,' and I teach them the values of being a team," he said, "We work as a team. Don't be greedy. Cover me. I cover you. There are principles in there."
If other players start bullying or cursing at his squad — all children around ages 9 or 10 — Peterjohn puts them in their place. "I let them know that there's no reason to talk like that to kids. Have some respect." While Peterjohn is an enforcer, the cheery vibe of the event did serve as a contrast with some of the harsh realities of online play.
Peterjohn failed to score any points in the quiz show at the event, but the grandfather in his late 50s said the Summer Block Party succeeded in one important way: making him feel young again.
"I am 14 here," he said.
---
Inside the business of entertainment
The Wide Shot brings you news, analysis and insights on everything from streaming wars to production — and what it all means for the future.
You may occasionally receive promotional content from the Los Angeles Times.