David Huddleston, who played the title role in 'The Big Lebowski,' dies at 85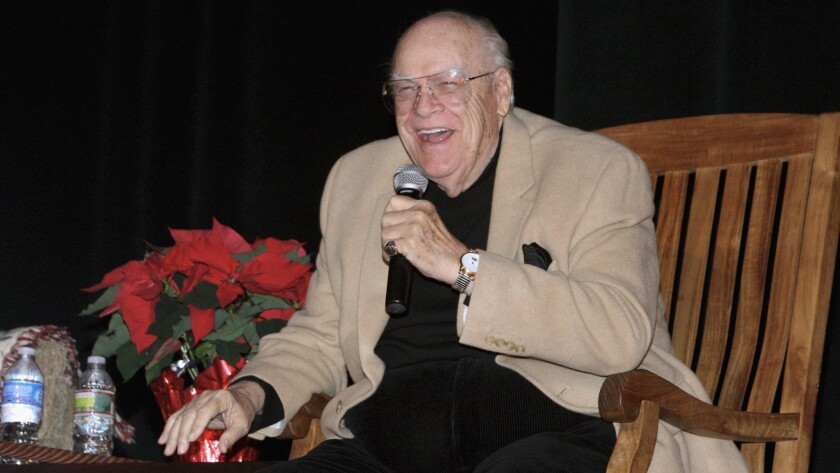 David Huddleston, a character actor who already had a vast list of credits to his name when — late in his career — he took what was to become his most famous role as the title character in "The Big Lebowski," has died, said his wife, Sarah Koeppe. He was 85.
Koeppe, his wife and partner of 32 years, said he died of advanced heart and kidney disease Tuesday in Santa Fe, N.M.
A longtime favorite NBC character actor, Huddleston specialized in big, blustery characters. Such was the title character he played in 1998's "The Big Lebowski."
A 1990s sendup of a 1940s film-noir mystery, "The Big Lebowski" traces a Raymond Chandler-esque plotline, but in place of a hard-bitten investigator, it stars a stoner lay-about played by Jeff Bridges. Huddleston, known for the line "Strong men also cry," appeared in only a few scenes, but they are among the most memorable in the film. His knack was to play puffed-up dons, but with a wink. He managed to act comic parts with an air of being in on the joke, a device served to deflate the very grandiosity he projected.
He was born Sept. 17, 1930, in the Blue Ridge Mountains region, in Vinton, Va., and raised in Villamont, Va., where he often performed monologues in community productions, Koeppe said. After serving as an aircraft engine mechanic in the Air Force, he attended the American Academy of Dramatic Arts, where he studied acting on the G.I. Bill.
His acting career spanned more than half a century, and included Broadway, television and commercial roles. In addition to playing guest roles on numerous TV dramas, he starred in the 2005 film "The Producers," "Santa Claus: The Movie" (1985) and in 1974's "Blazing Saddles." He told the Roanoke Times that "Blazing Saddles" was "probably the most fun I have ever had on a set."
His wife was his casting agent for "Santa Claus: The Movie."
"Things were not important to him — people were," she said of her husband. "He loved entertaining and would rather sit down and talk with someone over dinner."
Huddleston "had thousands of cookbooks, and he loved reading them because they told him about the history of people and locations," Koeppe said. "He was always asking people, 'If this was your last meal, what would you have?'"
Huddleston, the father of actor Michael Huddleston, had a passion for performing live.
"He began on the stage. That was the part he loved the most," Koeppe said. She said he considered his "crowning achievement" to be playing Benjamin Franklin in the 1997 Broadway production "1776."
The role "brought together all of his interests," which included government and politics, she said. While he performed nearly his entire life starting from early childhood, he had "always wanted to go to the University of Virginia to go to law school and be a politician."
Five years after the Broadway production of "1776," Huddleston performed as Ben Franklin at Ford's Theatre in Washington, D.C.
His wife recounted traveling locals stopping them once on the streets of Kusadasi, Turkey.
"They recognized him as the Big Lebowski even though they couldn't speak any English. They asked us to stay and told us, "we will cook for you," she recalled.
ALSO
Anne of Romania, wife of King Michael, dies at 92
Gloria DeHaven, star of '40s musicals, dies at 91
Marni Nixon, whose singing gave voice to Hollywood's leading ladies, dies at 86
---
UPDATES:
8:50 p.m.: This article was updated with additional details.
This article was originally published at 2:55 p.m.
---
Must-read stories from the L.A. Times
Get the day's top news with our Today's Headlines newsletter, sent every weekday morning.
You may occasionally receive promotional content from the Los Angeles Times.