Q&A: How Paul Bettany sent a text message and became 'Solo: A Star Wars Story's' new villain
When Paul Bettany at age 6 saw "Star Wars" for the first time, he was transported from a rainy London to a galaxy far, far away. The experience was instrumental in his decision to pursue acting.
Forty years later, the British actor is making his mark in the "Star Wars" universe as Dryden Vos, the mysterious caped villain of "Solo: A Star Wars Story." The film opens Friday, less than a month after the release of "Avengers: Infinity War," which features Bettany as the android hero Vision.
But Bettany wasn't initially a part of the "Solo" cast. He came onboard after Ron Howard stepped in to direct the movie when "Solo's" original directors, Chris Miller and Phil Lord, departed midway through production due to "creative differences."
"I heard that Ron was taking the movie and I texted him and I said, 'Hey, Ron, have you ever spent long winter evenings like I have wondering why you're not in the "Star Wars" franchise?'" recalled Bettany.
"And he sent me 'LOL. Give me a week or so,' and two weeks later I was flying to London to be in 'Star Wars,'" explained Bettany.
The actor sat down with The Times earlier this month to discuss the evolution of Dryden Vos, his love of "Star Wars" and what he likes about Vision's cape.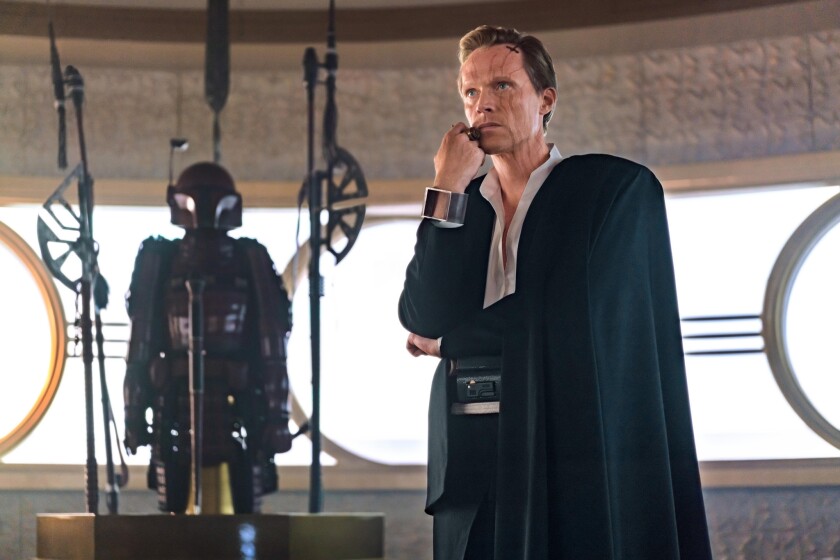 You weren't a part of the original "Solo" cast. How did you come to be a part of the movie?
That's true. There is a really brilliant actor called Michael K. Williams, and the risk you run as a brilliant actor is that you're constantly in demand. So when it came to reshoots, unfortunately he was already busy being employed somewhere else.
Did they make any changes to the character specifically for you?
I have no idea. But there was a huge change in the character. Because Michael wasn't available it gave them a chance to rethink, and they decided that it shouldn't be a CG character and that was a misstep. So I look like me. That's the only one I know of.
"Star Wars" has a long legacy of memorable villains. How did it feel to join that lineup?
I felt fantastic. I've been a huge fan since "A New Hope" came out. I was 6 years old when I first saw it. So to be a part of that 40 years later has been amazing. And yet because the standalone movies, I think, are less encumbered by the same set of responsibilities that the main franchise is there is the room to have a slightly different tone. And the movie has a more playful tone, I think. And the villain can be different.
What was it like to step onto a "Star Wars" set for the first time?
I felt like I was 6 years old again. I was on a spaceship — my spaceship. It was floating in the sky. It had a cyc [cyclorama] that went all the way around that moved. It was actually, I think, the Dolomites. But there were animals and spacecraft that flew around. An R2 unit going by me with champagne flutes on his head. I was like a kid; it was amazing.
Is it fun to be able play a real villain villain in a movie where a lot of the other characters are shades of gray?
Yeah. It was especially nice coming from playing the Vision — sometimes still with bits of purple on my face. Vision is fundamentally a good being, and to be someone who is fundamentally a bad person, I'm super happy about it. Without any neurosis, without any foibles, just really confident that being bad is great and fun.
Do you prefer playing a hero or a villain?
I love doing both things. I love Vision very much and have a very long relationship with it. It was also a relief to be superbad, and it was a real privilege to come work with my mate Ron Howard again. I have a lot of confidence in him, and he has confidence in me, so it felt like an incredibly free, easy experience.
And they both have amazing capes. Which did you like better — Vision's or Dryden's?
I like Vision's cape because it is this beautiful piece of Art Deco fabric, and I like Dryden's cape because of its asymmetrical, gunslinger quality.
What was the most interesting part of Dryden Vos for you?
You know, some people are really good at the piano. And it's really nice to practice playing the piano. Dryden's just really good at hurting people, and it's really hard not to practice something that you're good at.
I think he is supremely confident. He lands somewhere between an oligarch and a gangster — if there is even a separation between those things. I'm not sure.
How was it picking up the knives? Was it hard to learn the knife tricks?
They're really cool. I think I have the coolest weapons in the movie. They're kind of little knuckle-duster lightsabers. Awesome. I only wish I'd stolen a pair to take home with me.
We don't get to see a lot about his back story, but did you get to dig into his past or come up with something on your own?
That's my secret. What I will tell you is that I think Dryden Vos had a very similar upbringing to Qi'ra and Han. That's what I think.
ALSO
'Solo: A Star Wars Story' duo Alden Ehrenreich and Donald Glover breathe new life into beloved characters
Ron Howard strikes back with 'Solo: A Star Wars Story,' and has nothing but praise for Phil Lord and Chris Miller at Cannes
---
The complete guide to home viewing
Get Screen Gab for weekly recommendations, analysis, interviews and irreverent discussion of the TV and streaming movies everyone's talking about.
You may occasionally receive promotional content from the Los Angeles Times.