The Player: First look at 'Star Wars' virtual reality experience brings Kylo Ren and Luke Skywalker together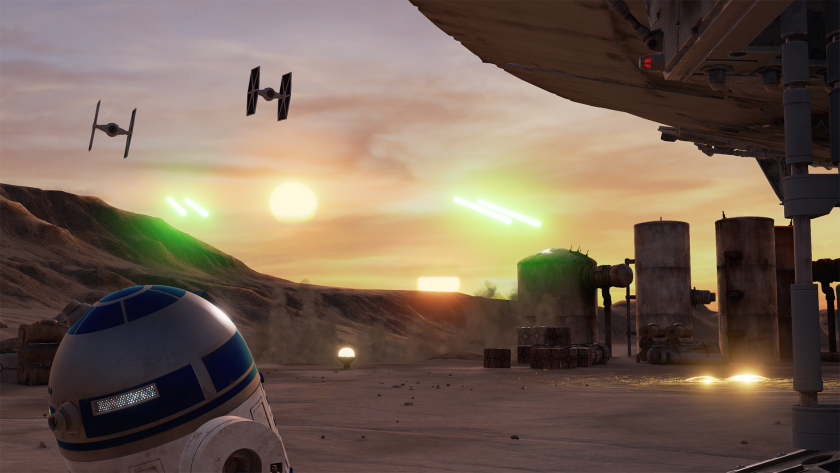 I'm Kylo Ren. I'm standing on the desert planet of Tatooine, looking up at three moons. Dad, arriving via the Millennium Falcon, is apparently on his way.
There's a glimmer of light off in the distance. It's the Falcon, coming toward the planet's surface, trailed by a glowing blue hue.
A gust of wind picks up. I shut my eyes, but it's a pointless gesture. I'm wearing a virtual reality headset, and this is a new "Star Wars" VR experience created by Lucasfilm's ILMxLAB, a laboratory for immersive entertainment.
The Falcon is getting closer. It's majestic -- a large gray mass full of jagged edges, coils and exhaust fumes
It's descending essentially where I'm standing. Do I duck? Do I back up? I do both.
A teaser trailer for "Trials on Tatooine," a virtual reality experience developed by Lucasfilm's ILMxLAB.
"We put Kathleen Kennedy through this, and we landed on the Millennium Falcon on her head," says Rob Bredow, chief technology officer of Lucasfilm. Kennedy is the president of the company.
"Then [we] had it take off and tear off. She took off the headset and said, 'That's what I'm talking about.' Now this is something you can do and experience in VR. Even when we have a full-scale Millennium Falcon, like we do on set, we still can't land it. You can't be standing there as it's landing and want to shield your eyes."
No, but you want to shield them in "Trials on Tatooine," a brief game-meets-cinema experience in which wearers of the virtual reality headset will ultimately engage in a lightsaber battle with Stormtroopers. The title, made with Epic's Unreal Engine, is an experiment rather than a game planned for release, but it illustrates how the still-burgeoning VR movement is nestling somewhere between games and movies as a new storytelling medium.
"Trials on Tatooine" begins with the trademark "Star Wars" crawl, informing viewers -- players -- that a young Kylo Ren is beginning his training with Luke Skywalker to become a Jedi. Its first few minutes are somewhat passive, as the Falcon arrives and Han Solo, never seen, speaks to his son. It becomes more interactive the second R2-D2 delivers Ren a blue lightsaber.
"Sorry, kid," says Solo, making it clear that this isn't a lift home.
But the second the lightsaber came into possession I stopped worrying about the loneliness of a young, still ostensibly good Ren. In real life -- the world outside of the HTC Vive headset, that is -- the lightsaber is just a controller, but inside the headset it's a potent, buzzing instrument, one capable of scorching the ground should I lower it.
I want to say, "It's so light," briefly forgetting that it doesn't exist at all.
This isn't the first "Star Wars" experience developed by ILMxLAB. The team is working with Walt Disney Imagineering to create "Star Wars"-themed lands at Disney's two U.S. theme parks, and has also tried its hand at other VR or immersive stories.
One, for the iPad, allows viewers to move about a scene as a sort of floating camera. Watch from the perspective of a Stormtrooper, or travel inside buildings to see what droids R2-D2 and C-3P0 are mixed up in. Another allows wearers of a VR headset to control a speeder bike, but Bredow admits it's not for those prone to motion sickness.
"Trials on Tatooine," revealed during San Francisco's Game Developer's Conference, is designed to be more of an entry-level VR experience. Though it fills in some of the backstory of Ren, the antagonist of the recent "Star Wars: The Force Awakens," Bredow said it didn't begin as such.
"Riding on a speeder bike in VR is fun, but is it emotionally engaging?" he said. "How long are you going to want to do that? So we thought, as 'Star Wars' fans ourselves, where would we want to be in the 'Star Wars' world the most? We want to stand near something like the Millennium Falcon as it lands. So we mocked that up."
"Trials on Tatooine" isn't targeted for commercial release. Conventions or events such as Star Wars Celebration are likely to be the only places fans can give it a test drive, at least for now.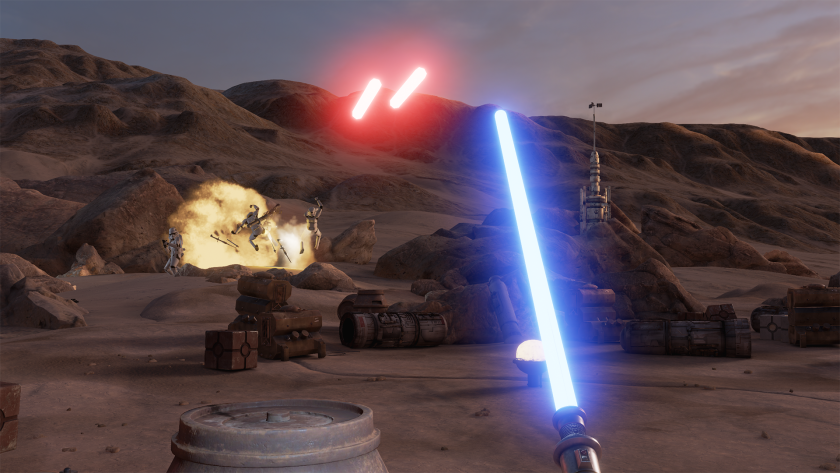 "This is really just an experiment," Bredow said. "We're in active development in things that are well beyond the scope of this experiment that are going to be targeted at consumers. As this market starts to grow up and we do these experiments and play-test them, this is how we're building our experience and trying to get a sense of what sort of consumer-facing experiences we can put out there."
He noted that the ILMxLAB isn't interested so much in creating video games. Bredow said he viewed the works as complementary to the films, allowing participants to see other parts of the "Star Wars" universe -- or play in it. The projects also have benefits for filmmakers, allowing directors and designers to walk around a virtual world before committing to building a physical one.
When it comes to explaining where VR fits in the media landscape, the conversation turns toward Disneyland. With its themed lands such as Main Street USA or New Orleans Square, Disneyland aims to put visitors inside something akin to a movie set, allowing them to wander and develop their own stories as they interact with the space.
"Honestly, Walt Disney was one of the first immersive storytellers," Bredow said. "You walk down Main Street, and there isn't a line of dialogue telling you a story, but there is a story being told as you walk down that and you see the castle and the layout of the place. You understand the story you're being told. I think in VR there's going to be a lot of storytelling that's more similar to walking down Main Street at Disneyland than it is similar to movies."
He added, "What we're going to find is that VR is its own form of storytelling. It's going to borrow things from immersive, location-based entertainment, borrow things from films and borrow things from video games to find its own world. I think we're all scratching the surface of what that is."
Follow me @toddmartens
MORE:
In 'Disney Infinity' video game, the 'Star Wars' universe can be upended, if you like
Super Mario Sisters? At USC, women now outnumber men in video game design graduate program
From 'Walking Dead' to walking dread: 'Firewatch' creators mix heartbreak and the creeps
---
Your essential guide to the arts in L.A.
Get Carolina A. Miranda's weekly newsletter for what's happening, plus openings, critics' picks and more.
You may occasionally receive promotional content from the Los Angeles Times.