Children's books 2009: It's all good! says Jon Scieszka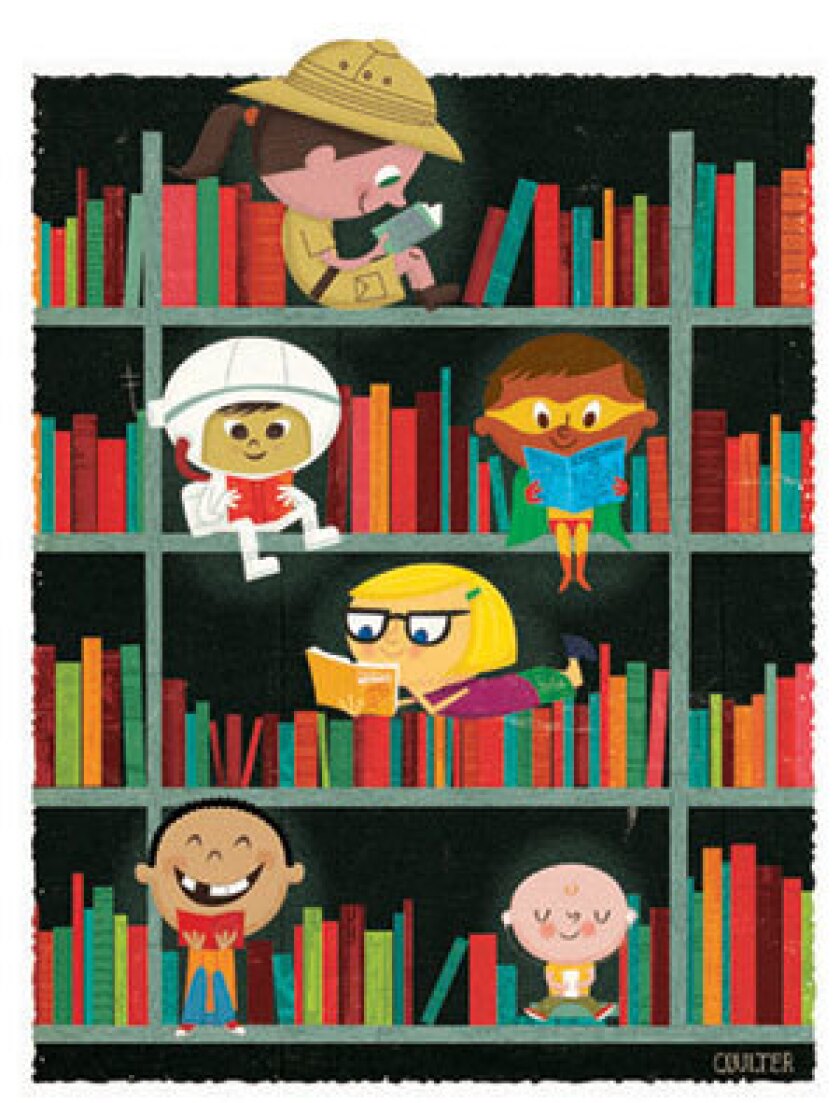 As our first national ambassador of young people's literature, I am pleased to report that the world of children's books is rocking.
My job for the last two years has been to raise national awareness of the importance of kids' books and to promote the full variety of great children's literature. My fellow authors and illustrators have made that job as easy as falling off a log while wearing a fancy sash. By my official ambassadorial estimate (and yes, I do also have tassels on my sash and those little triangle-shaped flags on my car), Jeff Kinney's "Diary of a Wimpy Kid" series and Stephenie Meyer's "Twilight" books got 49,323,701 kids reading.
And enjoying it.
My platform has been to reach reluctant readers. And one of the best ways I found to motivate them is to connect them with reading that interests them, to expand the definition of reading to include humor, science fiction/fantasy, nonfiction, graphic novels, wordless books, audio books and comic books. Librarians and teachers have embraced all of these new kinds of reading.
"The Invention of Hugo Cabret" by Brian Selznick, a fantastic 544-page genre-bending combination of text and art, won the Caldecott medal for most distinguished American picture book in 2008. Neil Gaiman's amazing fantasy-horror-thriller, "The Graveyard Book" (with illustrations by Dave McKean), scooped the Newbery medal for the most distinguished contribution to American literature for children in 2009. A generation ago, an illustrated book or a fantasy thriller would not have been considered "real reading."
I am thrilled to report that humor is also finally getting its long overdue credit. "Skippyjon Jones Lost in Spice" by Judy Schachner and "Duck! Rabbit!" by Amy Krouse Rosenthal and Tom Lichtenheld -- two great new picture books for beginning readers -- are funny. Mo Willems' new early readers, the Elephant & Piggie books, are seriously funny. Eoin Colfer's middle-grade "Artemis Fowl" series is fantastically and flatulently funny. And the humorous state of the children's book world has been massively improved by Dave Barry and Ridley Pearson's smelly cheese/weinermobile thriller, "Science Fair."
Nonfiction used to get no respect. Now adults have realized that some kids are not big fiction fans. They want information. "Horse Song: The Naadam of Mongolia" by Ted and Betsy Lewin and the "Frogs" and "Spiders" photo books of Nic Bishop show new worlds. History comes artistically to life in Jim Murphy's "A Savage Thunder: Antietam and the Bloody Road to Freedom," Kadir Nelson's "We Are the Ship" about the Negro baseball leagues and Walter Dean Myer's historical fiction "Sunrise Over Fallujah."
And I'm not sure what to call " Lego Star Wars: The Visual Dictionary." Nonfiction? Movie/toy fiction? But it is any Lego/Star Wars' kid's dream. Call it spectacular.
"Just looking at pictures" used to be considered cheating. No longer. The graphic novel is booming. Comics, heavily illustrated texts, books with no words are now accepted as reading. The ambassador approves. Graphic storytelling is a great way to help kids get started reading. It's also a powerful artistic form in its own right.
Françoise Mouly and Art Spiegelman have started publishing high-quality comics for kids at Toon Books. "Jack and the Box" by Spiegelman, "Little Mouse Gets Ready" by Jeff Smith (see also: his amazing "Bone" series) and "Stinky" by Eleanor Davis are inspiring kids to become savvy visual readers.
First Second Books has also pushed kids' literature into wonderful new graphic territory with everything from funny early readers like "Sardine in Outer Space," written by Emmanuel Guibert and illustrated by Joann Sfar, to the graphic novel/photo journal of war-torn Afghanistan, "The Photographer" (photographs by Didier Lefèvre, written and drawn by Guibert).
Shaun Tan's wordless book "The Arrival" will take you places you've never been. David Small's graphic memoir "Stitches" is one of the best books I read all year.
Audio books have also gained acceptance as a type of reading, thanks to great recordings like "Martina, the Beautiful Cockroach," written and narrated by Carmen Agra Deedy, "Elijah of Buxton" by Christopher Paul Curtis (and narrated by Mirron Willis), and "The Absolutely True Diary of a Part-Time Indian" written and narrated by Sherman Alexie.
The former stepchild genre of sci-fi/fantasy gave us novels as compelling as any classics: Suzanne Collins' dystopian thriller "Catching Fire" (the second in the "The Hunger Games" trilogy), Scott Westerfeld's steampunk adventure "Leviathan" (with illustrations by Keith Thompson) and Alexander Gordon Smith's ferocious nightmare suspense "Lockdown: Escape From Furnace."
New voices? Plenty. Look at everything by Mac Barnett: "Billy Twitters and His Blue Whale Problem," "Guess Again!" and "The Case of the Case of Mistaken Identity." Ditto for author-illustrator Adam Rex, who illustrated each of these books.
During my ambassadorial tenure, we did alphabet books like nobody does alphabet books. The wonderfully abstract "A Is for Art" by Stephen T. Johnson and "Just in Case a Trickster Tale and Spanish Alphabet Book" by Yuyi Morales represent some of the most inventive.
We welcomed great books from writers who didn't start in the children's field. Thank you to sportswriter Mike Lupica for "Million-Dollar Throw," Terry Pratchett (smartest/funniest fantasy writer in the universe) for "Nation" and Paul Feig (brilliant creator of television's "Freaks and Geeks") for "Ignatius MacFarland: Frequenaut!"
And last, but certainly not least, the old standard fiction gave us some killer storytelling: "After Tupac & D Foster" by Jacqueline Woodson, "Going Bovine" by Libba Bray, "Book of a Thousand Days" by Shannon Hale and "The Magician's Elephant" by Kate DiCamillo with illustrations by Yoko Tanaka.
The state of children's books? Thriving. Inspiring.
Get out there and see for yourself.
Scieszka is the author of numerous books, including "The True Story of the Three Little Pigs!" His successor as the national ambassador of young people's literature will be announced by the librarian of Congress in January.
---
From the Oscars to the Emmys.
Get the Envelope newsletter for exclusive awards season coverage, behind-the-scenes stories from the Envelope podcast and columnist Glenn Whipp's must-read analysis.
You may occasionally receive promotional content from the Los Angeles Times.