No longer stigmatized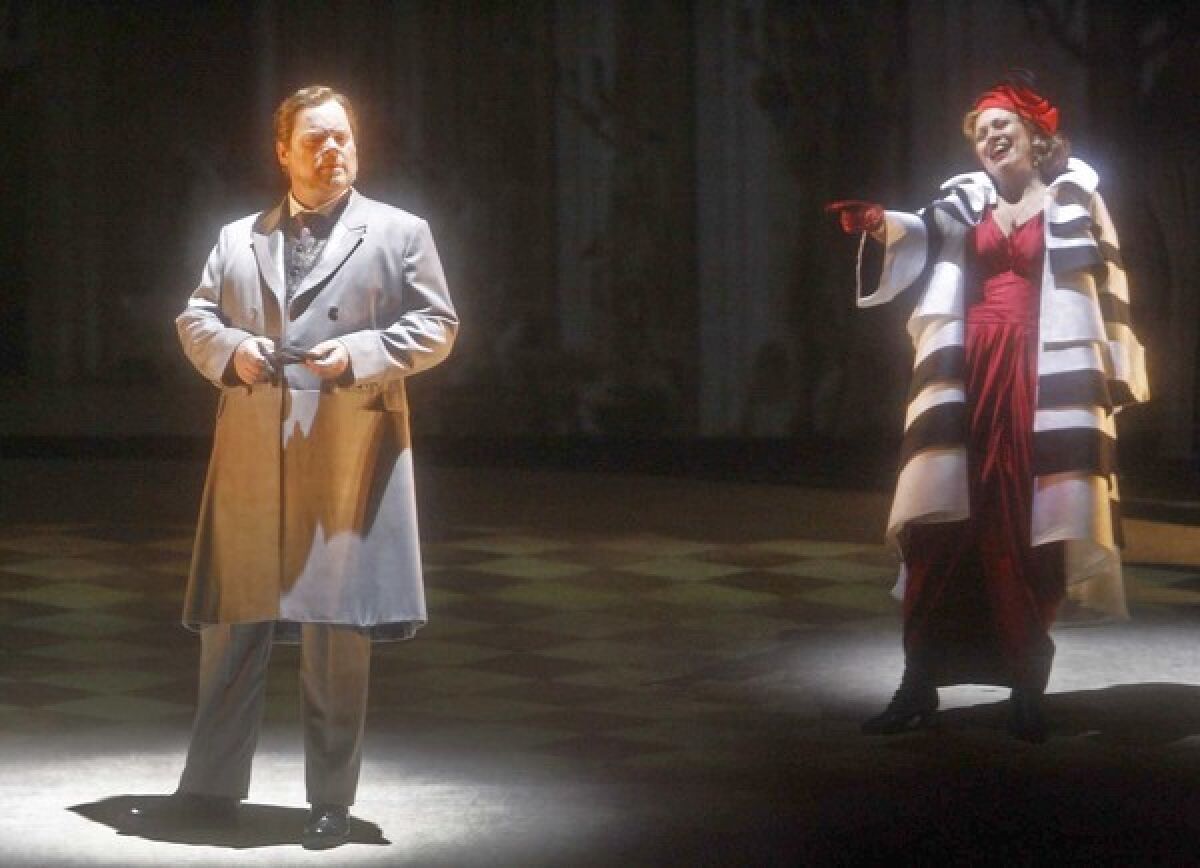 Smoldering passion. Graphic sex. Orgies. Franz Schreker's "The Stigmatized" contains enough adult content that it might have garnered the dreaded NC-17 if the Motion Picture Assn. of America rated opera productions in addition to films.
First performed in 1918, Schreker's opera pushed a lot of boundaries in its day, but it wasn't just the salacious material that got its creator into trouble with cultural censors. The Austrian composer, who was of partial Jewish descent, was one of the many artists whose careers were cut short by the Nazi regime.
Born to a Jewish father and Catholic mother, Schreker was among the most respected European composers during his time and saw his work performed in Berlin, Prague, Paris and other major capitals. He also held prominent academic posts in various music institutions. But his career took a nose dive with the rise of the Nazi party and the passage of laws that made it difficult for anyone with a Jewish parent or grandparent to hold public office.
After being dismissed from two prominent positions and falling into financial trouble, Schreker died in 1934 at age 55 following a stroke.
"The Stigmatized" ("Die Gezeichneten") is widely considered one of the composer's best works, but it has been infrequently performed since his death. A new production opening Saturday at Los Angeles Opera qualifies as a first in more ways than one: It marks the first time that "The Stigmatized" -- or any opera by Schreker -- has received a full production in the Western hemisphere.
With a production of Schreker's "A Distant Sound" to open at Bard College in upstate New York this summer, as well as new stagings of his operas in Europe, this forgotten composer appears to be having a posthumous moment in the sun.
People familiar with the composer tend to use film analogies to describe his operatic style and liken his music to movie soundtracks from Hollywood's golden age.
Conductor James Conlon, who serves as music director of L.A. Opera, described "The Stigmatized" as "Technicolor, post-Romantic music of major dimensions -- outsized."
The conductor first encountered Schreker's work when he recorded several orchestral pieces by the composer for EMI. "That was my first contact. It spoke to me in a very strong way," said Conlon.
"The Stigmatized" -- whose German title can also be translated as "The Marked Ones" or "The Branded" -- is the latest production in L.A. Opera's Recovered Voices, a series started by Conlon that seeks to revive operatic works by composers who suffered at the hands of the Third Reich.
Schreker's opera is set in 16th century Genoa, Italy, and focuses on Alviano Salvago, a deformed and hunchbacked nobleman who is involved in a love triangle with Carlotta, a painter, and Vitelozzo Tamare, a powerful count.
At the center of the story is a beautiful island created by Salvago called Elysium. The hunchback, who considers himself too ugly to enter his own creation, is enraged to learn that his friends have been using parts of the island for orgies involving kidnapped young women.
L.A. Opera's staging will contain explicit sexual situations and is intended for mature audiences only. Director Ian Judge said the production will evoke the "rank smell of bad sex" for the orgy scenes. "It was the time of Freud and there's a sense of psychosexual excitement in the air," he said. (Judge directed the company's torrid production of Wagner's "Tannhäuser" in 2007.)
Because "The Stigmatized" will run at the same time as L.A. Opera's production of Wagner's "Götterdämmerung," the director said he has limited resources at his disposal and must use the latter's raked stage.
To work around the constraints, Wendall Harrington, a video artist with a number of Broadway credits to her name, will create projections on a scrim that will serve as substitutes for traditional sets. She said that the projections will reference well-known works of art, including naughty masterpieces such as Hieronymus Bosch's "The Garden of Earthly Delights."
Tenor Robert Brubaker will play the hero opposite soprano Anja Kampe as Carlotta. Brubaker performed the same role in a 2005 production of "The Stigmatized" at the Salzburg Festival in which Salvago was interpreted to be a closeted transvestite. The L.A. production will portray the protagonist as more traditionally hunchbacked.
Almost like a film
Christopher Hailey, who has written a biography on the composer and who heads the German-American Franz Schreker Foundation, said the Austrian maestro's use of rapidly juxtaposed snippets of dialogue was a precursor to cinematic techniques such as cross-cutting and montages.
"The opera anticipates film in many ways," said Hailey.
Schreker's renewed popularity is due at least in part to economic reasons. In the last 10 years, his works have increasingly entered the public domain in Europe and the U.S., making them less expensive to produce than before, according to the Franz Schreker Foundation.
But his resurgence also has to do with fickle musical preferences. While Schreker's music was dismissed by authorities both cultural and political during his lifetime, current cultural wisdom holds him in high regard.
"Our tastes have changed -- we now like figurative painting, we like narrative novels. We're back in business for non-abstract, neo-narrative taste," said Leon Botstein, a conductor and president of Bard College.
Botstein will conduct the production of "The Distant Sound" at Bard SummerScape in July. He said it's possible that Schreker could enter the canon of frequently performed opera composers much like the once-obscure Leos Janácek did 20 years ago.
Mark Alan Hilt, the music director of the Los Angeles-area new-music series Jacaranda, said that music by Schreker and other composers suppressed by the Third Reich should be programmed more frequently alongside their better-known contemporaries. (Last month, Hilt conducted a performance of Schreker's Chamber Symphony as part of Jacaranda.)
"These composers didn't write to be in a ghetto," Hilt said. "Some of them were already in a ghetto. So it behooves us as audiences to let them out."
---
Get our daily Entertainment newsletter
Get the day's top stories on Hollywood, film, television, music, arts, culture and more.
You may occasionally receive promotional content from the Los Angeles Times.