A new era for Ebert-less 'At the Movies'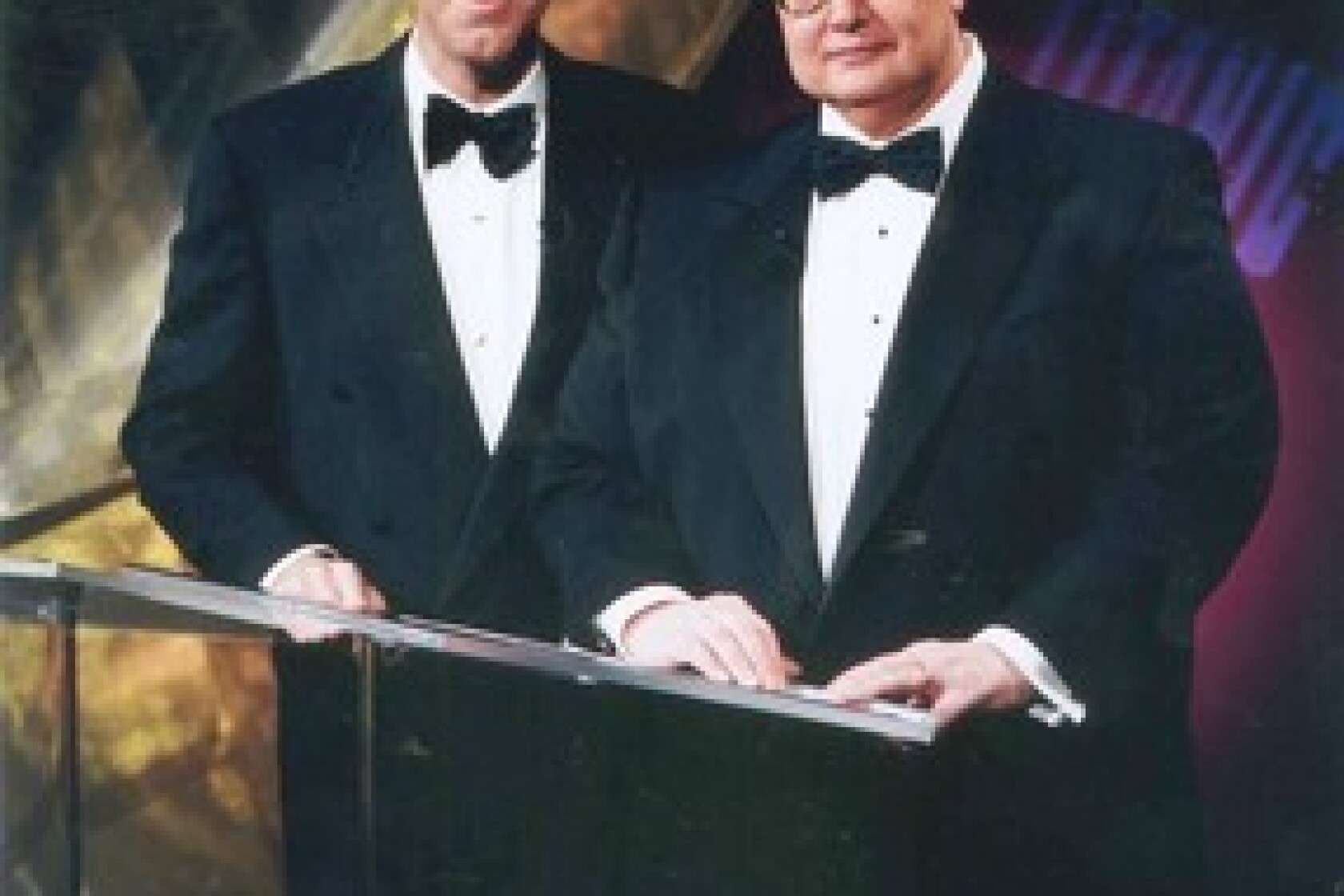 By Patrick Kevin Day, Los Angeles Times Staff Writer
Following a dispute with Disney-ABC Domestic Television, Roger Ebert and co-host Richard Roeper will no longer be associated with "At the Movies."
The show had gone through many permutations and titles over the years, and Ebert himself has been off-screen for just over two years, but with this week's announcement, the end of an era has finally come. For those who got confused about who was who on the aisle seats over the years, we have a brief timeline following Ebert from his early days to his off-screen presence as one of America's last treasured film critics.
()
'Sneak Previews'
(1975-1982)
Gene Siskel and Roger Ebert got their start on a low-budget movie-review show on Chicago's PBS affiliate, WTTW. The show was originally titled "Coming Soon to a Theater Near You" and the duo did not use their thumbs in assessing a film's artistic merits. After a contractual dispute, the critics left the series in 1982 to start "At the Movies," owned by the
Tribune Co.
, which also owned the newspaper
Siskel
wrote for.
()
'Sneak Previews'
(1982-1996)
Following the departure of Siskel and Ebert, WTTW recruited local
New York
film critic Jeffrey Lyons and Detroit Free Press critic Neal Gabler to come to Chicago and host the show. After two years, Gabler left following a dispute with the producers. His replacement was film critic Michael Medved (pictured), who went on to co-host with Lyons until the show's cancellation in 1996.
(Diane Medved)
'At the Movies'
(1982-1986)
While on the nationally syndicated program, Ebert and Siskel made the "thumbs up / thumbs down" a permanent part of their show. It caught on so well that film advertisements during the time began running a "Two thumbs up!" along with other critics' quotes. The title of the new show was taken from Siskel and Ebert's traditional sign-off on "Sneak Previews," which was "We'll see you at the movies."
During these years, the pair's simultaneous respect and dislike for one another become solidified and part of their celebrity. When making appearances on Johnny Carson and David Letterman, they always made note of who sat closer to the host in their last appearance so the other one could sit closer the next time.
(www.platypuscomix.net)
'At the Movies'
(1986-1990)
After Siskel and Ebert left Tribune Entertainment for their Disney-produced show, Tribune attempted to keep "At the Movies" alive with critics
Bill Harris
and Rex Reed. Harris lasted two years before being replaced by Dixie Whatley, who remained with the show until its cancellation in 1990. Like "Sneak Previews," it was never able to capture the popularity and on-air chemistry that Siskel and Ebert shared.
()
'Siskel & Ebert'
(1986-1999)
After four years at Tribune, the pair moved the show (and their trademarked thumbs) to
Buena Vista
Entertainment, a division of the
Walt Disney Co
. Some journalists worried publicly that Siskel and Ebert would lose their credibility by working for a major Hollywood studio. But the show -- renamed from the ungainly "Siskel & Ebert & the Movies" -- lost nothing in the translation and flourished.
In 1998, Siskel was diagnosed with a brain tumor. In February 1999, he took a leave of absence from the show in order to have treatment for the tumor. Two weeks later, he died of complications from the surgery. The show was renamed "
Roger Ebert
& the Movies" and featured a rotating series of guest critics, including Elvis Mitchell, Kenneth Turan and Janet Maslin.
(Business Wire)
'Ebert & Roeper and the Movies' / 'Ebert & Roeper'
(2000-2007)
Following an extensive tryout period, Ebert announced his permanent co-host would be his colleague at the
Chicago Sun-Times
, columnist
Richard Roeper
. Some film buffs were outraged at Ebert's selection, since Roeper was an entertainment writer and not a full-fledged film critic, and his employment at the same newspaper as Ebert meant an end to the cross-town rivalry that Siskel and Ebert built their reputations on. Indeed, Roeper and Ebert's disagreements seemed more collegial than Siskel and Ebert's often nasty on-air spats, and the show seemed to suffer a bit because of it.
In 2002, Ebert was diagnosed with thyroid cancer. He underwent surgery, but was diagnosed with cancer of the salivary gland in 2003. He had radiation treatment, which altered his voice, but he continued to appear on the show.
(Buena Vista Television, xx)
'At the Movies With Ebert & Roeper'
(2007-present)
Ebert developed cancer in his jaw and had surgery to remove part of his jaw. Weeks later, his carotid artery burst and he nearly died. He had to undergo several procedures in order survive, including a tracheotomy that robbed him of his ability to speak.
While Ebert was gone from the show, Roeper co-hosted with a series of celebrity fill-ins, including Jay Leno, Kevin Smith and John Mellencamp. Eventually Chicago Tribune film critic Michael Phillips became the permanent fill-in for Ebert.
(Paul Drinkwater / AP)
After being out of the public eye for nearly a year,
Roger Ebert
made a public appearance in 2007 at his annual Overlooked Film Festival in Champaign, Ill. He was unable to speak, but he was able to give his trademarked thumbs-up. The symbol hasn't been on the show, however; after a dispute with Disney, Ebert and Siskel's widow revoked permission to use the thumbs-up and thumbs-down on the show.
(Seth Perlman / Associated Press)
Los Angeles Times Staff Writer
"At the Movies," the syndicated series that introduced the TV-watching masses to passionate on-air debates about film, is about to get a major face-lift.
Disney Domestic Television announced Tuesday that critic Roger Ebert -- who's been off the show since 2006 due to illness -- and current partner Richard Roeper would be replaced with two younger hosts, Ben Lyons of "E! Entertainment" and Ben Mankiewicz, a former co-host of the "Young Turks" radio program on Air America who has hosted for Turner Classic Movies. Ebert and Roeper, both writers at the Chicago Sun-Times, had revealed separately this week that they would exit the program.
---
FOR THE RECORD: This article incorrectly names the company that produces the show. The company is Disney-ABC Domestic Television, not Disney Domestic Television.
---
In addition, "At the Movies," which has gone through several name and format changes over the years, will get a new executive producer and new sets. Although the program will still be produced in Chicago -- its home since Ebert and his original co-host, the late Chicago Tribune critic Gene Siskel, launched a predecessor show on the local public television station 33 years ago -- the show could move in the future to Los Angeles, where Lyons and Mankiewicz are based, according to Ann Lewis Roberts, senior vice president at Disney's Buena Vista Productions.
For all that, the studio and the new hosts said worries that the program would be "dumbed down" were misguided.
"We are not re-imagining the show, we're just going to add some more information," Roberts said in a phone interview. For instance, one new segment will feature a "critics' round-up," in which the hosts will interview colleagues via satellite to hear their opinions of new films.
"It's not true that the wheel is getting reinvented here," Mankiewicz, 41, the grandson of "Citizen Kane" screenwriter Herman Mankiewicz, said of the new format, which premieres the weekend of Sept. 6. "That's just wrong." (Lyons, 25, is the son of film critic Jeffrey Lyons.)
However, it's clear that the departures of Roeper and especially Ebert, a 66-year-old Pulitzer Prize-winning critic and a revered figure among American film enthusiasts, left some hard feelings among some, starting with the outgoing hosts themselves.
Ebert's complications from cancer treatment, which left him unable to speak, led Disney to cover for his absence with a series of fill-in hosts, most recently the Chicago Tribune's Michael Phillips.
Roeper, 48, was negotiating with the studio for a new deal but the two sides could not agree on terms. He now plans to try to sell a show "very similar" to "At the Movies," he wrote in an e-mail to this column. "I think Disney's new show speaks for itself," he added.
Meanwhile, the studio and Ebert had an embarrassing dust-up over the use of the show's familiar "two thumbs up" ratings system, the trademark to which Ebert owns with Siskel's widow, Marlene Iglitzen. Disney eventually abandoned the thumbs-up system and now uses a "see it, rent it, skip it" designation instead.
In a message posted on his website, Ebert said that Disney had chosen to take the show "in a new direction. . . . I will no longer be associated with it," he wrote.
The show does not have the reach it once did. This season, "At the Movies" averaged 2.3 million viewers, down from 2.8 million in the 2004-05 season, the last before Ebert's illness, according to Nielsen Media Research.
The changes in personnel and format have brought scorn from some film lovers, especially amid signs that newspapers and magazines are dramatically reducing the space available for film reviewing, mainstream critics have suffered a decline in influence and many longtime reviewers, such as Newsweek's David Ansen, are exiting their posts.
Film blogger David Poland dismissed "At the Movies" as "dead" with Ebert and Roeper gone, and added that the new version "isn't really worth getting too worked up about . . . it will be gone in two years and forgotten by October."
But Mankiewicz, with his background in talk radio, may not give up without a fight. When asked how the show will change, he couldn't resist a little sarcasm.
"There's gonna be Jell-O wrestling, obviously," Mankiewicz joked. "It's got to appeal to a younger demo."
---
Your essential guide to the arts in L.A.
Get Carolina A. Miranda's weekly newsletter for what's happening, plus openings, critics' picks and more.
You may occasionally receive promotional content from the Los Angeles Times.