Chazz Palminteri reflects on 'A Bronx Tale' as the musical arrives at Hollywood Pantages Theatre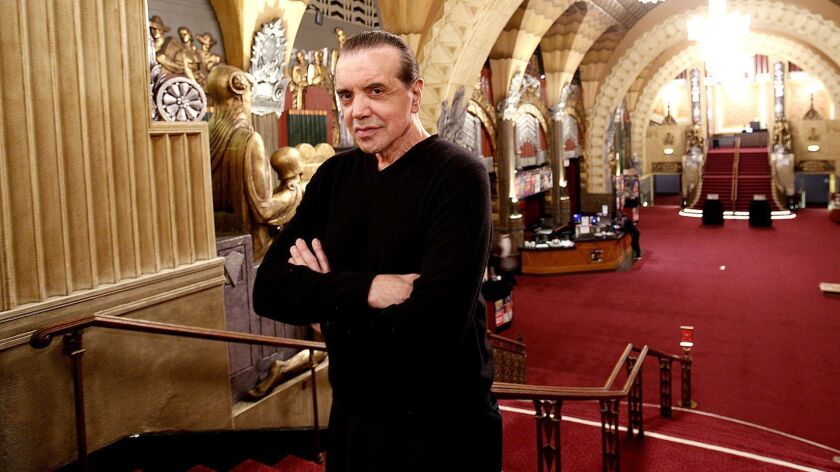 Early in "A Bronx Tale," a 10-year-old boy witnesses a murder. That boy was Chazz Palminteri, the actor and playwright.
"It was so real, the way he stared at me and I stared at him and then everything turned to slow motion," Palminteri recalls about the real-life occurrence. "Obviously, when I got older and I wanted to write, that was the first thing I wrote about 'cause I never forgot that."
Stuck in a mid-career malaise in the late 1980s, Palminteri penned his autobiographical one-man show, "A Bronx Tale," about a young man caught between his salt-of-the-earth bus driver father, Lorenzo, and a charismatic homicidal criminal, Sonny.
Palminteri debuted his play here in Los Angeles in 1989, which was later seen by Robert De Niro. Eventually De Niro turned the production into the 1993 film adaptation, which was directed by — and starred — De Niro, with Palminteri playing Sonny. It was a role that arguably launched Palminteri's career, and later landed him his Broadway debut in the 2007 production, directed by four-time Tony-winner Jerry Zaks.
In 2016, stage and screen merged as Zaks and De Niro co-directed "A Bronx Tale: The Musical," a production with songs by Alan Menken, lyrics by Glenn Slater and book by Palminteri.
Now as "A Bronx Tale: The Musical" has arrived with a touring cast at the Hollywood Pantages Theatre through Nov. 25, The Times caught up with Palminteri, who shared his thoughts on his early work.
How has your relationship with "A Bronx Tale" changed over the nearly 30 years since you wrote it?
When I first did it, I wasn't married. When I did all 18 parts, I kind of related as the boy to the father. Now that I have a son that age, I relate more toward the father to the boy. But it's an interesting relationship, especially since I played Sonny in all the different versions,
Nick Cordero played Sonny on Broadway and also played the role of Cheech in "Bullets Over Broadway," a role you played in the film.
He's really a younger version of me. He's very handsome, he can sing like crazy, he can act. When he was asked to do a movie, they asked me to step in and I was really looking forward to it. For two months I studied with a great teacher in the city. And by the time I got into it, I was ready.
When it was still just a one-man show, you were offered $1 million for the film rights and you turned it down.
The first $250,000 was the hardest cause that came out of nowhere and I only had $200 in the bank. But they didn't want me to play Sonny, they wanted a star. And they didn't want to let me write it. They wanted an A-list writer. Once I turned down the first $250,000, after that the rest was just numbers to me. They didn't mean anything, to be honest with you.
A scene in the show comes from real life, when you witnessed a murder as a child. What do you recall about such a traumatic incident?
It seemed real when it first happened, but it kind of seems like a dream now because I've written about it so much and it's been done in so many different versions. But it was real when it happened, I can tell you that. The way you see it in the movie, that's exactly the way it happened. Next minute I know I was flying upstairs, my father dragging me by the arm. I'm embarrassed to admit that I really wasn't traumatized. I just moved on from there. I knew I couldn't rat on the guy. But obviously it stayed in my mind.
As a young person, at what point did you understand that love is more powerful than fear?
I understood it when I got older. If you're Sonny, it's better to be feared. If you're Lorenzo, a regular person, then its better to be loved. Sonny was a student. When he was in jail, he read Machiavelli. When I heard about this when I was in my young teens, I started reading it myself and I became pretty knowledgeable. I read everything I could about Machiavelli. I actually went to Italy and visited Machiavelli's house twice. A man I know bought it, so I was able to go and eat there.
The second act deals with interracial romance. How have race issues changed from the time the play is set to the 1993 movie, and today?
Exactly the same. Don't forget, it's 1960-1968, could be the most turbulent time in American history, as far as race goes. Robert Kennedy was assassinated, Martin Luther King was assassinated, there was the riots. It was a crazy, crazy time. And now, it's a crazy time as far as race goes. Look, have race relations come a long way? Yes. Is it still backward in some aspects? Yes, it is. I think there's a certain part of society, they just don't get it.
How is the play relevant in today's politically charged environment?
I believe both parties have a lot of work to do before they get my vote. All they care about is getting in power. And they don't care about the people. Until they stop fearing each other and hating each other and they want to come together, then we can start working for the country.
It seems the final step for "A Bronx Tale" would be a movie of the musical. Any discussion about that?
No, it's too early for that. I think it will make a great movie musical. I'm currently writing two plays, a musical and a straight play. I'm hoping both see the light of day. That would be nice.
'A Bronx Tale'
Where: 6233 Hollywood Blvd.
When: Through Nov. 25, check website for times.
Price: $35-$145
Info: (323) 468-1770, hollywoodpantages.com
Run time: 2 hours
---
Your essential guide to the arts in L.A.
Get Carolina A. Miranda's weekly newsletter for what's happening, plus openings, critics' picks and more.
You may occasionally receive promotional content from the Los Angeles Times.