Composer-conductor Matthew Aucoin is tapped to join L.A. Opera as an artist in residence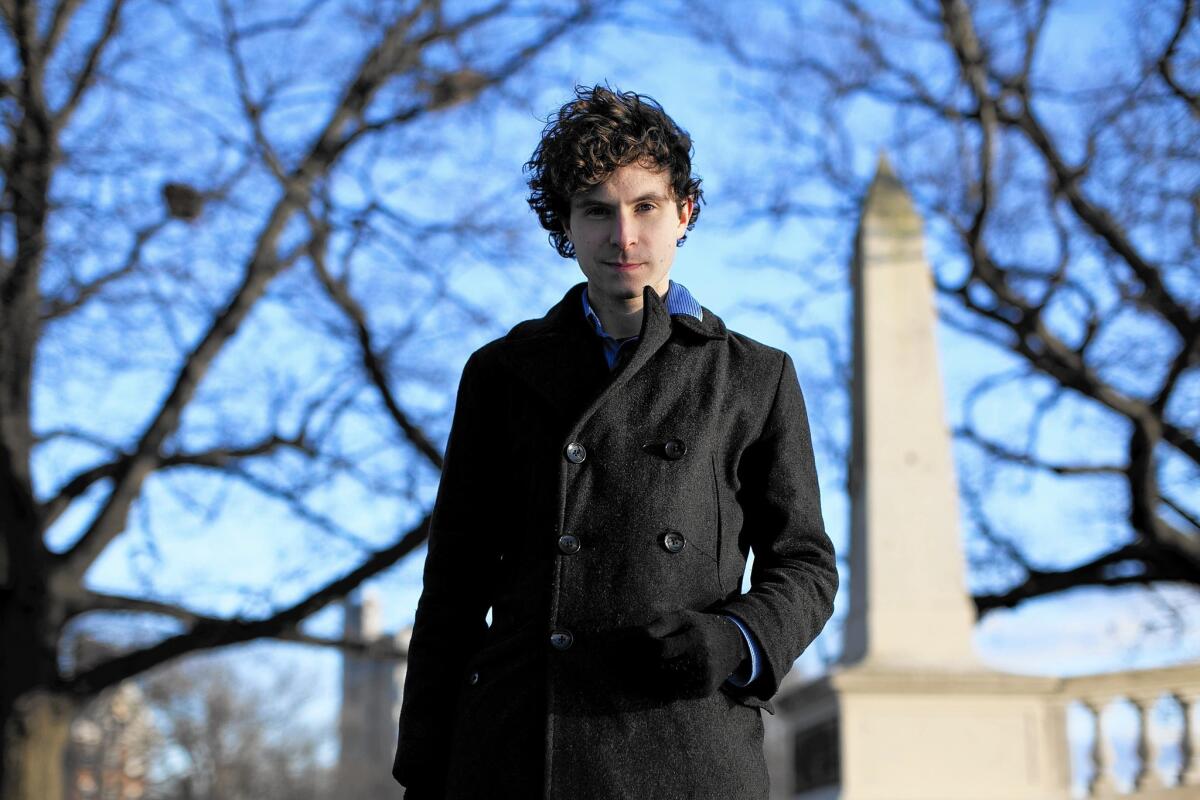 Los Angeles Times
At the ripe old age of 25, composer-conductor Matthew Aucoin has received accolades for his innovative operatic and orchestral compositions, inviting comparisons in some circles to a young Leonard Bernstein and even Wolfgang Amadeus Mozart.
Starting this fall, the New York-based Aucoin will be waving his baton in a westward direction when he takes on the newly created role of artist in residence at Los Angeles Opera. It is the first appointment of its kind for the company, which is expected to make the announcement on Thursday.
L.A. Opera said the three-year post, created specially for Aucoin, calls for him to conduct some L.A. Opera performances and write a full-scale opera for its main stage.
See more of Entertainment's top stories on Facebook >>
The new post is one of a few engagements that will bring Aucoin to Southern California in the months ahead. He is a Dudamel conducting fellow with the L.A. Philharmonic; he is composing a piece for the L.A. Chamber Orchestra set to debut this year; and he will hold an opera conducting residency this summer at the Music Academy of the West in Santa Barbara.
Speaking by phone from Bari, Italy, where he is in rehearsals for a production of "The Marriage of Figaro," Aucoin downplayed his youth appeal, describing himself as just "a working composer in my 20s. I don't feel particularly super young."
For Aucoin, composing and conducting feed different aspects of his creative drive.
"This fall, I composed nonstop," he said. "And after four months of staying at home wrestling with a blank page, there is nothing more I want to do than conduct Mozart. It's so different. It feels like it balances things."
His appointment at L.A. Opera came after the company's president and CEO, Christopher Koelsch, caught a performance last year of Aucoin's "Crossing," from American Repertory Theatre in Massachusetts. The piece is inspired by Walt Whitman's experiences visiting wounded soldiers during the Civil War.
"What I'm attracted to is the force of his intellect, and depth and breadth of his interests," said Koelsch in a separate interview. "I wanted to create an environment where he could make a leap forward in his craft."
L.A. Opera hasn't said if the artist in residence position will continue with another composer after Aucoin's three years are up.
"We'll see what happens," Koelsch said.
Speaking from Paris, where he is conducting a series of concerts, music director James Conlon described L.A. Opera's new artist in residence position as an "experiment," and said that Aucoin is the "ideal person for the job."
What I'm attracted to is the force of [Matthew Aucoin's] intellect, and depth and breadth of his interests.
— L.A. Opera CEO Christopher Koelsch
"A lot of companies have artists in residence and they're required to do various things. Matthew can actually do those various things," he said.
The composer is expected to collaborate with general director Placido Domingo, who is nearly five decades older than Aucoin, and Conlon during his appointment.
For the 2016-17 season, which has not yet been announced, Aucoin will conduct the company premiere of a 20th century opera by a major American composer. The following season, he is scheduled to lead two productions, including one of his own operas.
The new piece that he will write for L.A. Opera is set to debut in the 2018-19 season.
Aucoin grew up in suburban Boston and began his piano studies at age 6. "That's not young for classical music," he said.
His father is a longtime journalist at the Boston Globe, currently serving as a theater critic. His mother works in the technology field for Cisco.
"I didn't have the child prodigy childhood," Aucoin recalled. "My parents are very sane people — the opposite of stage or tiger parents."
He began composing around the same time he began studying music.
"I was fascinated with making pieces up," he said. "I was the annoying composer kid for a couple of years, for sure."
After an adolescent detour through jazz and rock music, Aucoin decided to focus his energy on opera. He studied at Harvard and the Juilliard School, and he quickly began landing commissions and conducting gigs. He lives in the Morningside Heights neighborhood of New York, near Columbia University.
He is writing a piece for the Metropolitan Opera, where he was once an assistant conductor. He has also written for Carnegie Hall and the Lyric Opera of Chicago.
At Harvard, the musician studied literature and is one of the rare composers who writes his own librettos.
His appointment to L.A. Opera is the latest in the trend of young maestros landing artistic positions at major companies.
Conductors including Gustavo Dudamel, Yannick Nézet-Séguin and Lionel Bringuier rose to international prominence in their early-to-mid 20s. Koelsch expressed hope that Aucoin will spur more interest in opera among young people.
Last year the L.A. Phil named Yuval Sharon to the post of artist-collaborator. Sharon, an opera director who heads the avant-garde group the Industry, had worked at L.A. Opera on its "Ring" cycle productions.
Aucoin said that he would jump at the opportunity to conduct operas as varied as Alban Berg's "Lulu," Beethoven's "Fidelio" and the works of Thomas Ades.
He said he was attracted to L.A. Opera in part because of the relative youth of the company. It will mark its 30th anniversary this year.
"It doesn't have a huge tradition of, 'This is how we do things and we can't change,'" said Aucoin.
"My dream has always been to be to create new music and perform it alongside music from across history."

ALSO:
With L.A. Opera's 'Moby-Dick,' call it a success
Museums in Southern California to offer free admission Jan. 30
Mark Swed hits the road for a weekend of SoCal orchestra listening
Get our L.A. Goes Out newsletter, with the week's best events, to help you explore and experience our city.
You may occasionally receive promotional content from the Los Angeles Times.