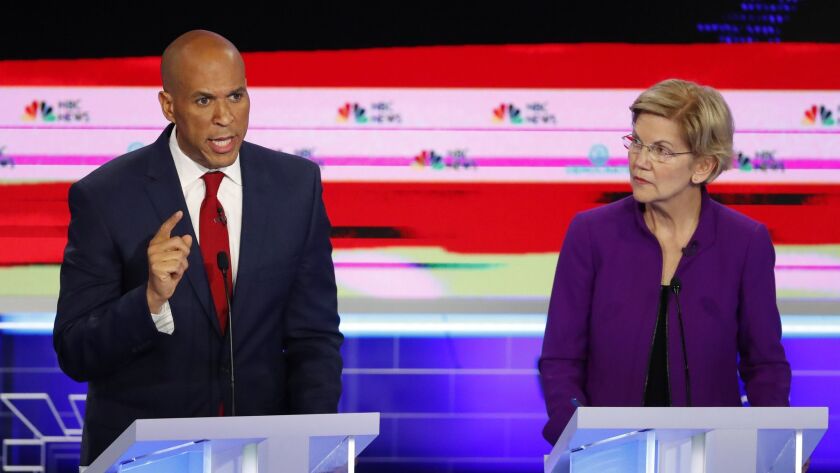 From hyping Elizabeth Warren to slamming candidates' "mediocre Spanish vocabulary," the stars were out on Twitter during Wednesday night's Democratic presidential debate, the first of two.
Stephen King, Sarah Silverman, Billy Eichner, Jonathan Van Ness and more took to social media to share their thoughts on the crowded stage of candidates.
Hollywood especially took to Warren, with celebrities praising everything from the Massachusetts senator's answers to her appearance.
"Warren has a comprehensive righteousAF thought-out plan for everything," Silverman wrote. "She's so badass. But mostly I like her because she purty IM SORRY."
"Insecure" actress Natasha Rothwell also sounded her support for Warren with a meme imagining her prep strategy.
"DEBATE COACH: What if you said— / WARREN: If I tell the truth I won't have to remember anything. / DEBATE COACH: Cool. Cool. Cool."
Others poked fun at the number of candidates who qualified for the debates — which were split into two nights to account for all 20 participants.
"When do we get to vote someone off the island?" joked "Queer Eye" star Van Ness.
Van Ness' costar Karamo Brown joined the discussion too, to criticize debaters like Beto O'Rourke and Cory Booker for delivering some of their responses in Spanish.
"Real talk ... just because you're a Democrat and possess a Mediocre Spanish vocabulary ... does not mean you should ever try to answer any question in Spanish," Brown wrote. "Latino people are not going to all the sudden vote for you just because you said 'Hola' #CutItOut."
And Brown wasn't the only star who noticed the Democrats' selective bilingualism. The official Twitter account for "Full Frontal With Samantha Bee" came in with a meme of Booker's and Warren's reactions to O'Rourke's first use of Spanish.
"When your friend comes back from study abroad #DemDebate," the show captioned the photo.
Some directed their focus away from the Democrats, instead zeroing in on their Republican opponent in the White House.
"Keep an eye out for Trump's tweets during and after these debates," King wrote. "I'm betting he blows his stack in classic Trumpian fashion. He can't help himself."
Meanwhile, Eichner and "Family Guy" star Seth MacFarlane reminded all the candidates they were on one team.
"Dems/liberals/progressives/snowflakes - we all have our favorites & criticism is healthy & necessary," Eichner tweeted. "But as debates begin let's remember we need each other more than ever. NOTHING will make Trump happier than to watch us tear our own side apart. So let's not. And let's WIN."
"Candidates - please stop yelling," MacFarlane wrote. "We're all on the same side."
See more Hollywood reactions below.
---