Column: In her R. Kelly interview, Gayle King proves she's got nothing to prove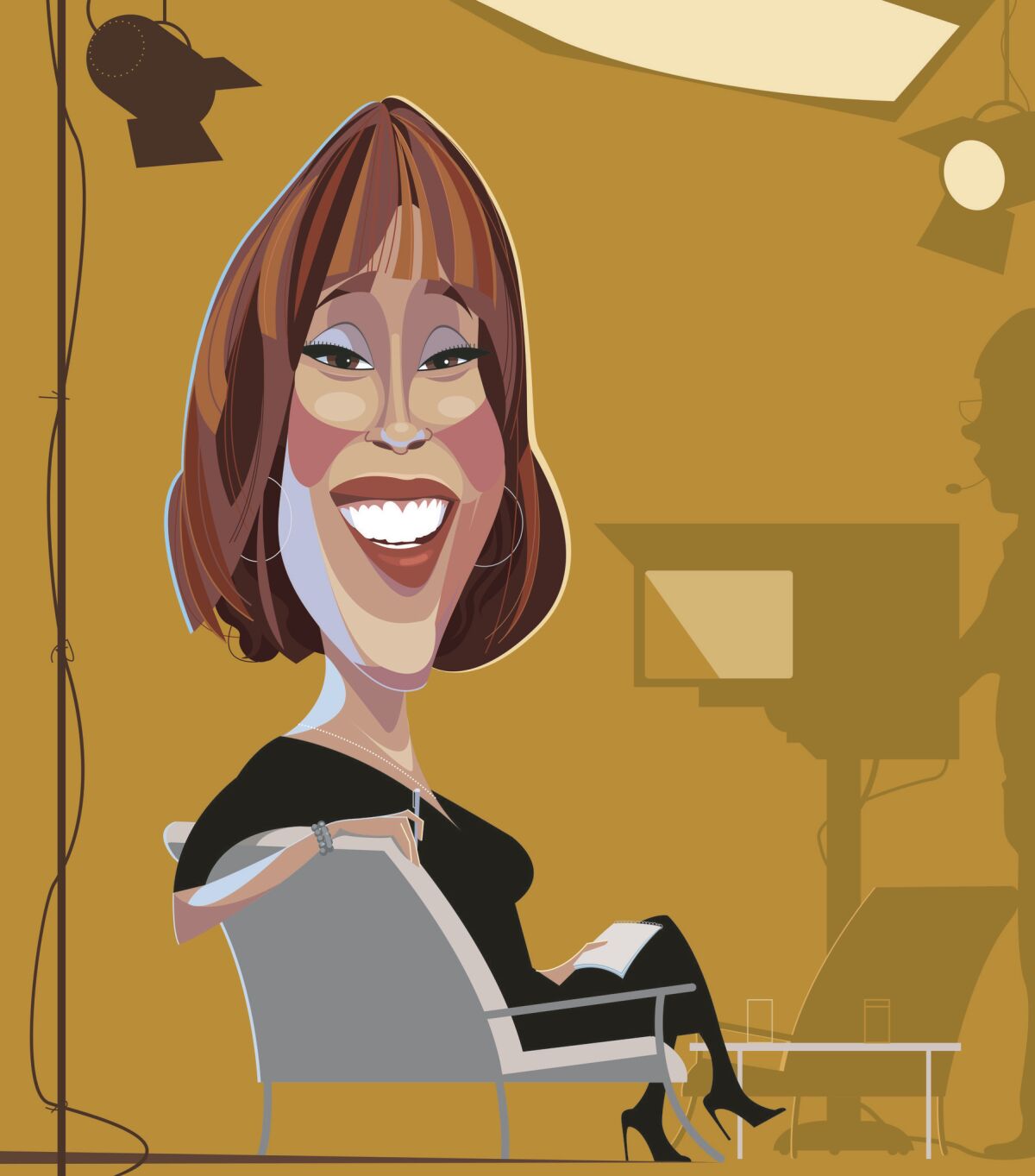 Culture columnist/critic
At the climax of "Captain Marvel," a man tries to control a situation by making it emotional. First he suggests that Carol Danvers' (Brie Larson) abilities are not her own, and then he tries to force her into a showdown by flying into an arm-flailing rage.
Danvers refuses to participate. She remains calm, stares at him for a minute, then shuts him down with the words "I don't have to prove myself to you."
For millions of women, it was a too-familiar scenario — a man initiates an emotional power play only to use a woman's emotions as proof of her instability — albeit with a super-empowered alternative ending (most of us have not absorbed the faster-than-light power of the Tesseract.)
Fortunately, a few days before the "Captain Marvel" debut, and the annual celebration of International Women's Day, audiences got to see a real-life equivalent.
At the climax of Gayle King's interview with R. Kelly, a man tries to take control of the situation by making it emotional. First he addresses the camera directly as if this were not King's interview, and then he tries to force her into a showdown by jumping from his seat into an arm-flailing rage.
King too refuses to engage. She remains calm and watches him for a while before shutting him down with a single word: "Robert."
Last week, that interview, and the image of Kelly looming above the still-seated and Sphinx-like King, burned through the multiple layers of our collective conscious as if it too were powered by the Tesseract.
First Twitter lit up, then late-night: Stephen Colbert told King that from now on whenever he felt anyone was getting out of control he was just going to say "Robert," and "Saturday Night Live" did a cold-open spoof with Leslie Jones as King. Meanwhile, innumerable news outlets reached out to the "CBS This Morning" anchor to ask her what she was thinking when Kelly leaped up and lost his mind. Was she afraid? Was she upset?
What she was thinking, she said repeatedly, was that she didn't want Kelly to walk off the set because she still had questions to ask him.
In other words, she was thinking like a journalist, which she is, though many people seem to have forgotten that fact.
For years, King has been known mostly for being best friends with Oprah Winfrey. The two met when they were broadcast journalists in Baltimore, and after stints in Kansas City, Mo., and Hartford, Conn., King became a special correspondent for "The Oprah Winfrey Show," an editor at "O, the Oprah Magazine" and a special correspondent for "Good Morning America."
Still, even after she helped launch "CBS This Morning" seven years ago, her most viewed moments on television were probably from "Oprah and Gayle's Road Trip," in which she and Winfrey drove from California to New York.
Until now.
Now King has entered the pantheon of great television interviewers, taking her place beside Mike Wallace, David Frost, Barbara Walters, Diane Sawyer and, of course, Winfrey.
She also offered yet another, and still apparently necessary, example of a woman remaining reasonable while a man exhibits extreme behavior and, just as important, proved that a woman can do a great job on television without smiling once.
Kelly and his reps may have thought they were choosing the path of least resistance when they reached out to King so Kelly could publicly dispute multiple charges of having sex with a minor as well as physical and sexual abuse. But King came armed with tough, clear questions and was having none of Kelly's "when you're a celebrity, people can just randomly attack you" defense. "I have to tell you it's so hard to believe that," she says at one point in the face of Kelly's repeated denials.
The rage building in Kelly as the interview continues is obvious; before he leaps to his feet, he punches his fist into his hand so hard you can hear it, and as it becomes clear that King did not come to play softball, he addresses the camera directly, attempting to hijack the interview and turn it into a personal service announcement.
Something which King is also not having. "Robert, we really have to have a conversation," she says. "I don't want you just ranting at the camera."
Many, including Winfrey, immediately praised King's composure, and everyone, including Colbert, wanted to know how she maintained it. Praise is always nice, and everyone likes to talk about a stressful day on the job, but there was a subtext of surprise in all the response that is just as revealing as Kelly's performance.
King is, obviously, a woman, and women do not, historically, do confrontational interviews on television. Walters, Winfrey and Sawyer have all interviewed high-powered people about uncomfortable topics but often with the air of a mother-confessor — tell me everything and you'll feel much better. It's an effective technique and one not confined to female journalists, but it is not King's way. "It sounds like you think you're the victim," she says at one point, sounding way more like Wallace than Walters. "You're playing the victim card."
Perhaps more important is the fact that King is the co-anchor of a morning news show, and morning show anchors aren't supposed to make news. (Indeed, CBS took her interview and packaged it for evening, thereby ruining it with way too much context that, as my colleague Lorraine Ali noted, did nothing to advance the story and in fact detracted from the interview.)
Morning shows have, traditionally, leaned more heavily on softer news and features. When it entered the morning wars just seven years ago, "CBS This Morning" was designed with a harder edge, mainly in the form of original co-anchor Charlie Rose. Even so, celebrity interviews and conversations about pop culture provided the majority of its content.
Social media and #MeToo have changed all that. The modern news cycle waits for no man, and folks who unexpectedly find themselves in the middle of a media storm one afternoon may find themselves on the morning shows the next day. After the racist comments he made in an interview were published last month, Liam Neeson showed up on the morning shows the next day, where he found himself explaining, clarifying and apologizing rather than promoting his movie. For better or worse, "Good Morning America's" Robin Roberts landed the first interview with Jussie Smollett after he alleged he had been attacked. (The fact that two black women landed big interviews in a short period of time apparently confused Fox News host Jesse Watters, who thought King had conducted both.)
Pop culture figures now often dominate the news as the entertainment industry has become a flashpoint for a wide variety of national concerns. In the maelstrom following the Harvey Weinstein scandal, many accusers appeared on morning shows, perhaps feeling more comfortable with the conversational format or the female-leaning audience.
Then, when male morning hosts including Matt Lauer and Rose were themselves accused, and fired, female anchors, including King, were given even more prominence.
Suddenly, traditions including patriarchal anchor pairings and the notion that mornings are for the ladies and so not as important as the news that's on when Daddy comes home began to be questioned as well.
After Rose's firing, King became the senior anchor of "CBS This Morning," and when CBS CEO Les Moonves stepped down after being accused of sexual misconduct, King publicly called for the network to be more transparent about its investigation.
So when you think about it, there is nothing surprising about her ability to remain composed while some scandal-plagued music star throws a hissy fit.
Like Carol Danvers, she's got no time for male histrionics and no reason to prove herself to anyone.
---
Get our daily Entertainment newsletter
Get the day's top stories on Hollywood, film, television, music, arts, culture and more.
You may occasionally receive promotional content from the Los Angeles Times.