One year after the Harvey Weinstein scandal broke, #MeToo has become a battle for hearts and minds
It's not at all unusual for a director to pull the crew into a huddle at the start of a film's production and, like a coach before a big game, give a rousing pep talk. But when Drew Goddard gathered the team behind his upcoming crime thriller "Bad Times at the El Royale" at the start of the film's production earlier this year in Vancouver, British Columbia, he had an entirely different kind of message to deliver as well.
"It was very important to get the whole crew together and give them the numbers of who to report any harassment or discrimination to and to encourage them, if they had any problems, to go over our heads," Goddard told The Times. "It's important to set that tone that none of this is going to be accepted. I don't know that I would have done that 10 years ago. I just don't know that I would have thought of it. But I think all of us are looking around now and thinking, 'How can we do better?' "
A year after news broke of accusations of sexual harassment and assault against film mogul Harvey Weinstein, the aftershocks reverberate across the industry, from movie sets to casting sessions, TV writing rooms to executive boardrooms.
RELATED: Julie Chen and other spouses caught up in the #MeToo era face a difficult decision »
As the #MeToo movement has gathered force, such powerful figures as Kevin Spacey, Brett Ratner and CBS chief Les Moonves have been brought down by accusations of sexual harassment or abuse. Industry organizations such as the performers' union SAG-AFTRA have established hotline numbers for victims. The Academy of Motion Picture Arts and Sciences instituted new standards of conduct for its members and ejected Weinstein along with Bill Cosby and Roman Polanski from its ranks.
But the most significant effects of the Weinstein scandal may be less tangible, unfolding not in press releases or screaming headlines but in the hearts and minds of people in the industry and in their day-to-day workplace interactions.
"The biggest shift for me has been cultural – and cultural shifts are harder to make happen than almost anything," said entertainment lawyer Nina Shaw, a founding member of Time's Up, the advocacy group established early this year to support victims of sexual harassment and gender discrimination in Hollywood and beyond. "It's not entirely where it should be, but there is a general feeling now that certain things are just not acceptable and that when you find yourself in a system that lends itself to these abuses, you can stand up and say something and you will often be supported."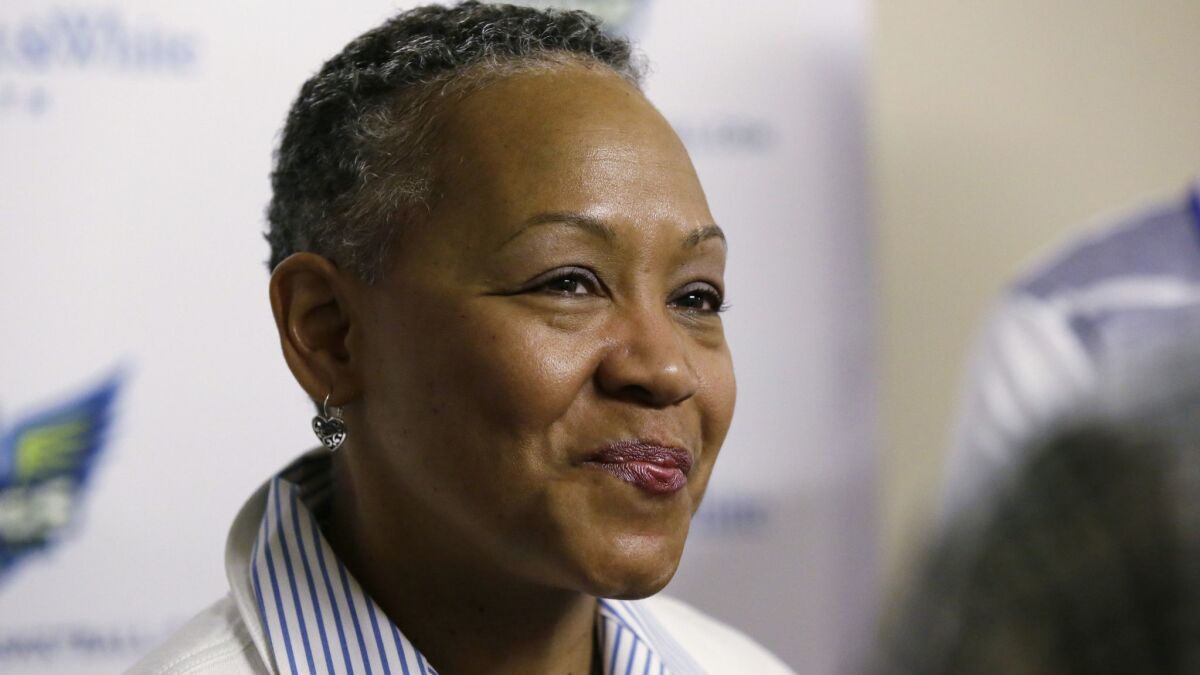 RELATED: Former WNBA head becomes first Time's Up president and CEO »
Still, even as some see the dawning of a new, more enlightened era in the entertainment industry, others say that much more work remains to be done to address intractable inequities in pay and hiring and outmoded norms of behavior. Some fear that a backlash against the #MeToo movement is growing that could slow, if not reverse, the momentum toward change.
While they may not speak out with the vociferousness of President Trump — who suggested at a rally this week that the #MeToo movement represents "a damn sad situation" — some Hollywood insiders privately grumble that certain allegations have ruined people's careers without being properly vetted. Many top studio executives are still reluctant to speak about the issue beyond generalities.
"We need to understand that this is about changing an entire cultural structure, and that doesn't happen in a year," said Melissa Silverstein, founder and publisher of Women and Hollywood, a nonprofit that advocates for gender parity in the film business. "This is a long haul. There are people who really want things to be like they were in the '50s, and there are people who are not going to take that. So we're on a fundamental collision course."
"This is a long haul."
— Melissa Silverstein, founder and publisher of Women and Hollywood
That said, over the past year, a number of industry practices that were long considered the norm have begun to be reexamined.
Facing criticism that they haven't done enough to protect clients from predatory behavior, agents have increasingly cautioned talent against taking meetings in people's private homes and hotel rooms, a practice that was more widely accepted before the Weinstein stories broke in the New York Times and the New Yorker. In April, SAG-AFTRA called on producers and executives to refrain from requesting meetings in such spaces, calling them "high-risk locations."
Studios are being more circumspect when hiring directors and actors who may have checkered pasts, hoping to avoid the type of imbroglio that 20th Century Fox Film found itself in recently. The studio cut a scene from its big-budget movie "The Predator" after Olivia Munn reported that one of the actors, who played a minor role, was a registered sex offender.
Studios are also more closely scrutinizing "morals clauses" in talent contracts, which are meant to curb certain behaviors, including sexual harassment.
"People are just being more careful," said attorney Bryan Sullivan, who represented actor Terry Crews in his sexual harassment case against WME agent Adam Venit. "If there's any sort of past stories or allegations, studios tend to follow up on those now. You're opening yourself up to potential liability for making that hire."
As part of a settlement with Crews, WME agreed to institute a new, more rigorous policy — including encouraging the agency's employees to report inappropriate behavior — to address workplace conduct, said Sullivan, a partner at the law firm Early Sullivan Wright Gizer & McRae LLP. "Keeping the public spotlight on it and, frankly, filing lawsuits, is the only way to hold the industry accountable," Sullivan said.
RELATED: One year later, how Harvey Weinstein went from power player to pariah and sparked a national movement »
Entertainment companies have taken the past year to beef up their mandatory sexual harassment training sessions. The film and TV industry has tried to make such sessions more relevant by breaking employees into small groups to consider specific scenarios.
"People are trying to get those sessions to be less of a yawn," said Janet Carol Norton, board member, partner and co-head of television production at talent agency ICM Partners. "You're getting fewer lawyers with Powerpoint presentations and more small-group settings addressing specific instances of workplace behavior to assess whether or not they're appropriate."
A major contributing factor to a culture of harassment, some observers say, is the lack of gender parity at all levels of the industry — in front of the camera, below-the-line and in executive boardrooms. Stubborn inequities remain; according to one recent study from San Diego State University, only eight of the 100 highest-grossing films of 2017 were directed by women.
But in the #MeToo era, some say they've seen an increased openness in the industry toward female-driven stories and hiring female filmmakers for big-budget tentpole movies.
Earlier this month, Chloé Zhao, who directed the critically acclaimed but little-seen indie "The Rider," was reportedly tapped to direct the upcoming Marvel Studios superhero film "The Eternals" — making the sort of leap typically reserved for white male filmmakers such as Colin Trevorrow ("Jurassic World") and Jon Watts ("Spider-Man: Homecoming").
Speaking to The Times earlier this year, Zhao expressed a mix of gratitude and caution about the surging interest in female filmmakers. "I'm very careful on a personal level who to let into my world at a time like this," Zhao said. "These opportunities are tempting when you haven't had them for so long. But is that person wanting to work with me because he wants to work with a woman minority filmmaker, or does he want to work with Chloé? ... I think the day when women are treated equal as a group but also as individuals is when we'll have finally won our battle."
Few companies have seen a more dramatic executive makeover in the past year than Amazon Studios. In February, after studio head Roy Price was forced out following sexual harassment claims against him, former NBC executive Jennifer Salke was named head of the division. Just last month, the company promoted Julie Rapaport to co-head of Amazon's movie team.
This week, reports emerged that Amazon Studios and Fox 21 TV Studios are developing a new half-hour comedy, co-created by and starring Whitney Cummings, that will center on a group of college administrators as they attempt to navigate the #MeToo climate.
Despite progress, the pace of change has left some frustrated. "The real changes will happen when you see inclusion go up into the highest levels of various companies," said entertainment lawyer Lori Landew of Fox Rothschild. "All of it is moving in a good direction, but it's slow, and that's to be expected."
Producer and former studio executive Amy Baer, who was recently elected board president of Women in Film, says it's easy to point to hit films such as Patty Jenkins' "Wonder Woman" to argue that advances have been made. But real progress can only happen when powerful men recognize the need for change, she said.
"Men have to be in lockstep with women for any parity to be achieved," Baer said. "This awakening is about the fact that there is still a lot going on beneath the surface despite the perceived gains. A lot of men went, 'I really had no idea.' And that's a first step to starting a dialogue."
Twitter: @joshrottenberg
Get our L.A. Goes Out newsletter, with the week's best events, to help you explore and experience our city.
You may occasionally receive promotional content from the Los Angeles Times.