Jussie Smollett case: Chicago Mayor Rahm Emanuel slams decision to drop charges
"Empire" actor Jussie Smollett thanks supporters after criminal charges in his Chicago disorderly conduct case were dropped. The mayor and police chief blasted prosecutors' decision and stood by an investigation that concluded Smollett staged a fake
Reporting from Chicago —
Actor-musician Jussie Smollett wants to get back to work and move on with his life after prosecutors on Tuesday dropped charges against him that alleged he lied to police and staged a racial and homophobic attack against himself.
"But make no mistake, I will always fight for the justice, equality and betterment of marginalized people everywhere," the 36-year-old told reporters outside a Chicago courthouse following a hearing.
The LGBTQ advocate — who was accused of staging a January attack because he was dissatisfied with his salary and wanted to enhance his career — thanked his family, friends and the people of Chicago who supported and prayed for him, saying that "not for a moment was it in vain."
"I've been truthful and consistent on every single level since Day 1. I would not be my mother's son if I was capable of one drop of what I've been accused of," he said.
"This has been an incredibly difficult time; honestly, one of the worst of my entire life. But I am a man of faith and I'm a man that has knowledge of my history. And I would not bring my family, our lives or the [LGBTQ] movement through a fire like this. I just wouldn't," Smollett added.
Chicago Mayor Rahm Emanuel slammed the decision to drop the charges, calling it "a whitewash of justice."
"Where is the accountability of the system? You cannot have, because of a person's position, one set of rules apply to them and another set of rules apply to everybody else," Emanuel said in a separate press conference.
READ MORE: The Jussie Smollett story is not just about Jussie Smollett. It's about us »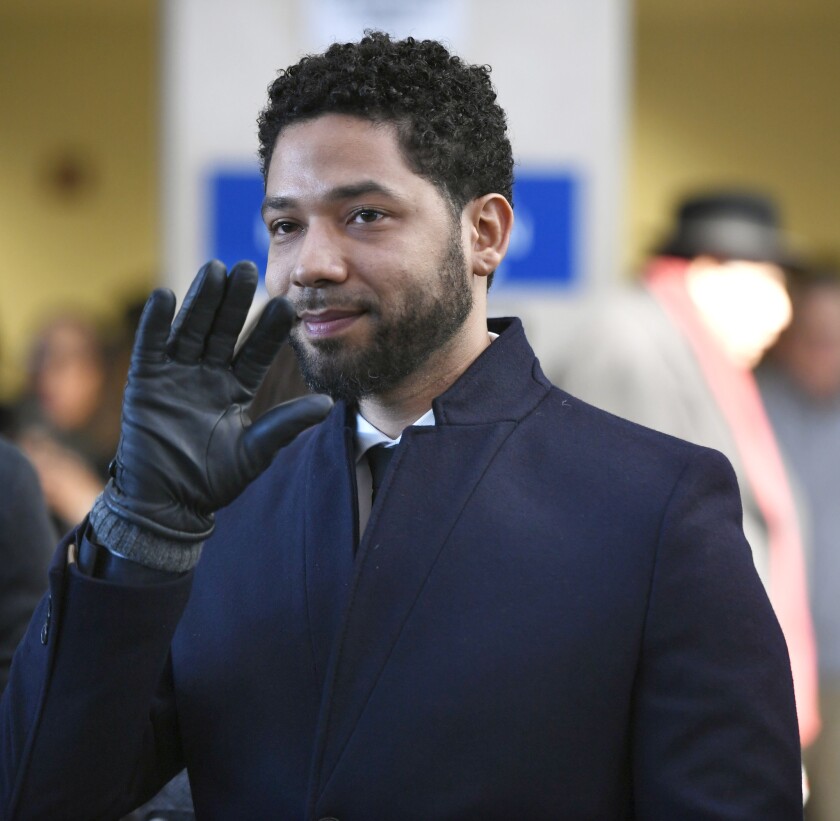 Chicago Police Supt. Eddie T. Johnson, who joined Emanuel, said he stood by his detectives' investigation and did not believe justice was served on Tuesday, adding that his city is "still owed an apology."
"At the end of the day, it's Mr. Smollett who committed this hoax. Period. If he wanted to clear his name, the way to do that was in a court of law so that everyone could see the evidence," Johnson said.
"You all know what the bond proffer said. We all know what it said," he added. "I stand by the facts of what we produced. If they want to dispute those acts, then the place to do that is in court, not in secrecy."
In a statement on Tuesday, representatives for 20th Century Fox Television and Fox Entertainment said they were "gratified that all charges against Smollett have been dismissed."
Smollett had been suspended from the network's musical drama as the case unfolded, but Fox made no immediate mention of his future on the show.
The black, gay actor's attention-grabbing case has been filled with its own dramatic plot twists since he first reported a possible hate crime to Chicago police in January. The latest surprise, and perhaps conclusion, came Tuesday when Cook County, Ill., prosecutors dropped disorderly conduct charges that had been levied against him, accusing him of staging a phony attack
Prosecutors said they reviewed the facts and circumstances of the case, including Smollett's volunteer service in the community and his agreement to forfeit his bond to the city of Chicago, and believe the outcome is "a just disposition and appropriate resolution to this case," according to a statement they gave to the Associated Press.
Smollett pleaded not guilty to the 16 counts earlier this month and was free on a $100,000 bond. His attorneys said that he voluntarily agreed to forfeit the $10,000 portion of the bond that he paid, but asserted that no plea deal had been struck and the state dismissed the charges and sealed the case.
A statement issued by the actor's defense attorneys, Tina Glandian and Patricia Brown Holmes, said Smollett's record "has been wiped clean of the filing."
'Empire' showrunner Lee Daniels talks 'pain and anger' of Jussie Smollett case »
"He was a victim who was vilified and made to appear as a perpetrator as a result of false and inappropriate remarks made to the public causing an inappropriate rush to judgement," the statement said.
The attorneys said that he and many others "were hurt by these unfair and unwarranted actions" and that the entire situation "is a reminder that there should never be an attempt to prove a case in the court of public opinion," asking that victims be treated with dignity and respect.
Later, outside the courthouse, Brown Holmes urged the Chicago Police Department to investigate charges and not try cases in the press. She did not indicate whether they would seek legal recourse against the city.
"I have no idea what occurred in this case and why it occurred," Brown Holmes said. "I can just say that things seemed to spiral somewhat out of control. We've gotten to a result that is the right result in the case and we're happy for that."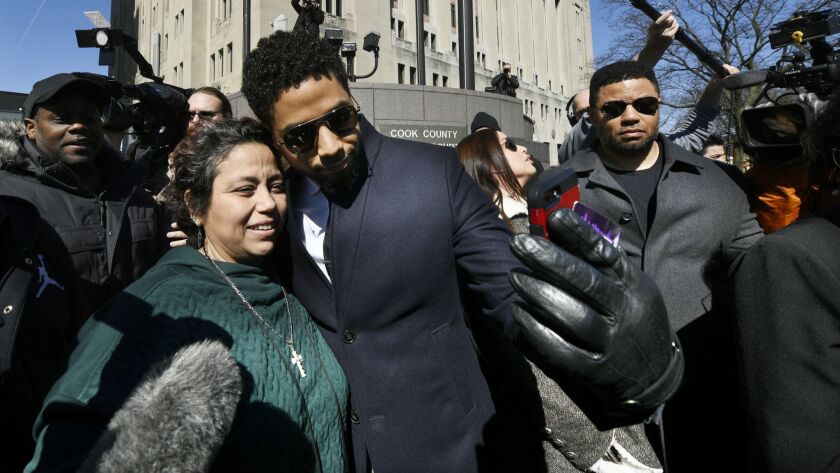 A timeline of how the Jussie Smollett case unfolded »
Smollett's narrative has been repeatedly called into question, and the investigation abruptly shifted in February following testimony from two brothers who became persons of interest in the case.
Smollett surrendered to authorities on Feb. 21 after the brothers, Olabinjo and Abimbola Osundairo, said they were hired by Smollett to carry out the attack and provided Chicago police with evidence and testimony that investigators said implicated the actor, citing a $3,500 check written by Smollett for a training regimen.
Brown Holmes said that check was "exactly for what Smollett said," not to pay for the attack, and she did not know why Supt. Johnson made other claims about it. She characterized the saga as "a disruption" in Smollett's life and career, while Johnson previously accused Smollett of giving the city of Chicago a scar it "didn't earn and certainly didn't deserve."
Meanwhile, Smollett's family celebrated Tuesday's development.
"Our son and brother is an innocent man whose name and character has been unjustly smeared," they said in a statement to The Times. "Jussie is a son, a brother, a partner, a champion for human rights, and a genuine soul who would never be capable of what he was falsely accused of. He was the victim of an assault and then falsely blamed for his own attack. This morning truth has prevailed and he has been vindicated.
"The painful incidents we've witnessed him endure over the past seven weeks have been heartbreaking and unjust to say the least. While many were quick to rush to judgement before hearing the actual truth, we are grateful that the truth about Jussie has come to light. We look forward to bringing the real perpetrators to justice. We thank God and our village for standing by us during this trying time," they said.
---
From the Oscars to the Emmys.
Get the Envelope newsletter for exclusive awards season coverage, behind-the-scenes stories from the Envelope podcast and columnist Glenn Whipp's must-read analysis.
You may occasionally receive promotional content from the Los Angeles Times.