Jussie Smollett's family condemns attack, calls it 'domestic terrorism'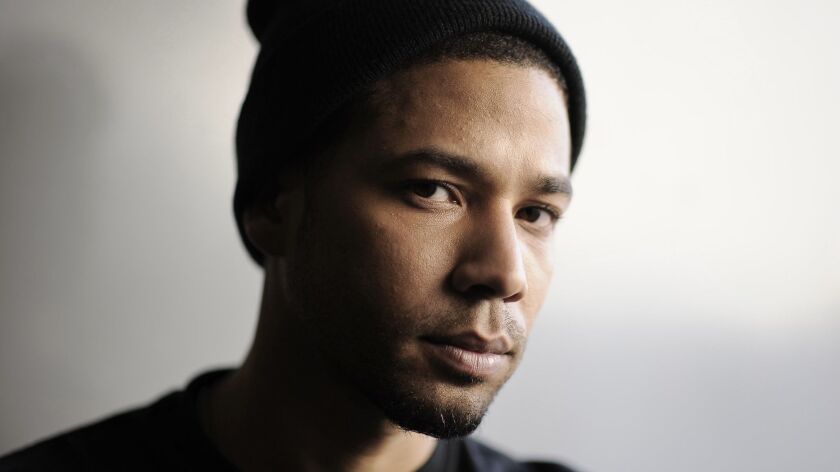 The family of "Empire" star Jussie Smollett has denounced the possible hate crime the actor told police he endured in Chicago earlier this week, calling such events "inhumane acts of domestic terrorism." The family also said it is grateful that the entertainer came "through this cowardly attack alive."
"We want to be clear, this was a racial and homophobic hate crime," the family said in a statement to The Times on Thursday. "Jussie has told the police everything from the very beginning. His story has never changed, and we are hopeful they will find these men and bring them to justice."
It's the first time the 36-year-old's family has publicly addressed the incident and comes as the Chicago Police Dept. is seeking two people of interest in the case, which has sparked a cultural conversation about the inequities shouldered by queer people of color and other minority groups.
Smollett, who is black and gay and plays an openly gay musician on the Fox musical drama, is out of the hospital and at home recovering, his rep told The Times on Wednesday. He is expected to make his first public appearance on Saturday during a solo concert at the Troubadour in West Hollywood.
The actor-musician told police that two people approached him around 2 a.m. Tuesday and yelled racist and homophobic slurs while he was walking in an affluent downtown Chicago neighborhood that night. They then hit him in the face, poured an "unknown chemical substance" on him and, at some point, wrapped a rope around his neck, the police report said. A later police report said that the offenders made some reference to "MAGA" during the alleged incident.
In the Oval Office on Thursday, President Trump, whose "Make America Great Again" slogan has been appropriated by white nationalists, addressed the Smollett flashpoint and described it as "horrible."
"I've seen it ... It doesn't get worse, as far as I'm concerned," Trump said. However, he did not say anything about the MAGA angle.
Chicago P.D. spokesman Anthony Guglielmi said Thursday that police had not yet recovered any surveillance video of the alleged early Tuesday attack, but that Smollett's apartment building's security footage shows the actor arriving home wearing the rope minutes after he says it occurred, the Associated Press reported.
Read the Smollett family statement in full below:
In the early hours of Tuesday morning, our beloved son and brother, Jussie, was the victim of a violent and unprovoked attack. We want to be clear, this was a racial and homophobic hate crime. Jussie has told the police everything from the very beginning.
His story has never changed, and we are hopeful they will find these men and bring them to justice. Our family thanks everyone for their prayers and the huge amount of love he has received. We are thankful to our village for your immense support during this trying time. We are so grateful that God saw him through this cowardly attack alive.
Jussie is a warrior whose light cannot be dimmed. We want people to understand these targeted hate crimes are happening to our sisters, brothers and our gender non-conforming siblings, many who reside within the intersection of multiple identities, on a monthly, weekly, and sometimes even daily basis all across our country.
Oftentimes ending fatally, these are inhumane acts of domestic terrorism and they should be treated as such. They will continue to occur until we hold each other accountable. Make no mistake, words matter. Hateful words lead to hateful actions. Radical love is the only solution, but passivity will be our downfall.
We, as a family, will continue to work for love, equity and justice until it reigns supreme in our nation and all over the world.
With love & gratitude,
The Smollett Family
Follow me: @NardineSaad
---
From the Oscars to the Emmys.
Get the Envelope newsletter for exclusive awards season coverage, behind-the-scenes stories from the Envelope podcast and columnist Glenn Whipp's must-read analysis.
You may occasionally receive promotional content from the Los Angeles Times.