Justin Bieber says he's struggling and asks for prayers in cryptic Instagram post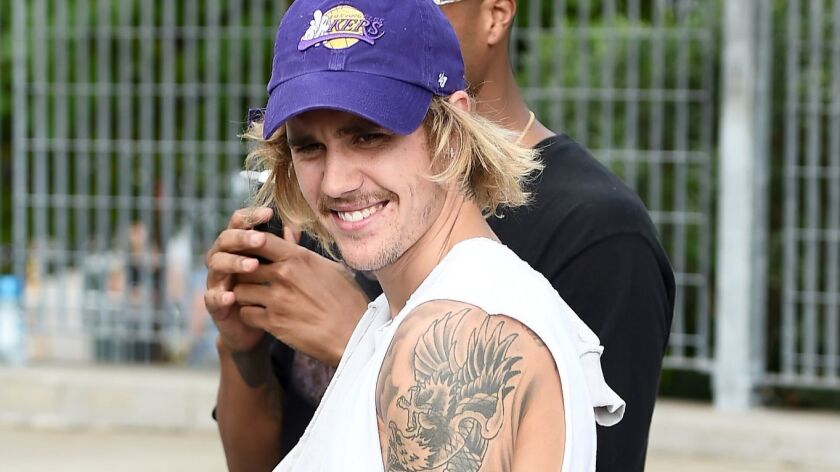 It's still not easy being the Biebs.
Singer Justin Bieber opened up in a Sunday Instagram post asking fans for prayers because he's "been struggling a lot" lately.
The 25-year-old pop star, who wed longtime friend Hailey Baldwin in September, wrote that he's "just feeling super disconnected and weird." His words were accompanied by a photo that showed him in what appears to be a prayer circle, with Bieber draping his arms around Kanye West and manager Scooter Braun. (Bieber previously posted the photo in 2016.)
Despite the cryptic cry for help, the reformed enfant terrible reassured his followers.
"I always bounce back so I'm not worried just wanted to reach out and ask for your guys to pray for me," he wrote. "God is faithful and ur prayers really work thanks .. the most human season I've ever been in facing my stuff head on."
Meanwhile, his Instagram stories told a lighter tale and indicated that all was still well in the Bieber-Baldwin union. The brief video clips showed him teasing his wife for being a Jonas Brothers fan and pointing his toe like a ballerina. (Baldwin, who said she trained in ballet for 12 years, joked that Bieber's arch was better than hers.)
The "Baby" singer's Sunday revelation doesn't come as a tremendous surprise, given his and Baldwin's ultra-candid February interview with Vogue.
In it, the singer opened up about being depressed and his vices, which included drugs and a "legitimate problem with sex." He explained how that led to a stint of celibacy before he married the model and the couple discussed his road to recovery and how their faith and friendship centered him.
"I found myself doing things that I was so ashamed of, being super-promiscuous and stuff, and I think I used Xanax because I was so ashamed," Bieber said. "My mom always said to treat women with respect. For me that was always in my head while I was doing it [having sex], so I could never enjoy it.
"Drugs put a screen between me and what I was doing. It got pretty dark," he added. "I think there were times when my security was coming in late at night to check my pulse and see if I was still breathing."
Follow me: @NardineSaad
---
Your essential guide to the arts in L.A.
Get Carolina A. Miranda's weekly newsletter for what's happening, plus openings, critics' picks and more.
You may occasionally receive promotional content from the Los Angeles Times.