Gretchen Carlson, a former Miss America and current chairwoman of the Miss America Organization, is defending herself and the group against accusations of bullying and silencing made by reigning Miss America Cara Mund.
Responding to a five-page letter Mund sent Friday to former Miss Americas that likened pageant leadership to the catty antics of the film "Mean Girls," Carlson took to Twitter on Sunday night to set the record straight.
The former Fox News host addressed Mund directly.
"I … want to be clear that I have never bullied or silenced you. In fact, I have acknowledged to you and your parents many times that the organization understands the frustrations of serving during such a change-filled and stressful year," she said.
"It surely was not what you had expected."
Carlson, an unpaid, full-time leader nominated by the majority of Miss Americas after a scandal last year, said that while the pageant was still "very proud" of the Miss North Dakota titleholder, Mund's "explosive" allegations had already cost the contest $75,000 in scholarship money — which would have been the first scholarship increase in years.
Mund's accusations on Friday were fiery.
"Our chair and CEO have systematically silenced me, reduced me, marginalized me, and essentially erased me in my role as Miss America in subtle and not-so-subtle ways on a daily basis," the 24-year-old said.
"After a while, the patterns have clearly emerged, and the sheer accumulation of the disrespect, passive-aggressive behavior, belittlement, and outright exclusion has taken a serious toll," she said.
Mund accused the group of inflating Carlson's role, making the chairwoman the de facto face of the the organization instead of that year's titleholder.
"Right away, the new leadership delivered an important message: There will be only one Miss America at a time, and she isn't me," Mund wrote.
The allegations come in the wake of sweeping changes the organization installed after an email scandal rocked it last year.
Under Carlson, who helped end the 20-year reign of Roger Ailes at Fox News, the Miss America Organization has given its top three leadership posts to women and eliminated the swimsuit portion of the competition.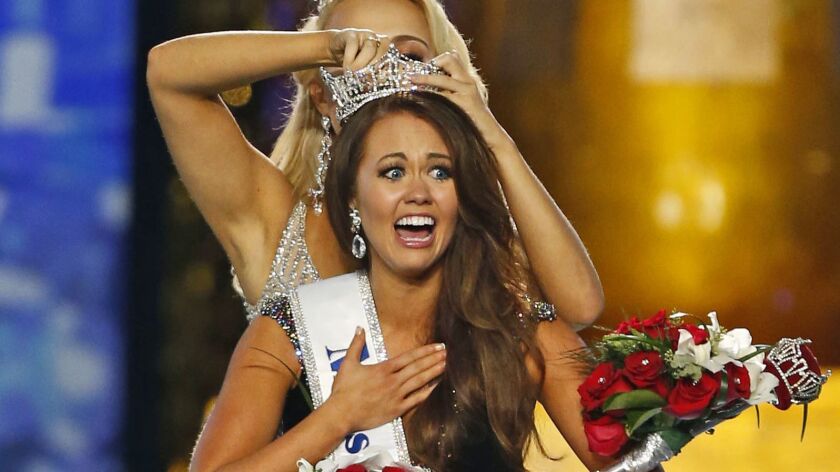 Mund's letter had made a severe impact, Carlson explained, with a "negative ripple effect" making its way through the entire organization that she was concerned would "dilute the experience for the next woman selected to wear the crown."
"The news is severely damaging the organization and is having an impact on securing future sponsorships," Miss America Organization spokesperson Karl Nilsson said in an email Monday.
Loss of scholarship money, however, was "not defined or outlined," he said.
The back-and-forth between Carlson and Mund comes just weeks before the rebooted pageant crowns its next winner on Sept. 9 at Atlantic City's Boardwalk Hall.
After being plagued by "enormous debt, lack of sponsors and waning relevancy," Carlson said in her letter, the show was on track to deliver a pageant "truly devoted to women's talents, intelligence and individualism."
Meanwhile, at least 19 states have called for the current leadership to resign and, on Monday, former Miss Americas Suzette Charles (1984) and Heather Whitestone (1995), who received Mund's letter, appeared on NBC News' "Megyn Kelly Today" to corroborate Mund's allegations. They also called for the resignations of Carlson and Miss America Organization CEO Regina Hopper.
Mund did not immediately respond to The Times' request for comment.
See the most-read stories in Entertainment this hour »
Follow me: @NardineSaad
---