How Teen Vogue's Elaine Welteroth is shaking up expectations for a new generation of young women
Elaine Welteroth was bored. For months, Teen Vogue — the magazine where she served as beauty director — had been featuring the same young women on its cover: "Rich, pretty, white bloggers in fashion."
So she called a meeting. "Who else is bored?" she asked her fellow editors.
She urged her colleagues to consider featuring a different type of star on the cover of the glossy — or to at least ask models and actors more than just the rote promotional questions.
"Listen, everyone's covering the same people," Welteroth told her co-workers. "Let's let them do that, and let's decide to put people on our cover who are role models for this generation."
Her plea worked. In February 2016, Teen Vogue put Amandla Stenberg on its cover — a 17-year-old almost as famous for a Tumblr video she'd posted about cultural appropriation as for the touchstone role she played as Rue in 2012's "The Hunger Games."
Just three months later, Welteroth was named editor of the magazine, part of a leadership team that included digital editorial director Phillip Picardi and creative director Marie Suter. In April, she was named editor-in-chief outright. She was 29.
Since her rise, Welteroth has become a media darling — the chic yet socially conscious wunderkind! — and self-described "cool auntie" to Gen Z. Even though Conde Nast last month announced it was discontinuing the print edition of the magazine, the editor has forged ahead with the brand's reinvention last weekend arriving in Los Angeles to oversee the first Teen Vogue Summit.
Attendees paid between $299 and $549 to take part in the two-day event held in "Silicon Valley South" on the Playa Vista campus of an advertising firm. Not surprisingly, the crowd of roughly 500 guests was young: 52% under the age of 24 and just 16% over age 35. But while some Hollywood types were on the schedule — director Ava DuVernay and Stenberg — the major keynote speakers were Hillary Clinton and U.S. Rep. Maxine Waters (D-Los Angeles).
Former Secretary of State Clinton, who guest-edited a special Teen Vogue edition this month and appears on its cover, took part in a discussion with 17-year-old actress Yara Shahidi. The "black-ish" star — who will attend Harvard next year and told the crowd she recently completed James Baldwin's "The Fire Next Time" — began the conversation by asking Clinton for her definition of an "active and involved citizen."
"It starts with being willing to register to vote as soon as you turn 18," Clinton told the audience, many of whom were filming the Q&A with their iPhones while lounging on furry beanbag chairs. "And informing yourselves. And that's one thing Teen Vogue has been great at in the last year, because it's really covered lots of issues that people are interested in and given people a basis on which to build an opinion."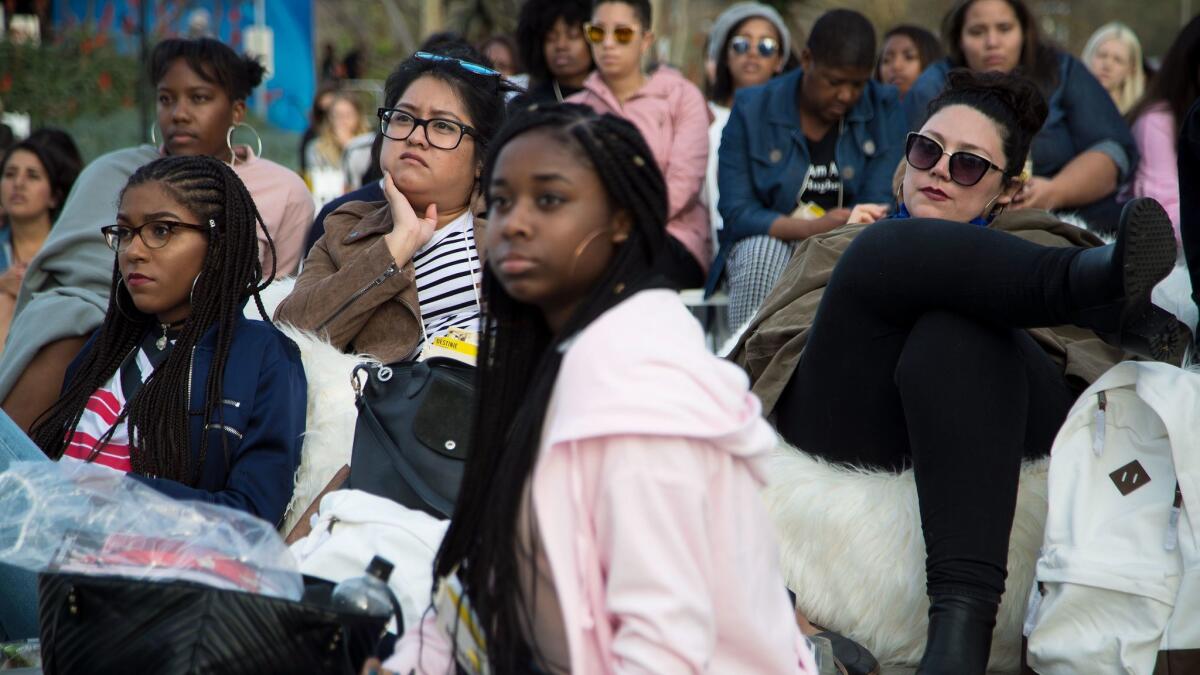 That, of course, was music to Welteroth's ears. Backstage a few hours after Clinton's talk, the editor said she was "over the moon" with how the day was unfolding."I feel like this is just one mic-drop moment after the next," she said. She was wearing a pink Proenza Schouler dress and had mini Picasso-esque figures on her fingernails care of a manicure from Olive + June. "Um, I definitely still care about fashion," she said with a laugh.
But her main focus for the magazine is substance over style.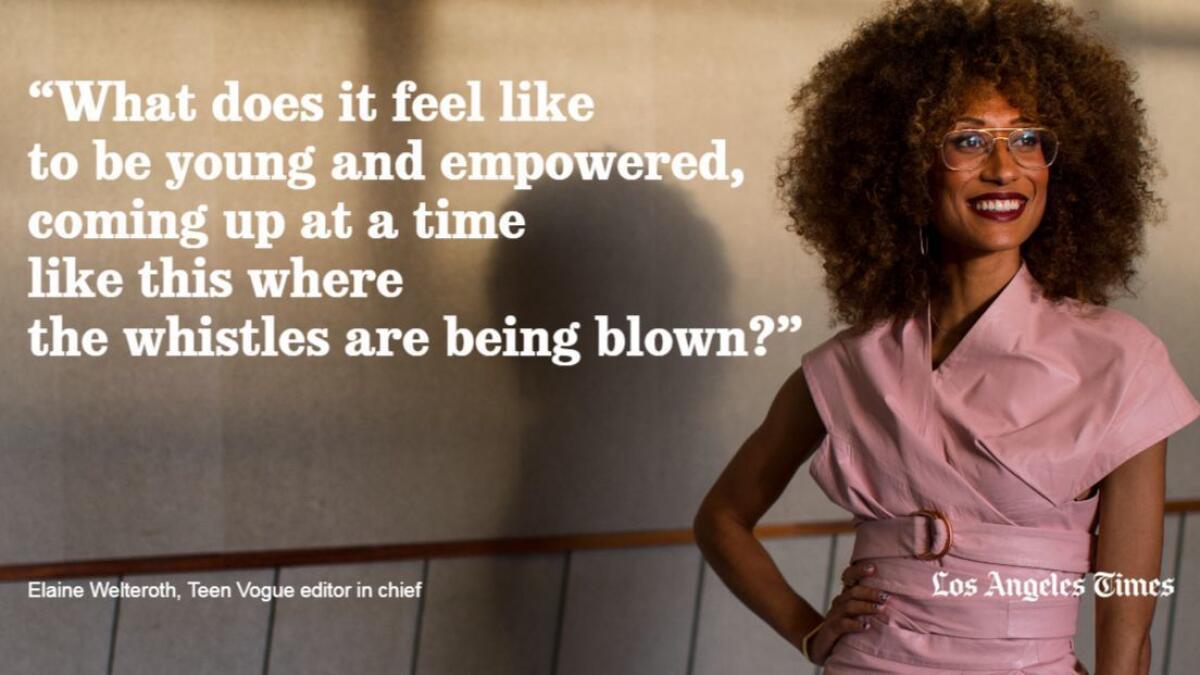 A year ago, the magazine's website garnered nationwide attention for publishing a column titled "Donald Trump is Gaslighting America." The op-ed, written by Lauren Duca, went viral and spawned a glut of headlines about how shockingly intellectual the teen magazine was. The political props also got Welteroth and Picardi an appearance on "The Daily Show With Trevor Noah."
I grew up with social media. I am the boomerang queen. I live this.
— Elaine Welteroth, Teen Vogue editor in chief
"Who cares what it's called?" Welteroth said about the Teen Vogue name. "Five years ago, yes, we had conversations about 'is teen a hindrance?' But at this point, I think it's an ironic advantage because no one expects a teen title to represent what we've come to represent. The fact that it was Vogue's younger sister, inherently a fashion magazine doing all of this, that's newsworthy. Wake up, it's not just 12-year-old girls anymore. It is Trevor Noah. It's boys who are feminists. It's college girls. The majority of our audience is 16 to 24. That's our core."
Consider Emily Gao, a 20-year-old Pitzer College student, who came to the Teen Vogue Summit to connect with other young activists and get close to Welteroth — a more accessible version of Vogue's Anna Wintour."Elaine has been changing what Teen Vogue is," Gao said. "It's Teen Vogue, yeah, but that's not going to limit us to talking about Vanessa Hudgens and glittery makeup."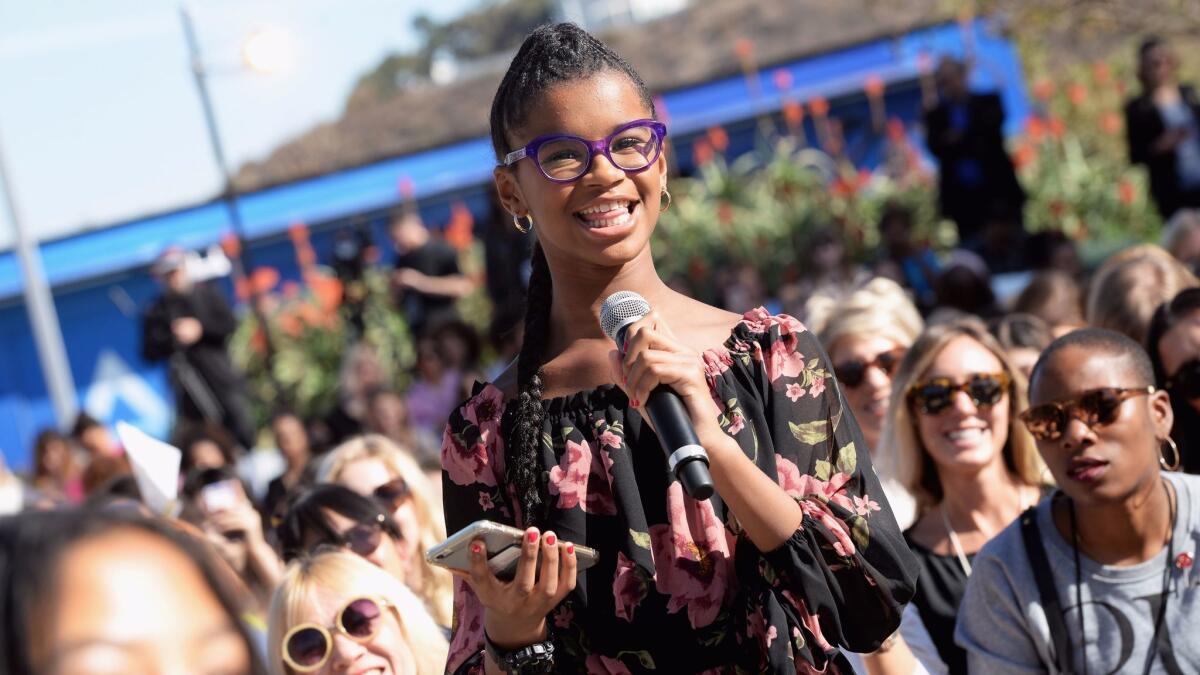 "It's the only place where I can get news about the 'Riverdale' cast and DACA," agreed her lunchmate Katie Breslin, 26, who works in D.C. for the Friends Committee on National Legislation. "I was talking to a guy and he was like, 'You're going to the Teen Vogue Summit? That sounds awful.' I was like, 'Do you not know that Teen Vogue is woke right now?'"
For the record, even though buttons reading "I [heart] Naps but I stay WOKE" were being passed out, Welteroth wants to "render the term null and void."
"I think the word 'woke' is now over," she said. "The first time I heard my mature, white dad use that term, I was like 'OK, this is done.'"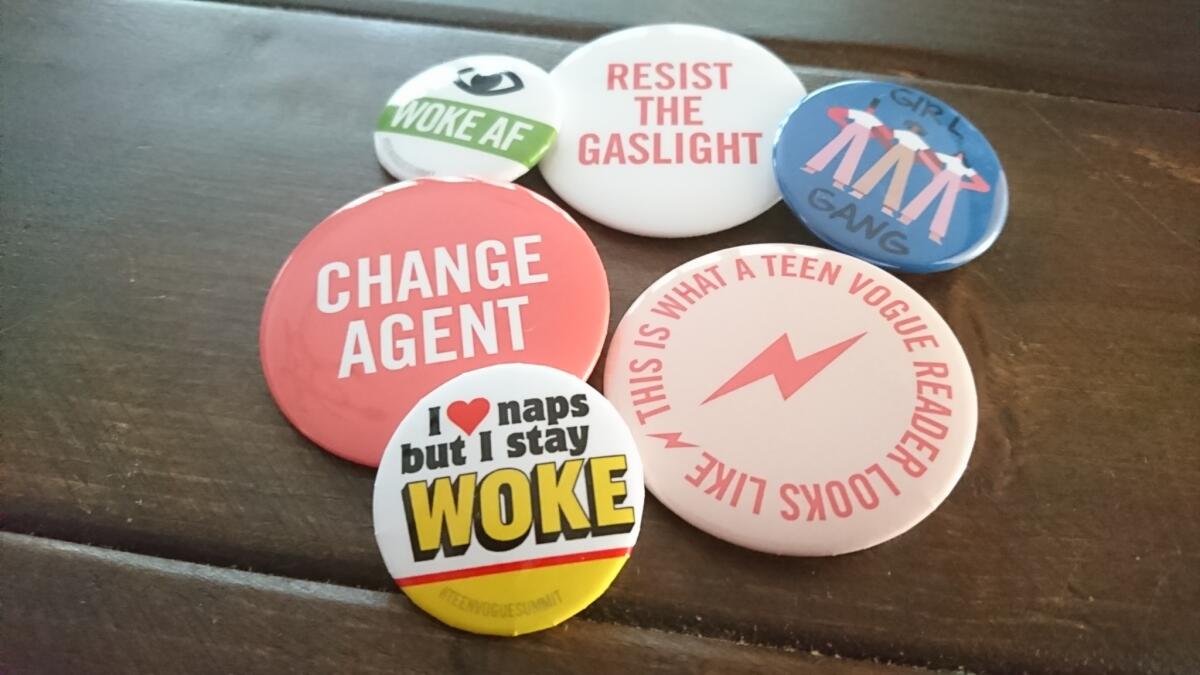 Welteroth, who grew up in Fremont and graduated from Cal State Sacramento, said she'd long dreamed of the Teen Vogue Summit coming to fruition — she even made note of it on her edit test. The idea behind the event, she said, was to take the "socially conscious, civically engaged, career-focused young people" who read the magazine and allow them to meet one another IRL, forging friendships between women who go on to "build businesses together or became college roommates."
"I don't think young people are prepared for the moment of reckoning at the end of college — if you even go to college — where you have to get off of the hamster wheel and decide 'Wait, where do I go from here?'" Welteroth said. "I wanted to create something that started the process of figuring out who you are, what you want, what your gifts are and how you can have an impact in the world."
Indeed, many of the attendees were open about their fear of the future. In between each keynote session, small groups huddled in mini outdoor living rooms — the #GOALS lounge, the Woke lounge, the Activist lounge — for mentoring sessions with different industry leaders. At one session led by supermodel Beverly Johnson, a 16-year-old girl shared her anxiety over figuring out her career path.
"If I were a genie and I had three wishes, what would you tell me you wanted to be?" Johnson asked. "Just say it. Don't think about it."
"I just want to impact the world," the teenager responded, noting that some of the other summit attendees already seemed far more advanced than her.
"You just start," Johnson advised. "Just do it. You become a team leader. And before you know it, somebody comes into your life who changes everything."
For other young passholders, the event served less as inspiration than a means of connection. Blessing Giraldo, a 19-year-old from Maryland who started a step dance team, said she'd forged a lifelong friendship with 16-year-old Las Vegas artist Autumn de Forest; both were members of the "21 Under 21" game-changing young women being spotlighted by the magazine.
"My personal, ultimate, best, favorite part is seeing that girls like you actually exist," said Giraldo, who is currently featured in the Fox Searchlight documentary "Step."
"There are some really incredible and empowering women and girls that have just done so much at such a young age," De Forest agreed. To wit, when asked why she was named as part of the "21 Under 21," she replied, "I've been painting for 10 years. I presented a painting to Pope Francis in 2015 and four of my paintings reside in the Vatican museum. The last artist that was admitted into the Vatican museum was Picasso. I worked with Michelle Obama on the president's committee on arts and humanities, going to underprivileged schools and painting with kids. And I presented a painting to Beyoncé."
Oh. So just that, then.
Girls like De Forest are helping to shift the optics of Teen Vogue. So is the magazine's energized staff, most of whom are younger than Welteroth, now 30.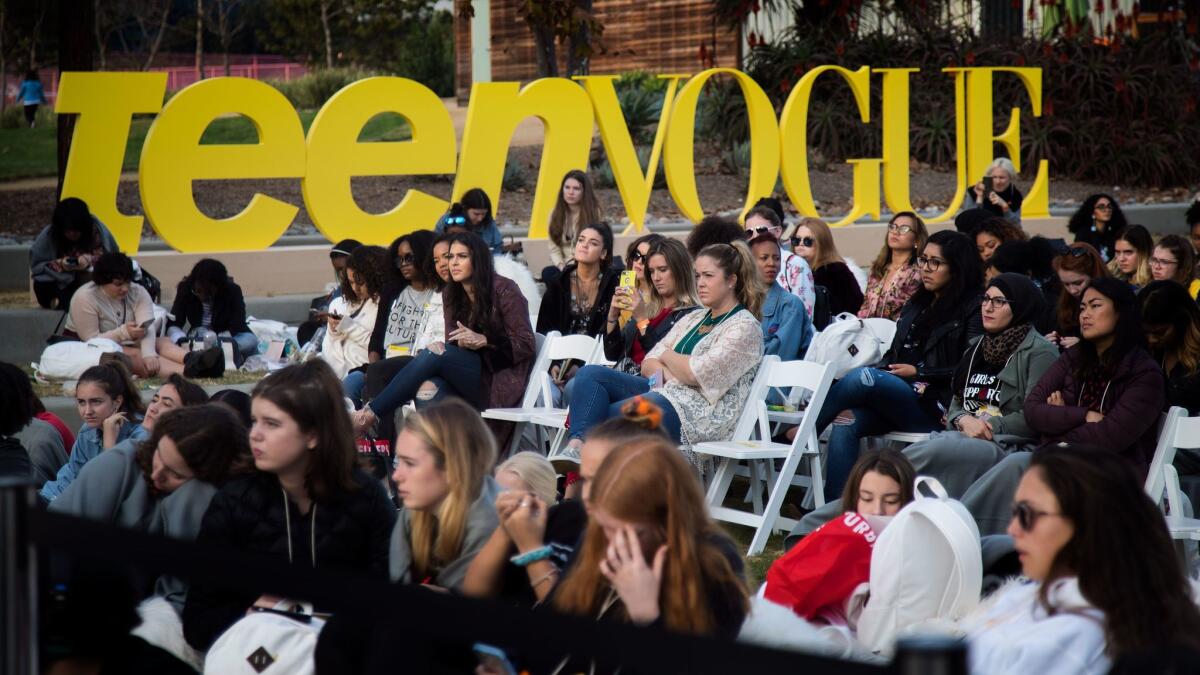 "The evolution at Teen Vogue is not a result of dinosaurs in a board room coming up with a strategy to reach the kids," she said. "I am part of this generation. I grew up with social media. I am the boomerang queen. I enjoy this. I live this. The day I don't is the day I need to resign."
Meanwhile, she's focusing a lot of her energy on providing a media space for young women to feel at home as they come of age in a time of complicated change.
"What does it feel like to be young and empowered, coming up at a time like this where the whistles are being blown? You can't underestimate what that does to a young girl's psyche to see these examples of strong women coming forward and saying what happened to them. To see men be held accountable for misbehaving. How much more equipped is this generation going to be if and when they ever, God forbid, have to face a moment that is compromising? … I certainly didn't have the tools."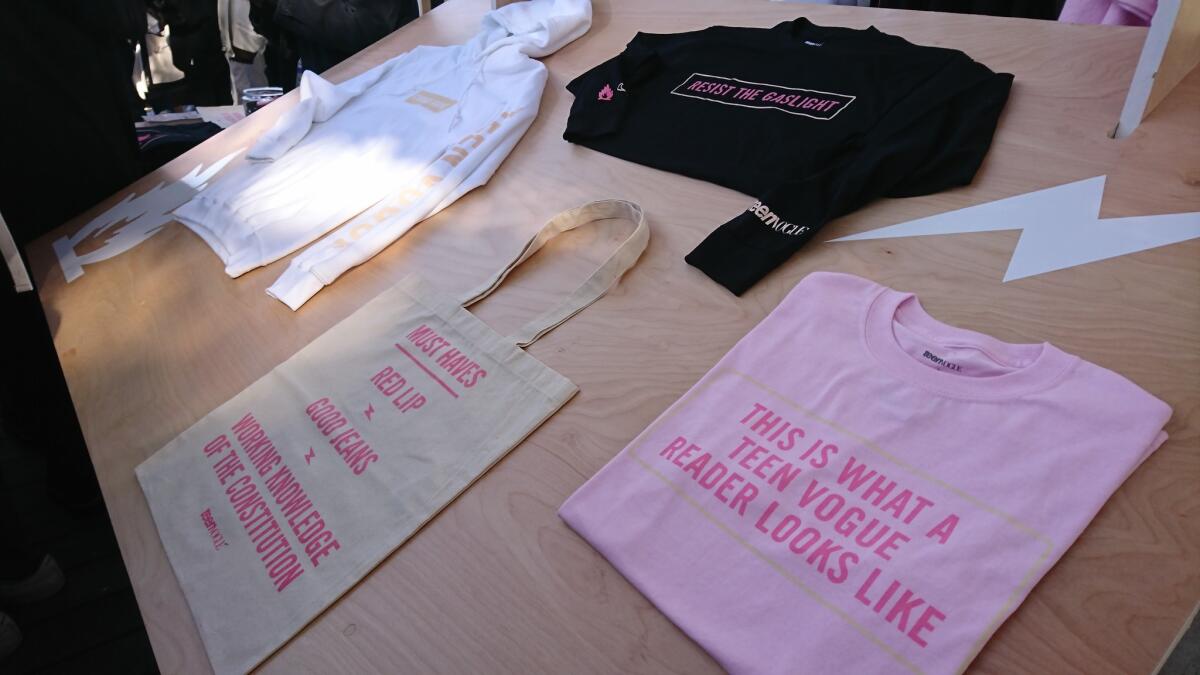 Follow me on Twitter @AmyKinLA
ALSO
'Lady Bird's' Saoirse Ronan, Oscar's leading best actress contender, is looking for her safe space
Olivia Munn doesn't understand why anyone is still working with Brett Ratner
Russell Simmons helped make hip-hop mainstream. Now his legacy is in question amid a new accusation
Get our L.A. Goes Out newsletter, with the week's best events, to help you explore and experience our city.
You may occasionally receive promotional content from the Los Angeles Times.