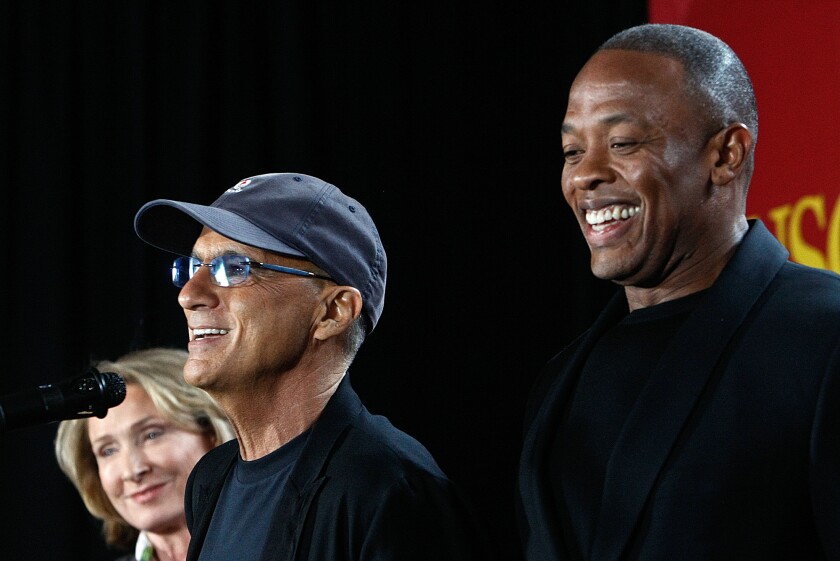 Los Angeles Times Pop Music Critic
It was a convincing proposal, one befitting masters of their domain.
A year after Apple revealed the purchase of Beats Entertainment, the headphone and on-demand music streaming company co-founded by music executive Jimmy Iovine and artist-executive Dr. Dre, the company unveiled its new generation music service, called Apple Music.
Announced Monday at the company's annual developer's conference in San Francisco, the new portal is the most drastic overhaul of the iTunes platform since it upended the music industry in the early '00s. Apple CEO Tim Cook described the product with typical minimalism as "one complete thought around music," tailored to integrate offerings including a new on-demand, "hand-curated" streaming service, a beefed-up radio portal anchored by a global station called Beats 1 and an artist-relations area called Connect.
If Apple Music is as transformative as Iovine promised during his precisely honed presentation, it will be a very fancy garment, indeed. Its bespoke innovations will wrap with new fabric the same 30 million songs offered by competing services Spotify, Rdio, Tidal and YouTube. It will glisten with jewels worthy of the most prominent and disruptive emperor of the music business.
There will be high-definition video. Playlists galore, picked by real people with real tastes. A worldwide radio station. As with its failed iTunes Ping initiative, Apple will offer artist pages that allow for direct interaction with fans.
It's so remarkable that only a dupe wouldn't be skeptical. But so far, call me unconvinced of this so-called great leap forward. Of course, I'll sign up on Day One and check it out for all its possibilites.
Besides Apple and its shareholders, who wins here? In a world of musical bounty, fans need less help finding music than at any time in history; whether Pitchfork, NPR Music, Passion of the Weiss or Aquarium Drunkard, a bounty of tastemakers is at your beck and call. Unsigned artists make more money on Bandcamp or at their merch tables than through streaming services. Music? It's never needed anyone's "help" and never will.
Which isn't to say that musicians don't need our help. It's hard to gainsay Apple's move into the sector if it helps fatten musicians' bank balances. But the move will come at the expense of another income stream: the now-antiquated model of MP3 downloads. (Plus, soon after the great reveal, news came that Apple was being investigated by two states for antitrust violations in its negotiations with music companies.)
The monthly cost will be identical to the Beats Music service it replaced: $9.99 per month or $14.99 for a family pack that allows for up to six user accounts. Unlike Spotify and YouTube, which offer free, ad-supported tiers, Apple Music's streaming component will require a subscription, a barrier to entry that inhibits cash-strapped teens and collegians.
Alongside Spotify's relatively tiny reach — a scant 20 million users pay for its premium service worldwide — the financial impact of Apple luring even a small percentage of its user base to the service could be huge. Tens of millions of account holders in 100 countries will be informed of the new streaming service in less than a month, and all will be afforded a free three-month trial period.
Where, exactly, is the improvement? In Apple Music's all-in-one system? It's not exactly rocket science, jumping from iTunes to YouTube and back again. Perhaps it's in what Iovine dubbed "a revolutionary music service curated by leading music experts," touting the new service's "human touch." The executive described it with similar language to that which Jay Z and his posse used during the rollout for their "revolutionary" Tidal earlier in the year. "Algorithms alone can't do that human task," said Iovine. "You need a human."
Outside of the art world, do people really care about curators? Quick, name your favorite Spotify-employed playlist maker. Have you ever shared its "All Night, All Love" selection of slow jams, or any other stranger's playlist, with friends, or made a point to save that "The Perfect Roadtrip" list to your phone before embarking on your journey? (And if so, are you still glad that Magic's "Rude" made the cut?) "Curated" has a new definition: "dragged and dropped into a playlist folder."
Iovine's swipe at algorithm-based music selection was an implicit indictment against Pandora, which delivers music based on pre-selected parameters. But if anyone "needs a human," it's Iovine, who might consider boning up on his non-U2 contemporary rock chops. In a post-presentation interview with Billboard, the onetime starmaker couldn't hide his enthusiasm for his hottest new find, veteran indie-rock band the War on Drugs. "They should be gigantic," he said. "I think they're fantastic. This is the kind of place where a band like that can really thrive."
Lost on the old-guard veteran is that War on Drugs is doing fine without him. Whether he knows it or not, the band recently sold out the Fonda and gigged a sunset slot on the main stage of Coachella — all without his help. Would the newly unveiled Connect, which allows artists to interact directly with fans, better provide War on Drugs with "tools to grow, nurture and sustain careers," as Oscar-winning film composer Trent Reznor promised Monday?
If War on Drugs is lucky, it might land a spin or two on Beats 1, a worldwide station that promises 24-hours-a-day, seven-days-per-week live radio by a batch of DJs headed by Zane Lowe. Like a regular radio station except on the Internet — what an upheaval! — Beats 1 will broadcast from studios in Los Angeles, London and New York. Lowe, who gained fame at the BBC 1, is considered one of the best interviewers and tastemakers in the English-speaking world. An accompanying ad showed listeners in cities across the world all vibing to the same song. Whether this is good for global diversity is another thing.
But it's "good for music," said Iovine, as if he were the ultimate arbiter. He later told Billboard a story about a failed Beats negotiation, one that got off to a difficult start immediately upon Iovine's arrival. Said Iovine: "I remember sitting down with the CEO of a major carrier once who said, 'I can't believe you dressed like this to my meeting!' " Needless to say, the deal didn't happen.
The implication was that Iovine was the disheveled rebel in a buttoned-up world. It's possible, though, that his clothes were more transparent than he thought.
---