After 'Dear Evan Hansen,' Ben Platt sings of love and loss on debut solo album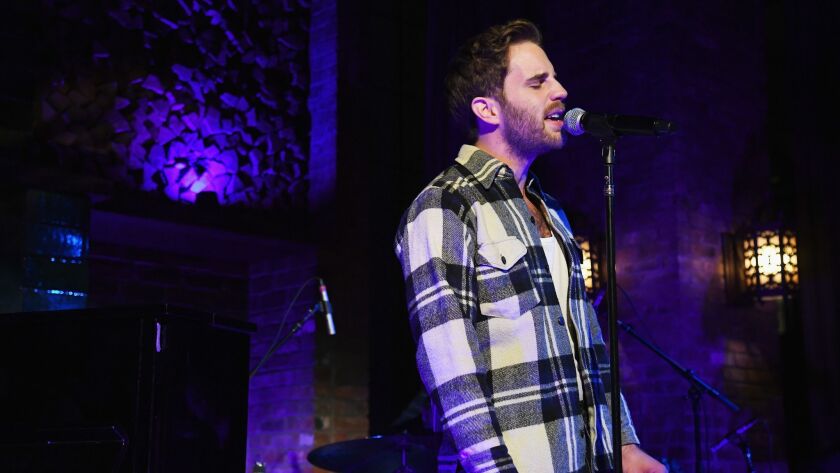 Ben Platt is layering up.
"I'm hiding indoors from the polar vortex outside!" he told The Times on Thursday from New York City during a 15-degree snowstorm.
But it's merely hours before Platt, the Tony-winning breakout star of the Broadway musical "Dear Evan Hansen," debuts two tracks from his deeply personal new album, "Sing to Me Instead." In a way, he'll be more exposed than ever before.
Released on Friday at midnight, "Bad Habit" and "Ease My Mind" showcase his signature vibrato and guttural vulnerability. The piano-driven ballads begin a story of love and loss that's told on his debut solo album, which is out March 29 via Atlantic Records.
Though Platt appears next in Ryan Murphy's Netflix series "The Politician," as well as a couple of movies, he will tour behind the album. It'll kick off in May, with stops in Los Angeles, San Francisco, New York, Chicago, Detroit, Toronto, Boston, Washington, D.C., Philadelphia, Atlanta, Austin and Irving, Texas.
Ahead of the two songs' release, Platt chatted with The Times about venturing beyond musical theater, writing about anxiety and learning about life from a broken heart.
Your music is about to be released to the public. How are you feeling?
It's definitely a cocktail of being super-terrified and also so incredibly excited. I've been living with this music for over a year now. I believe very much in it and I'm excited for people to hear it. I've just been waiting very impatiently.
You've done a few solo sets in New York City this week, performing your own material versus that of a character. How's it been?
Singing live is where all my roots are, and that's been my biggest dream in all of this. But it's a bit scarier than I'm used to. I feel like I was very desensitized to sharing vulnerability and exposing myself in certain ways because of the "Evan Hansen" experience. I got very used to that nakedness.
But this scared me in a new way. It's my thoughts and feelings, and there's no hiding behind a character or a greater project. I was excited to feel that fear again, because it's sort of rare to find opportunities to challenge yourself in a new way. That I wasn't entirely calm made me feel really good.
Why introduce the album through these two songs?
The album itself is an amalgam of a bunch of different relationships in my past, and the very small amount that I've learned while grappling with love and romance. I put them in somewhat of a narrative structure, and these two songs open the album. And stylistically, they're a great introduction to the album's sound.
"Bad Habit" is like a prologue, somebody singing retrospectively about a relationship they've gotten out of and realizing that they have somewhat of an addiction to this person. And regardless of understanding they may not be the best or healthiest person for them, there's just still this hole inside that's hard to ignore.
"Ease My Mind" harkens to the beginning of that relationship to consider the reasons why it got started in the first place. I started to think back: When did I really feel comforted, that my anxiety was allayed? And it was in this beautiful relationship. Anxiety is something I wanted to discuss on the album, but a straightforward song about anxiety isn't the greatest idea in the world.
What's been the toughest part about co-writing this music?
Trusting my stylistic instincts was a bit difficult. I'm obviously coming from the world of musical theater, and there's a pressure to depart from that when you're making a pop album.
But I also had to learn how not to disregard the strengths I had from musical theater, like narrative understanding, emotionality and heightening subject matter so much that you want to sing about it. It was marrying those skills with a new style. I love the mixture we got to.
How would you say you grew as a musician from playing Evan Hansen?
It was a very different experience making this album, but the one thing I carried over — other than having "Evan Hansen" bring experiences into my life to write about them — was the sheer practicality of singing that score eight times a week. It taught my body to sing healthily in a way I had never done before.
So in making this album, I was able to just focus on the feeling and the sound, and singing that healthily, rather than having to overly write for my voice [to make sure] I could perform it.
What can fans expect from the rest of the album?
The first seven or eight tracks are a lot of different snapshots of a relationship: the high of meeting someone new and getting completely obsessed, learning you're not right for someone, breaking up.
The last few songs talk about bigger things. The idea behind it is that someone who had gone through all of these romantic experiences, good and bad, might have a better outlook on bigger questions like mortality and family. That it all allows you to zoom out.
Twitter: @cashleelee
---
Get our daily Entertainment newsletter
Get the day's top stories on Hollywood, film, television, music, arts, culture and more.
You may occasionally receive promotional content from the Los Angeles Times.