The making of powerhouse blues prodigy Shemekia Copeland, grown up and with a voice all her own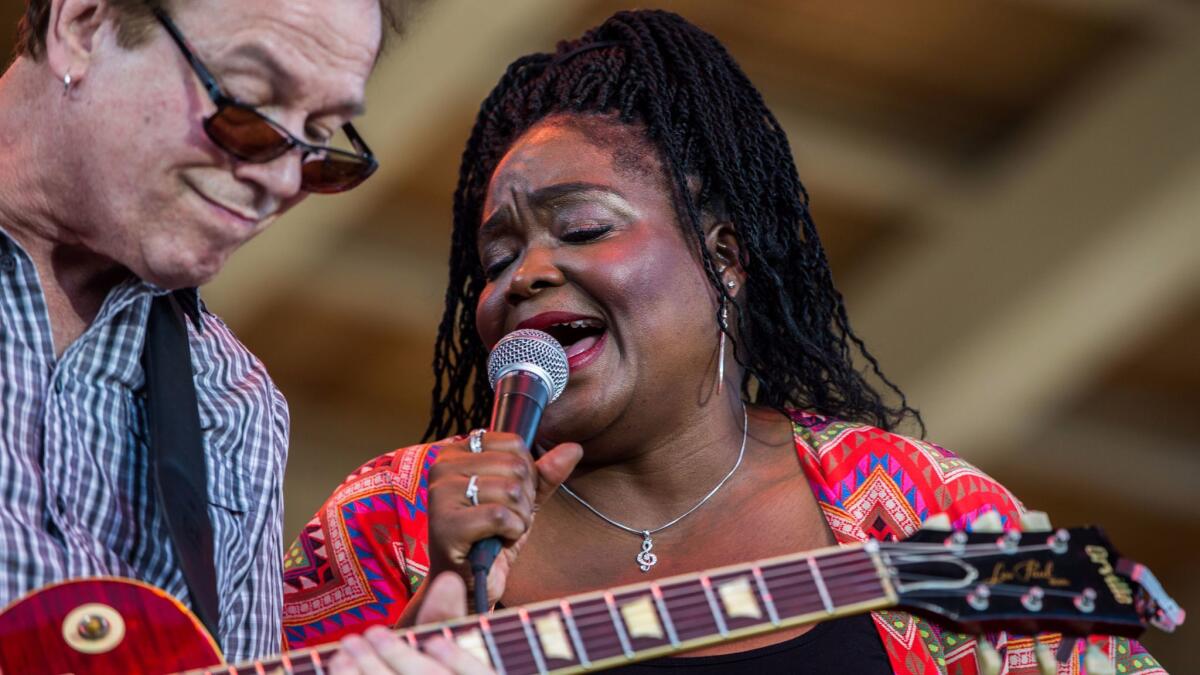 Shemekia Copeland steps to the lip of the stage and lets forth a cry that could carry for miles.
As she snarls and hisses the lyrics to "Ghetto Child," the audience, numbering in the thousands at the Blues on the Fox festival in Aurora, Ill., roars its approval.
"Somebody, please, please help the ghetto child," Copeland thunders. "I'm just the ghetto child in this so-called, in this so-called free land."
Copeland has been igniting this anthem by her father, blues great Johnny "Clyde" Copeland, since she was a teenager, and on this night, as always, it proves the high point of her show and her art.
But nearly two decades after her stunning recording debut, "Turn the Heat Up" (1998), which featured "Ghetto Child" as its centerpiece, Copeland stands not as an 18-year-old prodigy startling listeners with the sheer power of her instrument, but as a 38-year-old new mom out to change the world. Or at least try to repair it as much as she can.
For when Copeland, unrivaled as the greatest female blues singer under age 40, delivers her incendiary message, she's singing not only for herself and her father but also for her 6-month-old son, Johnny Lee Copeland-Schultz, and the turbulent world into which she has brought him.
"I'm smart enough to know these songs are not going to make me popular," Copeland tells the crowd. "But it sure feels good to sing them."
And to hear them, judging by the audience response to Copeland's fiery social-consciousness songs, powerhouse blues ballads and down-home, church-inspired chants.
Backstage the night's headliner, music legend Mavis Staples, holds, rocks and coos little Johnny, his tiny ears protected from his mother's blasts of sound via miniature headphones. Next to Staples, Copeland's mother, Sandra Lynn Copeland, watches the stage as her late husband's legacy unfolds in song and in the flesh.
"I just had a baby — want to see him?" Copeland asks the crowd, which shouts the answer she's hoping to hear.
Brian Schultz, the baby's father and Copeland's partner, carries the child to his mother in the spotlight, making it palpably clear there are no distinctions between Copeland's music and motherhood, between her mission and her personal life. She takes Johnny to every show she presents across the country — he's already been to 22 states.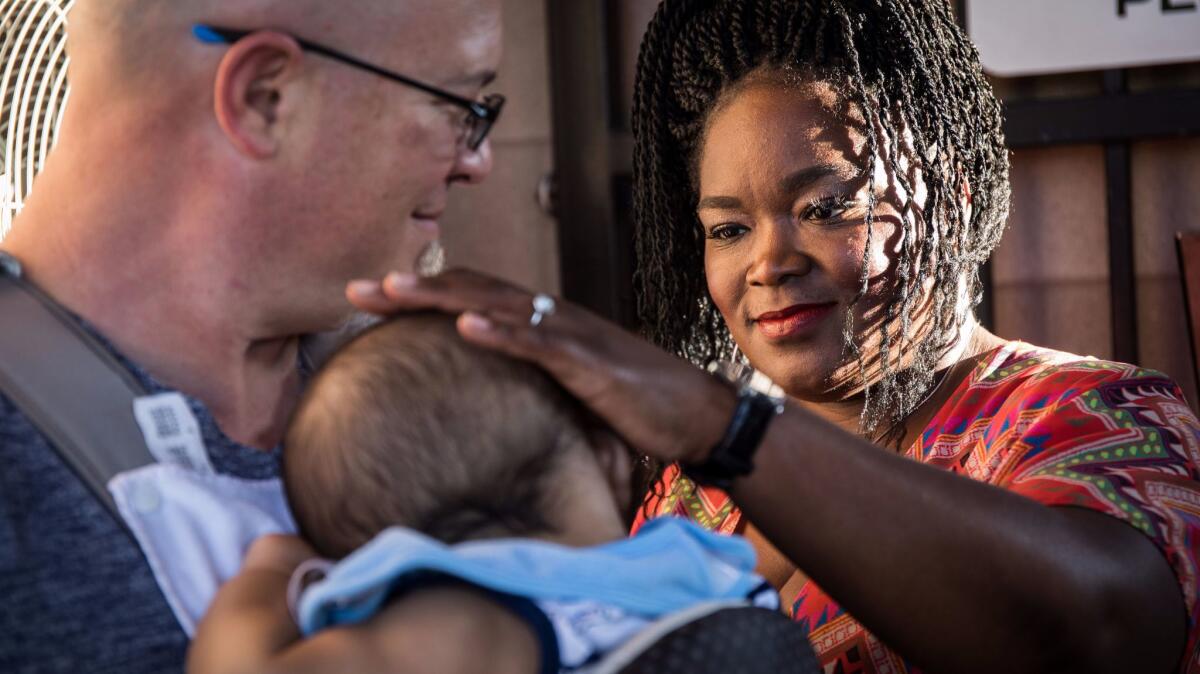 Copeland has gone through a great deal of pain and artistic struggle to reach this point in her life and music, and there were times she felt she never would get here. For even though her father predicted her blues future and fought for it as his health failed, she battled mightily to live up to his exalted artistic standards and to find a voice and purpose of her own.
With her most recent recordings and the arrival of her first child, she finally appears to have found it.
On the day Shemekia Copeland took her first breath — April 10, 1979 — her father announced her future.
"When she was born, he said to me that she would never do anything but sing the blues," remembers Sandra Lynn Copeland. "He said to me, 'Don't let her do anything else but sing the blues, because that's what she was born to do.' And I said: 'Where did that come from?' Because I wanted my daughter to be a lawyer."
But Texas bluesman Johnny Copeland must have known something that no one else did. A larger-than-life singer-guitarist and prolific songwriter, he had given Chicago-based Alligator Records what remains its most successful recording to date, the Grammy-winning "Showdown!" with kindred spirits Albert Collins and Robert Cray.
In infant Charon Shemekia Copeland, he saw a future in the blues — and, perhaps, the future of the blues. By the time she was 3, she was mimicking his singing, says her mother, with Shemekia standing behind the couch of their Harlem apartment while Johnny Copeland composed and practiced songs. (He had moved to New York from Texas in 1974, often working a day job to pay the bills.)
"After she came into the world, everything that he did, he did it around her, to the point of music — it was like introducing her to the music," says Sandra Lynn, who did not totally approve of his approach. "I was a little afraid that he was going to turn her against it, to tell you the truth. Because he kept it in her face. If she wasn't doing anything: You should be writing a song. Or listen to this. Or do that, when it came down to music. And I'm going, like, 'Johnny, eventually you're going to push this kid away from music, because she's not going to want to be bothered.' Because to me it seemed as though he was taking her childhood.
"She didn't even really go outside. She didn't have a lot of friends. She didn't play hopscotch and all those things that little girls do. She would rather sit by the window with him and listen to music."
Sometimes Johnny Copeland would take his daughter for walks in their Harlem neighborhood, at 127th Street and St. Nicholas Terrace, and when they returned home, Shemekia would talk nonstop about the music they sang and discussed, remembers Sandra Lynn.
"I was around when he wrote all those songs," says Shemekia. "When he was making a record, I was always first to hear it. Or should I say we were first to hear it."
At home, she would constantly be singing, often "at the top of her voice," recalls Sandra Lynn.
Full coverage: Grammy nominations 2018 »
Not surprisingly, Johnny Copeland wrote a song for his daughter, "Stingy," that she can sing to this day: I got a guy / Sweet as he can be /The only fault he got that I can see / He's too stingy / Stingy with the love for me.
Inevitably, he arranged for his daughter to appear with him at the Cotton Club, near their apartment. It was Mother's Day, Shemekia was "probably about 9," she says, and her mother put her in a fancy dress and got her to the club.
"My dad sees me sitting in the audience, and he starts to play that song," remembers Shemekia. "And I was just scared to death, because I said 'Oh, my God, he's going to call me up onstage.' That's exactly what he did."
On that day, everything changed, starting with her name.
"I was born Charon," she says. "Shemekia is my middle name. So my parents always fought over which one should be the first or the second. In school, I was Charon; at home I was Shemekia. But that day, he said, 'I'm going to bring up my daughter, Miss Shemekia Copeland.'"
Her career was on.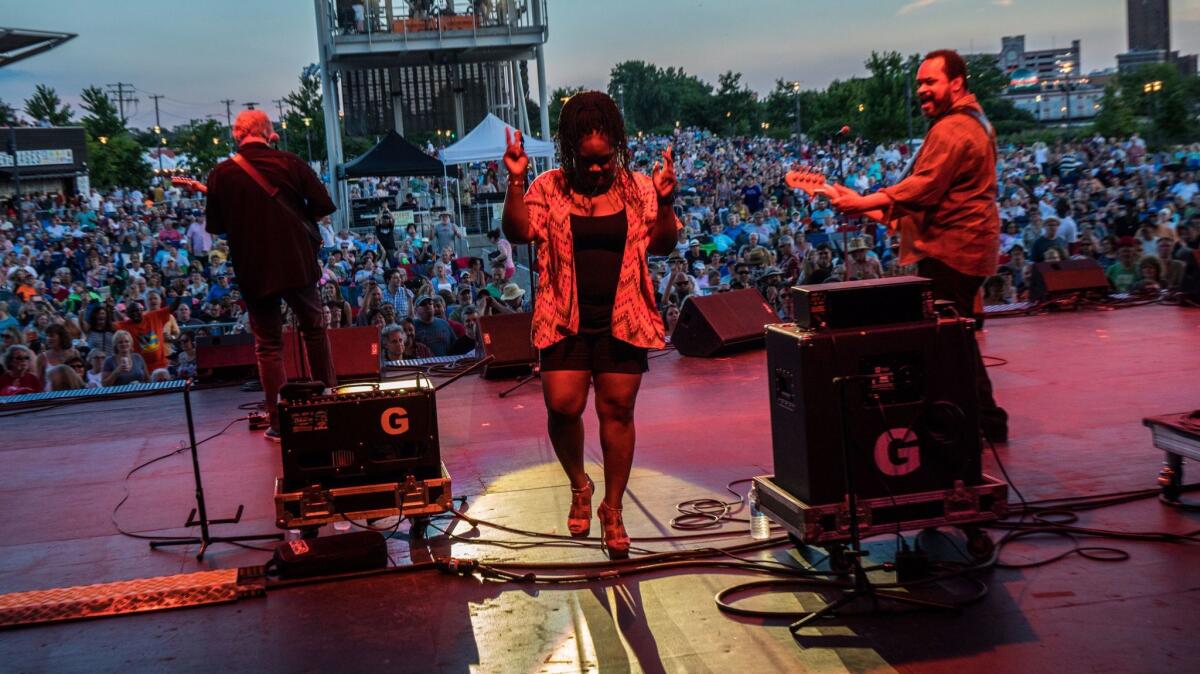 Three years later, when Shemekia was 12, Johnny Copeland took matters a step further.
"My dad said, 'You gotta put on your own show at the Cotton Club without me,' because I had been singing with him onstage" since her debut.
So he hired musicians for her first gig. They rehearsed in the back bedroom of the apartment and apparently made quite an impression.
"The window was up, and I noticed one night that there were these people standing across the street," Sandra Lynn remembers. "I'm trying to figure out why everyone is trying to stand around outside, and just standing up against like a guardrail situation. And when I went back into the room, I said, 'Johnny, why are all those people — and then it dawned on me that they were listening to her sing."
Practically the whole neighborhood crowded into the Cotton Club for Shemekia's big solo bow, says Sandra Lynn, as did blues celebrities such as Big Time Sarah.
"That night she just shined," says John Hahn, who had produced an album with Johnny Copeland, knew Shemekia since she was 8 and soon would become her manager and frequent song lyricist.
"Her mother had her in this lovely white dress, and the place was packed. And she just stepped out, and she stepped into the light. And the most wonderful part of it was seeing the sort of hard-edged people … looking at her and really being happy and kind of surprised or amazed that a child this young could be so precocious. And the look on her father's face was unbelievable, he had so much pride in her."
For Shemekia, the night proved enlightening.
"It was fun, I had a really good time," says Shemekia, who remembers closing the show with "Higher and Higher." "I was in the process of introducing everybody, and I brought my daddy up onstage, and my dad came up there, and he put his arm around me, and I gave him the mic — big mistake.'"
Johnny Copeland showed how it's done.
"He didn't do anything except be who he was — just like this amazing performer," Shemekia remembers. "And he grabbed the mic, and he said: 'Your love lifted me higher!' — it was amazing. I can't really explain it but it was just amazing. And he just crushed me. And I was like, God, I got some work to do."
In truth, the two were learning from each other.
Whenever Johnny Copeland was writing a song at home, "He always knew what was going to work for him because of his daughter," explains Sandra Lynn. "She would walk around, and if he's playing any type of song, or putting something together, she comes back humming or mimicking what he was doing, and he would say to me, 'Baby, that's a good one.'"
If his daughter liked the tune, in other words, he knew it was meant to be.
At the same time, though, he was "a very hard teacher, because it had to be done this way," says Sandra Lynn. "He was good at giving the instructions, but the patience level — because he wanted you to get it on the first time, and it doesn't necessarily work that way."
Shemekia started performing regularly in her father's shows, but her life was not entirely glamorous. The stretch of Harlem where she lived with her parents and older brother could be violent.
It was "a very, very rough neighborhood," recalls manager-songwriter Hahn. "In fact, we would hear gunshots on occasion when we'd be having dinner up there."
When Shemekia was about 15, her father was diagnosed with congestive heart disease. To continue touring, he increasingly turned to Shemekia for support, his daughter often singing an opening set, so he wouldn't have to perform the entire evening. Enduring repeated heart surgeries in the last years of his life, he struggled to keep performing.
"He wanted her on the road with him, because I think somewhere in the back of his head, he knew that he wasn't getting better," says Sandra Lynn. "Shemekia became his lifeline."
Or, as her brother, Tory Edwards, puts it, "It's unfortunate that our father was sick, but it pushed her into adulthood a lot faster. Mekia was very young when he got sick. She was under 18. She was still figuring out who she was. … Those last three years, that's what he gave her — the gift of understanding of being an entertainer."
And though Sandra Lynn long had resisted the idea that their daughter would follow her father's footsteps and possibly face similar financial struggles, she came to realize the rightness of her husband's vision as he was dying.
When he was in intensive care after "one of those eight operations," says Sandra Lynn , the heart monitors and other machines connected to Johnny Copeland "were going crazy. And she sat down beside him … and she started to sing to him. And as she sang to him, the machines started to level off. His breathing became very soft. I looked up and saw tears.
"And then I'm telling her, Baby, we're in intensive care. But then a nurse walked in and she said, 'Don't stop. Whatever she's doing, it's affecting the other patients too.'
"At that point, I'm going, 'Oh, my God, this is what she was meant to do."
In 1997 when Copeland was 17, manager Hahn got her a date playing Chicago B.L.U.E.S in New York on "a dreaded empty Monday night," he recalls.
"There were probably six people, my wife and I included, and Bruce Iglauer walked in."
Hahn knew, of course, that Iglauer was founder-president of Chicago-based Alligator Records. So Hahn immediately said to Shemekia and the band, "This is very, very important. If this guy likes you, we're on our way."
Iglauer, who had heard Shemekia opening for her father a couple of years earlier in Memphis, Tenn., hadn't paid much attention that time but sure did now.
"I was instantly knocked on my butt," says Iglauer. "Because her music and her performance were so mature. I was kind of shocked that somebody that age could have that adult soul in that young body. … I literally couldn't believe how good it was."
Iglauer and Hahn arranged for a demo recording session, to see how effective Copeland could be outside the comfort zone of a blues club.
"She was absolutely just as astounding in the studio," says Iglauer, who signed her and used some of the demo tracks for her "Turn the Heat Up" recording debut.
"That wasn't the intention, but they were so good," recalls Iglauer. "And one of the songs she did was 'Ghetto Child,' which I'd already heard her do at Chicago B.L.U.E.S. It was a showstopper then as it is now.
"She grew up in Harlem. She told me she had seen friends of hers shot in the street. … So when she sang 'Ghetto Child' — she never went to school without shoes, but she knew what she was singing about."
Shemekia rushed to the hospital to play those first demo cuts for her father.
"I watched him listen to those songs," remembers Sandra Lynn, "and he would lie there and tears would run. And I would ask him: 'What's upsetting? Is it something that you don't want, or did it sound bad? What's the problem?' He says, 'No. Her heart is in it.'"
Johnny Copeland's transplanted heart gave out July 3, 1997, when he was 60, and it took some time before Shemekia could grieve.
"I had to be strong for them," she says, referring to her mother and brother, "so I didn't really cry until a year later.
"It was the craziest story. I was working in a dry cleaners, and I was working about 12 hours a day. … I had to come home on two trains and a bus … and in New York they had all these street vendors, and there was this guy with a picture of a monkey — a baby monkey holding a banana."
The sight instantly triggered memories of her father's song "Monkey on My Back," written for Shemekia and her brother.
"And that is when I lost it, because I realized he wasn't coming home," continues Shemekia. "And it just hit me all at once. So I cried on two buses, two trains. That's the best part of New York: That's normal — nobody cares if you're losing your mind. They ignore you. They just let it go.
"And when I finally got home, my mama looked at me, and she just knew, and I fell right into her."
Copeland's recording debut, "Turn the Heat Up," announced the arrival of a teenage singer with unusual vocal firepower and uncommon maturity. Each track conveyed considerable fervor, with "Ghetto Child" expressing the autobiographical nature of her art, "Salt in My Wounds" documenting the intensity of her expression and "Married to the Blues" serving as a kind of personal credo.
As for record sales, "I can't quote figures," says Iglauer, "but I can tell you they were way beyond my expectations. By blues standards a big success. … All of us who love these old forms of music were looking for a young champion, and she was that."
The reception meant that Copeland suddenly found herself in demand in clubs and festivals across the nation.
"It was crazy — I don't even know how I did it," says Copeland, "because we were doing six nights a week, three sets a night sometimes. How I survived it I have no idea. … And during that time, there were a lot more places to play, a lot of venues: clubs, bars, they have all disappeared. … I slept on luggage, I went without sleep."
Copeland scored again with the follow-up album "Wicked" (2000), its songs of love gone bad winning her a Grammy nomination. "Which was like a shock," she says. "I thought: Wow, I'm an actual blues singer. I'm doing this. Second record's out. Maybe I might have a career."
She collaborated with Dr. John on "Talking to Strangers" (2002), which he produced, its funky, New Orleans vibe casting her singular voice in a dark-blue light while showing the increasing tonal polish of her instrument.
By 2003 she'd moved to Chicago, ancestral home of the blues, and next turned out "Soul Truth" (2005). Its heavy brass accompaniment and fat vocal backups sound a tad overwrought, and indeed "it wasn't our best-received," says Hahn. "But I think it was a great album, and I think it was a great learning experience for her."
By then, Copeland was ready to move on from Alligator Records. Having cranked out four albums in seven years — touring relentlessly all the while — she needed to take a breath and think.
"When you grow up on record, that's really tough for the artist," she says, "because everybody is watching you and listening to you go through all these changes. It's like a child actor, except you're watching them on TV. But with me, you can hear through the records. So I think you could hear in my first couple records that I really didn't know what I was doing at all. We made records every two years. When you do that, that doesn't really allow much life to happen for you."
Life happened in a big way for Copeland in 2009, when she married longtime companion Orlando Wright (who plays bass for Buddy Guy) and toured Iraq and Kuwait for U.S. troops.
"Because I was a civilian, and being a civilian over there, they want to talk to you," says Copeland. "They don't want to talk to each other about their feelings: You've got to be tough; you're over there. So when a civilian comes over there, they talk to you, and they tell you everything. And, oh, I heard stories of people and their families. … the stuff you see on TV is nothing like what's over there. And you can never really explain it to anybody. You just have to be there."
The effect on her, says Copeland, was that "you want to fix it. … I learned that it wasn't just about the music. It was about something bigger than that. But, emotionally, I was never the same after that trip."
Copeland's artistic growth was unmistakable on her album "Never Going Back" (2009), on Telarc Blues. No longer simply a shouter, Copeland sings with a new understatement, control and profundity. Moreover, she addresses social issues head-on.
"Wish I could fix a small part of this broken world," she sings in "Broken World" (with lyrics by Hahn). "Rise up, she's going to find something better," she exults in "Rise Up," a kind of feminist battle cry.
Copeland became even more committed to social commentary in "33-1/3" (2012), taking on corrupt politicians and economic injustice in "Lemon Pie," religious hypocrites in "Somebody Else's Jesus" and domestic abuse in "Ain't Gonna Be Your Tattoo" (all with lyrics by Hahn and music by album producer Oliver Wood).
"A woman came up to me at one of my shows, and she said to me: 'I had been in an abusive relationship for many years, I was on my way home in a car after getting into it with my boyfriend, and I had 'XRT on, and that song came on,'" recalls Copeland. "And she said: I never went back to him again. She was crying. I was crying. Everybody was crying. And I just thought, if it's just her life I changed, it's one person, that's fine with me, I've done it, my whole career was worth it."
Copeland returned to Alligator for her most recent album, "Outskirts of Love" (2015), taking on date rape in "Crossbone Beach" and homelessness in "Cardboard Box" (both with lyrics by Hahn) plus other, more traditional subject matter.
"It may be my name on the songs," says Hahn, who speaks with Copeland constantly about topics she wishes to address. "But it's her heart, and it's her feelings, and it's her thoughts and it's her opinions that I'm expressing."
At some point, adds Hahn, "She decided that she wanted to become a voice for contemporary women, especially for women who were in situations that were very difficult to handle."
Copeland (who eventually was divorced from Wright) met Brian Schultz on a flight from Chicago to Kansas City. The two struck up a conversation that led to dinner, a friendship and, eventually, a romance.
Copeland learned she was pregnant on Mother's Day in 2016 and gave birth to their son on Dec. 24, 2016. Not surprisingly, she has found her priorities somewhat rearranged.
"Before I had my baby, if I came home for a week, after a week I'd start to get antsy, like I need to get the hell out of here," she says. "But since the baby, I feel like I don't have enough time at home. … It's like having your heart outside of your chest, that's what it's like for me when I see him. I have to say I've always been pretty hard-core and just pretty tough, a tough cookie. I had to grow up strong. My guys [in the band] still call me a little bull, because I've always just been the epitome of strength. And this kid softened me up a little bit."
All these thoughts are percolating as Copeland gathers themes for her next album, which she hopes to record in the fall.
"She's aware that she's not the first woman in the world that has ever had a baby," says Hahn, "and hardened blues fans are not going to want to hear songs about the joys of motherhood. But, on the other hand, it has helped her focus on social issues and the world that she's brought this child into in a fresh way. As we're looking for material for the next album, that's where the emphasis is going to be."
When Copeland finishes her show at the Blues on the Fox festival, she walks backstage and embraces her baby, takes photos with Staples and otherwise exults in the moment.
She signs records for her fans, then she and her family pile into an SUV for the ride back home to the South Side of Chicago.
In a few days, she and her son — sometimes accompanied by her mom, by Brian Schultz or both — will be back on the road.
"I know the world that he was brought into is not — it doesn't seem real promising right now," says Copeland of her boy. "But we've gone through tough times in this world and this country, and he'll be fine, and he'll just be stronger for it."
And he will have had the blues in his life from day one, just as his mother did.
Says Alligator owner Iglauer, "I have a blank contract for Johnny when he's ready to sign his name. There's something about those Copeland genes."
"Turn the Heat Up" (Alligator Records, 1998).
In a spectacular debut, the teenage singer demonstrates a voice of considerable power and the interpretive depth of a much more seasoned artist.
"Wicked" (Alligator, 2000).
Copeland proves that "Turn the Heat Up" was no fluke, showing both power and tenderness.
"Talking to Strangers" (Alligator, 2002).
Dr. John produced this one, casting Copeland's voice in a new context: an edgy, funk-tinged New Orleans sensibility.
"The Soul Truth" (Alligator, 2005).
The brass-and-vocal accompaniments get a bit thick, but Copeland — working with producer Steve Cropper — rides all that sound with ease.
"Never Going Back" (Telarc Blues, 2009).
Here's a major turning point in Copeland's art, the singer showing musical subtlety and pronounced social consciousness in an album produced by Oliver Wood.
"33-1/3" (Telarc, 2012).
Copeland turns up the dial on social commentary with pungent songs such as "Ain't Gonna Be Your Tattoo" and "Somebody Else's Jesus."
"Outskirts of Love" (Alligator, 2015).
The singer comes home to Chicago's Alligator Records, her voice more plush and commanding than ever.
Reich is a Tribune critic.
ALSO
Premiere: Blues musicians ZZ Ward, Fantastic Negrito team for 'Cannonball'
Music documentary 'Two Trains Runnin'' captures 1964 collision of blues and civil rights
Grammy Awards 2018: How the Recording Academy has evolved toward relevance
Get our L.A. Goes Out newsletter, with the week's best events, to help you explore and experience our city.
You may occasionally receive promotional content from the Los Angeles Times.