Neighborhoods: Leimert Park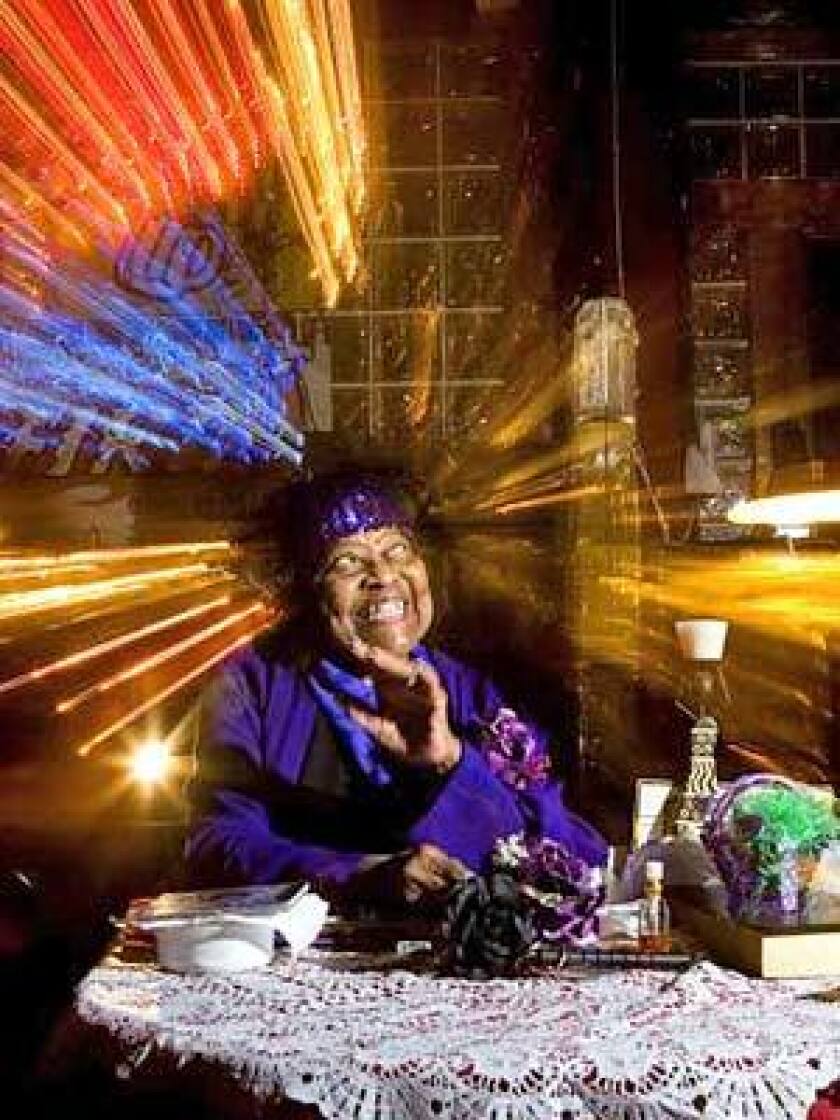 Like a West African bantaba -- a spiritual gathering place for the community -- leafy Leimert Plaza Park is the anchor to Leimert Park Village, a center of L.A.'s African American art and culture. Sunday African drum circles, impromptu domino games and cultural events like the Martin Luther King Day Parade and celebration all find a place within its triangular bounds. The area, developed by Walter H. Leimert and designed by the Olmstead brothers in the late 1920s, began attracting African American musicians and artists in the wake of the 1965 Watts Riots.
Today, the stalwart merchants along Degnan and Leimert boulevards support each other in preserving the traditions of poetry, jazz, blues, crafts and soul food that define the village.
The joint is jumping
Jazz and poetry collide at the World Stage (4344 Degnan Blvd., [323] 293-2451, www.theworldstage.org), where the crowds at performances are known to spill out onto the sidewalks. Want to try your hand at an open mike? Historic 5th Street Dick's jazz coffeehouse (4305 Degnan Blvd., No. 103, [323] 545-9077, www.5thstdicks.com) supplies the java and jams every Friday night.
On Monday nights at Babe's and Ricky's Inn (4339 Leimert Blvd., [323] 295-9112, www.bluesbar.com), you can feed your soul twice with live blues and a complete soul food dinner, all for $8. Eavesdrop on vibrant freestyle hip-hop when local youths spit rhymes at Project Blowed (www.projectblowed.com) on Thursday nights at community arts center Kaos Network (4343 Leimert Blvd.).
Turning the page
Eso Won Books (4331 Degnan Blvd., [323] 290-1048, www.esowon.booksense.com) specializes in fiction, nonfiction, poetry and children's literature by African American writers and about the African American experience.
Art of the diaspora
Master jeweler Sika (4330 Degnan Blvd., [323] 295-2502) makes handcrafted pieces in a small shop brimming with African imports, such as kente cloth, dashikis and sculpture. Gallery Plus (4333 Degnan Blvd., [323] 296-2398) stocks African American art and collectibles; it's a one-stop shop for Obama paraphernalia too.
A gumbo of tastes
Locals enjoy a spicy mixture of African-influenced cuisines, from the Jamaican jerk chicken at Ackee Bamboo (4305 Degnan Blvd., No. 100, [323] 295-7275) to the crawfish corn chowder at Creole newcomer Vieux Carré (4317 Degnan Blvd., [323] 291-2441, www.novieuxcarre.com).
---
Your essential guide to the arts in L.A.
Get Carolina A. Miranda's weekly newsletter for what's happening, plus openings, critics' picks and more.
You may occasionally receive promotional content from the Los Angeles Times.