Classic Hollywood: The finger of fate was never fickle to George Schlatter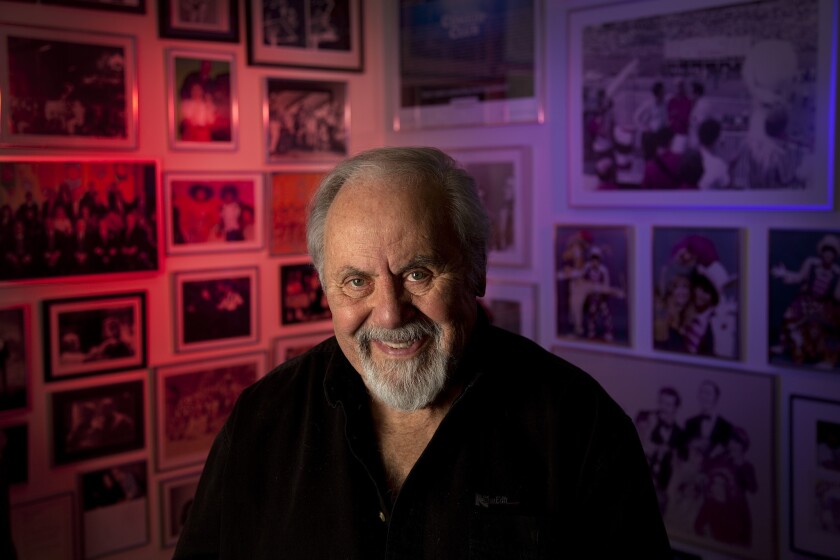 Award-winning producer-writer-director George Schlatter is a kind of P.T. Barnum of the small screen.
An innovative showman, the 81-year-old Schlatter turned the comedy genre on its head with the hip, groundbreaking series "Rowan & Martin's Laugh-In" (1968-73) and helped usher in the reality show format with "Real People" (1979-84)
But that's not all, folks. He also created the "American Comedy Awards," produced countless TV specials, including "A Party for Richard Pryor" and "Sinatra: 80 Years My Way," and earned more than a few honors for his work, including Emmys and Golden Globes.
PHOTOS: Behind-the-scenes Classic Hollywood
He was buds with the Rat Pack. He made stars out of unknowns Goldie Hawn and Lily Tomlin and was fired from "The Judy Garland Show" after five episodes because he and CBS disagreed about his vision for the variety series.
He broke down color barriers. In fact, Schlatter, who was once a white greeter at an African American club in Los Angeles, insisted in the 1950s that Sammy Davis Jr. be allowed to stay at the New Frontier Hotel in Las Vegas while performing there, which was unprecedented in the segregated resort town. Then in the 1960s he hired Mark Warren, who Schlatter said was one of the first African American TV directors.
Schlatter's larger-than-life in person. A bear of a man with a ready smile, Schlatter has a hearty laugh and a big booming melodic voice — he sang for two seasons as a teenager at the St. Louis Municipal Opera. His Melrose Avenue office is grander than some apartments and covered ceiling to floor with photographs from his 60-year career.
Not surprisingly, he's a treasure trove of delicious stories, such as the time he persuaded then-presidential nominee Richard M. Nixon — not known for his rollicking sense of humor — to say one of "Laugh-In's" catch phrases, "Sock it to me," on the Sept. 16, 1968, episode. Nixon's cameo gave his campaign a huge boost by lightening his dark persona.
PHOTOS: Hollywood Backlot moments
Schlatter noted that he wanted to do something big for the first show of the new season. The show's veteran writer, Paul Keyes, who wrote most of the material for the comedy team of Dan Rowan and Dick Martin, was friends with Nixon
"Paul said, 'How about Richard Nixon?' I said it would be great if we could get him to say 'Sock it to me.' So they went over to CBS where the Republican candidate was taping a press conference," Schlatter said. "All of Nixon's advisors were saying, 'You can't do this, it will ruin you."
But Nixon agreed. "I had to do six takes so he could say 'Sock it to me' and look happy," Schlatter said. "Congress had to send a special letter allowing us to avoid the equal-time provision on the guarantee that [his appearance] was nonpolitical and that it was also under 10 seconds. It was the first time Nixon was shown as a nice guy."
Schlatter is "certainly one of the great television showman," Paley Center for Media curator Ron Simon said of Schlatter. "He can bring together great ideas and talent and put on a great show. He is always very contemporary, but he has a great feeling and understanding of what has worked in show business history."
On Tuesday, Schlatter will be sitting down with writer Kliph Nesteroff at the Cinefamily at the Silent Movie Theatre for "An Evening With George Schlatter: TV Comedy Pioneer," which will feature clips from NBC's "Soul," the pilot of an African American version of "Laugh-In" with Redd Foxx and Nipsey Russell.
COMEDY CENTRAL ROASTS: A brief history of the comedic event
"Soul," Schlatter said, never made it to series because NBC was "not ready for it. It was revolutionary."
The Cinefamily program will also highlight clips from the 1968 NBC Motown special "TCB" and the 1972-73 CBS comedy-variety series "The New Bill Cosby Show,"
Schlatter paid his dues before he became an innovative TV producer. "I was born with a wooden spoon in my mouth," he said, laughing.
He got his first big break at MCA's band and musical acts department booking piano players. It was during his first week at MCA that he met Sinatra, who would become one of his closest friends and frequent collaborators.
"I was delivering mail," Schlatter recalled. "Suddenly, there was a commotion and people came from all over because Sinatra was in the building."
The Chairman of the Board showed up at MCA once a year. "Sinatra came in and they gave him his contract," Schlatter said.
"He took the contract and said to me, 'Is this OK?' He handed it to me. I said, 'yeah.' He signed the contract, and he handed it back to me and said, 'I've got ties older than this guy.' The Sinatra relationship built from that meeting to when I did the eulogy at his funeral. He was an event."
Are you an aficionado of iconic Hollywood? Like us on Facebook and go to the Classic Hollywood landing page to get more Times coverage.
------------------------------
The American Cinematheque's Egyptian Theatre in Hollywood is celebrating the life and career of prolific writer-producer Stanley Rubin on Saturday afternoon. The free event is open to the public. Rubin, who died in March at 96, won an Emmy in 1949 — the inaugural year for the awards — for film made for television with "The Necklace." Three years later he produced one of the iconic film noirs, "The Narrow Margin," directed by Richard Fleischer, which is screening at the Egyptian tribute. During his long career, Rubin wrote some 19 films and produced two dozen, including the 1954 Marilyn Monroe-Robert Mitchum western, "River of No Return" and 1967's "The President's Analyst." For more information, go to https://www.americancinematheque.com.

---
Inside the business of entertainment
The Wide Shot brings you news, analysis and insights on everything from streaming wars to production — and what it all means for the future.
You may occasionally receive promotional content from the Los Angeles Times.