YouTube's '@SummerBreak': reality TV for the social-media generation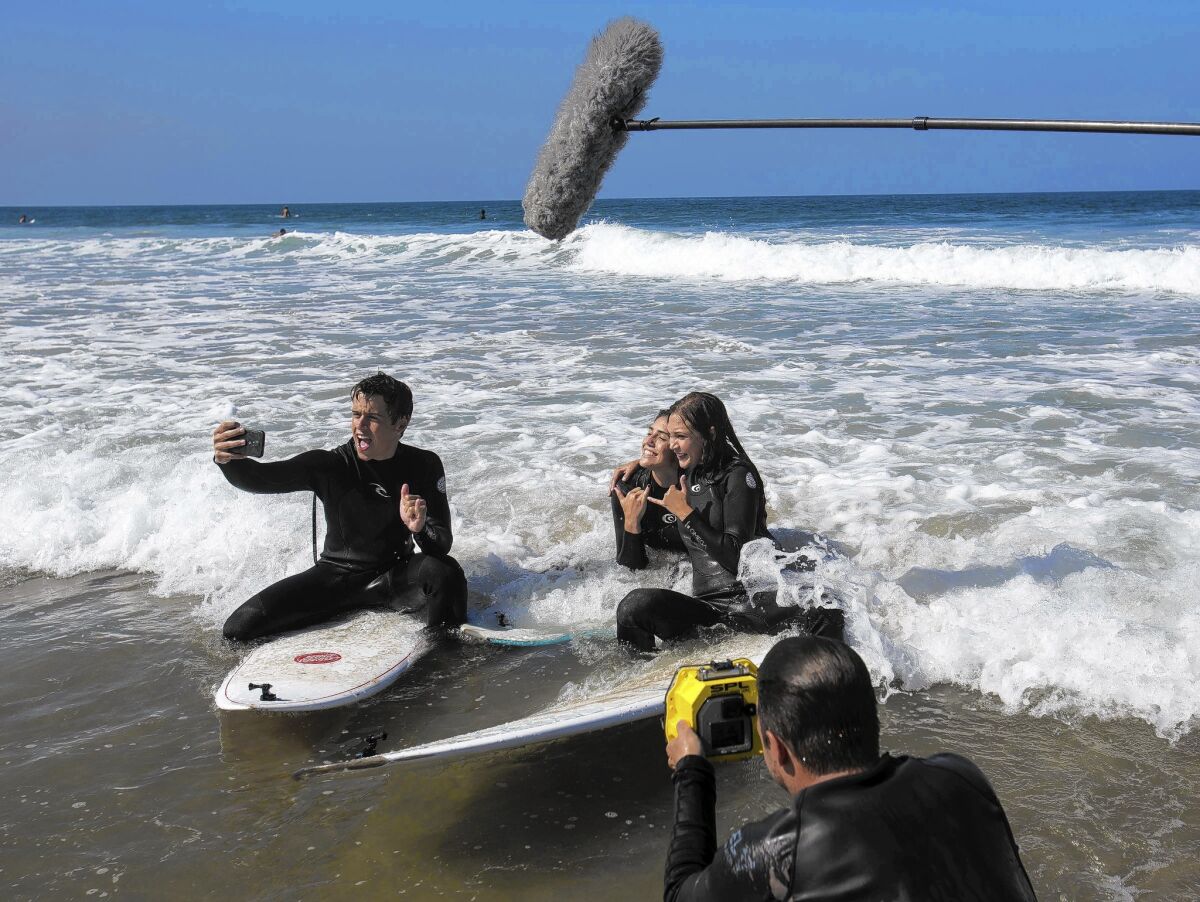 It's a sweltering 90-degree day, and 17-year-old Dash Dobrofsky, who normally spends his summer days hanging near Tower 26 on the beach in Santa Monica, is inside a Melrose Avenue cake shop, a crisp, white apron over his bro tank and a camera crew over his shoulder. He and his friends Jacob and Ava, each with their own unfrosted cake, are in the middle of a decorating session when things get competitive between the two male cast members of the teen YouTube reality show "@SummerBreak."
Dash sketches a black frosting mustache on his cake. Ava decorates hers with small, intricate floral designs. Jacob starts to write all three of their names on his, but then leaves out Dash. It's an Ava and Jacob cake now.
"Dash, you don't make the cut," Jacob says. "Your name doesn't fit on my masterpiece." The three friends laugh, cut into their cakes and pull out their phones. Selfie time. They click and hit "send."
But none of the photos of themselves or their cake masterpieces ever makes it to their Twitter or Instagram accounts. That's because every tweet they write and every picture they take must be approved in advance before going live on the Internet — not by their parents, but their producers. The cake shop footage never appeared on "@SummerBreak," and that meant their selfies just didn't make the cut.
Marketed as the "Laguna Beach" for the social media generation, "@SummerBreak" reflects the still-evolving way many teens and young adults prefer to get their content: in a bite-size format and on multiple platforms, including YouTube, Twitter, Instagram and Tumblr. This summer, the online reality show, which recently uploaded its Season 2 finale, followed 10 graduating and incoming high school seniors from Santa Monica High School and Pacific Palisades High School. The teens were filmed by a two- to four-person camera crew as they went through their summer activities — everything from camping trips to surf lessons to parties. Meanwhile, a team of 40 to 50 worked behind the scenes, editing all the footage into episodes that ranged from five to 20 minutes, and expanding the show's reach through marketing and social media.
To say social media are a large part of the show is an understatement. After just two seasons "@SummerBreak" has acquired nearly 350,000 subscribers and more than 36 million viewers. The show, produced by Astronauts Wanted, the new-media youth-content brand run by former MTV Networks CEO Judy McGrath, has more than 180,000 followers on Twitter, approximately 61,000 followers on Instagram and a large Tumblr following.
"When you're telling a story, you have to think about how to do it across platforms," says Astronauts Wanted's chief content officer, Billy Parks, who created "@SummerBreak" when he was still at the Chernin Group. "We use data to find out in real time what story lines are working the best … and then we can do that by listening to what's working on each platform. Television isn't always set up to do that."
In addition to the followers on each of the show's platforms, the cast members' individual Twitter followings range from 5,000 to more than 30,000. All the participating teens were asked to document themselves through photos and video diary entries on their phones, which connected to a Dropbox app accessible to the behind-the-scenes production team. This allowed the high schoolers to begin building their own social media brands, one Tweet or Instagram photo at a time.
Parks, who was like the cool, laid-back guardian of all the teens on set, says that when the show first began last year he was wary of giving the kids media exposure.
"I wanted [the show] to be about them," he said. "But since it blew up, we are making it more open to the public."
Still, Parks is protective: He asked that underage cast members' last names be omitted from this article, despite the fact that their lives are, for the most part, publicized on the Internet.
As a fan of reality TV, Carmen Vazquez, mom to 18-year-old cast member Ray Mancini, says she was initially reluctant to let her son do the show.
"These shows are incredibly entertaining and provide us with an intimate look at other people's lives … but my RayRay being part of one … yikes!" she writes in an email. "What will he be exposed to? How much of his personal life will become public?"
But last summer, when Mancini first joined the cast, Vazquez's concerns subsided when she met the show's production team.
"They addressed all of our concerns and assured us that our kids would be safe," she says. "This experience has taught him some intangible skills that will help him in his future career … like adaptability, teamwork and the ability to know how to use social media as a powerful communication tool."
Dash's mom, Tippi Dobrofsky, says she was also reluctant when she first heard about the show. Now she thinks it's been a great learning experience for her son, a young actor who has appeared on "Modern Family" and has been in several projects of his filmmaking brother Spyder.
"It's like a 3-month long drama workshop," she says of "@SummerBreak." "Emphasis on the drama."
Jacob's mom Winnie Wechsler believes that the show will open doors for her son.
"This has been an amazing summer job for a high school kid," she says in an email. "It's built his confidence, given him a chance to communicate with a large audience, and I have to believe it will help him in his next job, in college and in whatever else he chooses to do."
Mancini, who is now a freshman at Colorado State University, has more than 30,000 followers on Twitter after two seasons with "@SummerBreak." On his phone, he keeps a folder of pictures with the "best of" fan art sent to him every day.
"It's crazy," he says of the fan dedication for the show. "People even recognized me on my college tour."
The cast members say they didn't mind having their Twitter and Instagram posts monitored — some even liked it. Whitney Farrer, 18, says having the show's crew filter her tweets was like having "social media parents."
"You can't post a bad picture because it won't go up," she says. One time, she tried to upload a photo of herself drinking out of a Perrier bottle, but it looked like a beer so the photo didn't get approved by the "@SummerBreak" team.
"I'm grateful," she says, "and scared for when it's taken away."
Parks says that his social media team would only flag posts that look illegal or would reveal something in an episode that hadn't aired.
"I thought [monitoring social media] was going to be the hardest part of the show," Parks says, "but we haven't had any issues."
Dash, now in his first month as a senior at Santa Monica High, appreciates how the show has escalated his following this summer.
"The show does a great job of blowing me up on social media," he says. "It's cool knowing people are there that are going to favorite your tweet and say 'I love you' and stuff."
In one episode this season, the hashtag "DateJacob2014" went viral after Dash tweeted it to promote his "homie."
"It was weird how much that caught on," Jacob says. "I don't think me nor Dash expected it to actually be a thing … but it's so cool. I can connect with my fans. It's really weird saying that — 'my fans' — because I see myself as just a kid. Me and Dash have always been typical average kids."
"We're not average," Dash jokes. "We know there are some young incoming freshman at Samohi watching the show — they might be young, but it'll be cool to get recognized. It's a little fame for now. Local fame."
Back at the bakery and "cake decorating studio," as "Ace of Cakes" star Duff Goldman calls his shop, two 15-year-old girls from Indonesia prove that the fame of the "@SummerBreak" cast goes beyond Southern California.
"Oh, my God," says Nanda Lufti when she spots Dash, Jacob and their camera crew.
"Should we ask if we can talk to them?" her friend Alicia Hartaro asks.
Lufti nods, and the two approach Lauren Baduini, who stands at the entrance of the bakery holding a clipboard and wearing earphones.
"Sure," the producer says. "Let's just wait until they wrap."
"All of our friends watch the show in Indonesia," Lufti says.
"The show is on YouTube, so it's easy to watch all the time," Hartaro explains. "They are really entertaining — and good-looking."
The boys, whose aprons are covered in frosting, stroll over to their fans with smiles on their faces.
"Hi, I'm Dash," he says, extending his hand.
"Give me a hug, I'm Jacob."
"Can we take a selfie?" Lufti and Hartaro ask together.
"Of course," Dash says. "We love selfies."
Twitter: @saba_h

---
Get our L.A. Goes Out newsletter, with the week's best events, to help you explore and experience our city.
You may occasionally receive promotional content from the Los Angeles Times.