How writer-director Andrew Stanton found 'Dory' 13 years after 'Finding Nemo'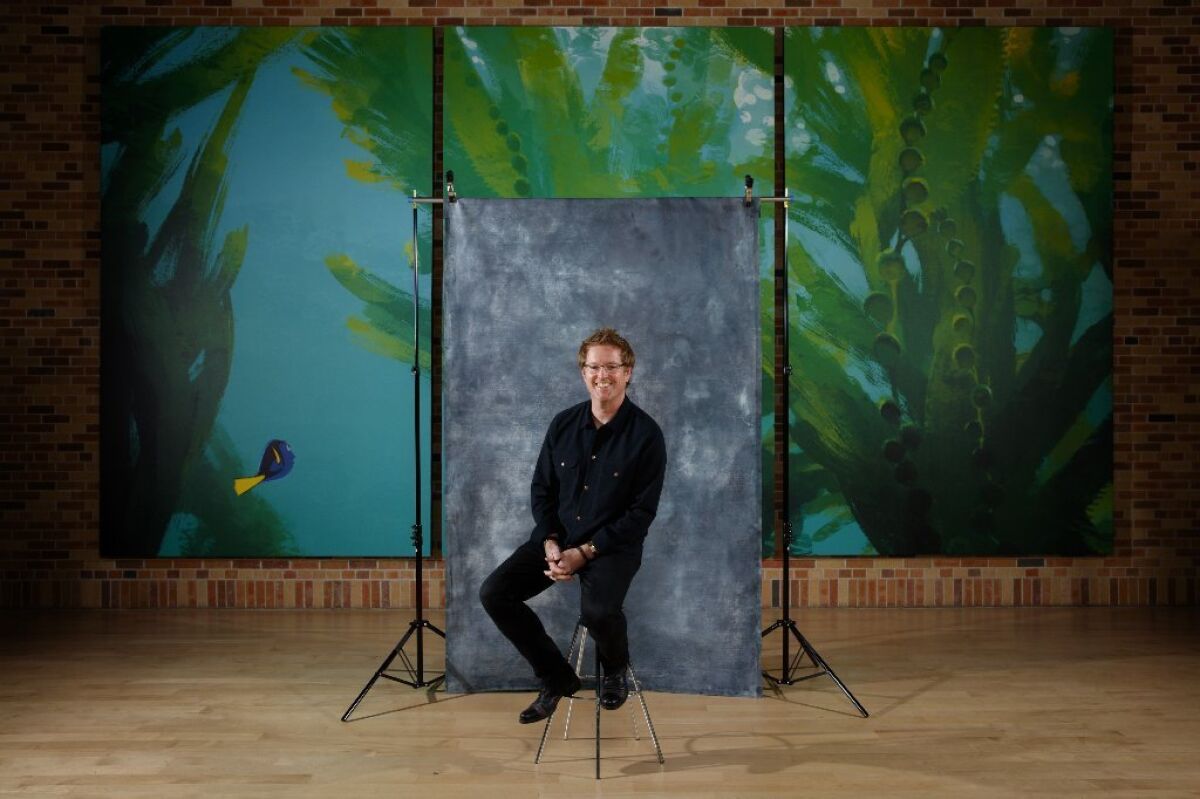 Reporting from Marin County, Calif. —
For years, a standing bit on Ellen DeGeneres' talk show was her irritation at the lack of a "Finding Nemo" sequel. The comedian, who voiced the cheerful, amnesiac sidekick Dory in the aquatic 2003 Pixar film, greeted the announcement of other sequels from the animation studio with a dramatic flash of side-eye. Fans protested too, wondering in online comment sections why "Cars 2" and "Toy Story 3" got made, while "Nemo," which was a global box office hit (making $937 million worldwide), an Oscar winner and the highest-selling DVD of all time, still had no follow-up.
Thirteen years later, it does -- "Finding Dory" opens June 17 with DeGeneres' character as the lead fish and with lofty expectations at the box office. The reason for the long delay was Andrew Stanton.
Stanton, 50, who wrote and directed "Finding Nemo" and its sequel, is one of Pixar's longest-standing and most respected employees, having joined the studio as its second animator in 1990 and established himself as a creative executive whose clear-eyed sense of story and no-nonsense attitude help ground the filmmakers around him. Colleagues refer to him as the John Lennon to Pixar chief creative officer John Lasseter's Paul McCartney, with Stanton bringing the grit that leavens Lasseter's optimism.
"Dory" is a return home for Stanton, who also directed "Wall-E," and has writing credits on all three "Toy Story" films but stepped away from Pixar to make his live-action debut with "John Carter," a big-budget adaptation of an Edgar Rice Burroughs book that became a costly and high-profile misfire for Disney in 2012.
In returning to Pixar, Stanton has returned to a filmmaking culture he helped shape, one where failure is considered a painful but necessary step in the creative process. One morning in May, as his colleagues gathered at the Skywalker Ranch in Marin County for what is traditionally a panic-inducing event for filmmakers, a final notes screening of "Finding Dory" for the studio's creative executives, Stanton projected an assurance.
"One of the things I took from 'John Carter' was, I'm not sweating this," Stanton said as executives Lasseter, Ed Catmull and Jim Morris, fellow directors Pete Docter and Lee Unkrich, producer Lindsey Collins and the film's department heads filed into a screening room with notebooks in hand.
In the new film, which is co-directed by Angus MacLane, Dory is trying to find her parents, a quest that takes her to "the jewel of Morro Bay, California," a marine life institute, and pairs her with a cantankerous octopus named Hank, voiced by Ed O'Neill. "Finding Dory" unfolds as a kind of mystery, as the lead character's memory loss keeps her past a secret from her and the audience.
"I had always seen Dory as a tragic character," Stanton said. "I had always assumed she had spent most of her life wandering the ocean being ditched or accidentally ditching other people, and had this compounding sense of abandonment. I figured she had developed this superpower of being the most optimistic, nice, fun person to be around so maybe the next person -- or fish -- she meets won't leave her."
Stanton had resisted the notion of a "Nemo" sequel for years. In the late '90s he had worked to retool the story on Pixar's first sequel, "Toy Story 2," a pressure-plagued production that saw its beleaguered crew racing to meet a release date despite an unfinished script.
"We always said after that, 'We'll only make a sequel if the idea is that good,'" Stanton said. (Some might disagree that Pixar has been quite so picky about its sequel choices – "Cars 2" was a rare misfire with critics, and the studio now has "Cars 3" due in 2017 and "Toy Story 4" set for 2018).
In 2016 -- a year that has so far delivered several underwhelming sequels to the box office, including "Alice Through the Looking Glass," "Teenage Mutant Ninja Turtles: Out of the Shadows" and "The Huntsman: Winter's War" -- Stanton's sequel-averse policy seems like a sensible one. But over the years it looked as if the studio was leaving money on the table with "Nemo." So when Stanton came up with the idea of a movie focused on Dory while he was still in production on "John Carter," a studio green light quickly followed.
"We sort of didn't think there was ever going to be a 'Nemo' sequel," Morris said. "It's easy to understand why studios make sequels. Audiences like them. They're easier to market. But it had been a long time. And Disney was great about not pressuring us. When Andrew got excited about it, that's all it took."
Coming off of "John Carter," the failure of which had knocked Stanton on his heels, the director expected that returning to the familiar world of "Nemo" and safety of his home studio would be easier. Instead he found the "Dory" story confoundingly hard to nail down -- even for the studio's resident story guru.
"It was a bear," Stanton said. "You don't realize until you make a character with short-term memory loss that self-reflection is the only way you can chart that somebody is progressing in a film. We had many smart people banging their heads against the table for a year or two to figure out, how do you get that same progression you get from any other character?"
The solution came with the introduction of Hank as Dory's sidekick, and the use of flashbacks, another conceit Stanton had initially resisted.
Along the way, Stanton and his crew spent time at the Monterey Bay Aquarium and the Marine Mammal Institute in Oregon, observing how the environments looked from the animals' perspectives. The "Finding Dory" filmmakers also watched the 2013 documentary "Blackfish," about the controversy over captive killer whales at Sea World.
The animals' experiences vary -- Hank enjoys life in captivity and harbors a dream of ending up in a Cleveland aquarium. But a sequence in an educational touch tank is played like a battle scene in a war movie, with animals dodging the creepy, invasive hands of curious children.
Stanton said he isn't pushing any particular view of marine animals living in captivity.
"On 'Wall-E' people kept wondering what my environmental message was," Stanton said. "I'm a very selfish storyteller. I just want whatever works to help tell the character's story. I don't have a secret agenda."
Stanton has multiple post-"Dory" projects in mind, including a couple of live-action scripts. Returning to Pixar after "John Carter" reinforced an idea that governs his writing: being open.
"If your ego can take it and if you're in a healthy enough atmosphere and if you're not worried about winning the argument, you can make a movie better," he said.
Follow me on Twitter @thatrebecca.
---
Get our L.A. Goes Out newsletter, with the week's best events, to help you explore and experience our city.
You may occasionally receive promotional content from the Los Angeles Times.