Jason Clarke takes the spotlight in 'Chappaquiddick'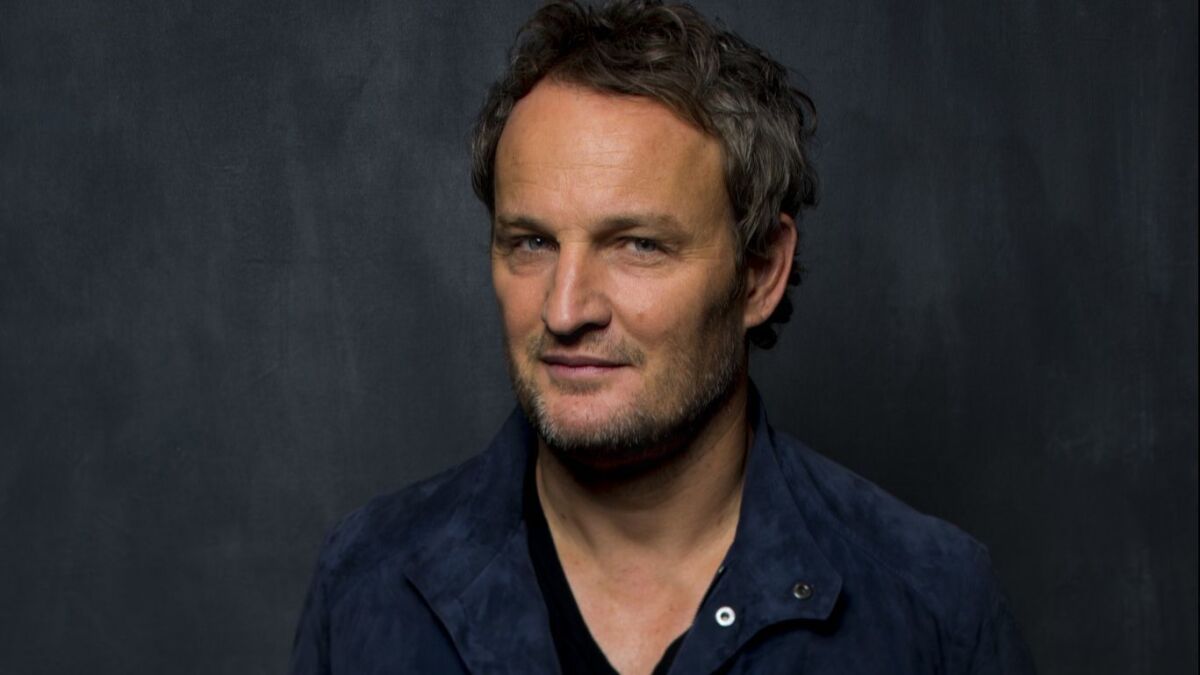 Jason Clarke isn't the kind of actor whose name alone can get a film made. And he recognizes that. Ever since he arrived in Hollywood — already in his mid-30s, a veteran Australian television star with a handful of cop procedurals under his belt — he's been cast by directors rather than producers.
"It's not producers saying 'This guy can bankroll our film,'" said Clarke, now 48. "It's always been directors saying 'He's right for the part.' That's who I am, and I accept that. Do I get hurt when I hear, 'Oh, they're out to get such and such actor and you're way down the list?' Yes. Does it upset? Yes. But I'm pretty happy with my lot."
In fact, that's what Clarke first heard after he read the Black Listed-script for "Chappaquiddick," a political drama detailing the cover-up that followed after Massachusetts Sen. Ted Kennedy drove off a bridge in 1969 — an accident that left his passenger, Mary Jo Kopechne, dead. In-demand directors like Reed Morano were interested in making the movie, and Clarke wasn't anyone's pick for the lead role.
But when what Clarke describes as "bigger names" pulled out of the project, the actor and his manager went to bat for the part. With his team at William Morris Endeavor, Clarke found "a way to make the financials work," surrounding himself with a strong supporting cast (Ed Helms, Kate Mara, Bruce Dern) and finding a respected director in John Curran.
"Everyone always wants the same five guys who trigger automatic financing — the list is very, very short — and that's a shame," said Curran, whose most recent film was the Australian outback drama "Tracks."
"One of the big reasons I was really attracted to working with Jason was that I knew he could disappear into playing Teddy. … The reason people don't recognize him is because he's a chameleon who very easily slips into playing other people, and he hasn't been oversaturated as a marquee face where you think, 'There's Jason Clarke playing Teddy Kennedy. I don't see Teddy, I just see Jason.' "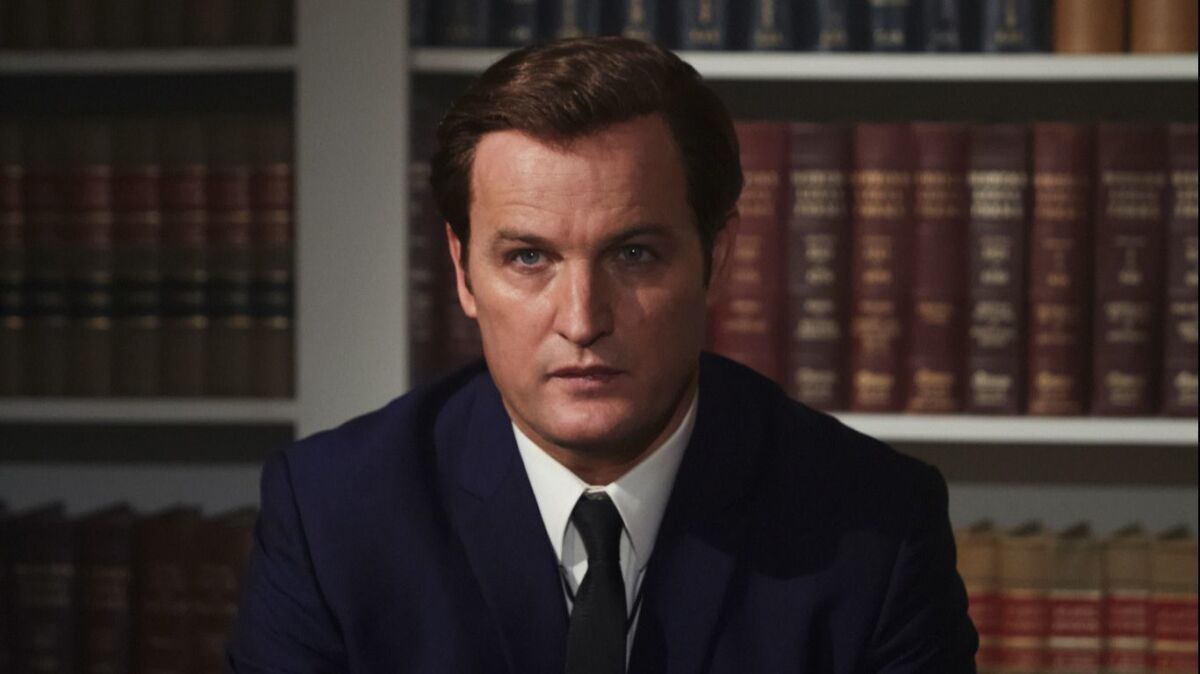 Judging by his résumé alone, it's kind of surprising that Clarke isn't more famous. Since his breakout role in 2012's "Zero Dark Thirty" — he played a CIA operative with a penchant for waterboarding — he's gone on to lead action franchises ("Dawn of the Planet of the Apes," "Terminator Genisys") and work with award-winning directors like Terrence Malick ("Knight of Cups"), Baz Luhrmann ("The Great Gatsby") and Dee Rees ("Mudbound").
"It's odd — people do get surprised, like, 'Geez, you did this, you did that?'" Clarke said. "Well, yeah. I did."
He was picking some blueberries off a fruit plate at the Sunset Tower, a hotel just down the street from the home he shares with his wife, French actress Cecile Breccia, who was due with the couple's second child any day. He comes to the hotel a lot, so comfortable with the staff that he just leaves his Porsche in the front driveway. In fact, after a 90-minute interview there failed to record on a recent morning, he offered up his cellphone number and volunteered to meet up at the same place 24 hours later for a fresh chat.
"Don't panic. Panic isn't going to get you anywhere," he said calmly, after realizing the recorder had malfunctioned. "I'm around. I'm literally just up the hill, so don't freak out, really. Things happen."
Owning your mistakes is something Clarke is big on, especially after playing Ted Kennedy. The actor has long been interested in politics, and considers himself an avid consumer of news: He subscribes to the Los Angeles Times and New York Times, the Economist and the Atlantic. (He checks in on the U.K.'s Daily Mail and Fox News occasionally, too, just to understand the perspective of "some of the more out-there right wing outlets.")
When he got the script for "Chappaquiddick," he was frustrated with the state of American politics, questioning why Barack Obama couldn't get a Supreme Court justice appointment approved by a Republican Senate in 2016. Just as he found himself criticizing the right, the film's screenplay prodded him to go deeper: "If I'm going to look at them, I need to look at myself and my side [as a Democrat]. The script landed on me and I thought: 'Oh, my God. How did Ted get away with this?' I felt an educational responsibility to make this. If you want to understand why your neighbor doesn't like you anymore or disagrees with you so emphatically, you've got to have some understanding of how you got here."
To prepare for the role, Clarke dove into Kennedy history, researching the political landscape in Boston and the family's local significance. He read biographies on all of the family's major figures: patriarch Joe Sr., JFK, Bobby and of course Ted, who was grieving the loss of his brothers when the Chappaquiddick tragedy unfolded.
Though he was sympathetic to Kennedy's situation — especially the fact that the politician was raising 14 kids by the time he was 34 — he also quickly came to the conclusion that the senator should have served time for the incident. After he drove off the bridge, Kennedy was able to free himself from the vehicle, but Kopechne was not. Though Kennedy claimed he tried to save her, he failed to report the accident to authorities for 10 hours. He later pled guilty to leaving the scene, but only received a two-month suspended jail sentence.
"Should Ted Kennedy still have been able to sit as a senator after this? No, he shouldn't have," said Clarke emphatically. "There should have been criminal charges against him, and there weren't. … You've gotta be able to separate Ted and his politics. I believe in his policies, and that was the conundrum for me — I believe in this man. I'm for this. And yet, how can I shut my eyes and say, 'No, I actually don't want to talk about that?'"
Before shooting began, Clarke and Curran traveled to Martha's Vineyard to visit the bridge where the accident occurred almost 50 years ago. Though the wood had been replaced and rails had been added, Clarke said he was stunned to see how unchanged the bridge was — still shrouded in darkness, no plaque to memorialize Kopechne. After surveying the area, Clarke decided to jump in the pond to understand the strength of the current.
"I got a bit spooked," he acknowledged. "I mean, a woman died there. And I was shocked how far down the current had pushed me when I popped out of the water. It would have been very scary to be upside down in a pond at 12:30 at night."
The trailer for "Chappaquiddick," a film depicting Ted Kennedy's involvement in the fatal 1969 car accident that claims the life of a young campaign strategist, Mary Jo Kopechne. It stars Kate Mara, Clancy Brown, Olivia Thirlby, Jason Clarke and Ed
As Clarke attempted to comprehend Kennedy's mind-set, he was also working out the politician's physicality. He practiced wearing a pair of fake teeth for so many hours that his gums began to bleed. And he worked with a dialect coach to perfect Kennedy's Edgartown accent, listening to the same four of the Senator's speeches on repeat on his phone.
"I mean, I saw him doing hair and makeup tests and gradually becoming Ted, but it wasn't until I saw the movie that the enormity of Jason's performance washed over me," said Helms, who costars as Kennedy's cousin and political advisor Joe Gargan in the movie. "Even though I had a front-row seat, there was a lot of, 'Oh, let's pop over to craft service and check our iPhones.' So when I saw the movie as a whole, I became so enamored with his performance. It hit me like a tidal wave because there's so much going on there."
Getting that performance, however, wasn't always easy. Clarke recalled one day when he had to film a series of emotional phone calls — all made from the sheriff's office after Kennedy finally reports the accident — where Curran "just beat me up." After shooting dozens of takes, the director was still dissatisfied and decided to pick up the same scenes again the following day despite extra costs.
"Jason had a punishing schedule on this film, and he was exhausted," recalled Curran. "That day, he was just a little bit flat, and he knew it, but we just kept persevering and we came back the next day and he nailed it pretty much in one take.
"Having to play a Kennedy is a dangerous thing," the filmmaker continued. "You can really fail miserably taking that on. But I had faith Jason could do it, because I knew he'd play it for extremes and not pull any punches."
So far, the risk seems to be paying off as Clarke's turn has earned him uniformly positive reviews: "There's no contrivance in watching this actor," said Variety after the film premiered at the Toronto International Film Festival last fall. "[Y]ou simply accept the reality of his presence as Ted Kennedy."
Even if the movie goes over well this weekend, Clarke's realistic: He knows it probably won't change his perceived bankability (or lack thereof). Not that it really matters — he has a strong lineup coming this fall, starring opposite Ryan Gosling in Damien Chazelle's astronaut drama "First Man," alongside Matthew McConaughey in the thriller "Serenity" and with Keira Knightley in the post-World World II drama "The Aftermath."
"I can go home and hang out and not get hassled, and that's great," said Clarke. "I remember seeing Michelle Williams in an airport once, and I noticed a woman looking at her and holding her phone a strange way. She was actually secretly trying to film Michelle. That was pretty disturbing, and that doesn't happen to me."
Follow me on Twitter @AmyKinLA
---
Get our L.A. Goes Out newsletter, with the week's best events, to help you explore and experience our city.
You may occasionally receive promotional content from the Los Angeles Times.