It's like 'Cheers' for movie lovers: An inside look at Quentin Tarantino's New Beverly Cinema
Take a tour inside the projection booth of the New Beverly Cinema with projectionist Gariana Abeyta. (Video by Calvin B. Alagot / Los Angeles Times)
Magic hour in Los Angeles can be intoxicating in the dreamy haze of dusk, skies aglow in pinks and purples like a gauzy scene straight out of the pictures. At the New Beverly Cinema, the last pure bastion for 35-mm film in La La Land, the sun fades into extra romance every night for movie lovers waiting outside the box office under its iconic red-lettered marquee.
On a recent Friday at magic hour, standing patiently in line for a standby ticket to a sold-out double feature of "Pee-wee's Big Adventure" (1985) and "Ed Wood" (1994), is cinephile Cody Chavez, 27, who sports a homemade Pee-wee Herman costume and a giant grin on his face.
"I've been a huge fan of Pee-wee's ever since I saw his show as a kid," says Chavez, who came from Orange County to catch the Tim Burton twofer at the Quentin Tarantino-owned New Beverly, where double features of classic, indie, cult and foreign flicks screen each night and every feature, trailer and vintage cartoon is projected the old-fashioned way — on film, glorious 35-mm film.
"It's like being out of this world, in a different time," adds Chavez's brother Freddy, 30, who was born two years after Pee-wee embarked on his cinematic odyssey across America in search of his beloved bicycle. Watching an older movie in a packed theater as storied and intimate as this 228-seater has a transformative power you won't find on your couch or in a multiplex.
Netflix 'n' chill has its perks in the age of streaming and social media, and Angelenos certainly have plenty of choices when it comes to going out to the movies. But there's a unique comfort and charm the New Beverly has cultivated since original owner Sherman Torgan opened it in 1978, absent the gimmicks other theaters in town rely on to reel in audiences.
In its past lives, the modest 1920s-era building at 7165 Beverly Blvd. housed a vaudeville theater, a candy factory, a triple-X porn house and a 1940s-era nightclub fronted by celebrity boxer "Slapsy" Maxie Rosenbloom, where stars like Clara Bow gathered to see and be seen.
It was, legend has it, a Hollywood hot spot fueled by mob money. Hedda Hopper made a habit of stopping by to spy on Tinseltown's finest for her gossip column in the L.A. Times.
Tarantino's love affair with the New Beverly dates back decades to when the young cinephile would come to watch movies and chat with Torgan, whose son Michael still helps manage the place. The elder Torgan programmed Tarantino's debut film, "Reservoir Dogs," as a popular midnight program for six straight months in 1994.
"This is better than getting an Oscar," Tarantino told The Times then, a year before winning his first Academy Award for "Pulp Fiction."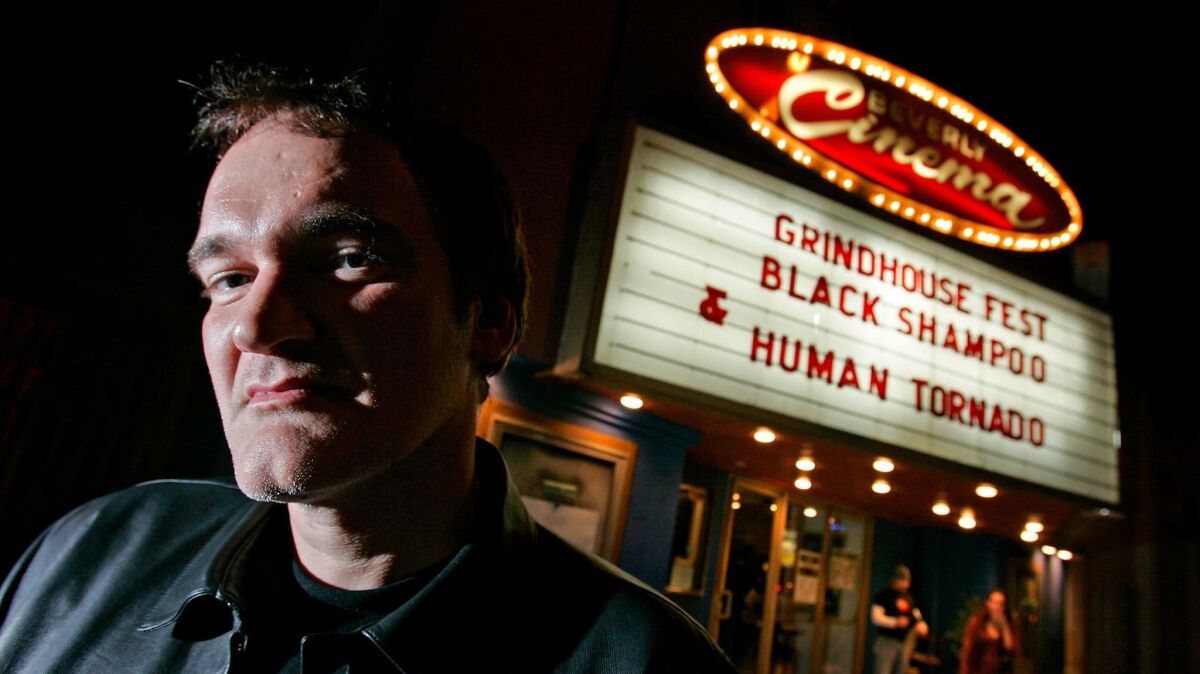 After Torgan's death in 2007, the "Hateful Eight" filmmaker became the theater's landlord, saving the building from developers bent on turning it into a Supercuts. In 2014, he took over programming duties, keeping the classic double-feature format and adding Friday-night screenings of his own films.
More than half of the films that play come directly from Tarantino's collection, according to director of operations Jules McLean. To lay out a month's lineup, she says, he fills out blank calendar printouts by hand, dreaming up inspired film combinations. The staff then sets about to procure each print, often borrowing rarities from private collectors, studios and archives from around the world.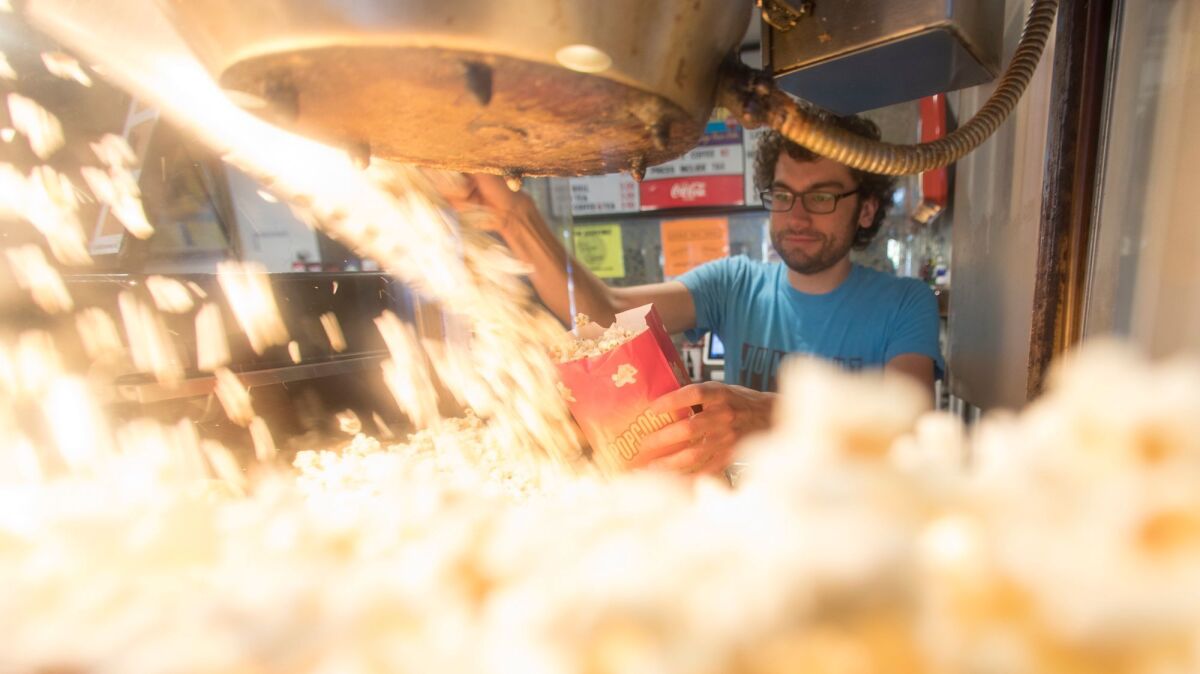 Those Tarantino Fridays, along with a more comprehensive website and savvy social media presence, have attracted younger crowds to the theater in recent years. At midnight on a balmy Friday in late May, the millennial bump fills the theater to capacity for the 10th anniversary of "Death Proof," Tarantino's 2007 ode to road movies and grind-house girl power.
Inside, the packed house cheers as Rosario Dawson, Tracie Thoms and Zoe Bell exact righteous revenge on Kurt Russell's Stuntman Mike from behind the wheel of an iconic 1970 Dodge Challenger.
As the crowd, still amped on adrenaline, spills out of the lobby doors, Ellory Courvoisier, 23, a talent agency assistant, pauses to admire a Japanese "Death Proof" poster on display outside the theater.
"I loved it!" she says. "It's my fourth time here. It's cool that it's Tarantino's movie theater and that you can see movies here that aren't being shown anywhere else."
"I didn't know that this place existed," marvels Keren Lopez, 20, of her first visit to the New Beverly, "and it was amazing. Right when I walked in I thought, 'Oh, my God, this is such a sexy theater!'"
Moviegoers at the New Beverly Cinema wait in line for the Tim Burton double feature of "Pee-wee's Big Adventure" and "Ed Wood." The New Beverly Cinema is known for its daily screenings of 35mm films as opposed to digital formats.
(Calvin B. Alagot / Los Angeles Times )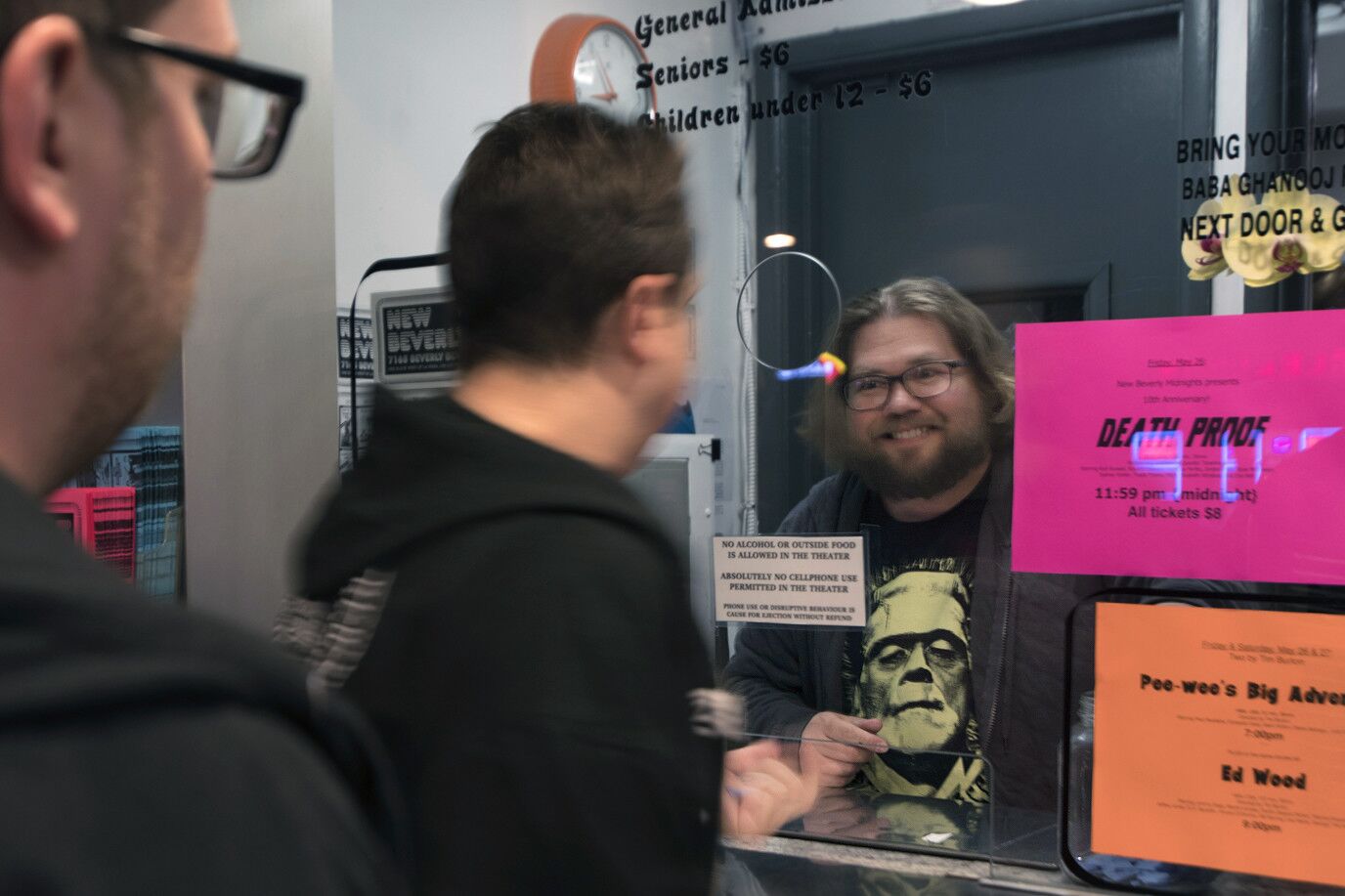 New Beverly Cinema manager Matt Dinan sells tickets to the double feature.
(Calvin B. Alagot / Los Angeles Times)
A sign on the New Beverly Cinema ticket window warns against disruptive moviegoing.
(Jen Yamato / Los Angeles Times)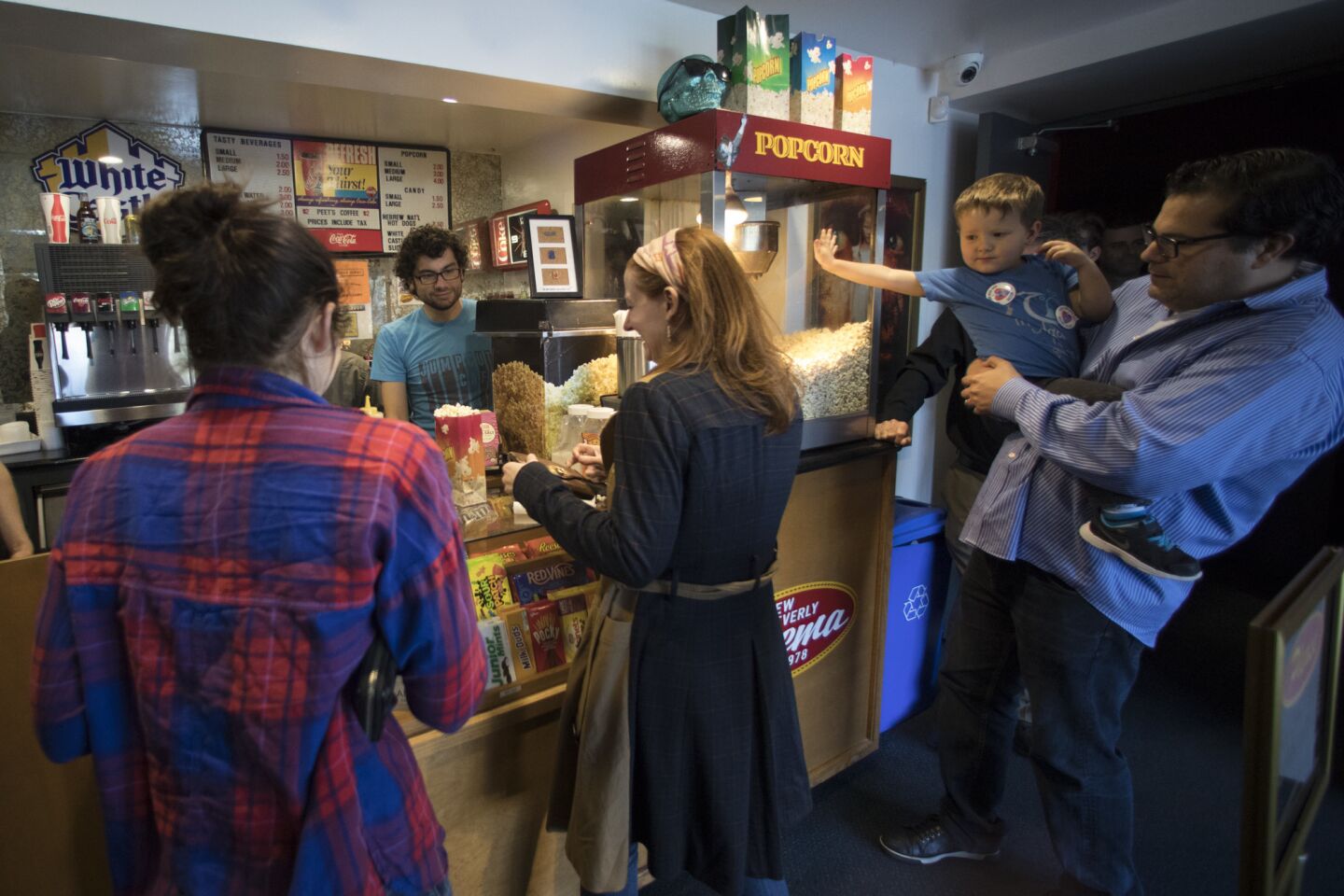 The concession stand at the New Beverly Cinema serves all the usual movie treats like popcorn, candy, soft drinks -- burgers, hot dogs and coffee too.
(Calvin B. Alagot / Los Angeles Times)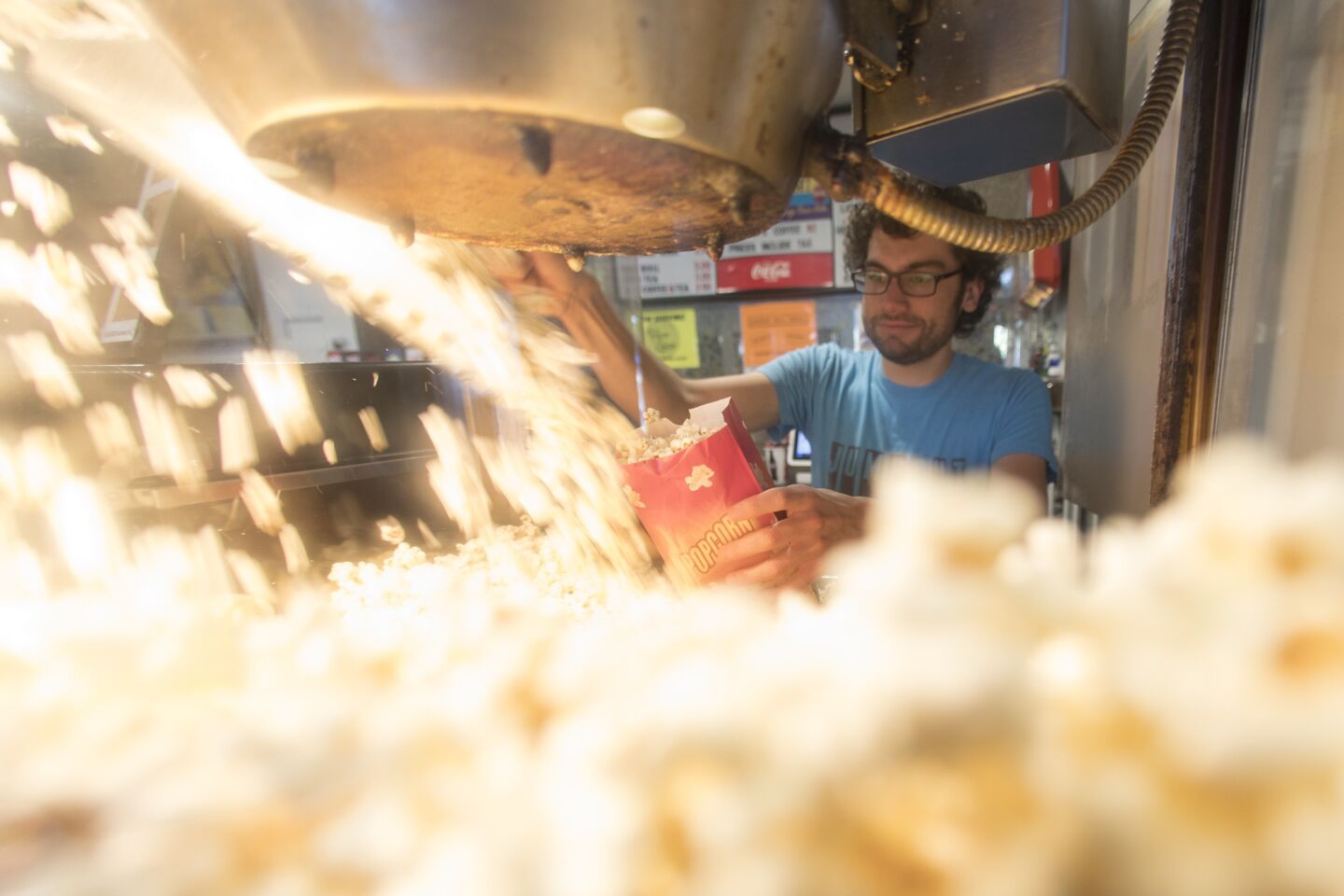 New Beverly Cinema staffer Charlie Tarabour fills a bag of popcorn.
(Calvin B. Alagot / Los Angeles Times )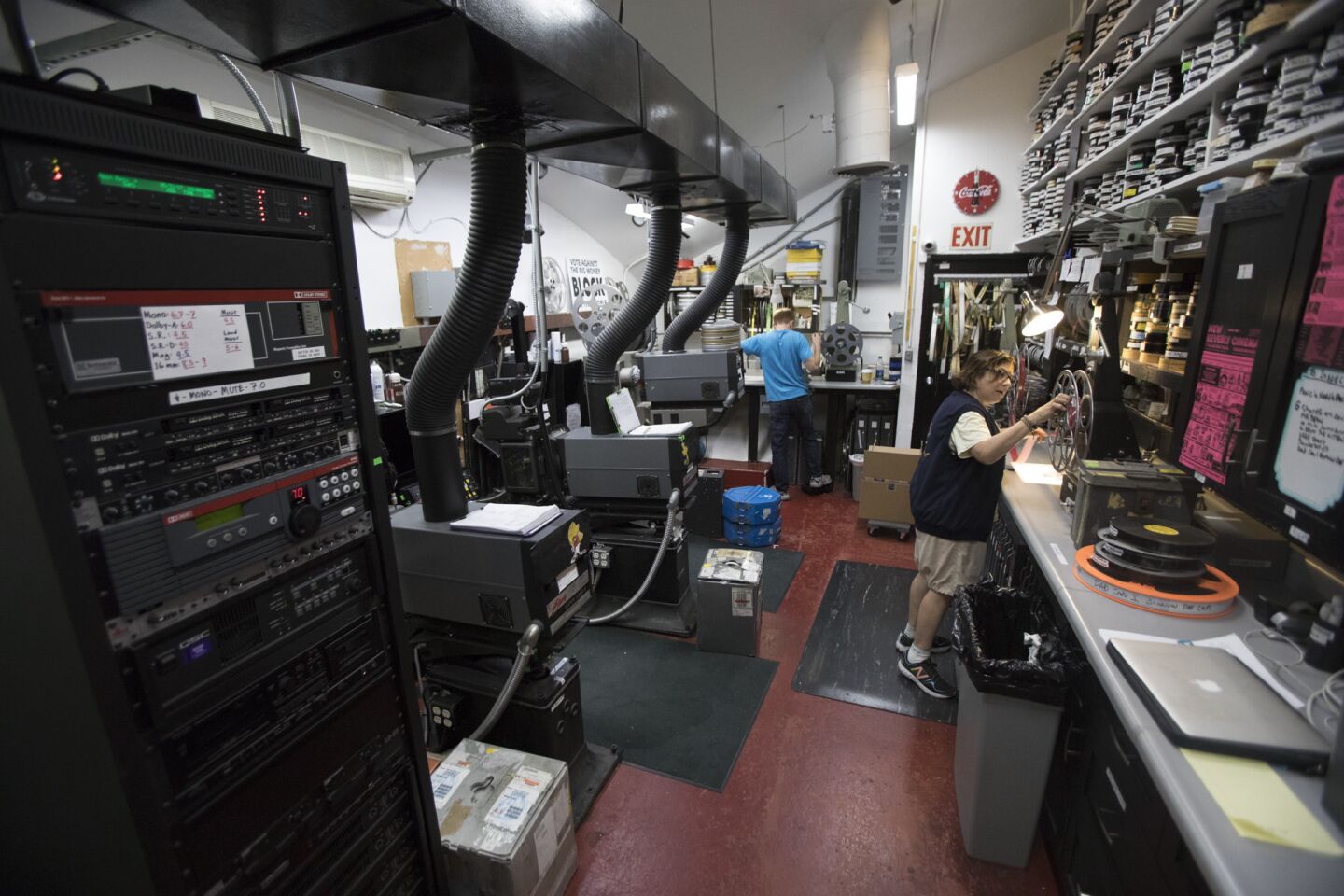 The projection booth at the New Beverly Cinema.
(Calvin B. Alagot / Los Angeles Times)
Projectionist Gariana Abeyta inspects a film reel at the New Beverly Cinema.
(Calvin B. Alagot / Los Angeles Times)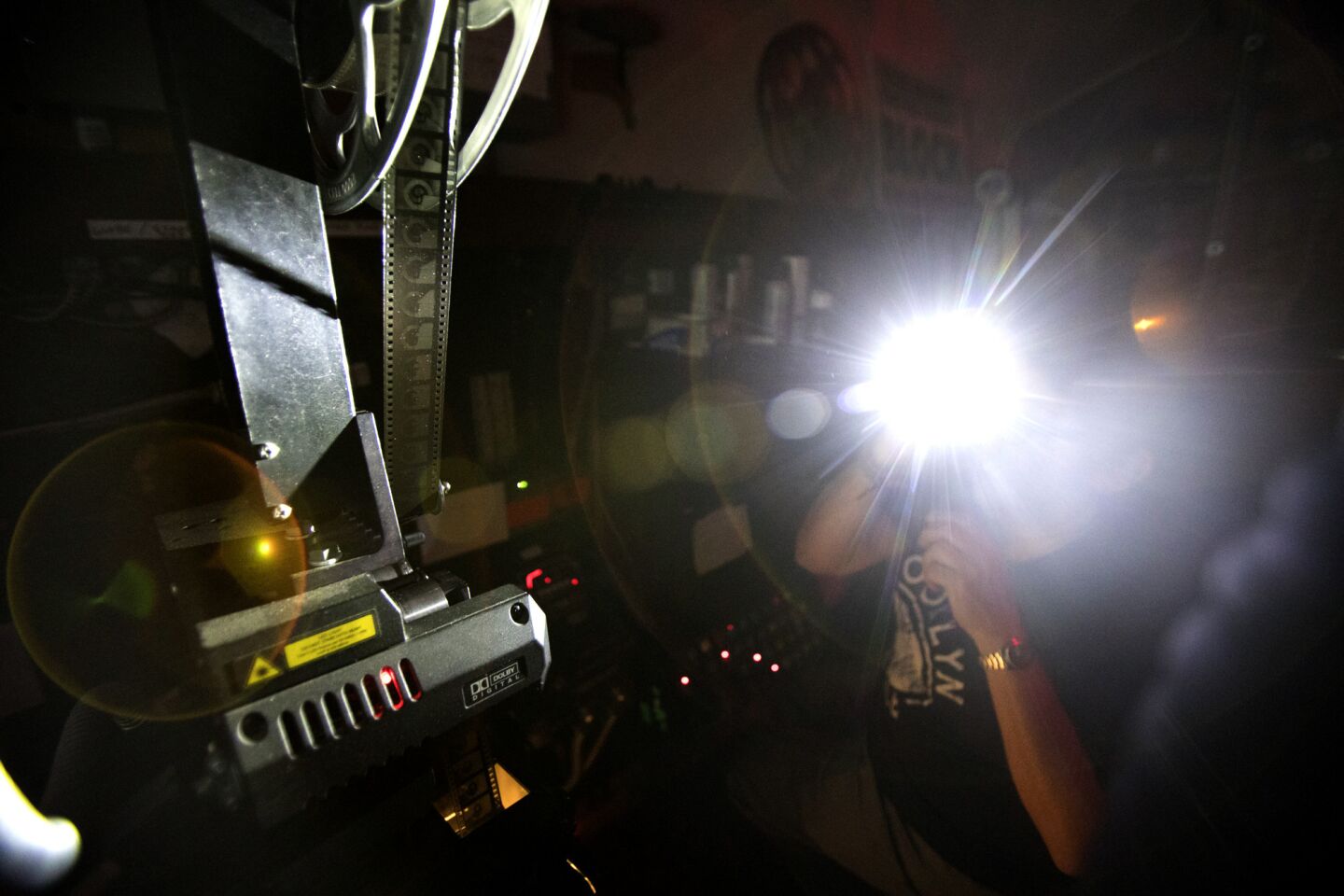 Abeyta checks the reel during a 35-mm screening of "Pee-wee's Big Adventure" at the New Beverly Cinema.
(Calvin B. Alagot / Los Angeles Times)
Brian Quinn sits in the projection room surrounded by older movie reels at the New Beverly Cinema in 2007. He is a manager at the movie house.
(Gina Ferazzi / Los Angeles Times)
New Beverly Cinema archivist Aaron Martz inspects a film to make sure it's not damaged and is ready for its next screening.
(Calvin B. Alagot / Los Angeles Times)
Trailers, including for many Quentin Tarantino films, inside the New Beverly Cinema's projection booth.
(Calvin B. Alagot / Los Angeles Times)
Matt Dinan, one of New Beverly Cinema's managers, addresses the audience before the screening of "Pee-wee's Big Adventure."
(Calvin B. Alagot / Los Angeles Times)
Cody Chavez, dressed as Pee-wee, came to the New Beverly Cinema from Orange County with his brother to see "Big Adventure."
(Calvin B. Alagot / Los Angeles Times)
A foreign movie poster for Quentin Tarantino's "Death Proof" is displayed outside the New Beverly Cinema.
(Jen Yamato / Los Angeles Times)
Theater manager Matt Dinan changes the marquee at the New Beverly Cinema.
(Jen Yamato / Los Angeles Times)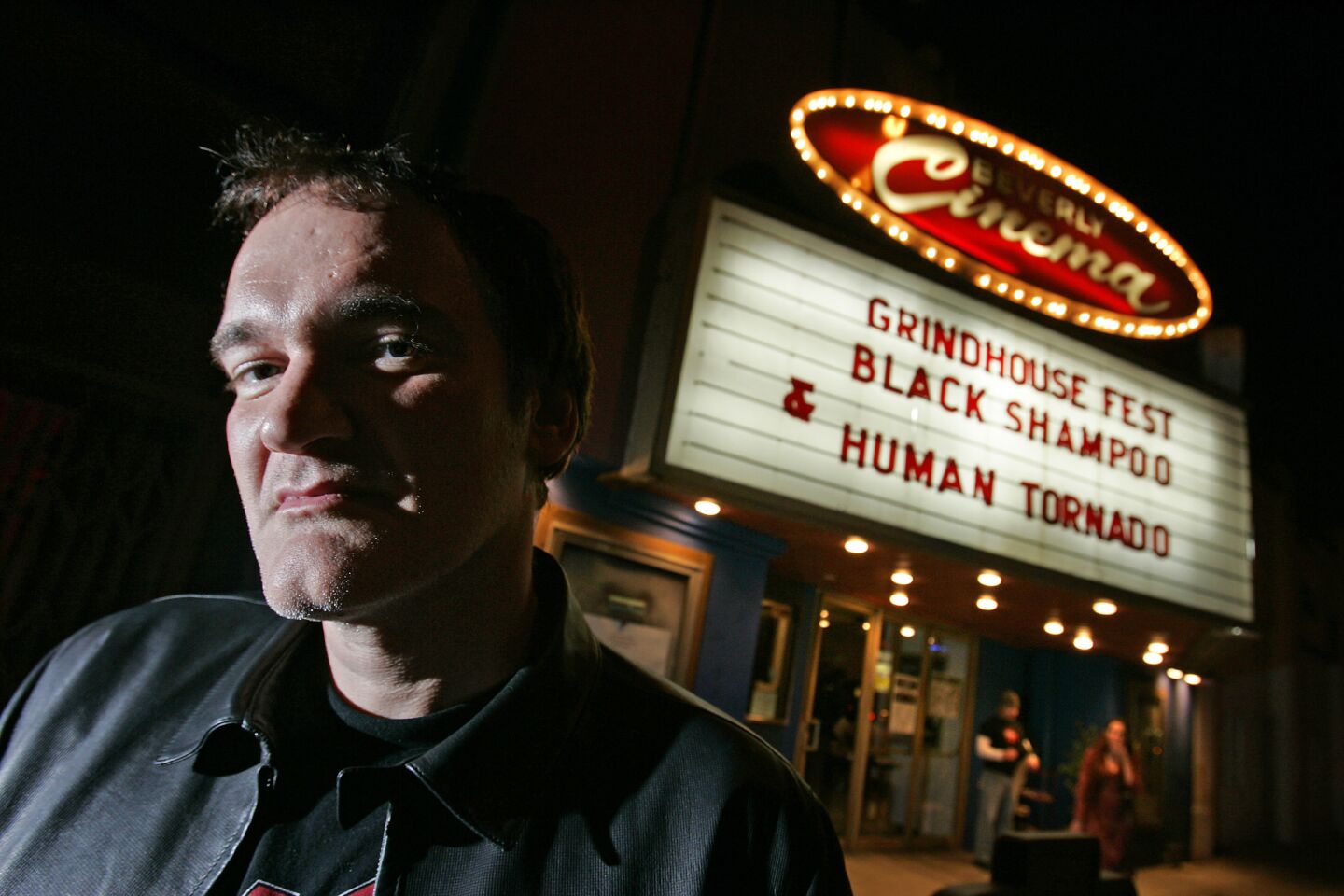 Director Quentin Tarantino outside the New Beverly Cinema in 2007.
(Robert Gauthier / Los Angeles Times)
It's 'Cheers' for movie fans.
— New Beverly manager Brian Quinn, who knows your name, and is always glad you came
When it took over running the theater three years ago, Tarantino's team made a raft of updates, rebuilding the sound and picture heads, adding workspace and new controls to the projection booth, scrapping the periscope projection system and lowering the portholes in the booth to give the picture a straight, unfiltered journey to the screen.
"We didn't raise ticket prices when we took over, and we did not raise concession prices," says McLean, who first met Tarantino decades ago when they worked at the same video store.
To McLean, the New Beverly is still "the house that Sherman built." A big part of that means preserving a way of moviegoing life that New Beverly fans have come to love. "Family is what we try to foster," she says.
So the delectable Hebrew National hot dogs still come nestled in perfectly steamed buns for a wallet-friendly $2.50; the popcorn, arguably some of the best in town, is popped fresh each night as the doors open, and guests queue up across the tiny lobby and wind down the theater aisle, before the pre-show reel of vintage trailers, shorts and promos begins.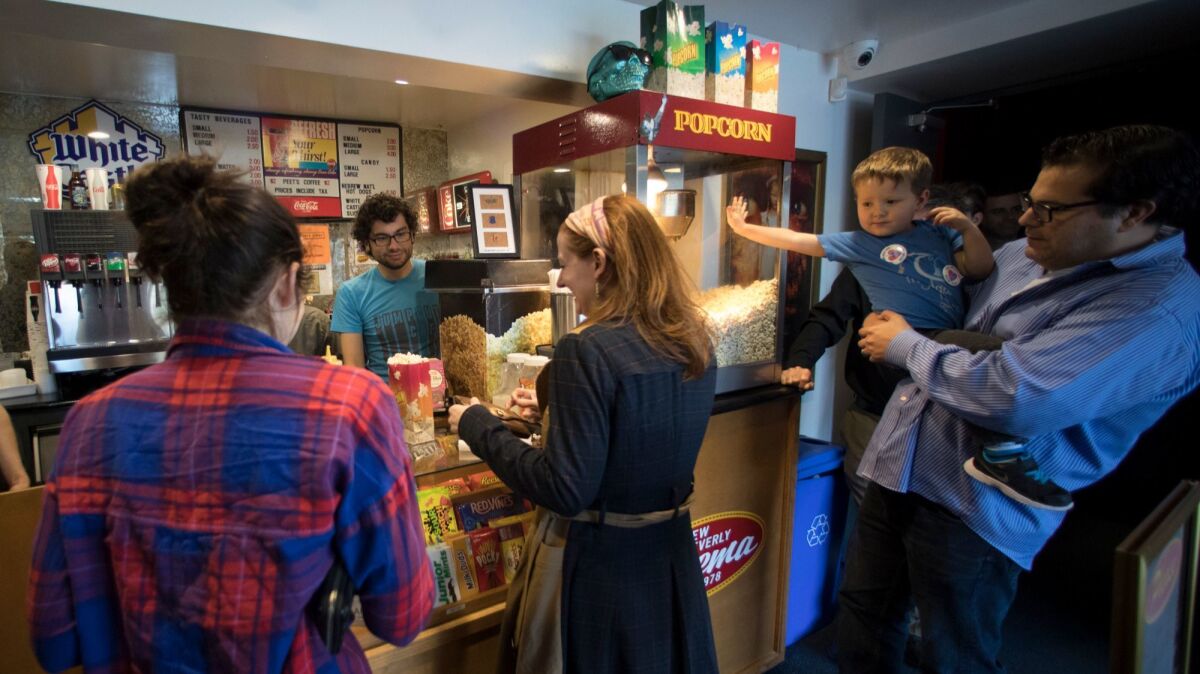 Pro tip: Ask for the Junior Mints kept stocked in the freezer, one of the secrets that make the New Beverly feel like home.
Most nights, the New Beverly is a haven for those who visit the 35-mm film mecca on a regular basis. Early birds like Corky Baines, 62, a former rock 'n' roll roadie with a ponytail and a perennial smile, line the sidewalk in front of the theater an hour before showtime, filling the air with the warm camaraderie of a local hangout or a neighborhood record store.
"A lot of regulars come here three, four, five times a week," says Brian Quinn, one of the theater's managers, who's gotten to know hundreds of the theater's devotees over the years. "It's 'Cheers' for movie fans."
Here, staff members don't just know your name; they remember your favorite snacks. "There are regulars whose orders I know and will have ready by the time they get to the counter," Eric Soto says one evening while manning the New Beverly's concessions counter. On the other hand, he says, "I've seen people do some pretty strange things with their food."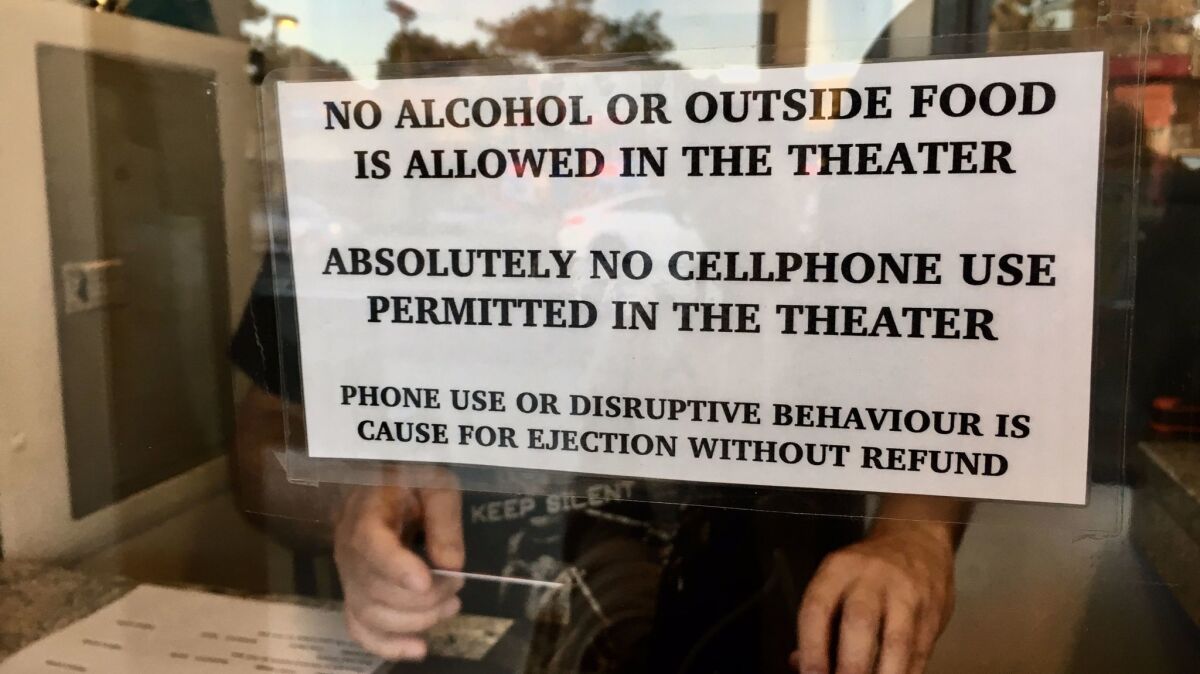 Special report: Can moviegoing be saved? »
Cellphone use and loud chatter are expressly forbidden inside these walls, where there's no elaborately hashtagged photo booth to snap a selfie for the 'gram and no booze for sale behind the popcorn machine. Filmmakers who pop in for Q&As are treated with reverence but not hounded, and occasionally, the New Beverly's famous patron in chief will stop by unannounced to take in a show.
For $8 a ticket, moviegoers simply enjoy a nightly double bill of great cinema screened on film, just like when Torgan opened the place nearly four decades ago.
Freddie Gillette, 85, is a New Beverly fixture who can be found many nights in his favorite seat in the back row. That's where he's perched, engaged in vivid conversation with Mark R. Deaver, 67, as the credits roll late one night on "Cheyenne Autumn" (1964), director John Ford's final western.
Sharp and gregarious, Gillette has been coming to the New Beverly since the Sherman Torgan days and still stops by from his home in Atwater Village "two or three times a week," he estimates. His favorite films are the classics, although, he adds, "I know the younger crowd likes excitement and violence."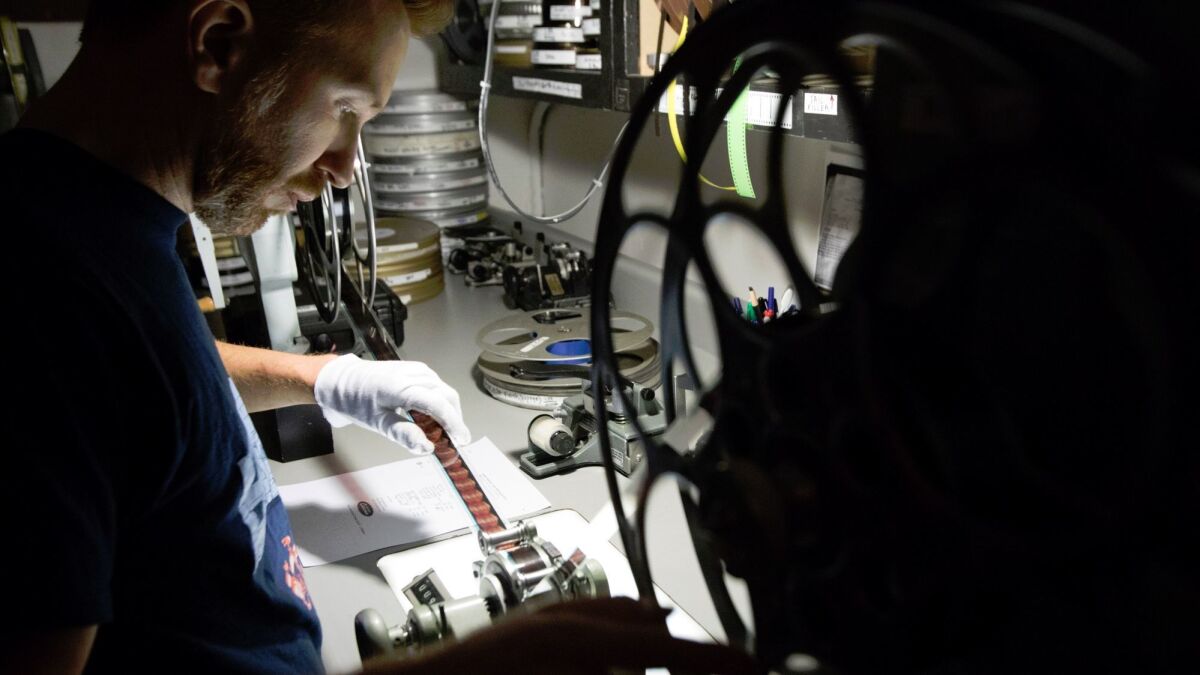 "And a lot of gore!" nods Deaver, of Koreatown.
"I'm beyond that," smiles Gillette, who once worked as Orson Welles' driver. "I went through that period. As time went on, I wanted films that were well written, with a story and a plot."
Plus, he adds, "There aren't that many revival theaters like this in Los Angeles. A lot of people become friends for the first time here. Sometimes you'll see someone and, lo and behold, you'll go and get coffee sometime or you go up to Greenblatt's for a matzo-ball soup at 1 in the morning!"
It's not all '90s cult faves, grind-house exploitation or midcentury Hollywood epics. On a quiet Thursday evening, author and filmmaker Craig Calman steps into the New Beverly lobby for a rare triple-film lineup showcasing the talents of the late "Rebel Without a Cause" actor Sal Mineo.
Calman smiles wistfully and orders a coffee for the long night ahead. "I was supposed to meet Sal Mineo once," he shares. He remembers being shocked by Mineo's death when he himself was a young aspiring actor in 1970s Hollywood.
"I wanted to see his play and I wanted to work with him. What a wonderful career," Calman, 64, says during intermission. A few days later, the theater's monthlong tribute to the two-time Oscar-nominee, who was murdered outside his West Hollywood apartment in 1976 at age 37, would draw unexpectedly huge crowds for the rarely seen 1965 cult film "Who Killed Teddy Bear?"
"I'm so happy to see these films," Calman marvels. "These are rare screenings, all movies I'd never seen. I had to come."
At the top of a short staircase painted in the yellow-and-black stripes of "Kill Bill" heroine the Bride, the door to the projection booth is guarded by a Ghostbusters decal.
An hour before showtime on an early Saturday evening, projectionist Lindsay Laven threads the pre-show reel into one of two projectors, surrounded by stacked reels of film prints. Behind her, projectionist Layton Hebert rewinds an already-run film reel, one hand cranking a rotating lever, the other wearing a protective glove to delicately handle the film.
If the New Beverly is a temple dedicated to the film gods, the booth is its most holy inner sanctum — a veritable shrine to 35-mm stacked to the rafters with the theater's sprawling collection of film prints, cartoons, vintage promos, tags and coming-soon "daters." Trailers labeled by hand are organized alphabetically across one wall of the narrow room, from "About Schmidt" to "Zardoz." A special section is kept handy and within easy reach for "Quentin's films."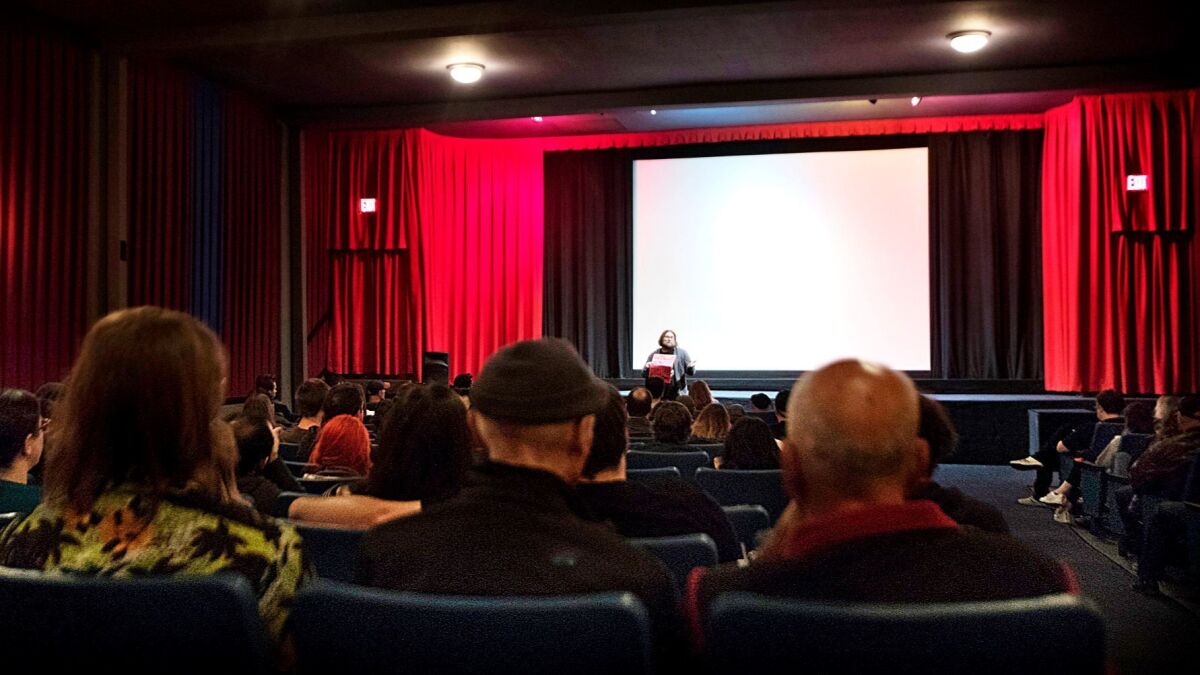 "My favorite bumper of all time is the John Waters no-smoking bumper," says Phil Blankenship, programmer and social media guru for the theater. "It was made for the Nuart back in the 1970s. I've seen it literally thousands of times."
Veteran projectionist Gariana Abeyta points out a canister labeled "psychedelic tag," the jazzy 1970s-era intro featuring Keith Mansfield's "Funky Fanfare" riff that plays in front of every program. At 6:30 p.m. on the dot, Laven kills the house music and peers through a porthole into the theater below as a manager introduces the films.
The pre-show starts, leading into the 1941 Superman cartoon "Mechanical Monsters," a Dave Fleischer-directed Technicolor short handpicked as an amuse-bouche for the evening's superpowered double bill: Richard Lester's goofy "Superman III" followed by M. Night Shyamalan's "Unbreakable."
Exactly 25 minutes into the show, Abeyta reenters the booth, where the cool air hums with a low, soft whirring. Stacks of octagonal film canisters sit at the foot of each projector, while prints for upcoming shows wait patiently nearby for their turn in the spotlight: "Krakatoa: East of Java," "The First Spaceship on Mars."
"Good job!" she exclaims to Laven, who has maneuvered her way with perfect precision through two pre-show reels, outfitted the primary projector with a scope lens needed to project "Superman III" and loaded in the main event, moving through the booth with the measured grace of a lioness.
As the first reel spins, Laven threads Reel 2 as the clock ticks down. At 7:11 p.m., the changeover bell rings softly. A minute later, Laven hits the switch with a smooth click, transitioning seamlessly into the film's next act. Abeyta beams with pride. "Nice one!"
When Tarantino unveils his highly anticipated June calendar, printed as always in the New Beverly broadsheet style, more thematic threads emerge: It's going to be a sci-fi summer filled with apocalyptic visions ("Road Warrior," "Mad Max: Fury Road"), futuristic wars ("Robocop," "Starship Troopers") and existential space movies ("2010: The Year We Make Contact," "Interstellar").
"We don't have to worry about just hitting the common, most popular tastes," says Quinn. "Most rep theaters are in a fight for survival financially. You've got to show Truffaut over and over, you've got to show Woody Allen, you've got to show 'The Goonies' — the hundred films everybody wants to see."
Michael Torgan was 7 when his dad co-founded the theater. His warmest early memory? "When we ran 'Hardware Wars,' the short 'Star Wars' spoof from the late '70s. I have fond memories of people coming to talk to my dad, who always worked the box office. It was always a community of film lovers."
The people who work there love movies, the people who come there love movies, [and] the people who talk to the New Beverly on the Internet love movies...
— New Beverly programmer, social media guru, and cinemaniac Phil Blankenship
Blankenship started coming to the New Beverly shortly after moving to Los Angeles in 2001.
"I love movies, so of course I found where all the weirdo movie people went — and that was, of course, the New Beverly," he says.
"The people who work there love movies, the people who come there love movies, the people who talk to the New Beverly on the Internet love movies and they follow along, even if they can't actually go to the physical theater. It's a passion nexus for people who are really into movies.
"When you go there, you feel like you've found your tribe. You feel like you belong there — that this is where you always should have been."
Look for Jen Yamato catching a double feature at the New Beverly, on Twitter at @jenyamato, and email her at jen.yamato@latimes.com.
ALSO
The architecture of moviegoing: Can the multiplex stay in the picture?
When moviegoers treat theaters like living rooms — texting, talking, even diaper changing happens
Screen it from the rooftops: How outdoor movies have become a 'selfie paradise' for millennials
---
UPDATES:
9:30 a.m.: In a previous version of this story, an upcoming double bill for June at the New Beverly was listed as "2010: The Year We Make Contact" and "Contact." The second film playing with "2010: The Year We Make Contact" will be "Interstellar," not "Contact."
---
Get the Indie Focus newsletter, Mark Olsen's weekly guide to the world of cinema.
You may occasionally receive promotional content from the Los Angeles Times.