Aubrey Plaza plans to be the last awards show host on earth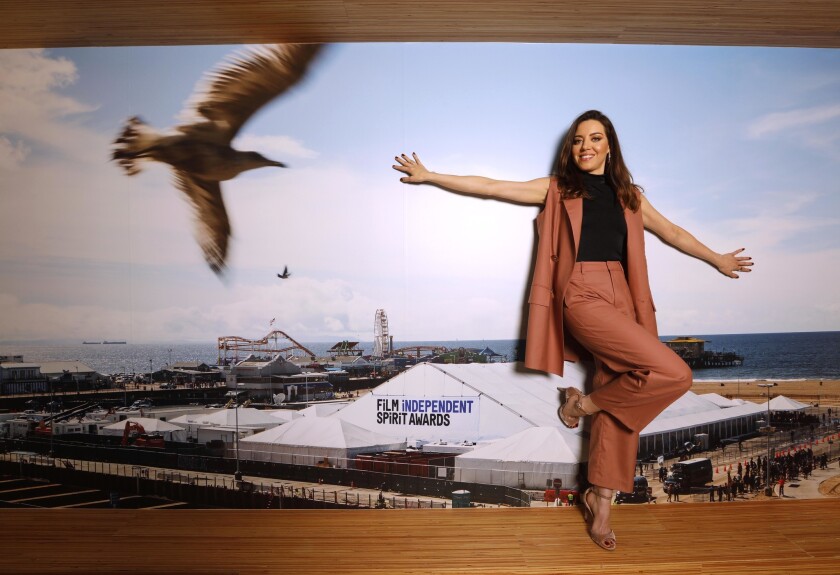 Last year Aubrey Plaza won a Spirit Award for her movie "Ingrid Goes West," an Instagram-era satire she starred in and produced. This year, she'll host the awards show.
Though she may still be best known for her role as April Ludgate, the laconic office assistant on the long-running sitcom "Parks and Recreation," Plaza has established herself as an unpredictable performer, constantly surprising audiences with her ability to find real emotions in outrageous characters and situations. Among her other movie credits are "Safety Not Guaranteed," "Scott Pilgrim vs. the World," "Damsels in Distress," "Ned Rifle," "Life After Beth," "Dirty Grandpa" and "The Little Hours."
Up next she has the third and final season of FX's "Legion," the psychedelic Marvel universe TV show on which she plays an identity-shifting villain, as well as a starring role as a struggling single mother in this summer's remake of the 1980s horror movie "Child's Play."
Plaza recently sat for an interview at the mid-city offices of Film Independent, which puts on the Spirit Awards, to talk about her plans for the show and her love for old-school independent film.
I think what's so great about the Spirit Awards, and always has been, is that it's not the Oscars.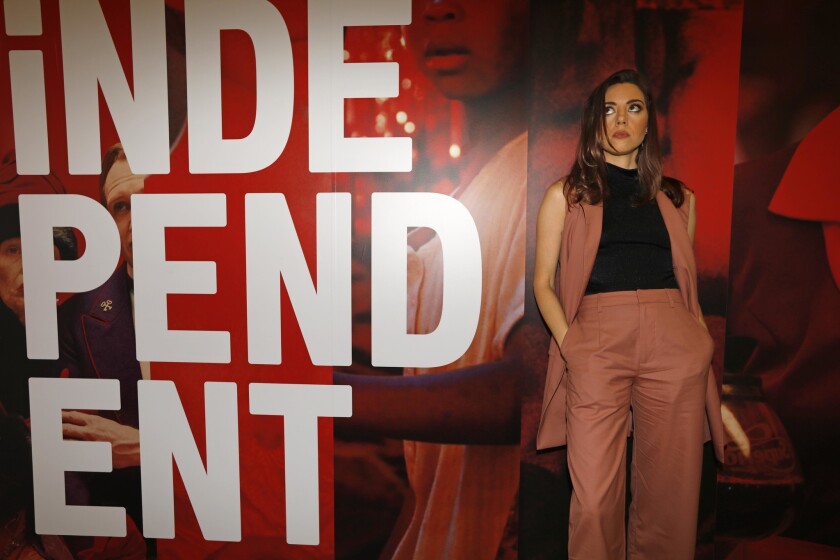 On your Instagram post announcing that you were going to host the show you said, "This one is for the freaks." What does that mean?
I think when I was asked, I was really excited about the opportunity to celebrate all of the movies and the people that made me want to do independent films, that at an early age just completely blew my mind and changed my perspective on what movies could be.
The biggest example is probably John Waters. When I was 13 or 14 I saw "Serial Mom" for the first time, and it just completely shifted my whole perspective on what is possible and what people were doing. It just really changed me. And so me having an opportunity to shed some light on those kinds of people and those kinds of films is really exciting.
I think what's so great about the Spirit Awards, and always has been, is that it's not the Oscars. It's not supposed to be this mainstream kind of event. It's really supposed to be about the artists. And so as much as I can, I'm trying to keep those kinds of vibes going and just have a feeling of celebrating art.
Is there a place for those old-school indie vibes in the current cultural landscape? Where does that fit in with where we're at right now?
I think in general art is having a moment of crisis. It's a scary time for artists and pushing boundaries, doing anything that's questionable. It's just a delicate time right now. I think specifically the Spirit Awards — in the past decade I would say it's a very different vibe from how it started. It didn't used to be televised. It used to be in some [crappy] ballroom in a hotel somewhere. At some point, I believe it was maybe in someone's living room. But it's a little thing that has grown now to be compared to the Oscars.
And in terms of the kinds of movies, I feel that there used to be no crossover with the Oscars — it was like "these are the indie movies, the weird experimental films." And now in recent years there has been a lot of crossover, which is fine and great. But I think this year, more than in the past couple of years, there's less of a crossover. So I was like, "This is an opportunity to bring that vibe up even more." Just the idea that we aren't the mainstream; people that are making these movies were supposed to be the ones that are doing weird stuff.
Someone from Film Independent told me they've all been excited by how much you're into the hosting role, that you've been showing up to the office a lot more than some other hosts have.
Everyone keeps saying that to me, and I'm like, "Isn't that what you're supposed to do?" I've never done it before. I mean, I'm a dork when it comes to assignments, and I always kind of overthink, overdo. So I'm trying to be here as much as I can because at the end of the day it'll just be me out there.
It's not going to be April Ludgate hosting the Spirit Awards... I think there's going to actually be a more sincere kind of vibe than people will be expecting.
— Aubrey Plaza
Tell me more about the actual nuts and bolts of prepping the show. Did you have people that you brought in to be writers?
Yeah, I have a writers room. I have a pyrotechnics guy. I have some prosthetics people on hold. It's a circus. They won't let me do any fire. I brought in a couple writers. It's been really fun to get back into the comedy writing zone. I came up through UCB in New York, and so a lot of those people are just people that I've known forever, and it's fun to call them up and go, "Let's all get together and do something weird."
When you go on talk shows, you have a way of turning that whole dynamic on its head. Do you feel like you're going to be doing the same thing here with an awards show?
I don't know, because I haven't done it yet. I have no idea what's going to happen. But I think talk shows are a different thing for me. It's a very reactive situation. I'm responding to someone; they're asking the questions. If I'm in control and I'm the one that's driving the conversation, a different part of me will come out. Probably the part of me that is most like me. I think when I'm in a talk show situation, I just get weird. I guess that's my default way to deal with those situations because they're so strange.
But I think when you're hosting, you've got to bring yourself. I'm not playing a character; it's not going to be April Ludgate hosting the Spirit Awards, which is what I'm sure most people are expecting. Maybe there will be a little bit of that, but that's not really who I am. So it's an opportunity for me to say, "This is actually who I am." I love movies. I deeply care about film and film history and everyone in this room.
I think there's going to actually be a more sincere kind of vibe than people will be expecting. But I'll also burn the tent to the ground so that it can never happen again because this is it.
You're the first solo host in a few years. Was there any talk of you having a partner?
When I got the offer, it was just, "We'd like you to host." They were like, "Of course we're open to it if you want to have someone up there with you." I did think about that for a second. And then I just came back to the idea that I don't have an obvious comedic partner. I have so many funny people in my life that I could think of that it would be really fun to do it with. But I just really liked the idea of just kind of owning it and going for it on my own.
I'm the last host on earth. There is no host after me. I'm it. For the weekend especially.
— Aubrey Plaza on hosting the Spirit Awards
I grew up in the era of Billy Crystal hosting the Oscars, and so I have a kind of nostalgic thing about hosting, and I just thought, well, it's an opportunity for me to expose myself in a way that I haven't really ever done before.
I know you probably don't want to say much as far as specifics of what you're doing for the show...
There's going to be a lot of live animals. And I'm having a lot of pushback on that. I really like exotic animals, and it's just hard to get them to the beach and, I'm sorry, what were you saying?
Just maybe a few yes or no questions about your plans: Wigs?
Yes.
Costume changes?
I'll say yes to everything. Yes. Yes, yes, yes, yes, yes.
A musical number?
Yes. I'm the last host on earth. There is no host after me. I'm it. For the weekend especially. So I have to be the host-iest host of all. I have to give them everything that they've ever seen a host do. I have to prove why a host is important.
Well, I think that does it for me. Thank you. I genuinely am super-excited to see you host the show. I think it's going to be great.
Great. I'm scared.
------------------
'2019 Film Independent Spirit Awards'
Where: IFC
When: 5 p.m. and midnight Saturday
Rated: TV-MA-L (may be unsuitable for children under 17 with an advisory for coarse language)
SIGN UP for the free Indie Focus movies newsletter »
Follow on Twitter: @IndieFocus
---
Get the Indie Focus newsletter, Mark Olsen's weekly guide to the world of cinema.
You may occasionally receive promotional content from the Los Angeles Times.