Cannes Film Festival inches forward on gender parity, but Netflix remains shut out
Film Critic
To hear it from the most vocal critics in attendance, last year's Festival de Cannes was an event of unforgivable scarcity. There were no Netflix movies, due to the festival's ongoing "feud" with the streaming service; there were not enough American directors or Hollywood stars; and, as usual, there were not enough movies directed by women represented in the competition for the Palme d'Or, considered the highest honor in world cinema.
As of Thursday afternoon, after festival general delegate Thierry Frémaux unveiled the 2019 official selection at a Paris news conference, Cannes and Netflix have yet to come to a resolution. But on the other two fronts, the numbers have shifted.
Four films directed by women — Mati Diop's "Atlantique," Jessica Hausner's "Little Joe," Céline Sciamma's "Portrait of a Lady on Fire" and Justine Triet's "Sibyl" — have been selected to compete for the Palme and other jury prizes, marking a slight improvement on the usual two or three, and tying a record previously set by the festival in 2011. Overall, 13 of the 51 filmmakers (a little over 25%) announced in the selection Thursday are women.
"Now there are more and more female filmmakers. … We want the Cannes selection to be at par," said Frémaux, noting that this year's lineup is the work of a newly reformulated selection committee of four women and four men. Although Frémaux has been reluctant to address criticisms of gender inequality in the past, he signed a gender-parity pledge at last year's event, which saw 82 women protest sexism in the film industry by marching up the steps of the Palais des Festivals.
Among those women were Cate Blanchett, the president of the 2018 competition jury, and director Agnès Varda, who died last month at age 90. She will be commemorated by this year's official Cannes poster, which features a 1954 image of Varda shooting her debut feature, "La Pointe Courte."
Meanwhile, among American directors, Terrence Malick's "A Hidden Life," a biographical drama set in Germany during World War II, and Ira Sachs' "Frankie," a family-on-vacation story starring Isabelle Huppert, will join Jim Jarmusch's previously announced "The Dead Don't Die" in competition.
The Hollywood studios will be represented by Dexter Fletcher's "Rocketman," a biopic starring Taron Egerton as Elton John, which will receive an out-of-competition world premiere ahead of its May release through Paramount Pictures. Amazon Studios will be in attendance with at least one episode of "Too Old to Die Young," a 10-part crime drama from Danish director Nicolas Winding Refn (a Cannes prizewinner for "Drive"). It will mark the first time a streaming-service TV series has bowed at Cannes.
Frémaux noted that he was in ongoing discussions with Netflix, which opted to skip Cannes for the second year in a row following the festival's ruling that films selected for competition must be released in French theaters. The contretemps wound up costing Cannes the world premiere of, among other titles, Alfonso Cuarón's "Roma," which went on to win the top prize at the Venice International Film Festival and three Academy Awards.
The blow of losing "Roma" (and Orson Welles' "The Other Side of the Wind," another Netflix title), coupled with criticisms that the festival's May scheduling made it an undesirable launchpad for awards contenders, led more than one industry observer to opine that Cannes was no longer the premier destination it once was. This despite a well-received 2018 edition that yielded a slew of awards-season favorites including Spike Lee's "BlacKkKlansman," Hirokazu Kore-eda's "Shoplifters" and Pawel Pawlikowski's "Cold War."
This year's competition, which strikes a good balance of stalwart auteurs and new names, will be evaluated by a jury headed by Mexican filmmaker Alejandro G. Iñárritu, who won the festival's directing prize for "Babel" in 2006. The 19 films presently slated to compete include "Pain and Glory," a fictionalized self-portrait from Spanish auteur Pedro Almódovar, starring Antonio Banderas as his alter ego, and "Matthias and Maxime," a Québec-set ensemble piece from Canadian filmmaker Xavier Dolan, who won the festival's runner-up Grand Prix in 2016 for "It's Only the End of the World."
Malick's "A Hidden Life," which previously held the working title "Radegund," stars August Diehl as Franz Jägerstätter, an Austrian conscientious objector who was executed in 1943 for refusing to fight for the Third Reich. The film features performances by Michael Nyqvist and Bruno Ganz, both now deceased, and will mark the first Cannes entry from the famously press-shy Malick since he won the 2011 Palme d'Or for "The Tree of Life."
"Don't ask me if Terrence Malick will be here or not," Frémaux deadpanned at the press conference. "I hope he will be here."
Although Sachs will be in Cannes for the first time with "Frankie," the Portugal-set picture stars one of the festival's most frequent attendees, Huppert, leading an international cast that includes Brendan Gleeson, Marisa Tomei, Greg Kinnear and Jérémie Renier.
Not announced as part of the lineup Thursday — but very much a topic of discussion at Frémaux's Paris news conference — was "Once Upon a Time in Hollywood," Quentin Tarantino's dark comedy set in 1969 Los Angeles and starring Leonardo DiCaprio and Brad Pitt. Although Frémaux said the film is still being edited, he left the door open for it to join the lineup. He also noted that more titles would be announced in the weeks to come, as the selection was only "90%" complete.
Should Tarantino's film belatedly join the lineup, it would make the festival's 72nd edition one of its starriest in a while. The event is already expected to get off to a red-carpet-friendly start with the opening-night gala for Jarmusch's "The Dead Don't Die," a small-town zombie comedy with an ensemble that includes Adam Driver, Bill Murray, Chloë Sevigny and Tilda Swinton.
Jarmusch is one of several Cannes mainstays back in competition, along with English director Ken Loach and the Belgian brothers Jean-Pierre and Luc Dardenne, all of whom have twice won the Palme d'Or and now have a shot at a third. Loach will return with "Sorry We Missed You," a portrait of a family struggling with debt following the 2008 financial crisis, while the Dardennes will be back with "Young Ahmed," a study of religious extremism centered on a Muslim teenager who plots to kill his teacher.
Other directors returning to competition include France's Arnaud Desplechin with "Oh Mercy," a policier set on a Christmas night in the director's hometown of Roubaix; Italy's Marco Bellocchio with "The Traitor," a portrait of Sicilian Mafia boss turned informant Tommaso Buscetta; and South Korea's Bong Joon-ho with the dysfunctional-family drama "Parasite," his latest since his multilingual thriller "Okja," one of two Netflix titles that were allowed to compete at Cannes in 2017.
Palestinian director Elia Suleiman ("Divine Intervention") will return to competition for the first time in a decade with "It Must Be Heaven," a semi-autobiographical comic portrait of a man searching for an elusive homeland. Brazilian filmmaker Kleber Mendonça Filho, previously in competition with 2016's "Aquarius," is back with a horror film, "Bacurau," which he directed with Juliano Dornelles.
As the world's most prestigious and closely scrutinized film festival, Cannes regularly features new work by major international auteurs like Almodóvar, Desplechin and the Dardennes, which adds to its luster even as it generates criticism that the program has become a revolving door of "usual suspects." One of the more surprising and heartening aspects of this year's lineup is the number of directors cracking the competition for the first time. In line with last year's similar bounty of fresh faces, it suggests a strong commitment by the festival to broadening the auteur ranks.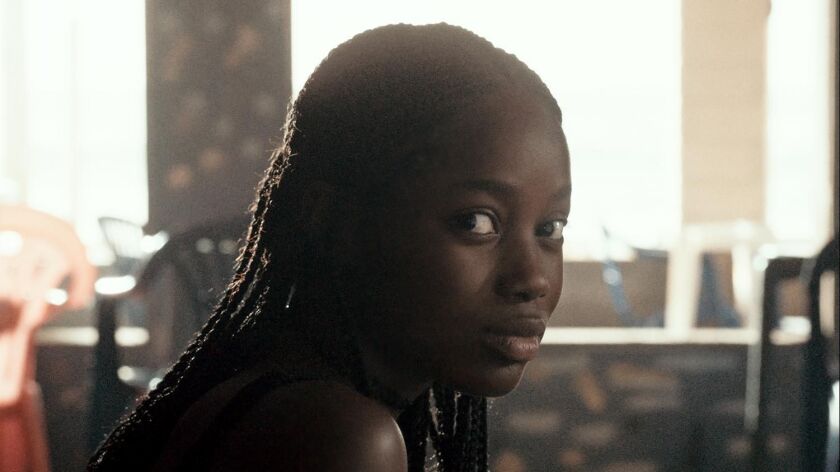 Notably, two of those newcomers managed the rare feat of cracking the competition with first features. French-born Diop will bring "Atlantique," a mix of social realism and fantasy set in the Senegalese capital of Dakar. She will be joined in competition by Mali-born Ladj Ly, whose film, "Les Misérables," was inspired by the violent attacks that took place across France in 2005.
Other Francophone directors in competition include Sciamma ("Girlhood"), whose "Portrait of a Lady on Fire" stars Adèle Haenel as an 18th century French painter who forms a bond with a young bride-to-be; and Triet ("In Bed With Victoria"), whose "Sibyl" follows a psychotherapist who becomes increasingly fascinated with a troubled new patient.
Austrian-born Hausner, best known for her internationally acclaimed "Lourdes" (2009), has landed in competition with her fifth feature, "Little Joe," starring English actors Ben Whishaw and Emily Beecham in a story set in the world of genetic engineering. Corneliu Porumboiu, a leading figure in the new Romanian cinema that Cannes helped put on the map, will compete for the first time with a noirish crime story called "The Whistlers."
After last year's notably strong East Asian competition presence ("Burning," "Ash Is Purest White," "Asako I & II" and the eventual Palme winner, "Shoplifters"), this year's slimmer showing includes Bong's "Parasite" and "The Wild Goose Lake," a gangland thriller from China's Diao Yinan. Diao won the top prize at the Berlin International Film Festival for his 2014 detective noir, "Black Coal, Thin Ice."
Outside the competition, 16 films have been selected to screen in Un Certain Regard, a sidebar for new and established voices that regularly shows some of the festival's most notable work. Six of the 16 are directed by women: "The Swallows of Kabul," Zabou Breitman and Eléa Gobé Mévellec's animated adaptation of Yasmina Khadra's 2002 novel; "A Brother's Love," a feature debut from Canadian actress Monia Chokri; "Port Authority," a drama about New York's kiki ballroom scene from San Francisco-based Danielle Lessovitz; "Papichia," a portrait of an aspiring young fashion designer from Algerian-born Mounia Meddour; "Adam," Maryam Touzani's portrait of a widowed mother in Morocco; and "Bull," a Houston-set relationship drama from Austin-based Annie Silverstein.
Two new movies, from Bruno Dumont and Christophe Honoré, both competition veterans, speak to this year's especially strong showing for French filmmakers. Dumont's "Jeanne" is a follow-up to "Jeannette: The Childhood of Joan of Arc," his musical retelling of the life of one of France's most famous figures, while Honoré has been selected for "Chambre 212," a portrait of a marriage starring Chiara Mastroianni.
Other Certain Regard titles include "Invisible Life," an adaptation of a Martha Batalha novel from Brazil's Karim Aïnouz; "Beanpole," a World War II drama directed by Kantemir Balago ("Closeness"), who hails from the Russian Republic of Kabardino-Balkaria; "The Climb," actor-director Michael Covino's feature-length expansion of his Sundance-debuted short film; "Zhuo Ren Mi Mi," the latest from the Myanmar-born Taiwanese director Midi Z ("Ice Poison"); and "Liberté," another pre-French Revolution drama from Spain's Albert Serra following his 2016 Cannes entry, "The Death of Louis XIV."
Although Cannes does not feature a separate documentary program, one of its higher-profile nonfiction efforts will be the out-of-competition title "Diego Maradona," a portrait of the soccer great and a return to Cannes for "Amy" director Asif Kapadia. Other documentaries include "For Sama," a SXSW-premiered account of the civil war in Syria from directors Waad al-Kateab and Edward Watts, and "Que Sea Ley," from Argentina's Juan Solanas, both playing in the festival's Special Screenings sidebar.
Meanwhile, documentary legend Werner Herzog will make his first appearance on the Croisette in years with a narrative work, "Family Romance, LLC," which he shot in Japan. Herzog will be joined in Special Screenings by Abel Ferrara, back at the festival for the first time since 2007 with "Tommaso"; Pippa Bianco with her harrowing teen drama "Share," which won two prizes at Sundance; "Être Vivant et Le Savoir," from France's Alain Cavalier.
Eighty-one-year-old French stalwart Claude Lelouch will receive an out-of-competition screening of "The Best Years of a Life," with Jean-Louis Trintignant, who starred in Lelouch's Palme-winning "A Man and a Woman" 53 years ago. And finally, rare is the Cannes Film Festival that doesn't feature a midnight screening of a Korean genre picture; this year's entry is Lee Tae-won's "The Gangster, the Cop, the Devil."
The films selected for Critics' Week and Directors' Fortnight, two independent programs that screen parallel to the official selection, will be announced later this month.
The Festival de Cannes runs May 14-25.
-------------
Here are the films chosen for the Cannes Film Festival's 2019 official selection:
COMPETITION
"The Dead Don't Die" (Jim Jarmusch)
"Pain and Glory" (Pedro Almodóvar)
"The Traitor" (Marco Bellocchio)
"The Wild Goose Lake" (Diao Yinan)
"Parasite" (Bong Joon-ho)
"Young Ahmed" (Jean-Pierre Dardenne, Luc Dardenne)
"Oh Mercy!" (Arnaud Desplechin)
"Atlantique" (Mati Diop)
"Matthias and Maxime" (Xavier Dolan)
"Little Joe" (Jessica Hausner)
"Sorry We Missed You" (Ken Loach)
"Les Misérables" (Ladj Ly)
"A Hidden Life" (Terrence Malick)
"Bacurau" (Kleber Mendonça Filho and Juliano Dornelles)
"The Whistlers" (Corneliu Porumboiu)
"Frankie" (Ira Sachs)
"Portrait of a Lady on Fire" (Céline Sciamma)
"It Must Be Heaven" (Elia Suleiman)
"Sibyl" (Justine Triet)
OUT OF COMPETITION
"The Best Years of a Life" (Claude Lelouch)
"Rocketman" (Dexter Fletcher)
"Too Old to Die Young — North of Hollywood, West of Hell" (Nicolas Winding Refn)
"Diego Maradona" (Asif Kapadia)
"La Belle Époque" (Nicolas Bedos)
MIDNIGHT SCREENING
"The Gangster, the Cop, the Devil" (Lee Won-tae)
SPECIAL SCREENINGS
"Family Romance, LLC" (Werner Herzog)
"Tommaso" (Abel Ferrara)
"Share" (Pippa Bianco)
"For Sama" (Waad Al Kateab, Edward Watts)
"Être Vivant et Le Savoir" (Alain Cavalier)
"Que Sea Ley" (Juan Solanas)
UN CERTAIN REGARD
"Invisible Life" (Karim Aïnouz)
"Beanpole" (Kantemir Balagov)
"The Swallows of Kabul" (Zabou Breitman and Eléa Gobé Mévellec)
"A Brother's Love" (Monia Chokri)
"The Climb" (Michael Covino)
"Jeanne" (Bruno Dumont)
"A Sun That Never Sets" (Olivier Laxe)
"Chambre 212" (Christophe Honoré)
"Port Authority" (Danielle Lessovitz)
"Papicha" (Mounia Meddour)
"Adam" (Maryam Touzani)
"Zhuo Ren Mi Mi" (Midi Z)
"Liberté" (Albert Serra)
"Bull" (Annie Silverstein)
"Summer of Changsha" (Zu Feng)
"Evge" (Nariman Aliev)
---
Get the Indie Focus newsletter, Mark Olsen's weekly guide to the world of cinema.
You may occasionally receive promotional content from the Los Angeles Times.