'Rocketman' star Taron Egerton: Don't compare us to 'Bohemian Rhapsody'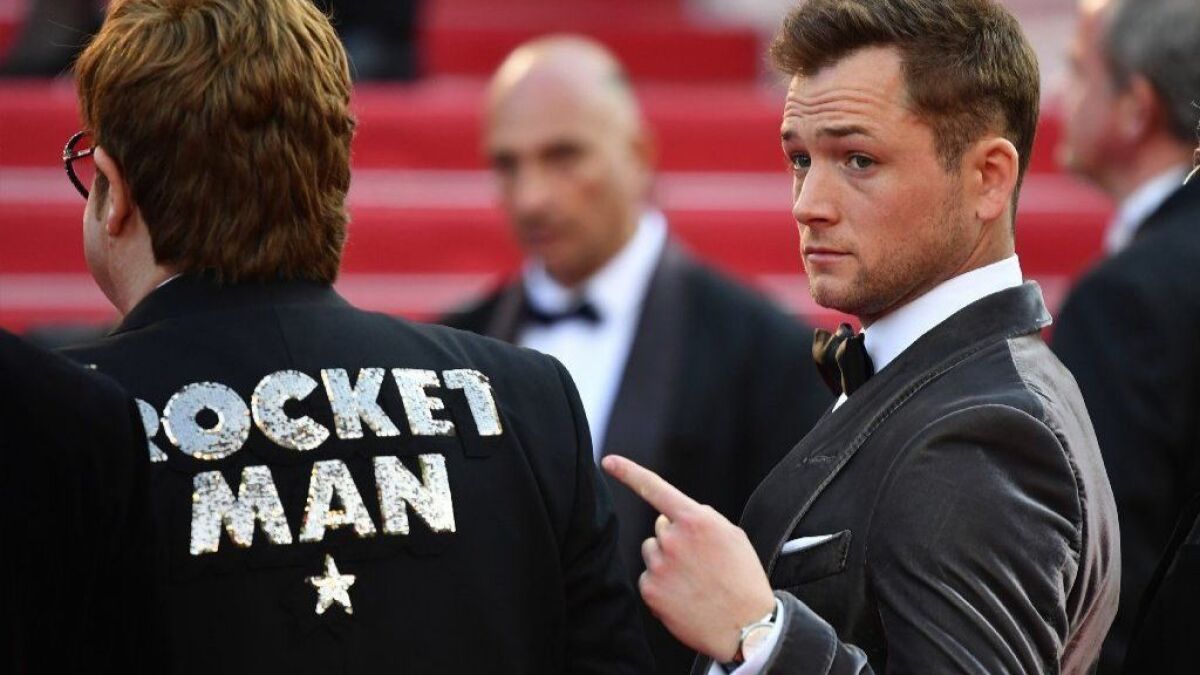 Reporting from Cannes, France —
Less than 24 hours after "Rocketman" premiered at the Cannes Film Festival, the Elton John musical is already generating comparisons to "Bohemian Rhapsody." And Taron Egerton is not here for it.
At a festival press conference Friday, the 29-year-old was asked if he was envisioning himself in Rami Malek's shoes when the actor who portrayed Freddie Mercury won the best actor Oscar in February.
"That's a horrible question," Egerton responded with a laugh.
There are, of course, parallels to be drawn between "Rocketman" — which hits U.S. theaters May 31 — and "Bohemian Rhapsody," the Queen movie that raked in an astonishing $903 million worldwide last year. But as Egerton noted, because "Rhapsody" was a biopic, it didn't require an actor that could sing in the lead role, the way a musical like "Rocketman" did. (Mercury's vocals were used, with Malek lip-syncing.)
"I'm very grateful that people compare us, and hopefully it shows that there is an appetite for movies of this nature," the actor continued. "However, that movie is a unicorn, and 'Rocketman' is really good. We're very proud of 'Rocketman.' Any questions you have about 'Rocketman,' we are more than happy to answer in full."
Egerton, was, of course, being somewhat modest. "Rocketman" debuted to positive early reviews Thursday evening on the Croisette, where the actor was moved to tears as the crowd gave him a standing ovation. Then he and John, 72, made their way over to Carlton Beach — the site of the music video for the singer's 1983 single "I'm Still Standing" — to perform for hundreds of partygoers on the sand. After belting out that redemptive tune for the crowd, John welcomed Egerton to the stage to duet with him on "Rocketman."
REVIEW: 'Rocketman' is an affecting, sprawling musical about the life of Elton John »
"His performance as a musician on this film is scarily brilliant," John told the crowd, noting that Egerton got the role after "somebody else" — Tom Hardy — dropped off the project because he was too old to portray the icon. "But more than anything, when I watch the movie, I don't see an actor; I see myself. And that is an extraordinary thing for an actor to do. He has given a million percent of himself in this performance, and I cannot thank him enough."
In front of the press a day later, Egerton spoke about how close he'd grown to John and the singer's husband, David Furnish. Before shooting began, he said, he spent a few days at John's home with his girlfriend, assistant director Emily Thomas, and got so drunk one night that "his head of security caught me stealing from his kitchen at 3 in the morning."
"He's allowed me to get to know him away from all of the pomp and ceremony of his life really," Egerton continued. "My great privilege and my great fortune was that I was able to spend a lot of time with him and talk to him about anything. I prepared by being with him, largely, and having that wonderful privilege of getting to know anything. You really can ask him anything — I mean, he'll tell you everything."
Despite their closeness, director Dexter Fletcher insisted that John and Furnish — who served as producers on the film — gave the cast and crew the freedom to portray the singer warts and all.
"He didn't want it to be self-serving," said Fletcher. "There's no upside for him in that. I think that's one of his great strengths. … There was nowhere that I couldn't shine a light. There was no dark corner where he was like, 'Don't go!' "
RELATED: How 'Rocketman' and 'Once Upon a Time in Hollywood' uniquely re-create a lost Los Angeles »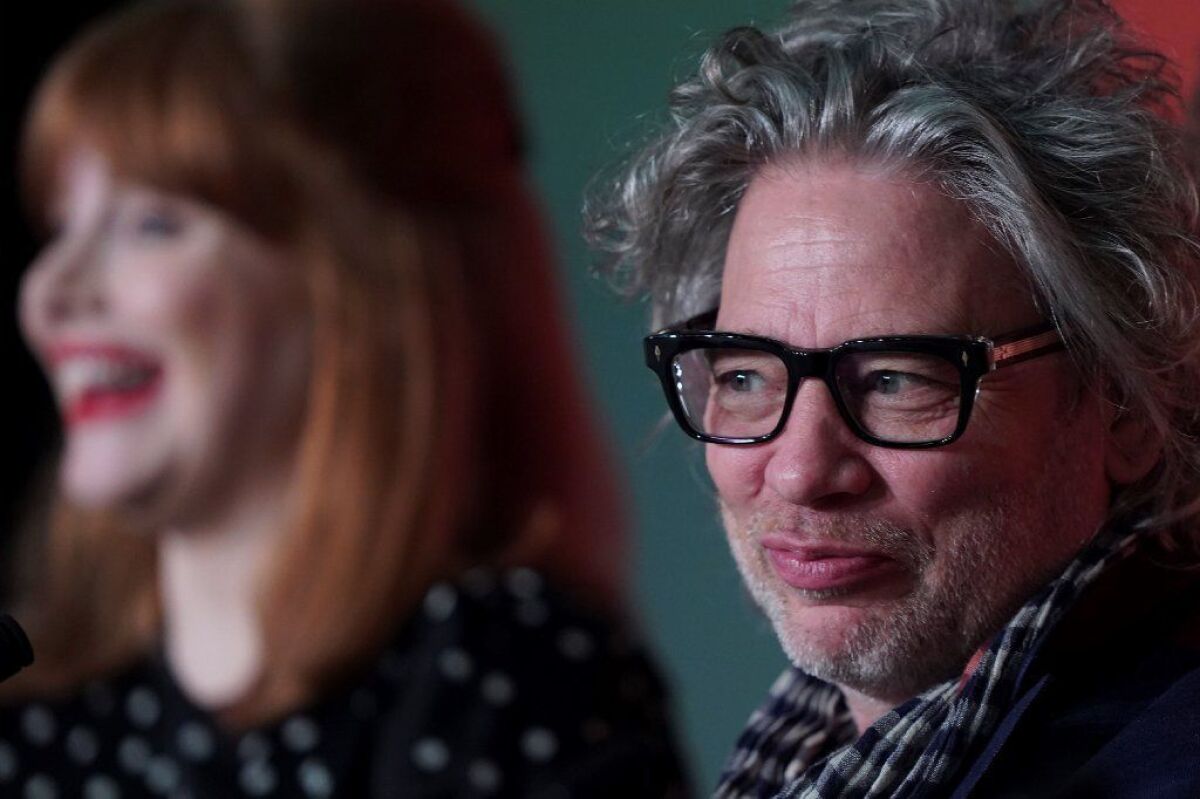 "It's a celebration, but that doesn't mean we sought to deify Elton or make him flawless or perfect," Egerton added. "We wanted to tell a human story. Elton is an extraordinary human being, but he's still a human being. That's why you see the troughs as well as the peaks. … Not a lot makes him blush, so he's very at peace with us telling the story in this way."
Fletcher, of course, is coming off an award season in which is role on "Bohemian Rhapsody" was somewhat marginalized. The director stepped in to finish production after Bryan Singer was fired — something Egerton even poked fun at during the press conference here, joking: "I can't remember who did that [film] and who finished it off."
Asked if he thought there was "overkill" happening in the rock 'n' roll genre, Fletcher said no, citing the "to be or not to be moment" of musical films that makes them compelling. Bryce Dallas Howard, who plays John's mother in the film, said the landscape is ripe as a result of the "giant spectacle" of these kind of movies during an era when those in the movie business "really need to think about leveling up" as a result of prestige television and streaming services.
"You go to the theater for an experience and something memorable and something shared, so of course stories with musicians bring that spectacle," she said. "And it kind of demands that united experience. It would be a shame to watch this movie alone, by yourself. Honestly, it really would."
FULL COVERAGE: Cannes Film Festival »
Follow me on Twitter @AmyKinLA
Get our L.A. Goes Out newsletter, with the week's best events, to help you explore and experience our city.
You may occasionally receive promotional content from the Los Angeles Times.