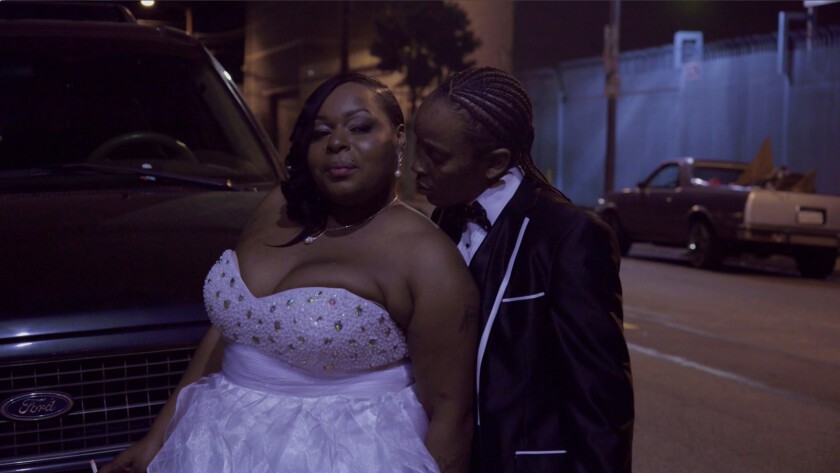 'Game Girls'
In "Game Girls," Polish-born documentarian Alina Skrzeszewska ("Songs from the Nickel") plunks us down in the middle of the tough, volatile world of Teri and Tiahna, a lesbian couple living in L.A.'s Skid Row area, and offers viewers little by way of history or context. It's a one-day-at-a-time kind of portrait that's dispiriting, unsettling and undeniably authentic.
Skrzeszewska simply points her camera and rolls as the swaggery, mentally unstable, at times resourceful Teri and the flashier, drug-dealing, blunt-smoking Tiahna navigate life and what passes for love in an unforgiving nexus of poverty, addiction, alienation and homelessness.
Although there's a bigger picture to explore here, this narrowly focused film unfolds in a mostly random, episodic way, seemingly reflective of Teri and Tiahna's chaotic existence. Still, your interest in these women's actions — they shop for and participate in a street wedding, attend a drama therapy workshop, apply for affordable housing, travel to Las Vegas and fight more than we probably need to see — will depend on your tolerance for the brash Teri's F-bomb and N-word laced rants, Tiahna's unreliability, and their story's general dearth of personal and practical detail.
That "Game Girls" begins with Teri anticipating Tiahna's release from prison and closes with Tiahna waiting for Teri to be bailed out of jail mirrors the film's key question: Can these two souls ever escape the vicious cycle of their desperate lives?
— Gary Goldstein
'Game Girls'
Not rated
Running time: 1 hour, 25 minutes
Playing: Laemmle Glendale
-------------
'Origin Story'
Kulap Vilaysack, creator of the reality-show "Bajillion Dollar Propertie$," turns from comedy to the drama of real life for "Origin Story." The actress, writer and podcast host makes her feature directorial debut with this intensely personal documentary that explores her family history, taking her from Los Angeles to Minneapolis to Laos.
In its first scene, "Origin Story" rewinds to the moment Vilaysack found out that the man she thought of as her dad wasn't her biological father. Two decades later, she begins to seek out her biological father and travels to meet him in Laos. Along the way, she discovers the roots of her troubled relationship with her mother as well as reopening more childhood wounds.
Those familiar with Vilaysack's career — as well as a few of the celebrities who make an appearance here — may be surprised by the serious tone of "Origin Story." Vilaysack's largely known for her comedy work, as are her husband Scott Aukerman and friends Sarah Silverman, Casey Wilson, and June Diane Raphael.
But her work in this film is unflinching, refusing to pull back from the saddest parts of family and internal conflict. Animation depicts past traumas, and texts and emails give the movie an unvarnished feeling of immediacy.
For her directorial debut, Vilaysack has made an authentic documentary that deals honestly with issues of identity, immigration and family. There's little self-editing here, giving the audience insight into her pain, an experience that is both moving and uncomfortable in its raw state.
— Kimber Myers
'Origin Story'
Not rated
Running time: 1 hour, 46 minutes
Playing: Arena Cinelounge, Hollywood; also on VOD
------------
'Just Say Goodbye'
Director Matt Walting makes his feature directorial debut with "Just Say Goodbye," an emotional exploration of suicide and its victims. Written by Layla O'Shea, "Just Say Goodbye" follows the short, sad life of Jesse (Max MacKenzie), who, at the age of 6, found his mother's body shortly after she killed herself. Ten years later, he's a troubled teenager, abused by his alcoholic father and bullied at school. The one bright spot is his fierce best friend and protector, Sarah (Katerina Eichenberger). When Jesse confesses that his plans to kill himself, she begs him to reconsider.
"Just Say Goodbye" is notable for its provenance: Walting was in high school when he directed the film, and is currently a student at Emerson College. It's incredible for a teenager to pull off directing a feature production, and while aspects of the film are amateurish — especially the performances, which err on the side of wooden — Walting demonstrates a promising command of his craft. Star MacKenzie also proves to be an intriguing screen presence.
The main issue in "Just Say Goodbye" is the script, which drags in parts and spends too much time rehashing the same issues. Jesse and Sarah share a sarcastic banter that never dramatically modulates, no matter if they're talking about thrift store shirts, summer vacation plans, high school bullies or Jesse ending his life. While "Just Say Goodbye" reveals the filmmakers' inexperience, with a bit of finesse, Walting could be a promising new voice.
— Katie Walsh
'Just Say Goodbye'
Not rated
Running time: 1 hour, 46 minutes
Playing: Regency Valley Plaza, North Hollywood
-------------
---