'Captain Marvel' actress Lashana Lynch on working with 'star' cat Reggie and dealing with trolls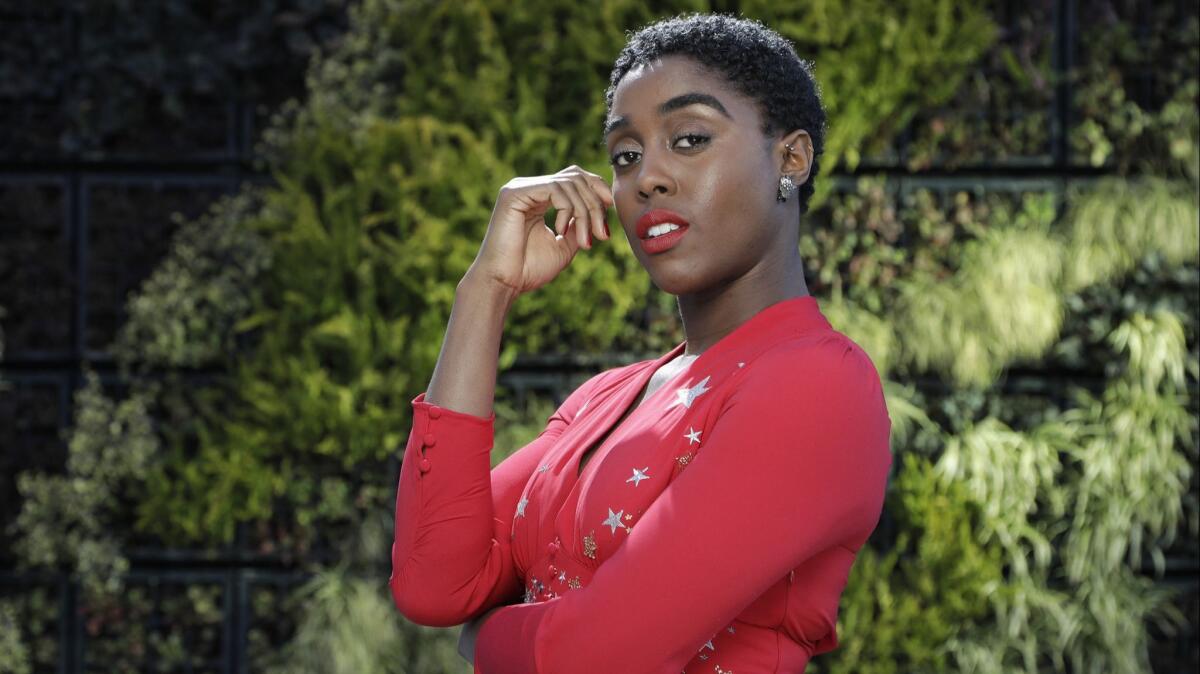 Despite sharing scenes in "Captain Marvel" with veterans including Annette Bening, Ben Mendelsohn and Samuel L. Jackson, up-and-coming actress Lashana Lynch says she learned the most working with Reggie, the star among the four cats who plays the blockbuster's breakout scene-stealer Goose.
"It's interesting working with animals, man," she said. "You just need to let them be free. But in turn you just have to be free yourself as well. You learn from the animal."
Though an invaluable scene partner, Reggie was not without his diva-like tendencies.
"He was like, 'No, I'm No. 1 on the call sheet,' " Lynch said with a laugh. " 'You're going to respect me when I walk on set.' He was just out here demanding all the things and he ate so much. Every single time he would look away or be like 'Ugh, I don't really want to be here,' he'd get fed! And I'm like, 'What do I need to do to get me a snack?' "
The British actress has her own breakout turn as fighter pilot Maria Rambeau in "Captain Marvel," the Marvel Cinematic Universe's 21st release and first headlined by a standalone female superhero. Oscar winner Brie Larson fills the suit of the titular heroine, also known as Carol Danvers.
In lieu of a romantic relationship, the friendship between Danvers and Rambeau serves as the film's emotional through line and is put to the test when Danvers disappears for six years, only to return with superpowers and a new Kree identity.
"To mourn someone for six years, have them come back and be like, 'Oh, by the way, I can like shoot photon blasts out my hands,' and have your friend be like, 'I missed you all this time! But remember that you're enough,' that's special man! That's a special friendship," Lynch said during a recent press day in Los Angeles ahead of the film's world premiere.
"Maria and Carol are just two women living in their truth, silently accepting each other's cultures and just supporting each other," she added. "It's nice to see two women just be kind to each other and have each other's back."
REVIEW: 'Captain Marvel' and Brie Larson boost the MCU to even greater heights »
After spending for two years auditioning for various Marvel roles, Lynch, who previously headlined the short-lived period ABC soap "Still Star-Crossed" from Shonda Rhimes, jumped at the chance to play Rambeau, an ambitious fighter pilot and mother to a young daughter, Monica.
"I don't believe anything happens before its time so I'm very happy that I landed a role in [a film] that is centered around themes that I hold very dear to my heart," she said. "Landing Maria was a no-brainer, really. I mean, it's Marvel. To be a part of the MCU was a special thing for me. So even if it was someone that was like a tiny little alien that just popped up [once], I'd be like 'I'll take it!'
"You just want to do a good job. I'm representing so many communities: women, black women, fighter pilots, the whole of the military and single mothers. So is that a big responsibility? Yes. is it something I was willing to take on? Absolutely."
The film's version of Rambeau is a drastic departure from the character in the comics. "[In the comics] she's a seamstress who is a really lovely Southern woman," said Lynch. "And I'm out here disciplining my child and flying jets and stuff."
Along with Larson, Lynch trained with the military for two days and flew in a F-16 jet in preparation for the role. "That's a tiny space," she said. "You know when you're on a really bad cheap flight and your feet are like, 'Where do I go?' That's kind of what a jet feels like."
In addition to working with animals and a precocious young actress, Akira Akbar as Monica ("She's brilliant," said Lynch. "I feel like I need to hire her as my acting coach"), Lynch also had the opportunity to work with some living legends, including Bening, who also makes her MCU debut, and Jackson, a recurring player who gets to flash back to his character's younger days.
"Annette has a really theatrical way of working," Lynch recalled. "She approaches her work, from what I could deduce, by tuning into herself and warming up, making sure she's ready for every single take. Whereas Sam is completely relaxed because he's been part of Marvel for a long time and he knows his way around.
"It was nice to see the contrast between a veteran who has been a part of this franchise and knows what to do and a veteran who knows what to do generally but is new to this side of the game. It just reminded me that we're all brand new to this first experience. No one has shot 'Captain Marvel' before, so it was all of our first day at school."
A few years ago, Jackson made headlines for criticizing the casting of black British actors as African Americans in films, including Jordan Peele's "Get Out." Lynch, a London native, says she didn't bring up the topic with Jackson so as not to disturb the atmosphere on set.
"I try to surround myself with the best energy when I go to work," she said. "So if I'm creating a bad energy through asking something that I feel a bit uncomfortable about, then I've only really brought it on myself. But I find it interesting that this conversation is still happening, and I find it interesting that people are turning to the actors for the answers. The real people to ask are the creators, casting directors and the execs.
"I don't think it's like everyone's coming in an influx. No one questioned Idris Elba when he was doing a brilliant job on 'The Wire.' No one questioned Marianne Jean-Baptiste when she was doing a brilliant job in 'Without a Trace.' I would feel like a boring actor if I was just acting in my own accent, in my own town, with people that I know for the rest of my life. I want to experience the world as a human, and I want to my characters to be able to be experienced in this world as well."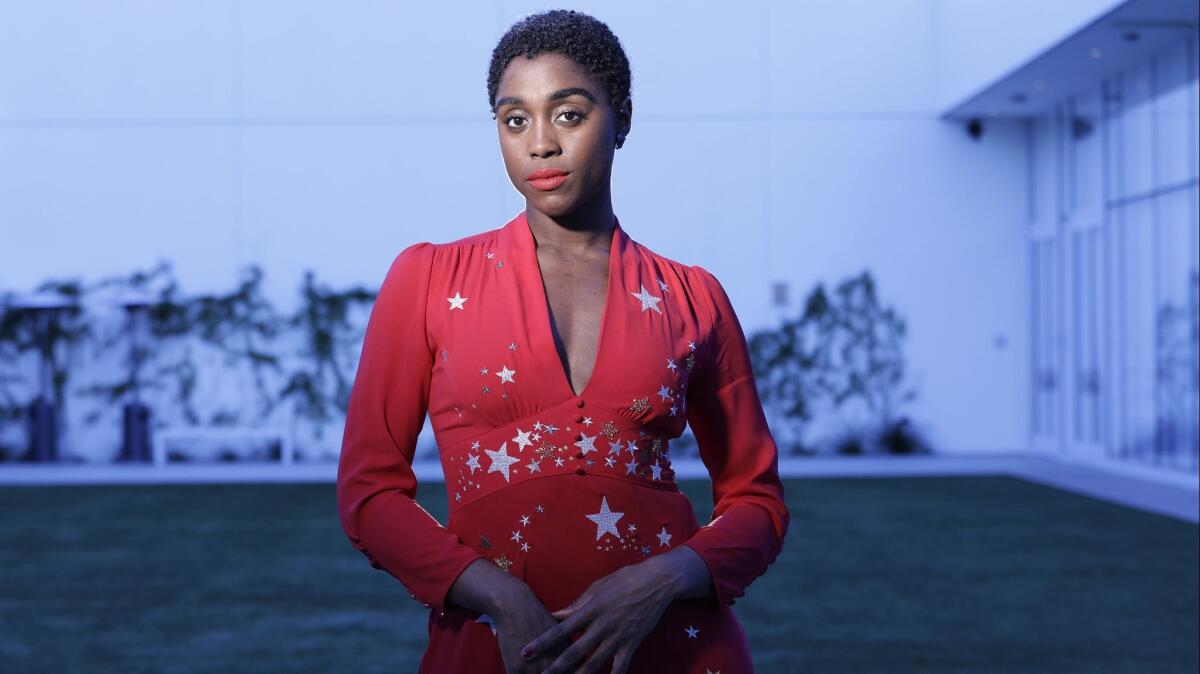 Even before its release, "Captain Marvel" was targeted online by misogynistic trolls who griped about Larson's outspoken stance on political issues and diversity in filmmaking. They also complained that she doesn't smile enough and could not possibly be strong enough to embody one of the most formidable heroes in the MCU.
"People are always going to have crap to say," said Lynch with an eye roll. "It's very easy to hide behind your screen because I'm very sure that the people who are out there chitchatting away wouldn't say the same thing to her face. But if they did, they'd realize that woman is intelligent as hell and she will give you a run for your money. So they can keep talking. It's shining more light on our film and people are still going to watch it.
"Captain Marvel is a role model for women because she is representing someone who knew her power, had it taken away from her and then has to relearn her power, which is what all women go through," she added. "At one point we know that we're strong and we know that we can do it. And then someone or something knocks us down, and we need reminding."
ALSO: 'Captain Marvel': A brief history of Carol Danvers »
Like "Black Panther," "Captain Marvel" arrives at the perfect time when women are relearning their power on a collective scale. Lynch is just grateful that a studio with a reach like Marvel's was able to recognize that.
"It's the best support to have," she said. "There's a lot of men in the studios, a lot of older men. We can't just do all the work ourselves and expect things to change. We also need men to realize that it's good to change and to just ride the wave because it's going to happen regardless of if you're supporting us or not."
Up next, Lynch will star as Agent 355 in the TV adaptation of the fan favorite comic series "Y: The Last Man" on FX. But because "Captain Marvel" takes place in the '90s and Danvers will next be seen in April's "Avengers: Endgame," which takes place in the present or near future, Marvel fans have been speculating about the possibility of Lynch returning as the older version of Monica.
"That would be really cool," she said. "Monica is dope. But also, I've been given an opportunity to play a woman of color in the MCU. It'd be great to give someone else an opportunity to feel that experience.
"You can't be hogging like! I've had an opportunity. This movie is going to do what it's going to do for me. I was the one that was like next in line trying to wait for my opportunity. Now I've had it [and] I'm going to try and run with it. Someone else needs theirs, and I'm hoping it's someone younger than me as well who gets their time."
ALSO: The 'Captain Marvel' post-credits scenes, explained »
follow me on twitter @sonaiyak
Get our L.A. Goes Out newsletter, with the week's best events, to help you explore and experience our city.
You may occasionally receive promotional content from the Los Angeles Times.