Commentary: With a 'La La Land' sweep, Hollywood once more falls in love — with itself
We were warned not to miss a moment of Jimmy Fallon's Golden Globes opening number, which some had accurately predicted would be an extended tribute to "La La Land." And why not? Damien Chazelle's charming movie musical naturally lends itself to the kind of elaborately parodic sing-song re-creations that awards-show openers (to say nothing of Fallon's late-night hosting career) thrive on.
Sure enough, the show's big kick-off number found Fallon staging an elaborate riff on "La La Land's" traffic-stopping opening sequence, for which he roped in a dizzyingly random range of performers from Nicole Kidman and Amy Adams to Kit Harington, Rami Malek and the "Stranger Things" kids (plus Barb). It was funny, clever, virtuosic. It also sent a worrying early signal that the decks were already being stacked in favor of the night's biggest crowd-pleaser.
I get it — a "Hacksaw Ridge"-themed musical number just wouldn't have killed in quite the same way. And few of those watching could have begrudged the expected lead acting awards for the film's luminous stars, Emma Stone and Ryan Gosling, or the dual wins for composer Justin Hurwitz, who was feted for his infectiously hummable original score and the movie's signature tune, "City of Stars."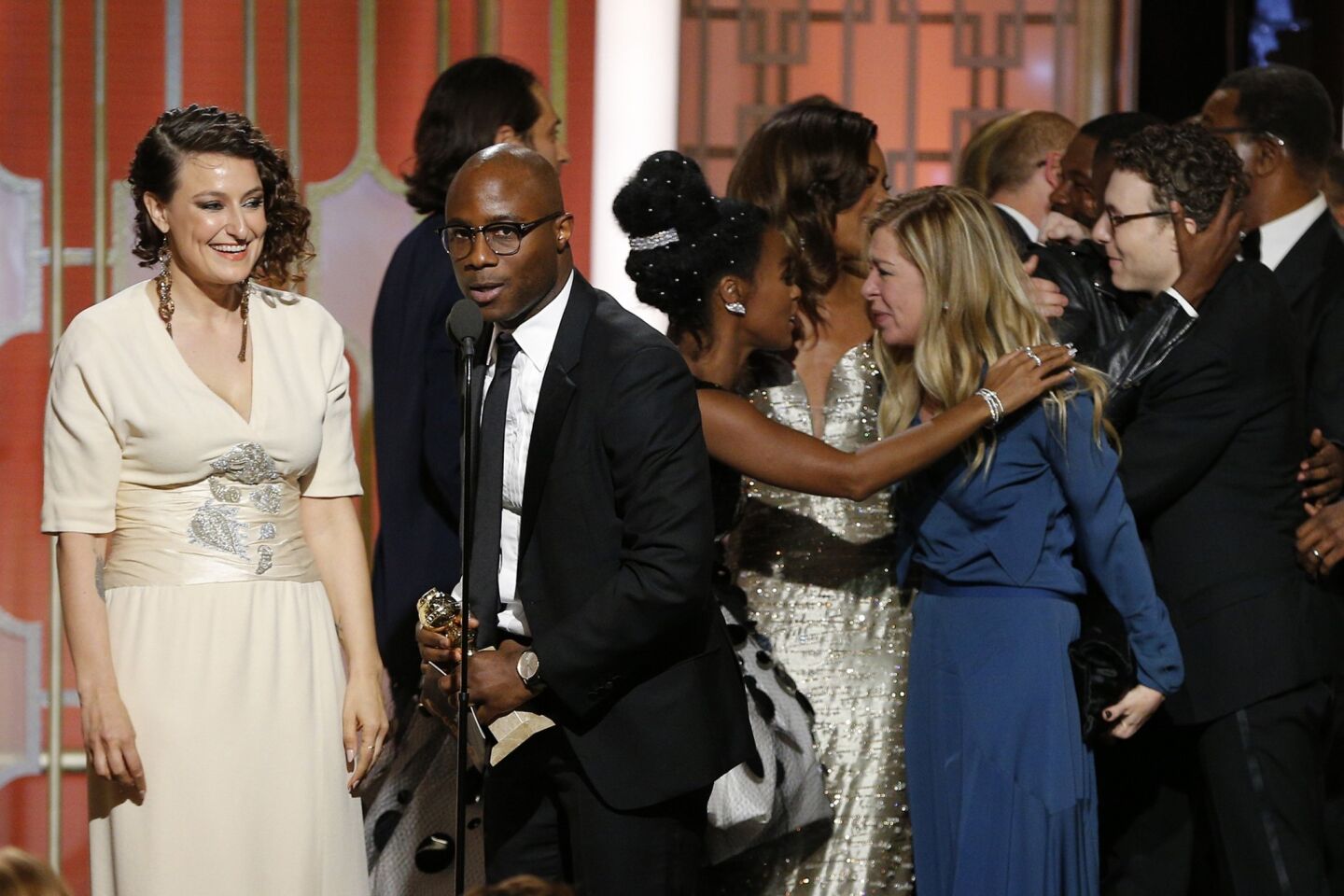 Director Barry Jenkins and the cast and crew of "Moonlight" accept the award for Motion Picture - Drama for "Moonlight" onstage.
(Handout / Getty Images)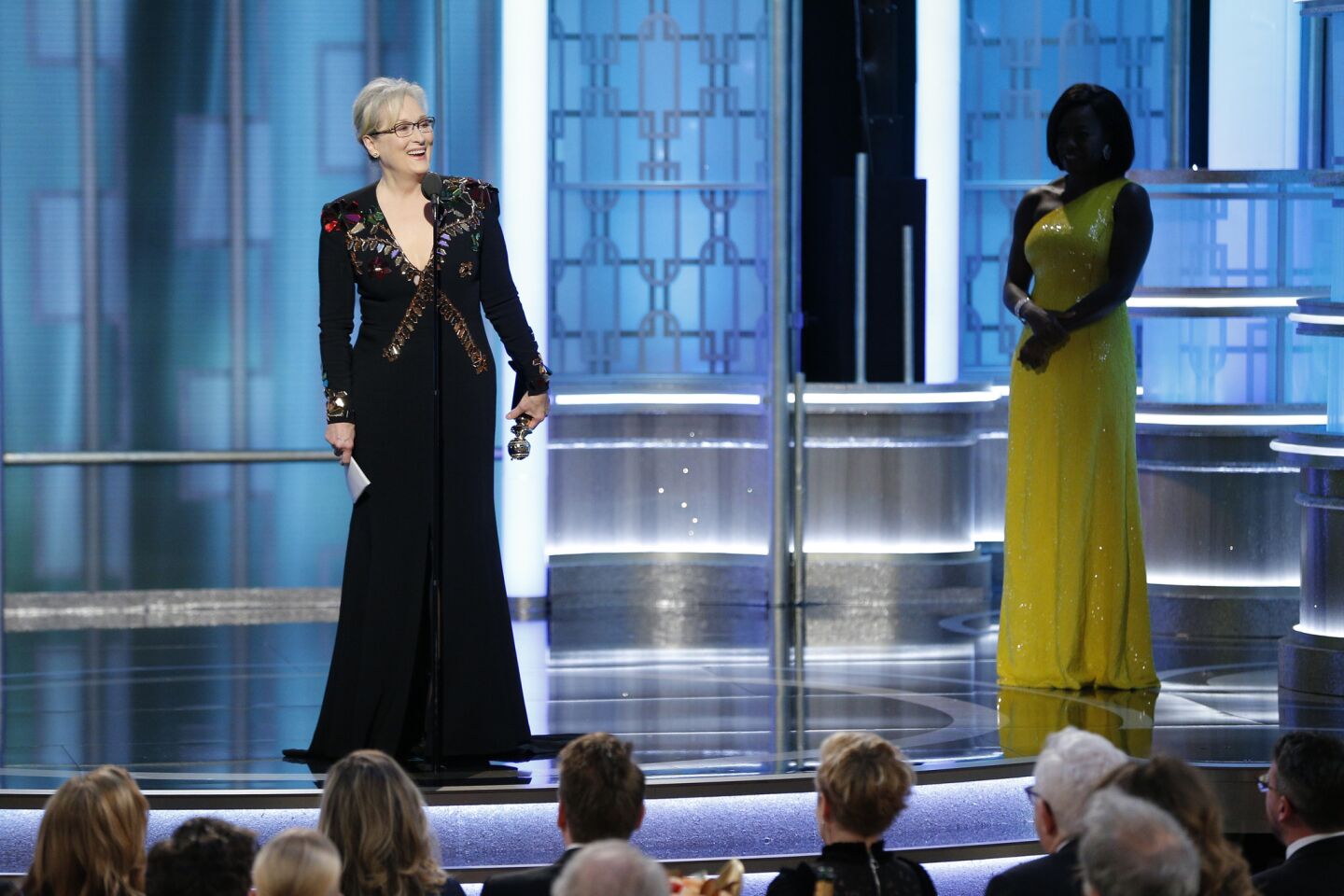 Meryl Streep accepts the Cecil B. DeMille Award as presenter Viola Davis, right, looks on.
(Paul Drinkwater / Associated Press)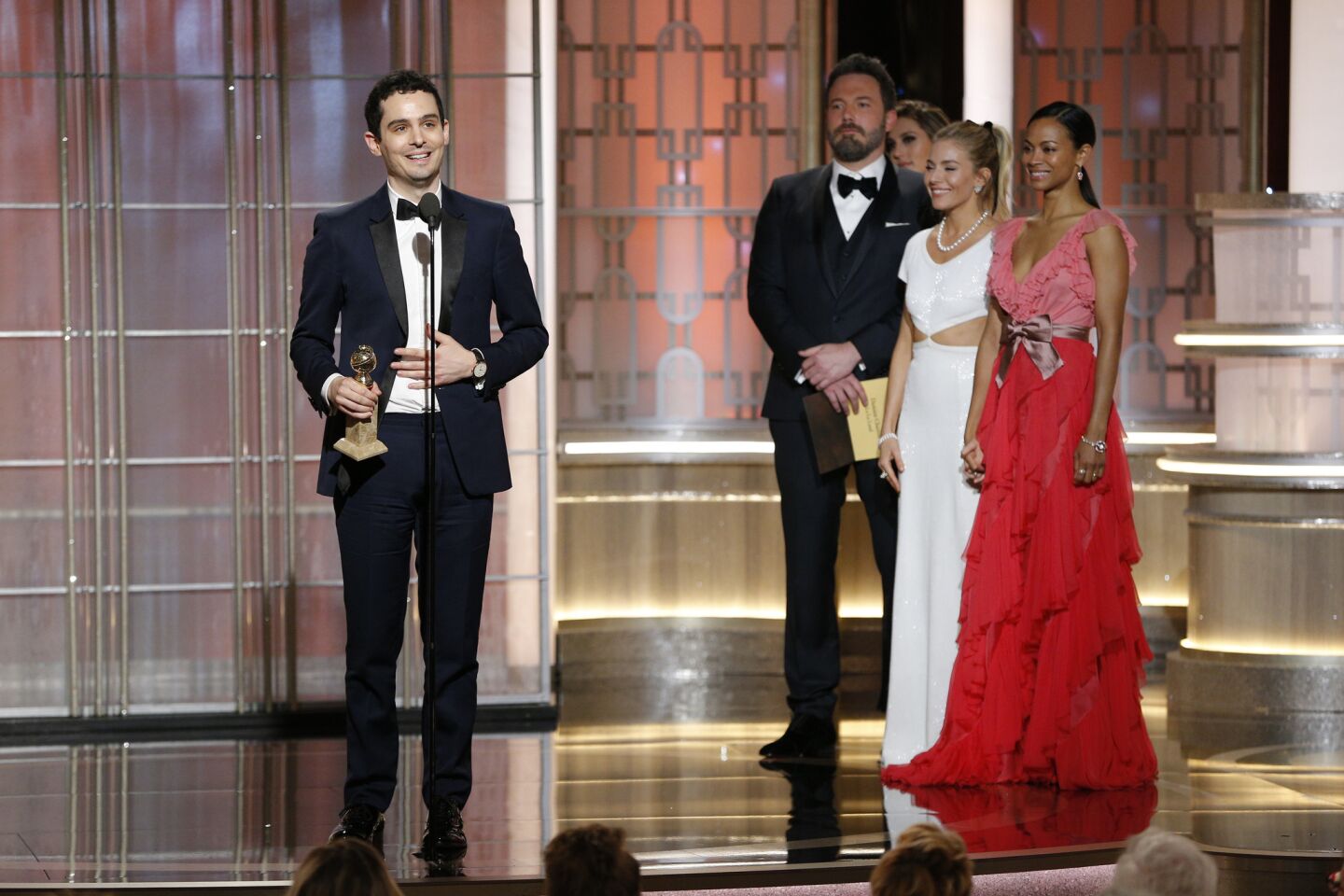 Damien Chazelle accepts the Golden Globe for film director for "La La Land."
(Paul Drinkwater / Associated Press)
Full coverage: Golden Globes 2017 »
But then Chazelle won awards for director and (more questionably) screenplay, beating out Barry Jenkins ("Moonlight") and Kenneth Lonergan ("Manchester by the Sea") in both categories. By the time "La La Land" received its record-setting seventh Globe, for best picture (musical or comedy), it was hard not to feel that Hollywood had fallen in love — and not just with a movie, but with yet another intoxicating vision of itself.
"La La Land" is both a ravishing throwback to Old Hollywood and a moderately jaded fairy-tale riff on contemporary Hollywood, a story about two aspiring entertainers falling in love against the jazz clubs and studio backlots of a gloriously retro Los Angeles. This all-sunshine-all-the-time milieu is nothing if not inviting — more inviting, surely, than the mean Miami streets of "Moonlight" or the frosty New England town that gives "Manchester by the Sea" its title. But it also raises the question of whether, in that small arena where art and awards shows occasionally intersect, the most palatable and self-promotional choice is necessarily the most deserving.
This is an industry that loves to celebrate the industry, a point driven home in recent years by the awards-season supremacy of entertainments like "The Artist" and "Argo" — one a loving pastiche to the silent-movie era, the other a thriller in which Hollywood saves the day — which both picked up top Golden Globes en route to their big Oscar wins. Like "La La Land," they are ingratiating entertainments that have, through little fault of their own, become part of a dispiriting larger trend. Awards season is already enough of a roundelay of self-congratulation when it doesn't routinely hand over its top prizes to a flattering mirror image.
I don't subscribe to the reductive notion that seriousness is inherently more award-worthy than escapism — or, for that matter, that escapism can never be serious. And I have, in the past, felt moved to defend the Hollywood Foreign Press against its not-always-deserved reputation for frivolity, especially since it has, at times, beaten the academy at its own game. This is, after all, the organization that handed best picture Globes to "Boyhood," "The Social Network" and "Brokeback Mountain," all choices that look awfully good next to their Oscar-preferred counterparts.
And the show did eventually get around to acknowledging the presence of other worthy films in "La La Land's" midst. They included "Fences," for which Viola Davis finally won her first Golden Globe, and the devious French thriller "Elle," which not only was named best foreign-language film but also pulled off a magnificent upset in the lead dramatic actress category for Isabelle Huppert.
We should tell the truth, our stories, more often and more consistently."
— "Moonlight" director Barry Jenkins
And in the end, the HFPA managed to spare a thought for the actual best movie nominated. "Moonlight" may have come away from the show with at least two fewer awards than it should have had (including a supporting actor prize for Mahershala Ali, which went instead to Aaron Taylor-Johnson for "Nocturnal Animals"), but the filmmakers couldn't have minded too much after winding up with the night's biggest prize.
"We should tell the truth, our stories, more often and more consistently," Jenkins said backstage, and his words should be taken to heart — not least because his definition of "our" right now seems so much bigger and more inclusive than that of the industry honoring him.
ALSO:
Golden Globes 2017: Complete list of winners
A better behaved Golden Globes proves nice-guy host Jimmy Fallon can still make some noise
It's a 'La La' landslide at the 74th Golden Globes as the Emma Stone-Ryan Gosling musical sweeps
Get our L.A. Goes Out newsletter, with the week's best events, to help you explore and experience our city.
You may occasionally receive promotional content from the Los Angeles Times.