Review: A better behaved Golden Globes proves nice-guy host Jimmy Fallon can still make some noise
The 74th Golden Globe Awards show on NBC Sunday night was its old self, and not quite its old self. Better behaved than it has been — professional nice guy and "Tonight Show" host Jimmy Fallon replaced professional bad boy Ricky Gervais as host — the show was still offbeat and noisy enough to keep its reputation as the more fun, more real alternative to the Academy Awards.
Awarded by the Hollywood Foreign Press Assn., the Globes are historically free from the institutional piety — or indeed the moral responsibilities — that can weigh down the Oscars or the Emmys. And despite the evening's reputation as a bellwether of the Oscars, it remains its own weird thing, as if a bunch of kids got together to put on an awards show in somebody's uncle's barn, or hotel ballroom, as the case may be.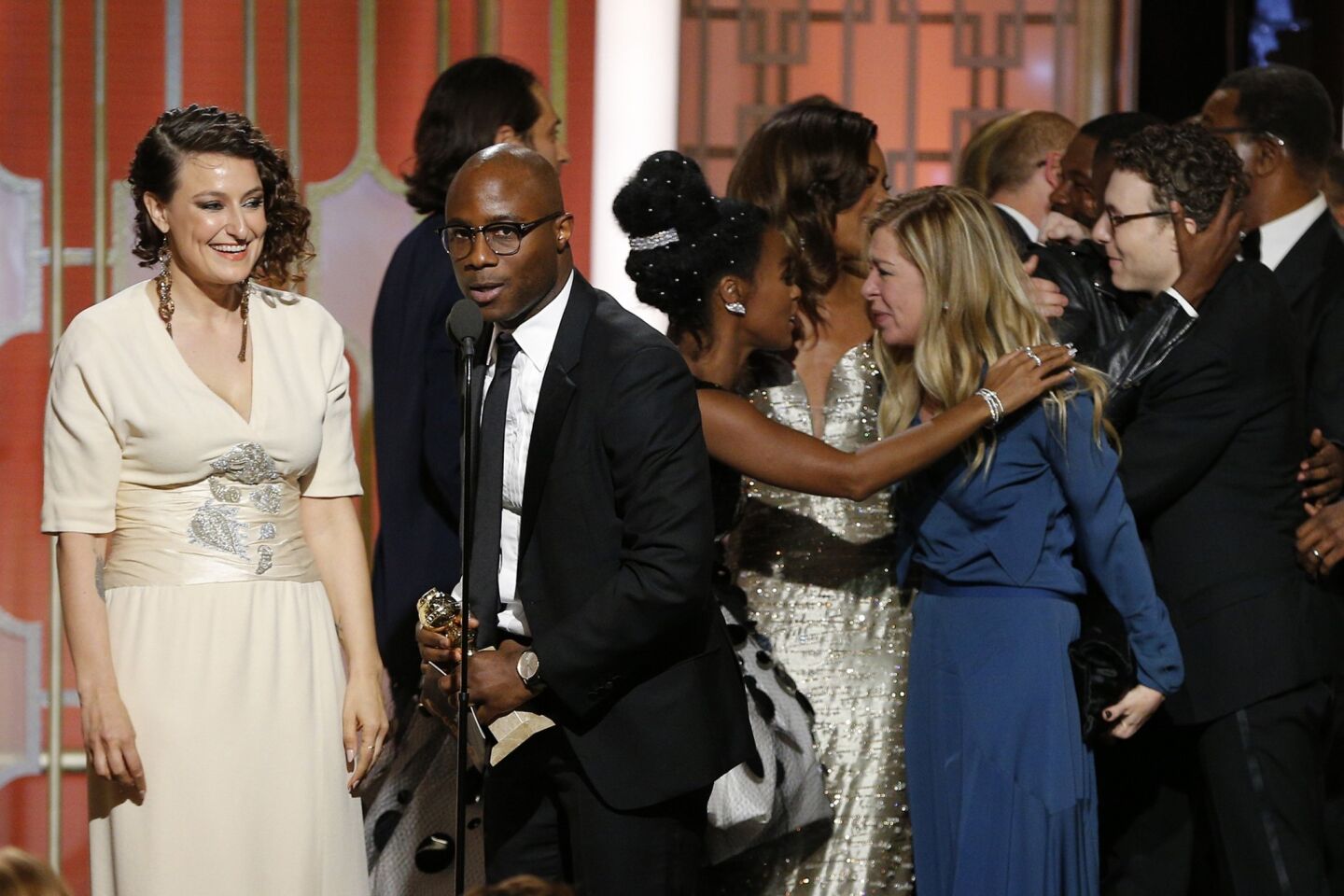 Director Barry Jenkins and the cast and crew of "Moonlight" accept the award for Motion Picture - Drama for "Moonlight" onstage.
(Handout / Getty Images)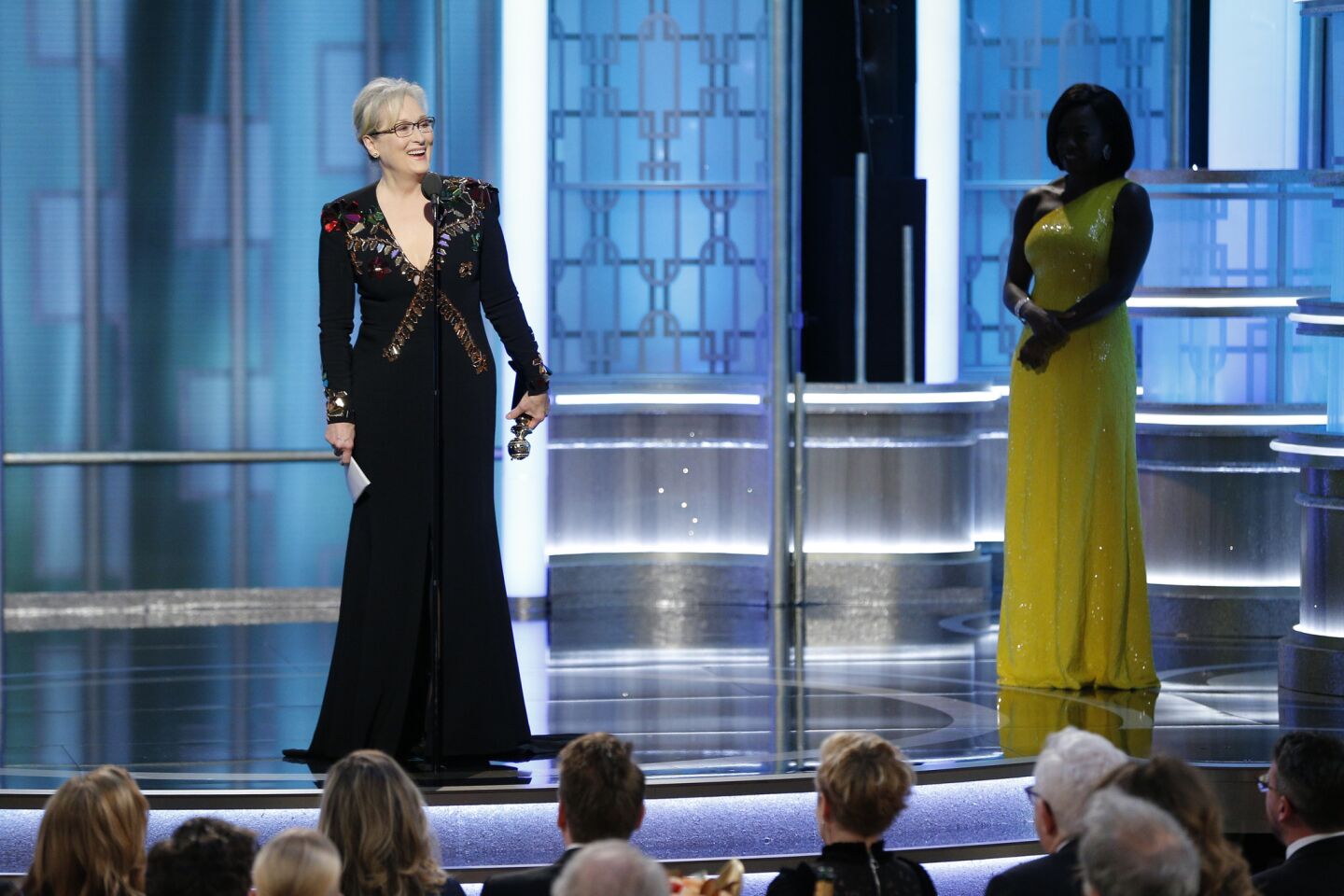 Meryl Streep accepts the Cecil B. DeMille Award as presenter Viola Davis, right, looks on.
(Paul Drinkwater / Associated Press)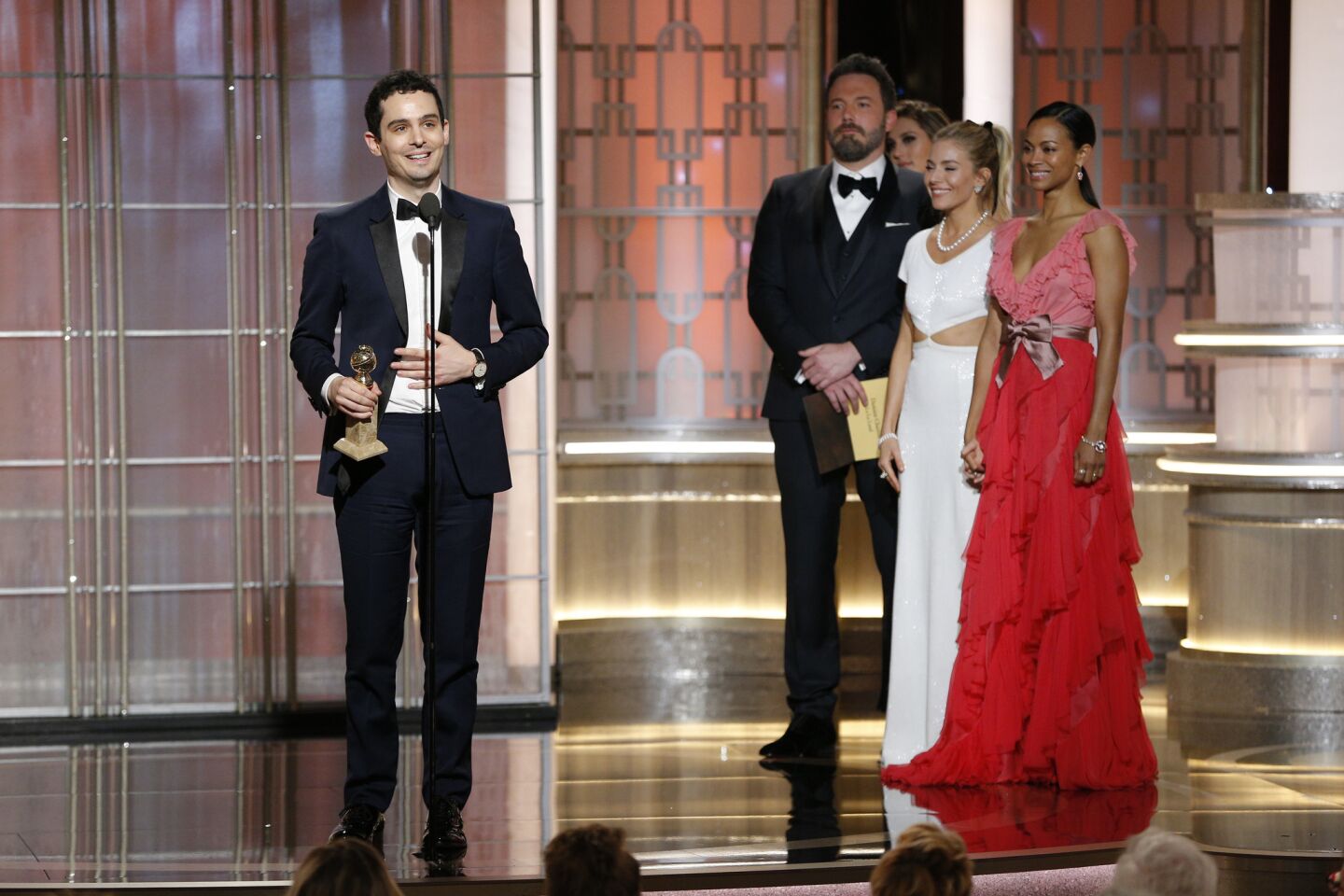 Damien Chazelle accepts the Golden Globe for film director for "La La Land."
(Paul Drinkwater / Associated Press)
Full Golden Globes coverage as it happened »
Stars sit at tables festooned with flowers and Champagne — the tables, not the stars. Traditionally there have been no production numbers, no pre-taped skits, no "in memoriam" segment.
That changed this year, a little. There was the briefest film-clip tribute to the late Carrie Fisher and her late mother, Debbie Reynolds. And the evening began with a star-studded filmed production number that took off on "La La Land" and ended with Fallon and BFF Justin Timberlake waltzing into the stars; it was built to the host's strengths — singing, dancing and kindergarten enthusiasm. Though a teleprompter malfunction left him briefly stranded, once he could read it he delivered his monologue efficiently.
It was the last big awards show before the Age of Trump, and Fallon, who recently caught flack for his friendly pre-election tousling of candidate Donald's hair, balanced that scale slightly, describing the Globes as "one of the few places left where America still honors the popular vote" and noting, in reference to "Game of Thrones," "A lot of people wonder what it would be like if King Joffrey had lived — well, in 12 days we're going to find out."
Though it by no means dominated the evening, other speakers made reference to the political moment. "I'll be able to say I won this at the last ever Golden Globes," said Hugh Laurie, recipient (for "The Night Manager") of the supporting actor award for TV movie or limited series. "I don't mean to be gloomy, it's just that it has the words Hollywood, foreign and press in the title."
Accepting a lifetime achievement award, Meryl Streep picked up that thread, painting Hollywood as "just a bunch of people from other places" and "crawling with outsiders and foreigners." (She was hoarse from "screaming and lamentation," she said, but sounded all the more eloquent for it.)
Even if you don't put any stock in awards, it's easy enough to get emotional about the show. There's something satisfying about an evening of graciousness, expressed by people whose day job it already is to make you feel.
By the old rules, a Golden Globes show in which nothing gross happened would be judged a failure; but for the most part, this year's broadcast answered in the affirmative the question whether a party where nobody pukes in a houseplant or spills wine on the rug can still be a good one. It was — though of course it went on too long, getting noisier as it did.
"Hello, everybody back at the bar, the show's back on," presenter Matt Damon said, 2 1/2-hours into the show with half an hour still to go.
Follow Robert Lloyd on Twitter @LATimesTVLloyd
ALSO
ALSO
It's a 'La La' landslide at the 74th Golden Globes as the Emma Stone-Ryan Gosling musical sweeps
The performance that broke Meryl Streep's heart. Read her full Golden Globes speech
Golden Globes 2017: Complete list of winners
Lionsgate scores with 'La La Land' at the Golden Globes; FX shines in television categories
The many, many celebrities who appeared in Jimmy Fallon's 'La La Land' re-creation
Janelle Monae, Pablo Larrain rhapsodize about the power of women, reflected in the Golden Globes nominees
---
Get our L.A. Goes Out newsletter, with the week's best events, to help you explore and experience our city.
You may occasionally receive promotional content from the Los Angeles Times.