John David Washington is celebrating his 'BlacKkKlansman' Golden Globes nomination at SoulCycle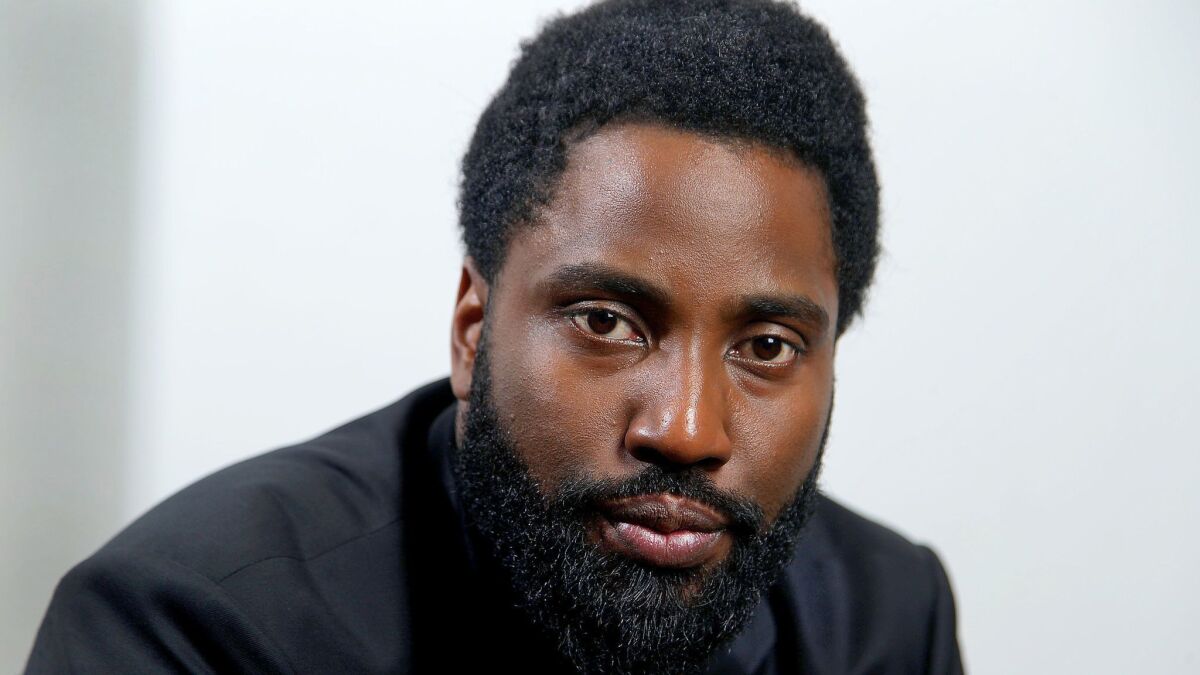 How are you feeling?
Grand. I feel really good right now. My father [Denzel] woke me up. He's like, "It's time, it's time, let's go!" We caught it on NBC. We obviously cheered when we heard Adam [Driver's] name and Spike [Lee's] name. And then it happened; I was overjoyed. My dad and I embraced each other so tightly. My mom is on the way to Chicago to audition for "Hamlet," so we called her and had a prayer session and we were crying. I was having flashbacks of the NFL draft. It felt a bit like that, but it didn't go like this. I was an undrafted free agent.
What did your parents say to you?
They were in tears, 'cause they know their baby boy has been working hard. My mom kept saying, "You've been working so hard." And she's so emotional, because she herself is getting on a plane to audition for Shakespeare. My pops brought up the "Glory" suit and the tape.
What's the "Glory" suit?
In the movie "Glory," they wanted the blue [Union Army] suits so bad and they wanted to fight. That was my favorite movie growing up. I just wanted the blue suit and a rifle and a new "Glory" tape. Back then it was VHS, so I'd broken it. So for Christmas, they had wardrobe send something. They tailored it, but it was still too big.
FULL COVERAGE: 2019 Golden Globes »
So perhaps a potential suit option for the Globes?
[Laughs] We'll see.
Spike Lee wanted this film to motivate political change. Do you think it has been effective?
Whatever the critiques have been of the film or the praise has been of the film, the temperature of those have been the same: Passionate. I've heard "I learned from 'BlacKkKlansman.'" It feels like people seem to be moved to have somewhat uncomfortable conversations about race relations and changing the vernacular of hate in this country and finding some kind of common ground.
Have you spoken to Ron Stallworth yet?
I'm gonna call him as soon as we're done. I imagine he'll say, "Good job, Mr. Stallworth" [the police officer he plays in the movie]. He's always been able to keep his emotions in check. That's how he did his job.
What do you expect the awards show to be like?
It's gonna be great. Just to be able to represent with Adam, Spike, Focus Features. I'm gonna enjoy myself, I'm gonna keep it profesh.
Do you want to bring your parents?
Damn right! If I can, I'm gonna try to get the whole squad up in there.
What will you do today to celebrate?
I'm going to work out. I had a sports hernia surgery after Cannes, and I haven't been able to work out. But two weeks ago, I got cleared. I'm gonna do my SoulCycle. Don't laugh -- I like my SoulCycle.
Follow me on Twitter @AmyKinLA
Get our L.A. Goes Out newsletter, with the week's best events, to help you explore and experience our city.
You may occasionally receive promotional content from the Los Angeles Times.