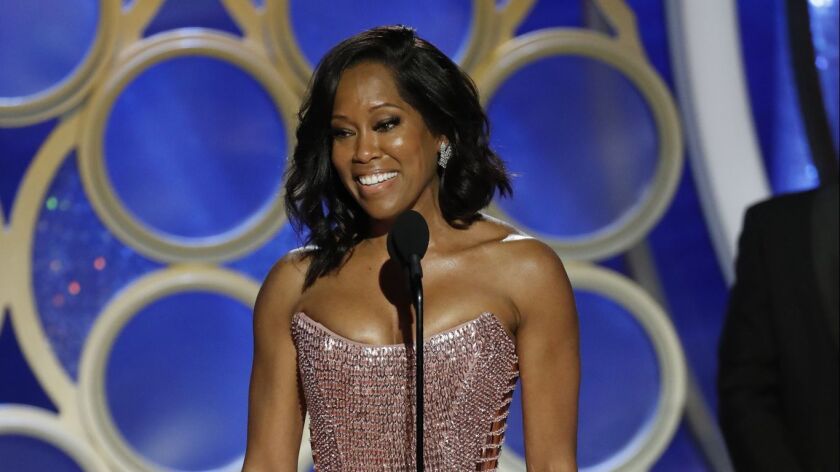 In one of the most moving and inspirational moments of the evening, Regina King won the best supporting actress in a motion picture Golden Globe for her role as a mother seeking justice for her daughter's wrongfully imprisoned partner in the adaption of James Baldwin's "If Beale Street Could Talk."
Only moments before, King had lost in the limited series or motion picture made for television lead actress category for her role in the Netflix series "Seven Seconds." Amy Adams was likewise nominated in both categories, for "Sharp Objects" and "Vice." Patricia Arquette won the television award for Showtime's "Escape at Dannemora."
Though King was not nominated at the SAG awards, she has been making a strong showing with critics groups for her role in "Beale Street" and is still a favored contender for the upcoming Oscar nominations. She is in some ways on the same trajectory as Allison Janney a year ago with her Oscar-winning role in "I, Tonya." Both are respected veterans of film and TV who had never quite landed the movie role that brought them proper acclaim. "Beale Street" is King's first live-action feature film role in nearly 10 years.
Taking the stage to accept her award for "Beale Street," King seemed a bit flustered at first.
She mentioned "Beale Street" writer-director Barry Jenkins, saying, "I love you with all my heart. Thank you for your empathy, thank you for telling stories so rich, and thank you for giving us a film that my son said to me when he saw it, that it was the first time that he really saw himself. Thank you so much for that."
I am making a vow, and it's going to be tough, to make sure that everything that I produce, that it's 50% women.
Regina King
After a few more assorted thank yous, she hit her stride, saying, "Oh my gosh, one more thing."
At some point as she continued, the music began to rise to play her off the stage but died back down by the force of what she had to say.
"So often, everyone out there, they hear us on the red carpet and they say celebrities, we're using the time to talk about ourselves when we're on our soapbox and using a moment to talk about the systemic things that are going on in life. Times Up, Times Two.
"The reason why we do this is because we understand that our microphones are big and we're speaking for everyone. And I just want to say that I'm going to use my platform right now to say in the next two years, everything that I produce, I am making a vow, and it's going to be tough, to make sure that everything that I produce, that it's 50% women."
This brought a huge ovation from the audience as King continued, "And I just challenge anyone out there who is in a position of power — not just in our industry, in all industries — I challenge you to challenge yourselves and stand with us in solidarity and do the same."
2019 Golden Globe Awards: Full coverage and the complete winners list »
SIGN UP for the free Indie Focus movies newsletter »
Follow on Twitter: @IndieFocus
---