Elisabeth Moss and Alex Ross Perry re-create the grunge era with 'Her Smell'
For its structure, its intensity of tone and central performance, there is something of a challenge and provocation built into "Her Smell," right down to the title. And yet, much like its lead character of Becky Something, for as much as the film tries at times to push a viewer away, it is also funny, engaging, emotional and provides an audience experience like few other movies.
Written and directed by Alex Ross Perry, the picture is his third collaboration with actress Elisabeth Moss. In the film, she plays Becky Something, the tempestuous leader of a '90s-era rock band called Something She, and the story sees her through the ups and downs of addiction, erratic behavior, triumph and failure and something like redemption.
The movie consists of just five scenes, each roughly 25 minutes, capturing Becky at different points in her trajectory. Besides a riveting performance by Moss, the supporting cast that orbits her includes Agyness Deyn and Gayle Rankin as her bandmates, Amber Heard as a rival singer, Cara Delevingne, Ashley Benson and Dylan Gelula as members of a younger band, Dan Stevens as Becky's ex, Eric Stoltz as the head of her record label and Virginia Madsen as her mother.
"I like it because we've never seen that movie," Perry said during a recent phone call from his home in Brooklyn. "I don't know if many people have listened to the Breeders and Veruca Salt and said, 'There's something so cinematic about this.' That person is me. And everything about this world was something that I just felt like, 'We have not seen this at all. We have not seen these women. We've not seen '90s grunge and alternative being treated as high Shakespearean tragedy.'"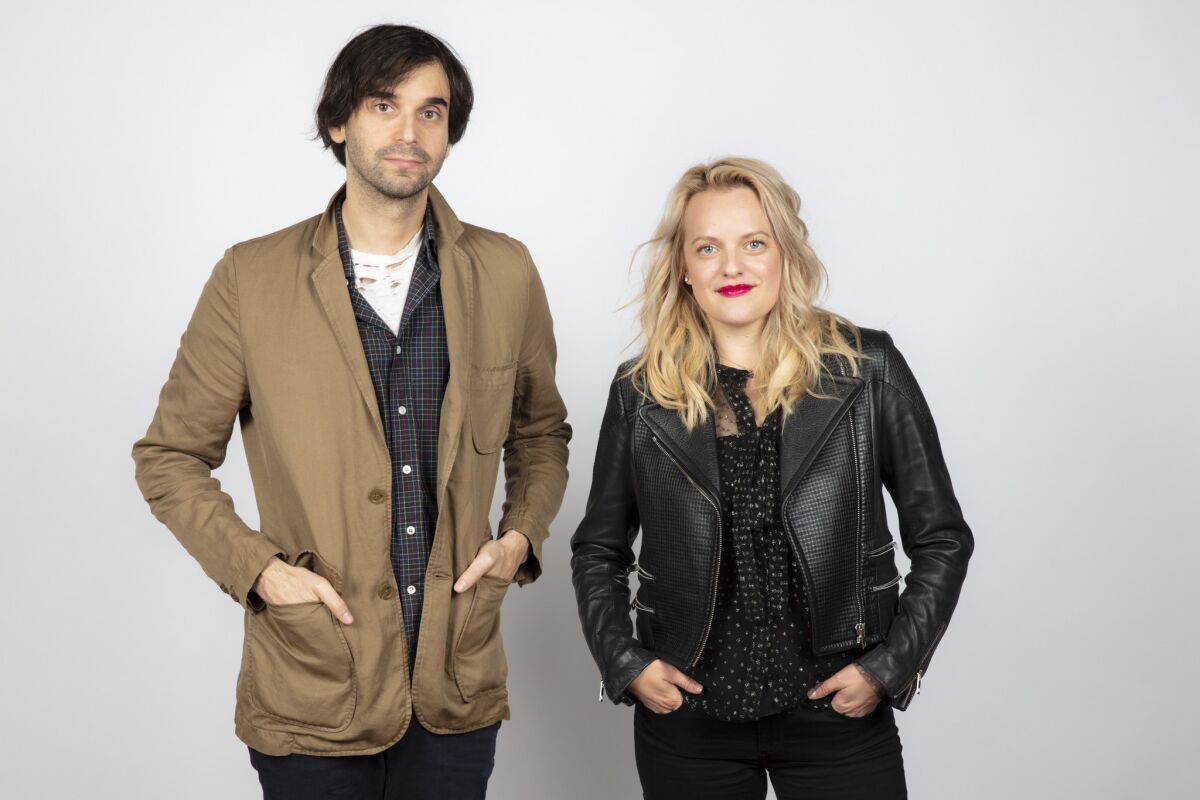 Currently playing in theaters in Los Angeles and around the country and coming to digital platforms this Friday, the movie has received largely positive reviews since its premiere last fall at the Toronto International Film Festival; even negative notices often have a begrudging admiration and respect. Yet it has been struggling to make an impact at the box office in the face of movies like "Avengers: Endgame" gobbling up screens and audience attention.
Moss, a multiple Golden Globe and Emmy winner and also a producer on "Her Smell," was not particularly familiar with the music of the grunge and riot grrrl era going into the project. For her, that wasn't particularly important, as what did matter was that she be able to connect emotionally to the songs she would be performing, to understand the feelings they were expressing from somewhere deep within the jumble of Becky's psyche.
"We were making a movie about this band and this woman and this era, but we weren't trying to make a movie about music necessarily," Moss said on the phone from Toronto during a break in production on the upcoming third season of Hulu's "A Handmaid's Tale." "So every song had to really be a part of the story. So it never felt like, 'Oh, now we're taking a musical break.'
"It doesn't really work, and there's no fun in it if I'm just sitting down and playing a song. What is the emotional moment of that, what is the emotional beat of that? What am I saying with that particular song at that particular time, and how can I act my way through this?"
We have not seen these women. We've not seen '90s grunge and alternative being treated as high Shakespearean tragedy.
— Writer-director Alex Ross Perry on 'Her Smell'
Bringing the movie's music to life are songs written by Alicia Bognanno and Anika Pyle. Bognanno wrote three tunes performed by Moss in the film, while Pyle wrote a one for a younger band known as the Akergirls.
For Bognanno, who performs with the band Bully, her music has frequently been compared to '90s grunge, a label she has often rejected. So there was an irony to being approached to write songs for a project that evoked the era.
"It just felt like, 'OK, cool. Now this actually can be used to my benefit. I'll take it,'" Bognanno said during a recent call from Nashville, Tenn. "I've had all these years of being … compared to it, I might as well just knock this out, because apparently, I'm the right person for it."
Bognanno came to the project through Perry's longtime composer, Keegan DeWitt. Perry first contacted Pyle after discovering her music online.
"He gave me a lot of creative license to do what I'm already doing," Pyle said in a phone call from Philadelphia. "I think that his intention behind asking Alicia and I to work on the music and the film was to produce something that was authentic. He didn't hire a songwriter to contrive something. And so it ended up being a lot more natural-feeling than I thought it would be."
Nearly every review of the movie has made mention of Becky Something's resemblance to musician and actress Courtney Love, who rose to fame as singer, guitar player and songwriter in the band Hole. Love's outsize media antics, as well as her well-publicized marriage to Nirvana's Kurt Cobain, made her one of the most famous musicians of the era.
As A.O. Scott put it in his review of the film for the New York Times, "Becky's resemblance to Courtney Love is unmistakable, even if it's also deniable. Some details track very closely; others don't."
One of Perry's big inspirations in writing the role was Guns N' Roses singer Axl Rose, while Moss studied and drew from an array of performers, including Amy Winehouse, Marilyn Monroe and Cobain.
"Well, part of that is just because people don't know any other names," Perry said of the references to Love. "We know why that is, because one female musician from this time rose higher, sold more records, was more culturally relevant and more interesting, stylish, entertaining, than all the rest. So it makes perfect sense that 25 years later, it's only one name people remember."
"It's a sort of natural idea, a natural assumption, but also not really a correct one," Moss said regarding Love, noting how early in the process of developing the film and figuring out the character, she suggested to Perry that they just go talk with Love, but then decided against it.
"That's just not what we wanted to do," Moss said. "We wanted to make a movie about this all-female band and this relationship between these three women and the dynamics of the band and the dynamics of Becky's family around her. And I think pigeonholing ourselves to telling perhaps one person's story would have been really limiting."
Perry noted the different tactics taken by films such as Todd Haynes' "Velvet Goldmine," set in the world of '70s glam rock, and Paul Thomas Anderson's "Boogie Nights," set in the world of pornography of the 1970s and '80s, with regards to handling real-life parallels and references. He hopes people get something out of "Her Smell," whether they are grunge-era obsessives or not.
"So it's all kind of this continuum of like they're one step to the side of history," Perry said, "If you know three things, you'll see all of them in 'Her Smell.' If you know a hundred things about this area, you'll see 40 of them in 'Her Smell.' It just all depends on how much you want to get out of it."
Pyle and Bognanno saw the film as it made its way around the fall festival circuit — Pyle in New York, Bognanno in Toronto — and were struck both by how much they could relate to the emotional struggles of Becky and by the details of Perry's envisioning of her world of recording studios and backstage holding areas.
"It felt right, cause they feel like people," said Bognanno. "But I also think like the filth factor was really spot on, because people think green rooms are supposed to be really nice, and the band are going to be really nitpicky about it. But no, like most green rooms are really dirty, just kind of like a messy … show, especially at rock venues."
"As a person who is a music maker and sort of faces an onslaught of pressures and expectations and the managing of interpersonal relationships," said Pyle, "whether it's between your friends or your romantic partners or your parents or your bandmates or your label or your manager, I really did relate to that kind of like constant negotiating with your own stress level. The point is to watch this incredibly uncomfortable character navigate themselves and to watch other people navigate her."
SIGN UP for the free Indie Focus movies newsletter »
Follow on Twitter: @IndieFocus
Get our L.A. Goes Out newsletter, with the week's best events, to help you explore and experience our city.
You may occasionally receive promotional content from the Los Angeles Times.