Indie Focus: And the top 10 films of the year are ...
Hello! I'm Mark Olsen. Welcome to another edition of your regular field guide to a world of Only Good Movies.
It's getting to be that time of year when we try to take a step back from the onslaught of year-end new releases to make an assessment of the year in total. That's right, it's top 10 time! Times film critics Kenneth Turan and Justin Chang both push the boundaries of the list — and speak to just how strong a year this was — by grappling with way more than just 10 movies. I sort of did the same, putting an addendum of an additional 10 with my initial ranked list.
Turan split his No. 1 pick between two very different films: Ryan Coogler's "Black Panther" and Debra Granik's "Leave No Trace."
He also divided the movie year into four groups — big studio blockbusters, independent films, foreign-language efforts and documentaries — explaining, "The best way to understand why 2018 was an exceptional movie year, and it was, is to realize that each of these four categories boasted better than average films, films not only worthy of a 10-best list but also suitable for an all-time classics registry as well."
Chang named Lee Chang-dong's "Burning" his No. 1 film of the year. He then put together a list of 20 films grouped together in pairs. (And 20 more honorable mentions.) He asked, "Who will survive the 21st century man's world, one that is gradually awakening to the long-suppressed voices of the abused and neglected, but is nonetheless still being torn apart by political rage, racial discord and environmental calamity? That question falls beyond my credentials as a critic, but I am grateful, at year's end, that so many movies pondered it with such intelligence and artistry."
As for me, my No. 1 film of the year was Barry Jenkins's "If Beale Street Could Talk." Attempting to take in the year that was, I noted, "It is not a political statement to say that these are strange and troubled times. Some days can feel like a week and some weeks can feel like a year. It's no surprise that so many movies seemed invested in the emotional toll and practical reality of just making it through, getting from one day to the next."
For information on upcoming events as part of our Envelope Live series, go to events.latimes.com/screenings.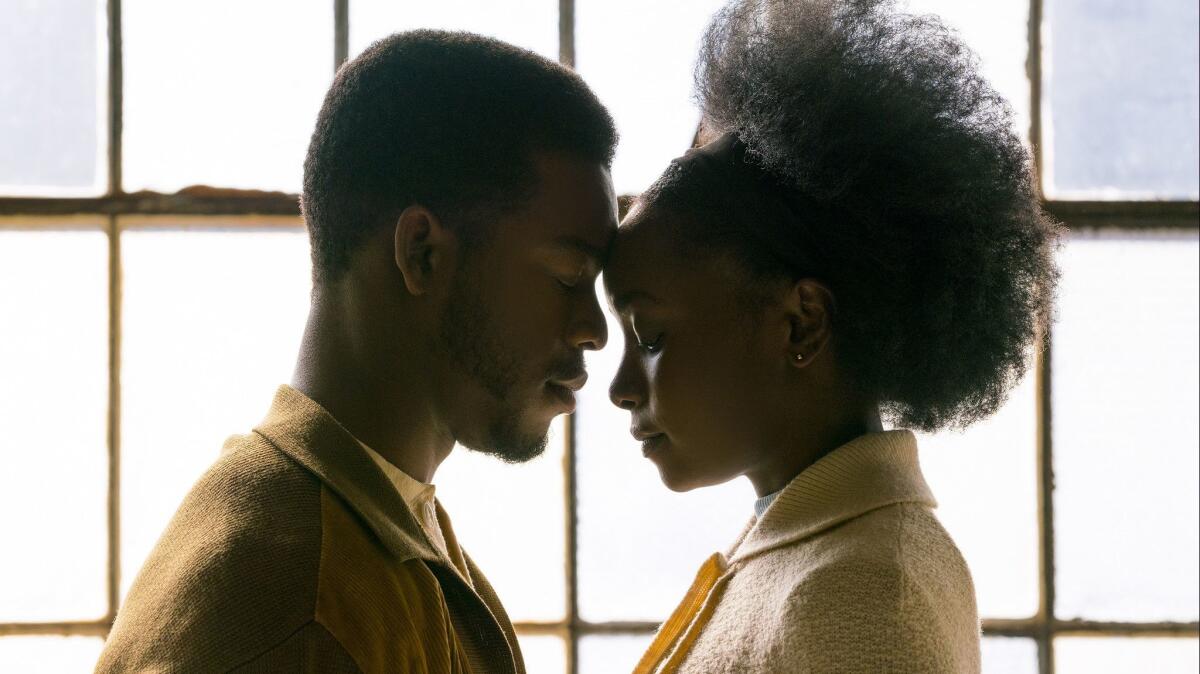 'If Beale Street Could Talk'
As fate would have, my No. 1 movie of the year opens in limited release this week. As the follow-up to his best picture winner "Moonlight," Barry Jenkins' "If Beale Street Could Talk" is an adaption of the 1974 novel by James Baldwin about two young lovers, Tish (Kiki Layne) and Fonny (Stephan James) who find their bond tested when Fonny is wrongly imprisoned. Regina King appears as Tish's mother, who fights tirelessly to exonerate Fonny.
In his review for The Times, Justin Chang wrote about the film's rhapsodically beautiful imagery: "We are not often accustomed to seeing images of working-class life through anything besides a grotty kitchen-sink filter; we are not often reminded, frankly, that there is much here to look at. The formal ravishment of 'If Beale Street Could Talk' thus takes on an implicitly political dimension; it may well be the movie's stealthiest, most radical display of empathy .… In cutting against the aesthetic grain, Jenkins gently and wisely corrects our vision. The passionate glow of this filmmaker's embrace belongs, quite rightly, to his characters. He is generous enough to also extend that embrace to us."
For The Times, Tre'vell Anderson interviewed Regina King. Though she has been busy working in television, "Beale Street" marks her first live-action feature film in nearly 10 years. "It's just that it's fallen that way," she said, "I am interested in telling stories that are interesting to me, and it just so happens that this is what came up at the time that they came up."
At the New York Times, Manohla Dargis wrote, "In most white screen romances, the love between a man and a woman (and its tests) tends to be framed in personal terms, as a matter of individual will, of good or foolish choices of the heart and head .… Here, the world — white, pitiless, punishing — comes down like a hammer on Fonny and Tish. Because no matter the purity and grace of their love when they wander the Village, or eat in a friendly Spanish restaurant that was a Baldwin favorite, they are never simply two people in love but also an affront to the power of the white world."
Writing for the Undefeated, Soraya Nadia McDonald noted, "On screen, it's clear that Jenkins believes not just in love but also in romance: real, true, heart-stopping, devoted, world-shifting romance, the kind that isn't just difficult to find but cuts through cynicism and shame."
At Vanity Fair, K. Austin Collins wrote, "What Jenkins gets most right — what astonishes me the most about this film — is Baldwin's vast affection for the broad varieties of black life. It's one of the signature lessons of Baldwin's work that blackness contains multitudes. Racial injustice may flatten 'the black experience' into one single, fearful, constantly undermined way of life — but black life, black love, is so much larger than that."
'Capernaum'
Directed and co-written by Nadine Labaki, "Capernaum" won the jury prize at this year's Cannes Film Festival, making her the first female Arab filmmaker to win a major award there. The movie is also Lebanon's submission to the Academy Awards. Its story is about a 12-year-old boy named Zain (Zain Al Rafeea, in a startlingly assured performance) who finds himself scrambling to survive on the streets of Beirut, and soon finds himself in an odd partnership with an Ethiopian woman (Yordanos Shiferaw), taking care of her baby (Boluwatife Treasure Bankole) in return for a place to stay.
In his review for The Times, Robert Abele called the film, "a poverty saga with a heart-in-your-throat urgency, a grueling tale of child endangerment and youthful resilience on Beirut's sorriest streets that some viewers may absorb as little more than an adrenalized version of movie miserable-ism. And it is both unflinching and sentiment-driven in equal measure. But that's also part of its special alchemy."
I recently moderated an Envelope Live Q&A with Labaki, Al Rafeea and producer and composer Khaled Mouzanar. here.
For the New York Times, A.O. Scott wrote, "'Capernaum,' a sprawling tale wrenched from real life, goes beyond the conventions of documentary or realism into a mode of representation that doesn't quite have a name. It's a fairy tale and an opera, a potboiler and a news bulletin, a howl of protest and an anthem of resistance."
At Vulture, Emily Yoshida wrote, "There's no doubt at all that Labaki is a filmmaker of extreme empathy, with a real intuition for how to capture the dynamics between children in particular .… But Labaki also wants to make them emblems, which feels unnecessarily manipulative. She's done so much, after all: pulled impossible-feeling performances from her young leads, and turned Beirut's slums into a kind of unrelenting, absolutely memorable choral dysfunction. It's not as if we're not crying our eyes out already."
'Spider-Man: Into the Spider-Verse"
With a trio of directors in Bob Persichetti, Peter Ramsey and Rodney Rothman, a screenplay by Rothman and Phil Lord, and with Lord and his frequent collaborator Chris Miller producing, it would be understandable for "Spider-Man: Into the Spider-Verse" to feel like a jumble of ideas. But for it to result in a fresh and creative take on the "Spider-Man" story is a delightful surprise with its story of teenager Miles Morales, who learns that he too can become his favorite superhero. The voice cast includes Shameik Moore, Jake Johnson, Hailee Steinfeld, Bryan Tyree Henry, Mahershala Ali, Lily Tomlin, John Mulaney, Kathryn Hahn, Lieve Schreiber and Nicolas Cage.
Justin Chang reviewed the film for The Times, writing, "[W]hat distinguishes 'Spider-Man: Into the Spider-Verse' in the end is that it takes its mission seriously, even when it's being transparently silly. There is nothing cheap or snarky about the way the movie festoons its action sequences with 'POW!' and 'BLAMMO!' word bubbles, or shows us squiggly little lines whenever someone's Spidey sense tingles. It's a sign of a movie not just embracing its hand-drawn comic-book roots, but also striving to be the fullest, truest version of itself it can be."
For Tribune News Service, Katie Walsh wrote, "The delights of 'Spider-Man: Into the Spider-Verse' bring a newfound sense of joy and playfulness to the beloved character- in every iteration."
Email me if you have questions, comments or suggestions, and follow me on Twitter @IndieFocus.
Get the Indie Focus newsletter, Mark Olsen's weekly guide to the world of cinema.
You may occasionally receive promotional content from the Los Angeles Times.