Indie Focus: Lessons from history in 'The Ballad of Buster Scruggs,' 'The Front Runner' and 'Outlaw King'
Hello! I'm Mark Olsen. Welcome to another edition of your regular field guide to a world of Only Good Movies.
Though it's already underway, there are still a few more days, and many great movies to see, at this year's AFI Fest. Sonaiya Kelley wrote a terrific overview piece, capturing what's special about this year's event and its focus on female filmmakers and women's stories, both past and present.
As newly appointed festival director Michael Lumpkin said, "I see the program as a foundation for where we are today around women in film. Part of it certainly is creating change as we move forward, but I think it's also very important to look back and elevate work to show that there is a legacy of women filmmakers."
And this week on our entertainment podcast The Reel, I was joined by Times film critics Kenneth Turan and Justin Chang for a lively conversation about Orson Welles' recently completed "The Other Side of the Wind" and how the new digital era of streaming services is treating Hollywood's history.
There are also a number of L.A. Times events focusing on awards season coming up, including screenings and Q&As for "Private Life" and "Capernaum," plus a panel conversation featuring the costume designers behind titles such as "A Star Is Born," "Black Panther," "If Beale Street Could Talk" and more. For info on all these events, go to events.latimes.com/screenings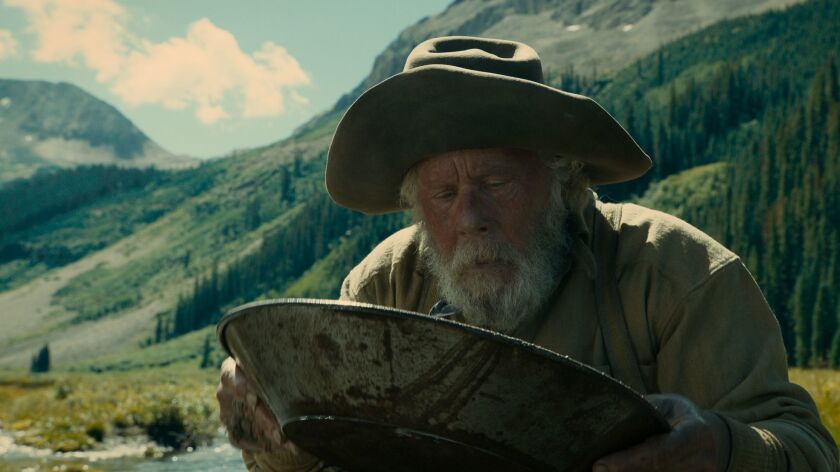 'The Ballad of Buster Scruggs'
Joel and Ethan Coen have been working at such an astonishingly high level of creativity and consistency for so long that it's easy to take them for granted. Their latest film, "The Ballad of Buster Scruggs," is an oddball Western, a self-styled anthology with six stories set in the American West. One of the charms of the movie, featuring Tim Blake Nelson, Liam Neeson, Tom Waits, Zoe Kazan, Tyne Daley and many more actors, is figuring out what it all adds up to.
Reviewing the movie for The Times, Turan wrote, "All the stories deal with life and (especially) violent death in the mythic Old West, which the movies have been immortalizing for more than a century. The idea was to use the Coens' trademark bleak sense of humor and hopeless attitude to both put their characters in ungodly predicaments and leave the genre as a whole twisting slowly in the wind."
Josh Rottenberg spoke to Tim Blake Nelson and the Coens for a story that will run soon. A longtime collaborator with the Coen Brothers, Nelson said of the new movie's unusual structure: "It was always going to be an anthology movie. They were always meant to exist together as a piece. And I think in the journey of writing the six different stories and finally arriving at the culminating one, they discovered how the six stories fit together. In an anthology that addresses the very notion of our mortality in the very dangerous landscapes of the West during American expansion — to have that be the unifying theme is so poignantly fitting. The stories really do belong together and build to something quite moving."
At the New York Times, A.O. Scott called the project "one of the darkest movies by Joel and Ethan Coen, and also among the silliest. It swerves from goofy to ghastly so deftly and so often that you can't always tell which is which."
For Slate, Dana Stevens added, "In its best scenes, this portmanteau of jauntily morbid fireside tales also offers a streak of something else, like the underground vein of gold that Tom Waits' prospector patiently seeks: the small human moments of surprise, delight, and connection that lie somewhere between the first page of each life's story and the last."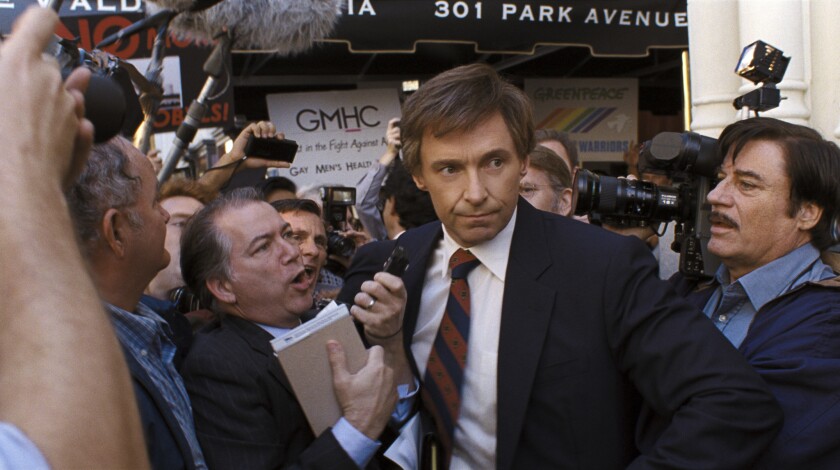 'The Front Runner'
Directed by Jason Reitman, who co-wrote the screenplay with Matt Bai and Jay Carson, "The Front Runner" is the story of the 1980s political scandal that erupted around the failed presidential bid of Colorado Sen. Gary Hart. With a committed performance by Hugh Jackman as Hart, the cast also includes Vera Farmiga, Sara Paxton and Mamoudou Athie.
In his review for The Times, Turan called the film "smart, fast and funny" and "a tip-top piece of entertainment." Turan went on to say, "With his most ambitious film, Reitman returns to the form of some of his earlier issue-related pleasures, such as 'Thank You for Smoking,' his biting film on Big Tobacco, and 'Up in the Air,' about American corporate culture. This time ... the filmmaker takes on the genie that's not going back in the bottle, the increased role tabloid journalism has taken in our political discourse."
At Time, Stephanie Zacharek wrote, "Hart's story marked a shift in the way the press scrutinizes the personal lives of political figures — though as we've seen, unethical behavior doesn't always work against politicians, or even presidents. Whether you've been following politics for three years or 30, you'll learn something from 'The Front Runner' — but buckle up, because it's gonna hurt."
For Vanity Fair, Richard Lawson added, " 'The Front Runner' feels less consequential than it wants to. Reitman has still made an interesting film. It's just that, from this vantage point, everyone in it seems snared in such obvious entropy. Maybe that's the insidious power of our current moment, that it has made itself feel so inevitable. It's unsurprising, then, and a credit to Reitman's craft, that part of me wanted to linger in 'The Front Runner's' past. How strange that we could ever have cared so much. And how strange that we could ever have cared so little."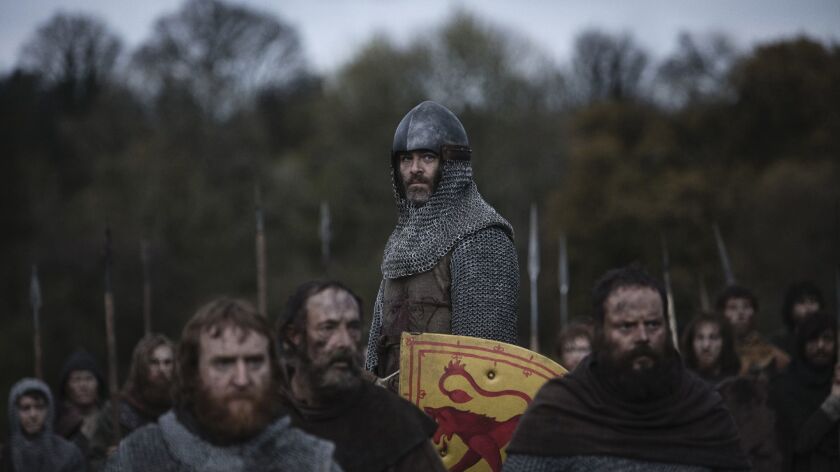 'Outlaw King'
The epic saga of Robert the Bruce and the Scottish Wars for Independence in the 14th century, "Outlaw King" is the latest from David Mackenzie, whose last film as the Oscar-nominated contemporary western "Hell or High Water." Chris Pine plays the lead role, with Florence Pugh as his bride, in the film, which is getting a simultaneous release on Netflix and in theaters, at a moment when the streaming service is giving some of its awards-season favorites (like "Buster Scruggs") more conventional theatrical-first openings.
In his review of the film for The Times, Turan wrote, "It is the main business of 'Outlaw King' to show the long and complex chain of circumstances that lead the Bruce to have himself first declared King of the Scots. … While we likely have not seen the end of Robert the Bruce on film, this for sure is a worthy addition to the canon."
Rottenberg spoke to Mackenzie about his film and any comparisons to "Braveheart" both as a movie and a piece of historical fiction. As Mackenzie said, "I don't really like to say it, but everyone in Scotland feels that 'Braveheart' somehow or other misinterpreted the story and that Robert the Bruce was given short shrift in that version. That sense of needing to right the wrongs of that film was somewhere in the back of my mind as well. ... Initially, I tried not to even think of it, but I realize now it's kind of the elephant in the room."
Reviewing the film for the New York Times, Manohla Dargis added, "Why do moviemakers insist on telling historical stories when they're really just interested in costumes and war?... At least in old Hollywood, filmmakers would also try to entertain you amid the clashes and post-combat huddles, giving you something more to watch and ponder than this movie's oceans of mud, truckloads of guts and misty, unconsidered nationalism."
Email me if you have questions, comments or suggestions, and follow me on Twitter @IndieFocus.
---
Inside the business of entertainment
The Wide Shot brings you news, analysis and insights on everything from streaming wars to production — and what it all means for the future.
You may occasionally receive promotional content from the Los Angeles Times.