Indie Focus: For the whole family with 'Hereditary,' 'Won't You Be My Neighbor' and 'Hearts Beat Loud'
Hello! I'm Mark Olsen. Welcome to another edition of your regular field guide to a world of Only Good Movies.
For our podcast The Reel, this week Justin Chang, Tre'vell Anderson and Jen Yamato were placed with me in a small, soundproof room to talk about new releases "Ocean's 8," "Hereditary" and "A Kid Like Jake," as well as "The Tale" and "Upgrade." And actress Claire Danes stopped by to talk about her role in "A Kid Like Jake" and how it made her rethink some of her own real-life parenting skills.
Last week's screening of "Eating Animals" inspired a lively Q&A with director Christopher Quinn, narrator Natalie Portman and writer Jonathan Safran Foer. On June 18, we'll have filmmaker Eugene Jarecki with a screening of his documentary "The King," about the cultural legacy of Elvis Presley. For info and updates, go to events.latimes.com.
'Hereditary'
The feature debut of writer-director Ari Aster, "Hereditary" has been among the most acclaimed genre films of the year since its debut at Sundance. An unusual blend of family drama, suspense and deeply unsettling supernatural horror, the story follows a family as it is torn apart by grief and regret. Toni Collette has been rightly lauded for her performance, along with Gabriel Byrne, Milly Shapiro, Alex Wolff and Ann Dowd.
Reviewing the movie for The Times, Justin Chang noted that "I haven't seen a better performance this year" than Collette, and went on to say, "With breathtaking deliberation and quiet, unshowy mastery, [Aster] spins a devastating portrait of an American family in sudden, inexplicable decline .… There is in fact an explanation, and 'Hereditary' is unnerving in part because it makes no attempt to hide it. In scene after meticulously controlled scene, the movie tells us exactly what's going on — slowly, to be sure, and in accordance with an intricate narrative pattern that reveals itself only in the breath-quickening final moments."
The Times' Jen Yamato interviewed Collette and Aster about Collette's astonishing performance amid the film's building sense of dread and maniacal energy. "The idea was to create a film that collapsed under the weight of its own emotions," Aster explained. "It's so packed with extreme feelings that the fabric of the film tears open, and the film itself goes crazy."
At Buzzfeed, Alison Willmore wrote about "Hereditary" along with the recent "A Quiet Place" as examinations of the terrors and traumas of family life. As she put it, "If the last year in horror was tentpoled by stories about the dark underbellies of the neighborhood we grew up in and the banal evil in the people we thought we knew, this year seems to be sticking even closer to home with movies centering on families. Which doesn't mean they don't have their own unintended resonance. In an era of tribalism, what is the family but a particularly compact tribe, one whose bonds can just as easily destroy us as ensure our survival?"
'Won't You Be My Neighbor?'
For multiple generations, Fred Rogers was Mister Rogers, the kindly, calming host of a children's television program. The new documentary from Academy Award winning filmmaker Morgan Neville, "Won't You Be My Neighbor?" examines Rogers' life and legacy. Arriving in a rough-and-tumble cultural and political moment, the film is being received by many as a soothing beacon.
Reviewing the film for The Times, Kenneth Turan noted, "Neville's goal here is not so much to tell the story of Rogers' personal life, though that does get some play, but rather to detail the how and why of his success, to show the way someone whose formidable task was, in his own words, 'to make goodness attractive' was able to make it happen."
Amy Kaufman spoke to Rogers' family, which is featured in the film, for a story that will be publishing soon. Of the recent attention and reappraisal of Rogers' work, his son Jim Rogers said, "I think Dad probably, if he were alive, would say: 'What's all this hoopla? This is silly.' But at the same time, I think he'd probably lean back and reflect on a job well done."
Reviewing the film for the New York Times, A.O. Scott added, "What Mister Rogers tried to teach us — how to navigate 'some of the more difficult modulations' in everyday life — might now be classified as emotional literacy. He acknowledged that anger, fear and other kinds of hurt are part of the human repertoire and that children need to learn to speak honestly about those feelings, and to trust the people they share them with."
At the Washington Post, Ann Hornaday said, "Morgan Neville's admiring portrait of public television pioneer Fred Rogers, feels reverse-engineered to soothe the rapidly fraying nerves of a country mired in political and pop-culture food fights. Revisiting Rogers's signature TV show, 'Mister Rogers' Neighborhood,' and the kind but steadfastly enigmatic man behind it, Neville has created a film that operates both as a dewy-eyed nostalgia trip and stirring appeal for civility."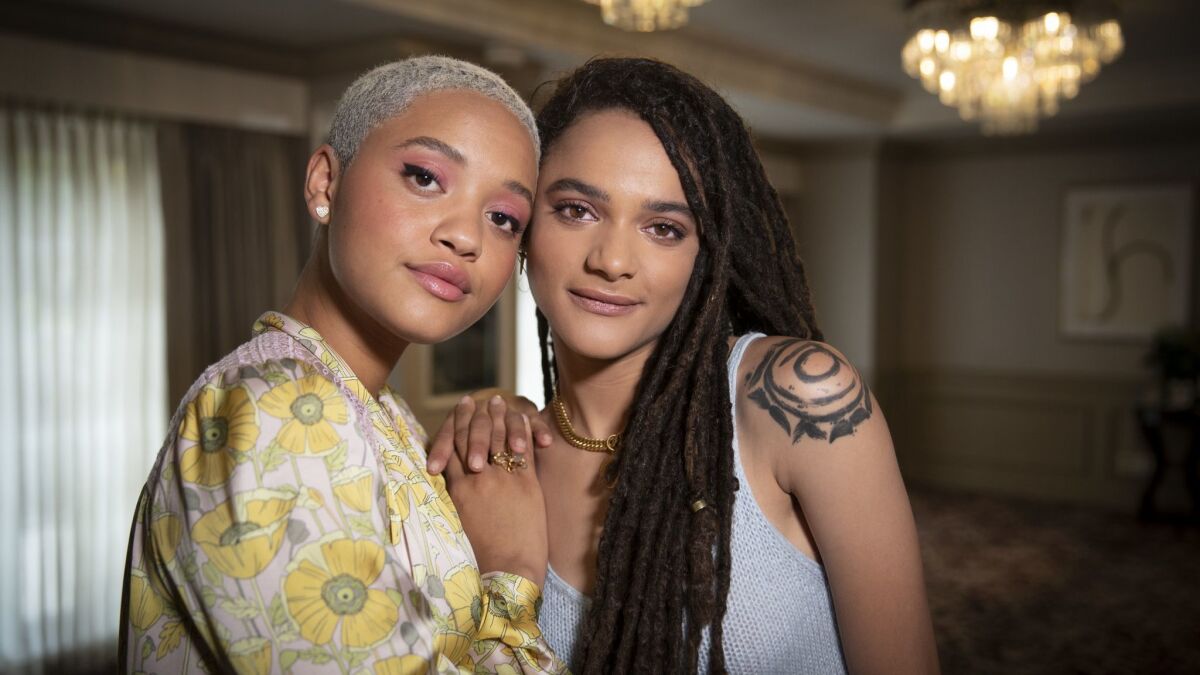 'Hearts Beat Loud'
Directed and co-written by Brett Haley, "Hearts Beat Loud" isn't exactly a coming-of-age musical, but still uses music as a vital part of its storytelling. As a father and daughter (Nick Offerman and Kiersey Clemons) write and play songs as a fun thing to do together before she heads away to college, she also embarks on a fizzy, freeing romance with a girl named Rose (Sasha Lane).
In his review for The Times, Kenneth Turan wrote, "[E]nergized by Offerman and Clemons, the effectiveness of the music and the emotional freshness of 'Hearts Beat Loud' are finally triumphant. Sometimes wearing your heart on your sleeve is the only way to go."
Tre'vell Anderson spoke to Clemons and Lane about the film and the offhanded ease with which it deals with issues of diversity and representation. Asked when she first saw herself reflected on-screen, Lane responded, "Is it really ... sad that maybe 'Hearts Beat Loud' was the first time that I actually saw myself? I can choose other things that I've done but I don't know anything else that I connected with me on every single level."
At the Village Voice, Ren Jender celebrated the film's love story, noting, "Clemons, who played the soft butch Diggy in 'Dope' and Lane, who is also in the upcoming 'The Miseducation of Cameron Post,' are both out, queer women of color. In their characters, we see the unalloyed joy and relief in having found one another that some of us might remember from our own queer first loves."
Email me if you have questions, comments or suggestions, and follow me on Twitter @IndieFocus
---
Get the Indie Focus newsletter, Mark Olsen's weekly guide to the world of cinema.
You may occasionally receive promotional content from the Los Angeles Times.