Indie Focus: Problems and creativity in 'Isle of Dogs,' 'Unsane' and 'Final Portrait'
Hello! I'm Mark Olsen. Welcome to another edition of your regular field guide to a world of Only Good Movies.
As a counter-argument for anyone who feels these early months of the year can be a bit thin for new releases, we have two very exciting screening events coming up featuring two of the best films of the year so far.
This Wednesday we have a screening of the L.A.-set crime thriller "Gemini," followed by a Q&A with writer-director Aaron Katz.
Then, on April 12 we will have a screening of the Western drama "The Rider," followed by a Q&A with writer-director Chloé Zhao and lead actor Brady Jandreau. The film was recently nominated for four Spirit Awards. For info and updates on future events, go to events.latimes.com.
'Isle of Dogs'
Any new film from Wes Anderson is going to garner a lot of attention, especially after the success of 2014's "The Grand Budapest Hotel," which won four Oscars. Anderson's new "Isle of Dogs," animated in the same stop-motion style as 2009's "Fantastic Mr. Fox," tells the story of a group of dogs exiled to an island garbage dump and the young boy who sets out to save them, all set in near-future Japan.
It is that last fact that has made the film a point of conversation and controversy, as the film's use of Japanese characters, culture and language is seen as a problem, despite the efforts of Anderson and his collaborators to work their way out of the corner they paint themselves into.
For The Times, Justin Chang's review elegantly and passionately lays out both what works in the film, making it difficult to dismiss outright, and what also makes it such a troubling and difficult object.
As he writes, "If there is a reason to cherish this often captivating, sometimes irritating, unavoidably perplexing movie, it's that its mere existence seems to defy rational explanation. It is by turns savage and soulful, mangy and refined, possessed of an unmistakable pedigree and yet boldly resistant to categorization. It's a shaggy Frankenmutt of a movie, dressed in artisanal fur and infested by bespoke fleas."
Chang added, "Bluntly put, does this white American filmmaker's highly selective, idiosyncratic rendering of an East Asian society constitute a sincere act of homage, or a clueless failure of sensitivity?"
Writing for Mashable, Angie Han also grapples with the difficulties of the film's internal mechanics, noting, "I may have my qualms about Anderson's use of Japanese culture, but I can't deny he makes it all look great — every frame of this is pretty, in that perfectly precise Wes Anderson way .… But in treating Japanese culture like superficial embellishments, Japanese people like unknowable others, and Japan itself like an endearingly quirky playground for yet another white American narrative, 'Isle of Dogs'' messaging about protecting the vulnerable falls flat."
At Black Girl Nerds, Leonard Faierman added, "'Isle of Dogs' is ultimately decent, a watchable stop-motion animated film that fans of such will obviously flock to, but the Japanese garments it proudly struts in completely don't fit. Wes Anderson's concept may represent the preliminary steps to engaging a more meaningful cultural conversation, but there is much more work left to do. 'Isle of Dogs' is profoundly lost in approach, not just in translation."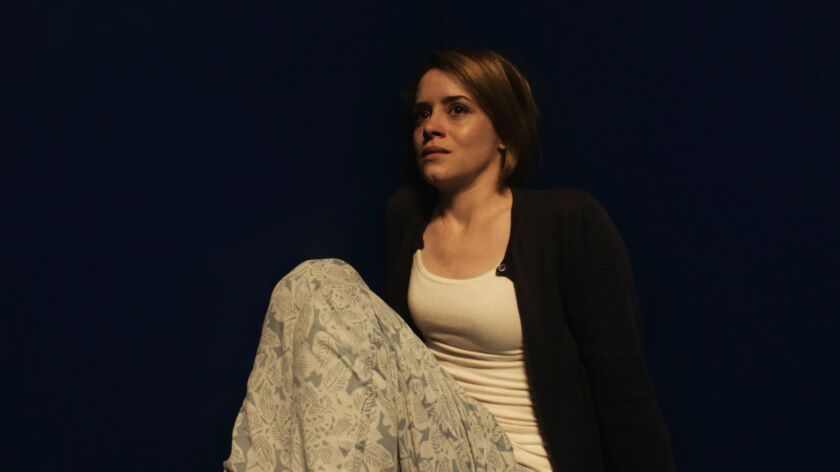 'Unsane'
Now that he is fully past his short-lived retirement from movie directing, Steven Soderbergh is back to being another filmmaker who is always worth a look. His latest film, "Unsane," was shot mostly on an iPhone, creating a skittish, unnerving portrait of a woman (played by "The Crown" star Claire Foy) who is committed against her will to a mental institution and becomes increasingly unsure whether or not she truly belongs there. The film also features Joshua Leonard, Juno Temple, Jay Pharaoh and Amy Irving.
Reviewing the film for The Times, Chang wrote, "Soderbergh is one of the most dexterous directors working in the American mainstream, and he has a sly talent for lacing even a seemingly disposable genre offering with smart, incisive ideas. His recent features, with their working-class stories and sleek, efficient visuals, may not look like much on the surface, but even the least of them betray an uncanny, even unnerving accuracy about how we live."
I spoke on the phone to Soderbergh about the film. Of it's jagged, rough-hewn style, he said, "I felt like on this project there is no place for subtlety, there is no place for being dignified, there is no place for being polite. The aesthetic of the movie really needed to be a reaction against the approach I would typically take. To be that 15-year-old filmmaker who isn't bound by any idea of himself."
For the New York Times, Manohla Dargis said, "Mr. Soderbergh's quick-and-dirty approach works here better as a conceptual gambit than as an entertainment. What keeps you watching even as the story becomes more off-putting are the actors and Mr. Soderbergh's filmmaking."
Reviewing the film for Uproxx, Amy Nicholson explored it's relationship to genre filmmaking by saying, "'Unsane' isn't quite a thriller. That would imply a coherent villain. Instead, it swipes through themes like an Instagram filter. 'Unsane' starts as a heavy-breathing De Palma pursuit, transforms into a health care satire, and mutates to become a #MeToo allegory about a woman screaming to be heard. It's sickly perfect that the more Sawyer yells, the more aware we are that she's in a straitjacket while her assailant walks free."
At Indiewire, Jamie Righetti explored the film's use of horror tropes regarding Foy's character, adding, "As a Final Girl for the #MeToo era, her conundrum gives 'Unsane' a progressive edge, shedding some much-needed light on a struggle women have silently endured for far too long."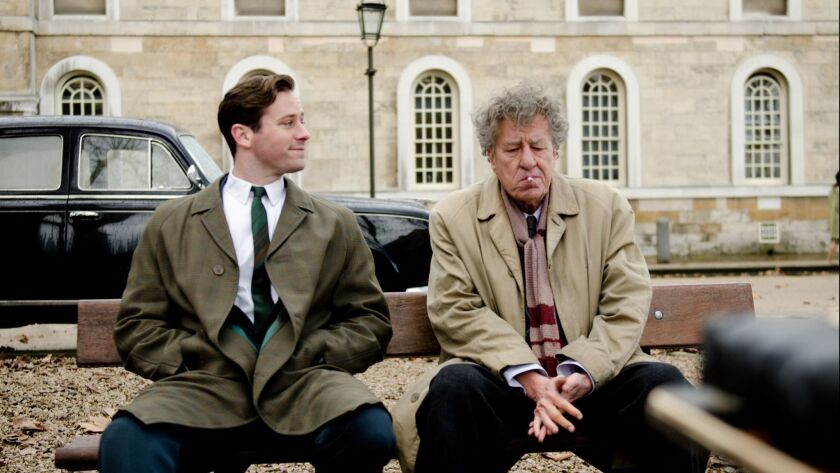 'Final Portrait'
Written and directed by Stanley Tucci, "Final Portrait" is about the attempt of artist Alberto Giacometti (Geoffrey Rush) to paint a portrait of the writer James Lord (Armie Hammer). What was supposed to only take one day stretched on into weeks.
Reviewing the film for The Times, Kenneth Turan wrote, "Powered by a triumphant performance by Geoffrey Rush as the celebrated painter and sculptor, 'Portrait' also serves as an involving examination of the creative process itself, of how difficult it can be to move forward with artistic enterprises no matter how gifted you are or how much regard the world holds you in."
At rogerebert.com, Glenn Kenny added, "the depictions of artistic struggle and mania, the communication of the artist's frequently painful bubble, are insightful and rewarding. The warts-and-all depiction of Giacometti, which establishes a credible explanation if not excuse for the many selfish acts he's seen doing, winds up being an apt tribute to both the artist and art itself."
Email me if you have questions, comments or suggestions, and follow me on Twitter @IndieFocus
---
The complete guide to home viewing
Get Screen Gab for weekly recommendations, analysis, interviews and irreverent discussion of the TV and streaming movies everyone's talking about.
You may occasionally receive promotional content from the Los Angeles Times.